The SoundPEATS Q30 Earphones are sweatproof and have been designed to fit comfortably into your ear.
SoundPEATS promise CD like audio quality with a rich, full sound and able to support A2DP, AVRCP, HSP, and HFP Bluetooth profiles.
A great feature of the SoundPEATS Q30 is the magnetic earbud design, when you remove them from within your ears you're able to magnetically clip them together around your neck, until you want to use them again.
But are the Q30 earphones from SoundPEATS any good? Do they work as good as they look? Time to test them out!
Packaging.
The SoundPEATS Q30 come packaged very neatly in a small Black cardboard box.  The box measures 11.0cm x 7.5cm x 4.5cm and weighs 120G.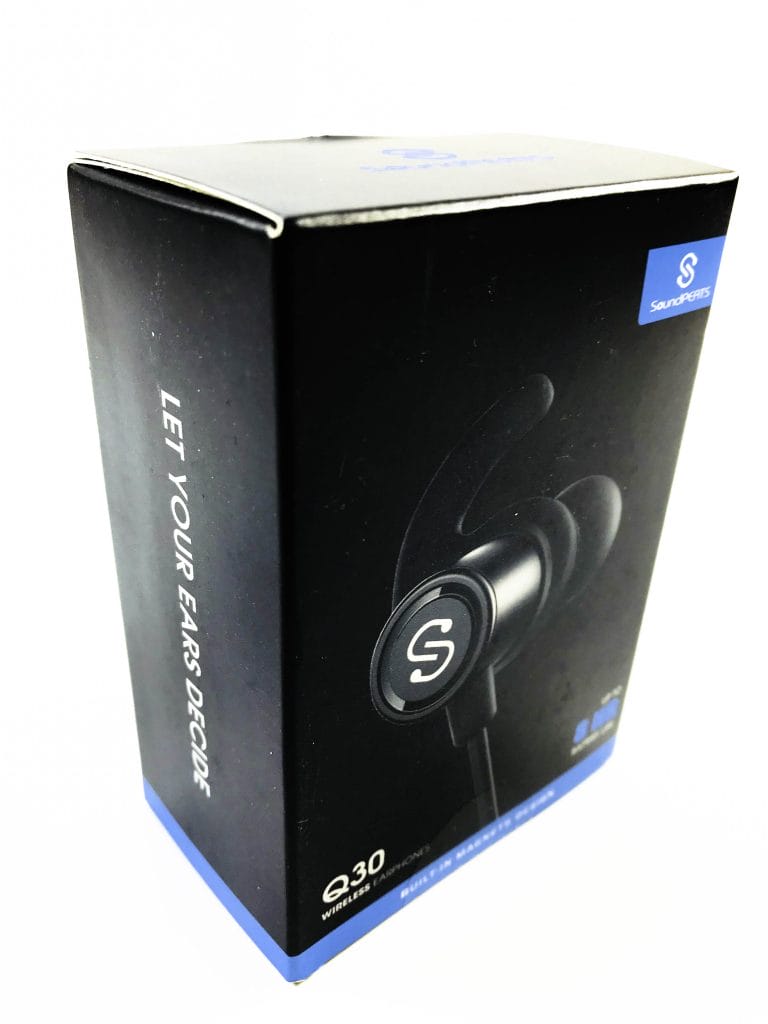 Contents.
Upon opening the SoundPEATS Q30 box you'll find the following items. 1x Earphones, 1x USB Charger Cable, 1x Leather Case, 10x Different Sized Ear Tips, 6x Interchangeable Ear Fins, 1x Line Clamp, 3x Slide Line Buckle, 1x Multi-Lingual User Guide, 1x Quick-Start Guide, 1x Loyalty Card.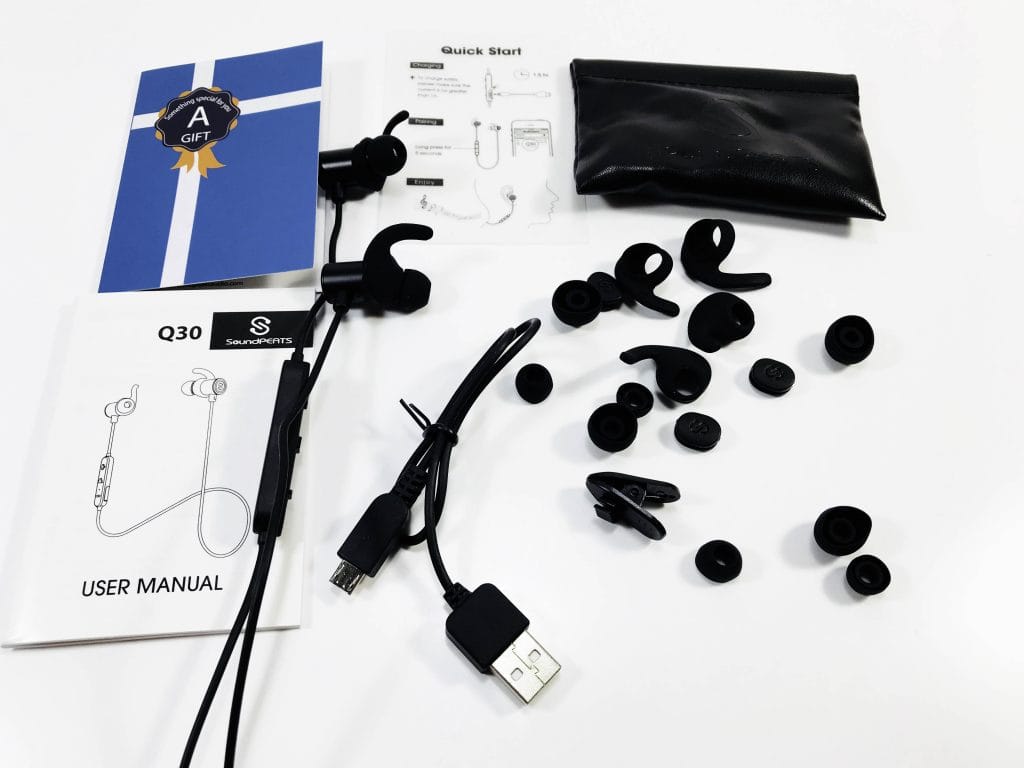 SoundPEATS Q30 Earphones.
The SoundPEATS Q30 Earphones are Black in colour and are made from Aluminium with soft Silicone ear fins.  They measure 60.0cm in length and weigh only 15G.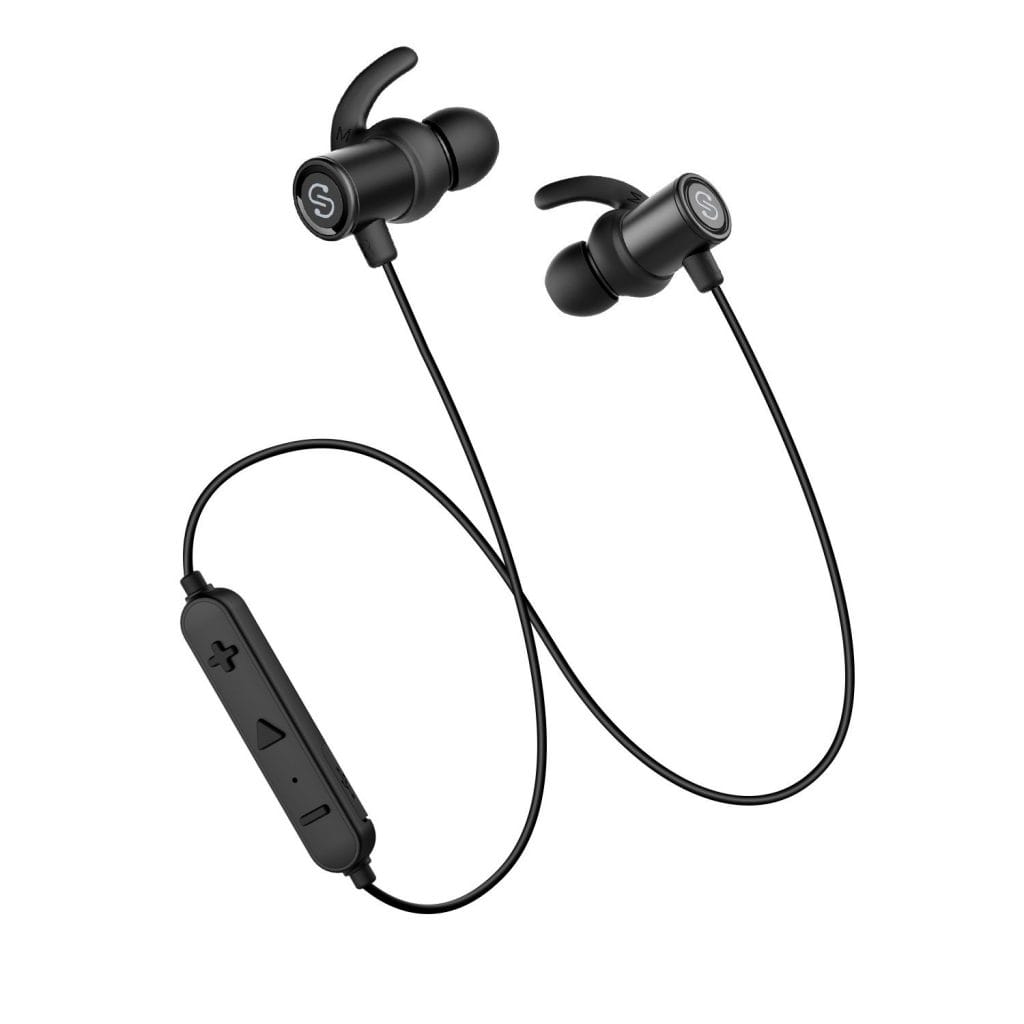 You also get in-line control which allows you to control track selection, volume and has an in-built microphone for handsfree calling.
Setting up and Connecting.
Being a wireless set of earphones, they of course feature an in-built Lithium Polymer Battery and will require a charge using the supplied Micro USB cable (Which has a length of 36.0cm) and hook them upto any 5VDC power source.
You'll need to charge for these for around 1-2 hours, but you'll get around 7-8 hours of banging tunes to make up for the charging time.
Now, here comes the good news, the Bluetooth pairing process is an easy one.  All you need to do is press and hold the middle multi-function button on the in-line control until you hear an audible tone.  Now, pop over to the Bluetooth menu on your smartphone or other Bluetooth enabled device and connect to "Q30".
You'll need to play around with the supplied ear tips and fins to ensure you get a unique and comfortable fit to suit your ears.  I'm sure SoundPEATS have covered all ear types with the amount of ear tips and fins that have been supplied.  So, whether you have big jug ears or pointy elf ears, SoundPEATS have you covered.
And… That's it! Put these bad boys into your ears and start to enjoy your music.
The fin design allows the earphones to sit comfortably into your ear canal without any slippage, they're also surprisingly comfortable too!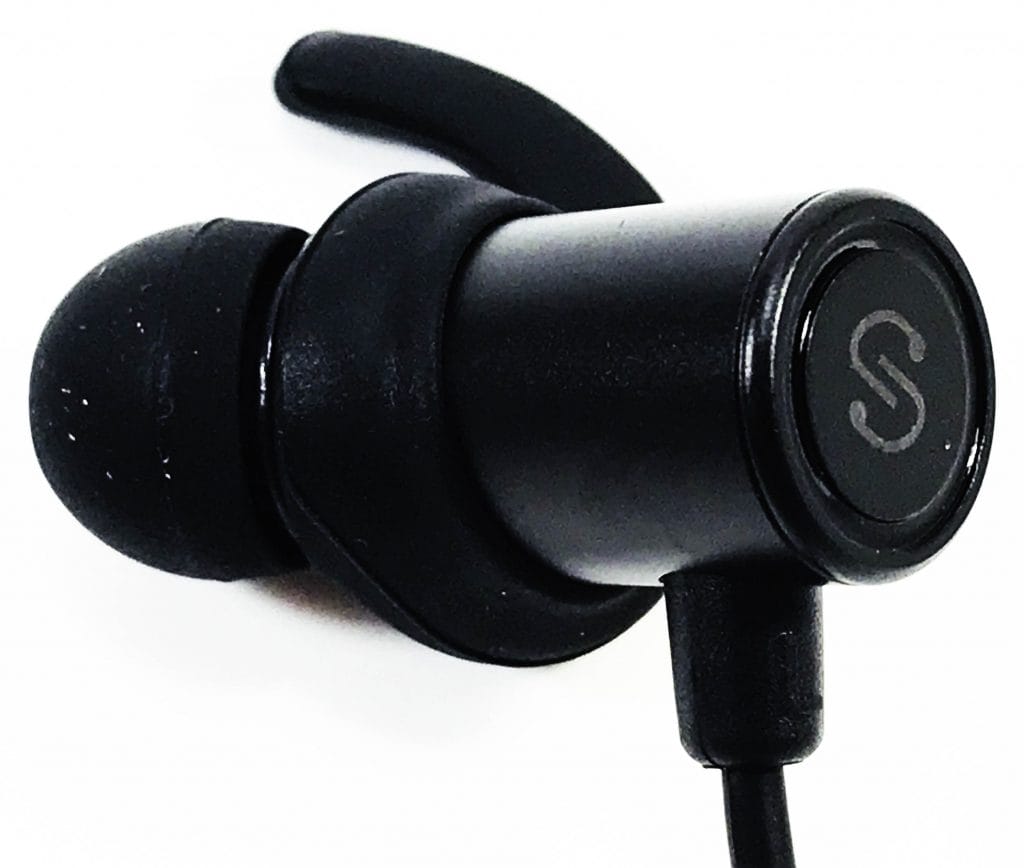 In-Line Control Button.
The SoundPEATS Q30 have an in-line control bar that features a three-button control system.  But, these three buttons are all you're going to need to control your whole music library.  It takes some time to control without having to look, but I promise after a while it becomes second nature.
You're able to power on (Obviously), power off, control sound volume, track selection, and answer/hang up a handsfree phone call.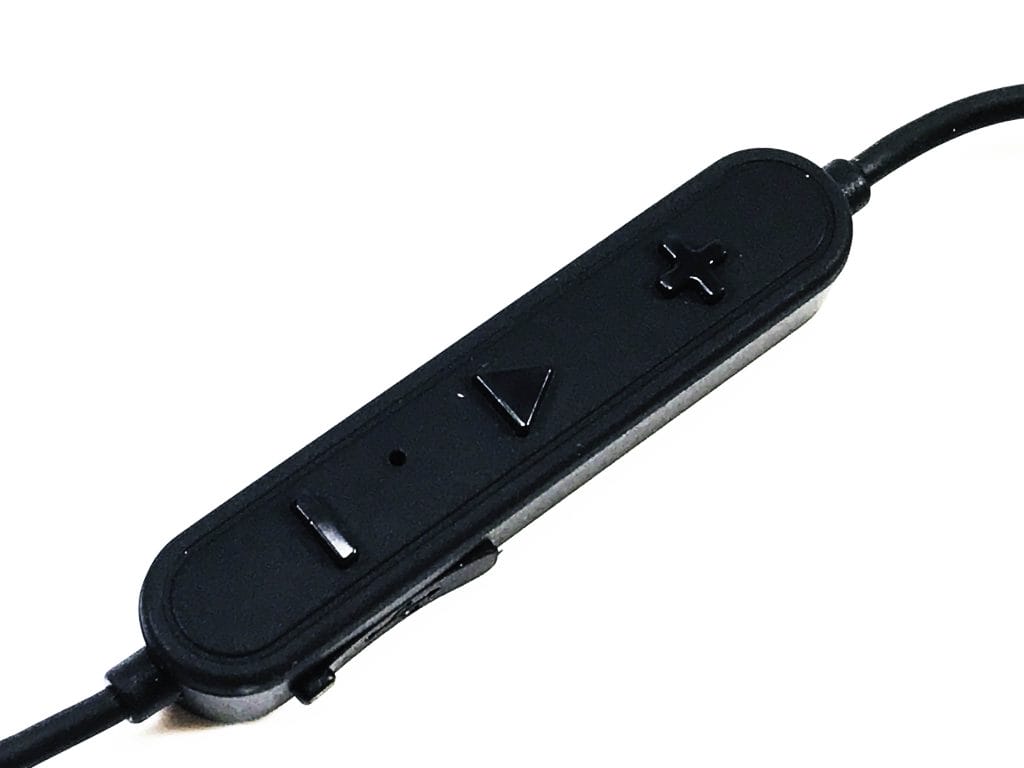 Sound Quality.
So, what do they sound like? Well this is probably the most important factor when selecting audio equipment.  I must inform you that the SoundPEATS Q30 sound quality is…
F-ing Awesome!  No, seriously, it's very good and absolutely shocked me, I've never even heard of the brand SoundPEATS until I was approached by a sales rep from their company, but this brand has really surprised me.
The sound going into your inner ear canal feels like you're in a soundproof booth and the only thing you're able to hear is bass, treble and the odd Macklemore rapping verse.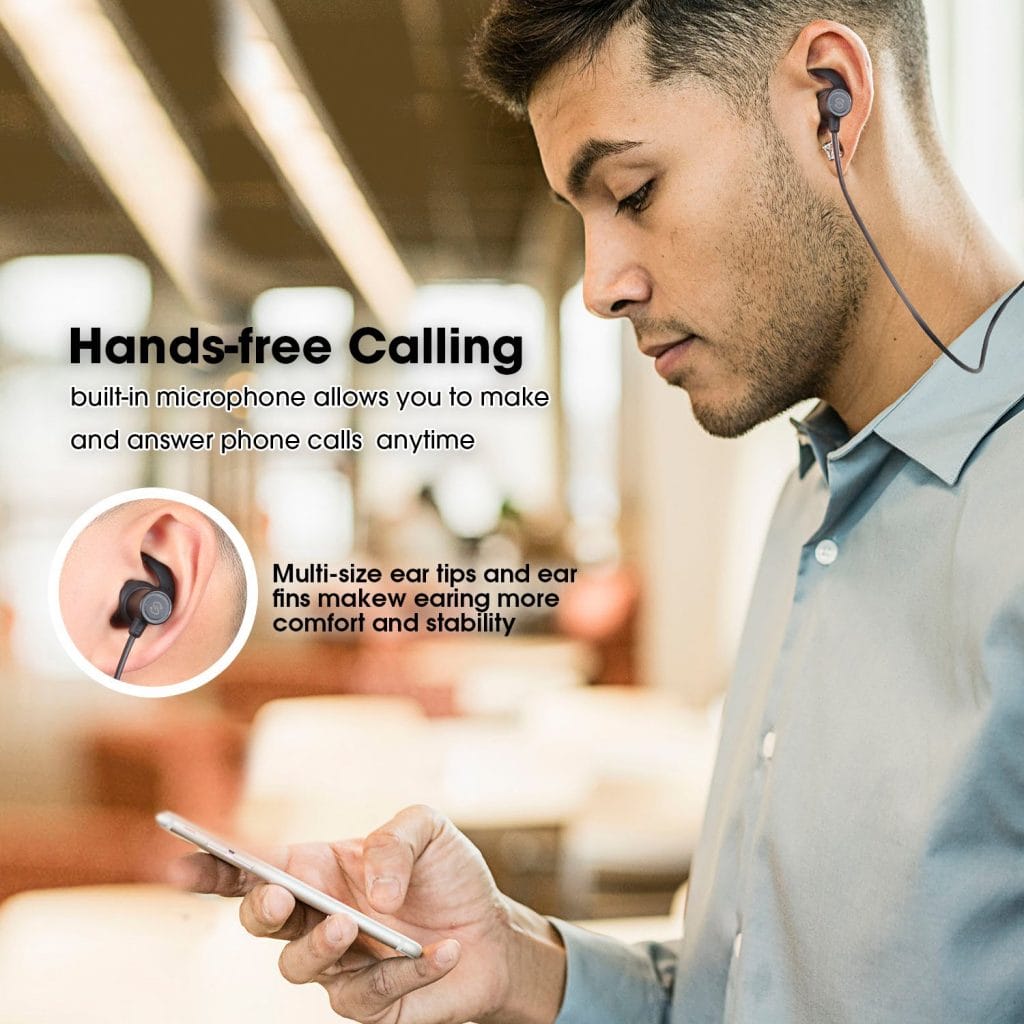 The musical sounds sweet and unique to you only, the sound leakage is literally non-existent, so no freeloaders will get to enjoy a second-hand music experience!
The fit is awesome, even when moving around, I'm not sure about jogging though as I would have to go for a jog to test that feature, I don't think running after the Ice Cream Van counts as a jog!
As previously mentioned the earphones magnetically attract to each other, so you can remove them from your ears and clip them together and create some sort of earphone necklace bling.
Technical Specifications.
Brand: SoundPEATS
Model: Wireless Bluetooth Earphones
Model Code: Q30
EAN: N/A
ASIN: B074W1WWNK
Bluetooth Version: V4.1 – HSP, HFP, A2DP, AVRCP
Bluetooth Chip: CSR8645
Audio Codec: APTX
Working Range: 10M
Battery: Lithium Polymer 3.7V / 55mAH x2
Charge Time: 1-2 Hours
Working Time: 7-8 Hours
Standby Time: 100 Hours
Driver: 6mm x2
Certification: IPX6 (Sweatproof)
Compliance: CE, FCC, RoHS
Conclusion.
I think by now you'll probably know SoundPEATS have a new fan.  The sound is fantastic, and I really can't hype these earphones up enough.  If you like music and earphones then you'll want these, if not then why are you reading this review?
The price is now going to be a surprise, you'll think the sound quality will warrant a £100+ price tag but guess what you'll get these for under £25.00.  How this is possible I don't know but, buy these now and ditch the expensive rip-off brands that obviously overcharge and produce audio equipment to almost the same specification as these earphones.
If you want the SoundPEATS Q30 Earphones for yourself, they're available for purchase only on Amazon. The RRP for this product is £19.99.
Product sample provided by SoundPEATS in exchange for a detailed, unbiased review.
---
Thank you for taking the time to read my post. If you'd like to add a comment or thought on this post, please use the section below. I can also be contacted via the online contact form. Please subscribe for the latest reviews, news, and discounts. Please follow My Helpful Hints on Twitter, Instagram & Facebook too!