The oneConcept Phantasma Ethanol Fireplace is a modern and stylish fireplace that would suit a minimalist, contemporary living room decor.
You can instantly create a warm, inviting, and romantic environment with real flames without needing anything apart from some ethanol and a lighter.
You get two large 750ml safety burners that can produce a burning time of around 3 hours.
A modern fireplace that can also be hung on your wall, what's not to love? I suppose I better give it a test!
Packaging and Contents.
The oneConcept Phantasma Ethanol Fireplace comes double cardboard packaged with the exterior box measuring 64.3cm x 119.8cm x 26.8cm and weighing a hefty 21KG.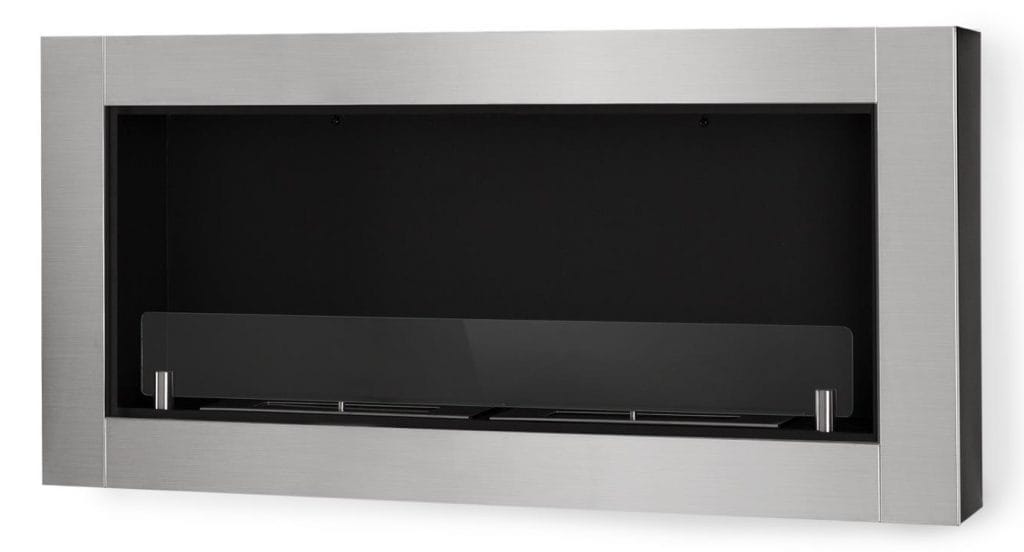 Upon opening the oneConcept Phantasma Ethanol Fireplace box you will find the following items. 1x Fireplace, 2x Footpads, 5x Sets of Screws, 2x M6x16 Screws, 1x Bracket, 1x Hook, 2x Burners, 2x M6x12 Screws, 2x Glass Stands, 1x Glass, 2x Bags of Cotton, 1x Multi-Lingual User Manual.
oneConcept Phantasma Ethanol Fireplace.
The oneConcept Phantasma Ethanol Fireplace is made from steel and features a two-tone colour scheme of Black and brushed Stainless Steel.  The fireplace itself measures 110.0cm in width x 54.0cm in height and has a depth of 16.0cm and has a weight of 19.0KG.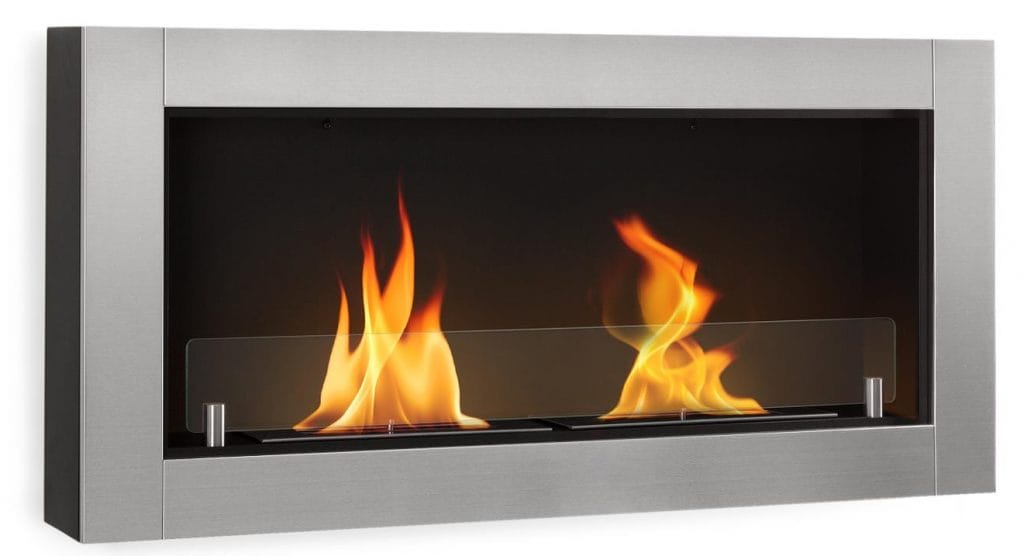 Safety Instructions.
Before you can install and use this fire you 'll need to be aware of a few safety instructions and tips.
This fire will use oxygen from within the air of a room.  The room where this fireplace is to be installed needs to be well ventilated.  Never install this fire into an unventilated basement or air tight sealed room.
You also must not install this fire into a room with a volume of 70 cubic metres or less.
Do no install this fire or operate with a close vicinity of gas or liquid fuels, explosives, or chemicals of any type.
Don't install this fire into any alcove or enclosure that is made from combustible materials.
Assembly.
Assembly is easy, and you'll only need basic tools to install this fireplace.  To start with you'll need to fit the bracket onto a solid wall.  Now, you'll be able to hang the fireplace onto the top of the bracket.  Next you need to simply place in the two burners into the cut out slotted areas of the fireplace and finish off by installing the glass edge barrier.  That's it!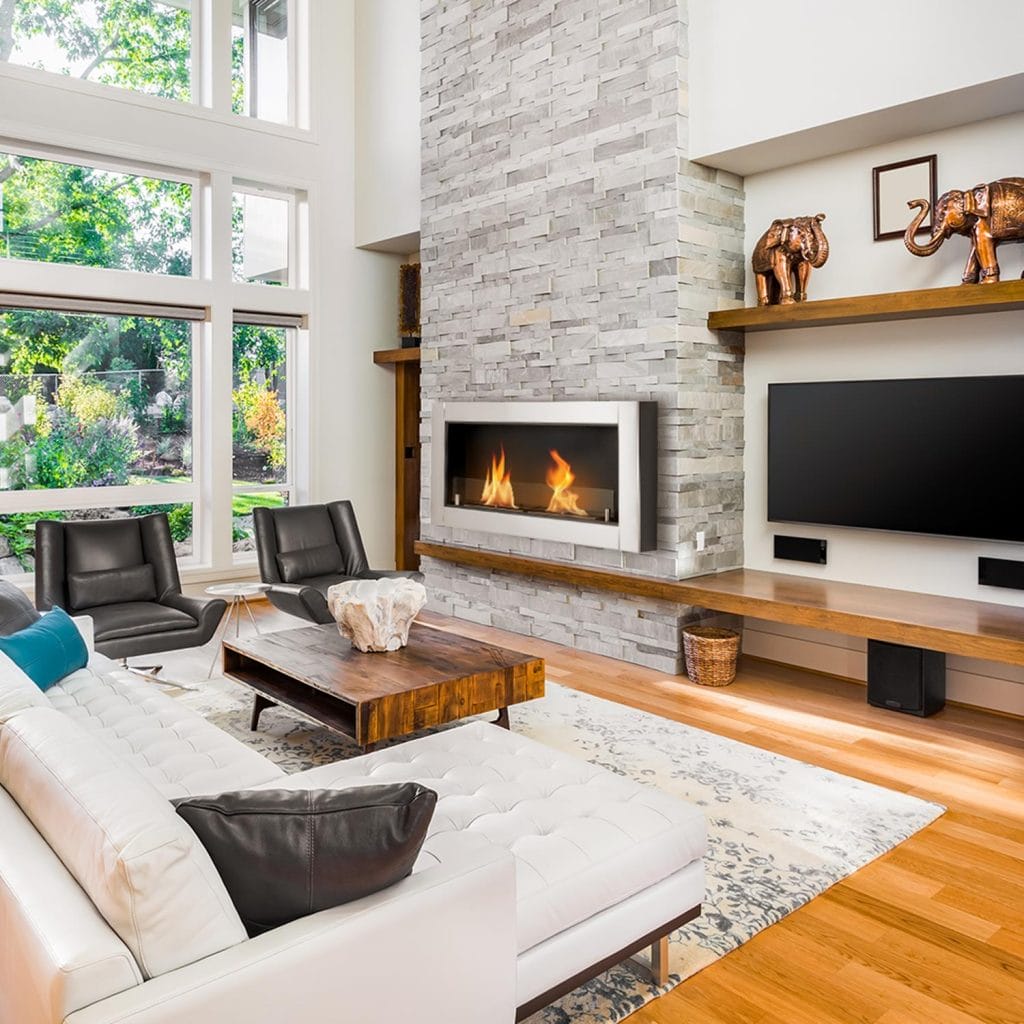 You'll need to use ethanol with at least a 95% biomass alcohol content, this is freely available from the internet and on Amazon too.
To use the burners, you'll need to add a little ethanol to the cotton pads inside the burners and ignite, and that's all.  To extinguish you can allow the ethanol to simply burn off.   You can also with the supplied hook close the lid on the burner and cut off the oxygen supply.
Technical Specifications.
Brand: oneConcept
Model: Phantasma Ethanol Fireplace
Model Code: GDW23-Phantasma Modern
Product Code: 10032145
EAN: 4260509687768
ASIN: B078YYRT2M
Compliance: CE
Conclusion.
The first thing to take note of with this fireplace is the massive size!  It's huge!  But, I quite like it.  I live in a house that does not have a chimney and long for a real fireplace, this one fits the bill nicely.  I found the installation very easy and was using the fire in a matter of minutes.  You do get a smell of burning ethanol every now and then but as long as you keep open a window, everything will be ok.
I highly recommend this for anyone who wants a real fire but can't due to a modern designed living room.  It's also quite cheap to operate too!
If you want the oneConcept Phantasma Ethanol Fireplace for yourself, it's available for purchase only on Amazon. The RRP for this product is £299.99..
Product sample provided by oneConcept in exchange for a detailed, unbiased review.
---
Thank you for taking the time to read my post. If you'd like to add a comment or thought on this post, please use the section below. I can also be contacted via the online contact form. Please subscribe for the latest reviews, news, and discounts. Please follow My Helpful Hints on Twitter, Instagram & Facebook too!
oneConcept Phantasma Ethanol Fireplace