The KANZY Victory Shaver is a double edged single bladed razor which can be used by both men and woman.
You get easy shaving without the hassle and the KANZY Victory Shaver is ideal for beard and side burn edging.
You can use all standard double edge razor blades with this razor and changing a blade is a quick simple process.
Packaging.
The KANZY Victory Shaver comes packaged in a Black cardboard box, the box features product illustrations, and specifications.  The box measures 10.5cm x 6.0cm x 3.0cm and weighs 130G.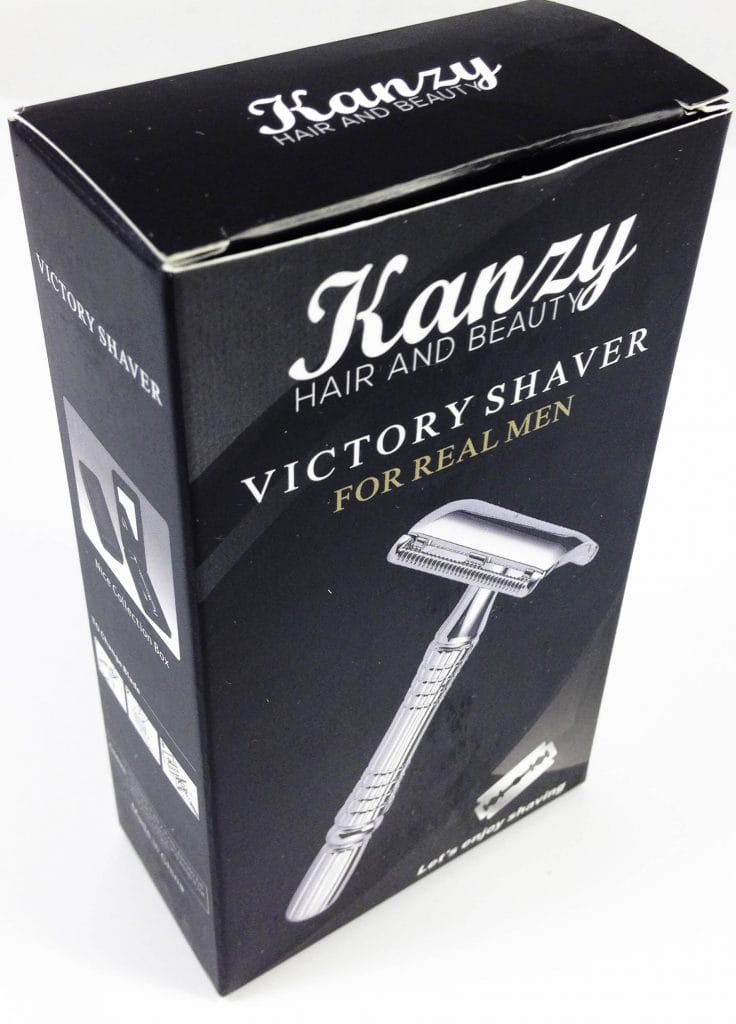 Contents.
Upon opening the KANZY Victory Shaver box you will find the following items. 1x Hard Shell Case, 1x Razor, 1x Blade.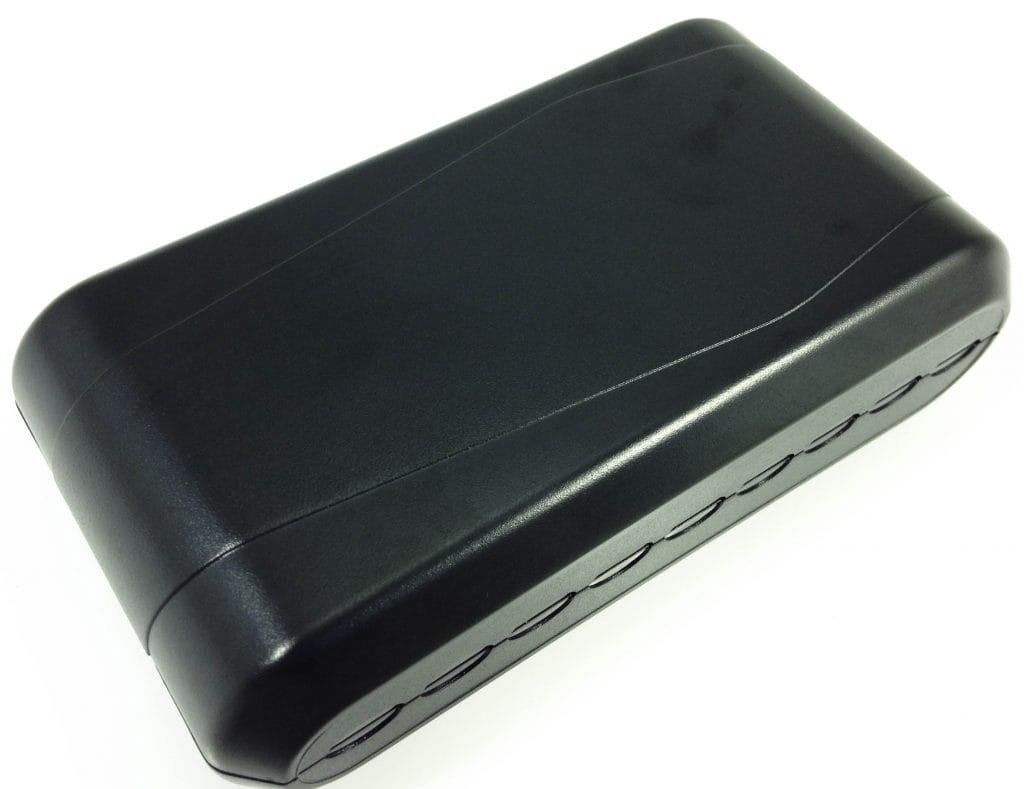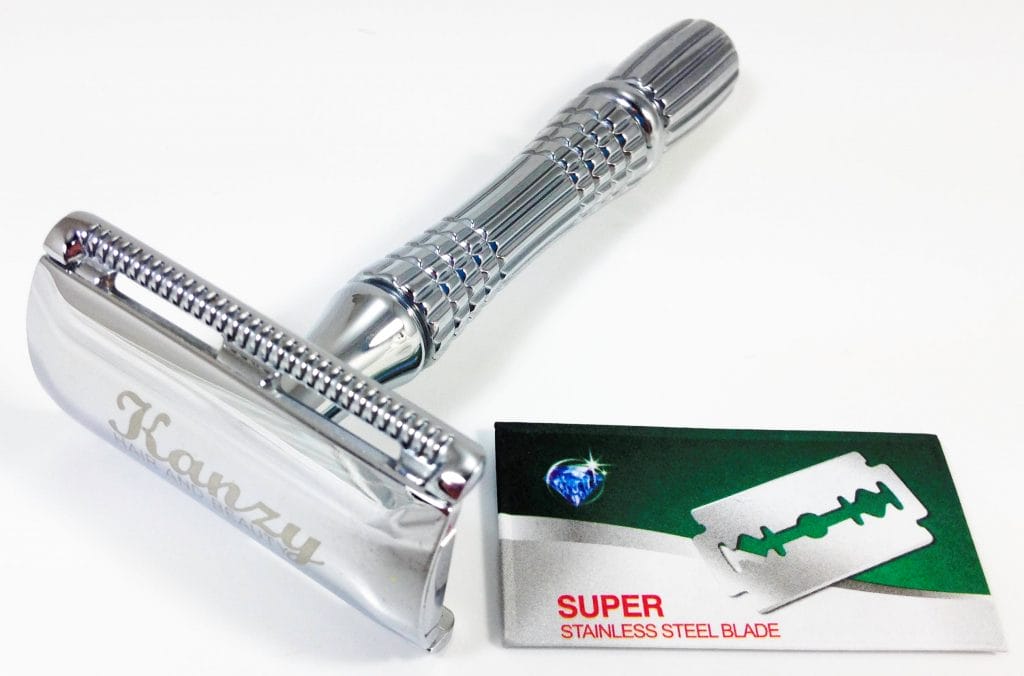 KANZY Victory Shaver.
The KANZY Victory Shaver is made from entirely from metal, it's Chrome in colour and measures when assembled 9.5cm in length, the head measures 4.5cm x 3.0cm, and the razor weighs 75G.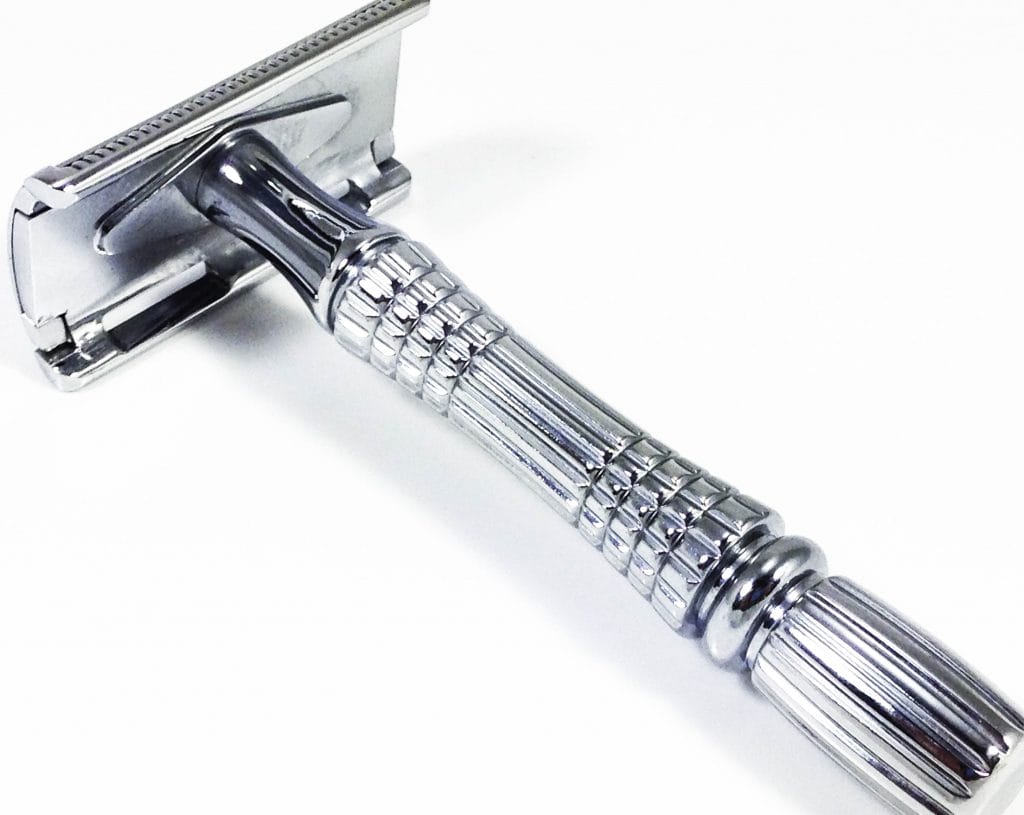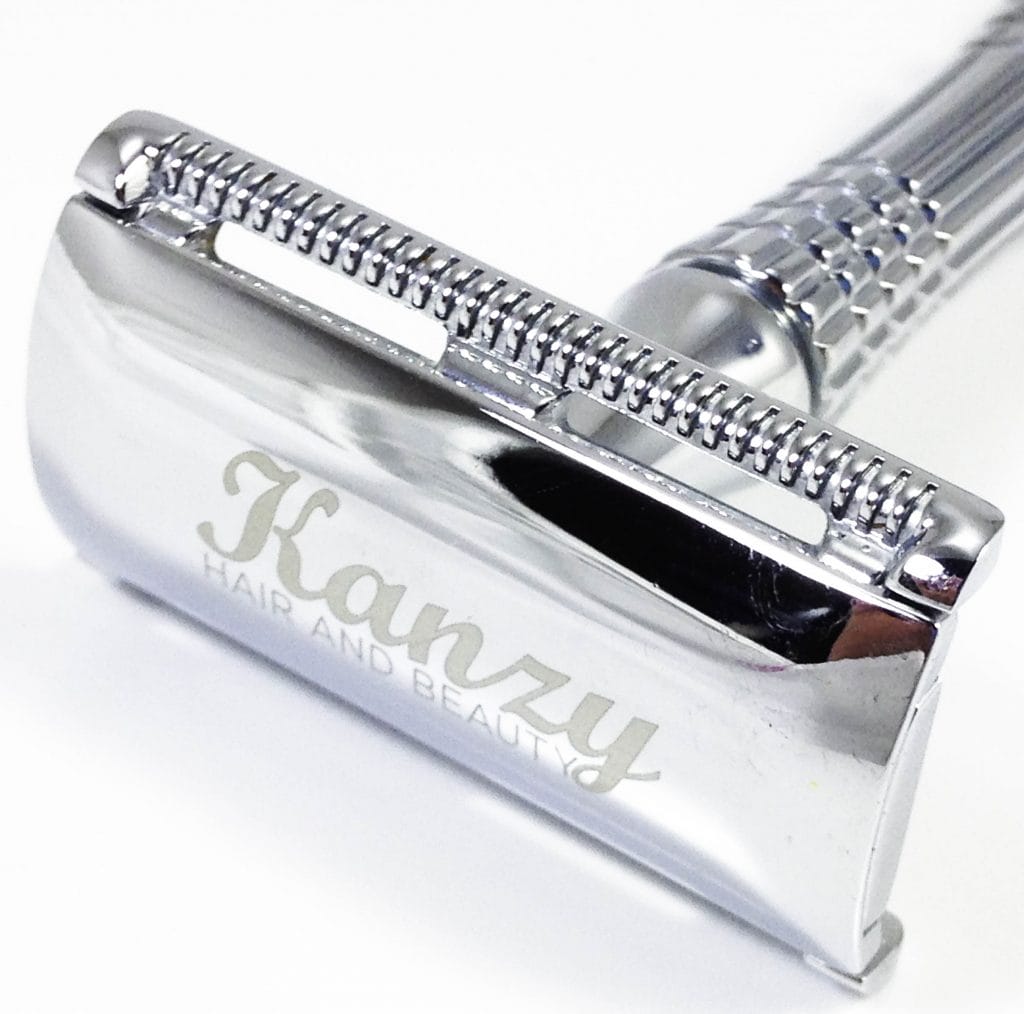 The KANZY Victory Shaver comes with a brilliant hard-shell case, it's Black in colour and measures when closed 10.5cm x 5.5cm x 2.5cm, and when opened it measures 10.5cm x 10.5cm x 5.5cm.
The case inside is designed perfectly for the razor to sit without moving about. You can even store some extra blades underneath the razor.  The case also has a small mirror, ideal to use whilst travelling.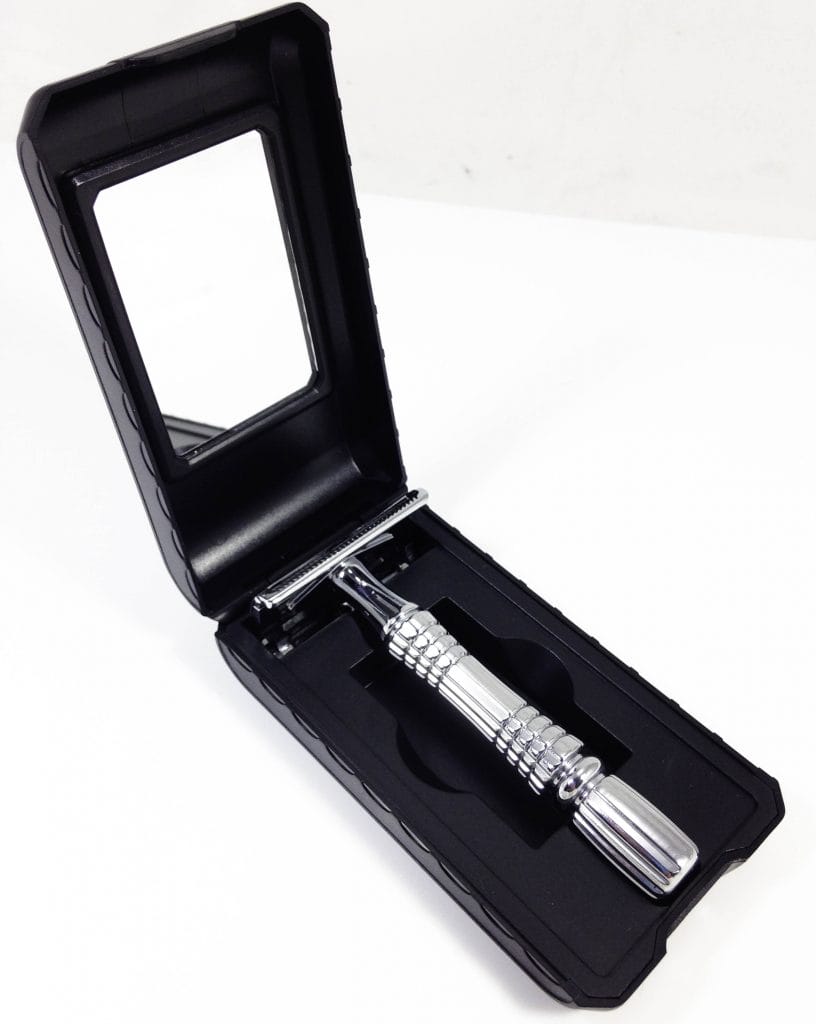 Changing the Blade.
Changing the blade of the KANZY Victory Shaver takes care and patience as to not cut your fingers to shreds, but once you've mastered this art you'll be changing the blades like a real pro.
To start to change the blade you'll need to follow this simple instruction.  Hold the head of the razor on the width side (Non-bladed side), with your other hand unscrew the handle in an anti-clockwise motion to release the handle from the head.  The head comes apart into two different sections.

Now, unwrap the blade from the protective paper very carefully, and insert the blade (by holding it on the ends and not the sharp section) onto the threaded screw of the head (It doesn't matter which way up the blade goes), the blade should fit snuggly onto this head and fit into the designed holding grooves.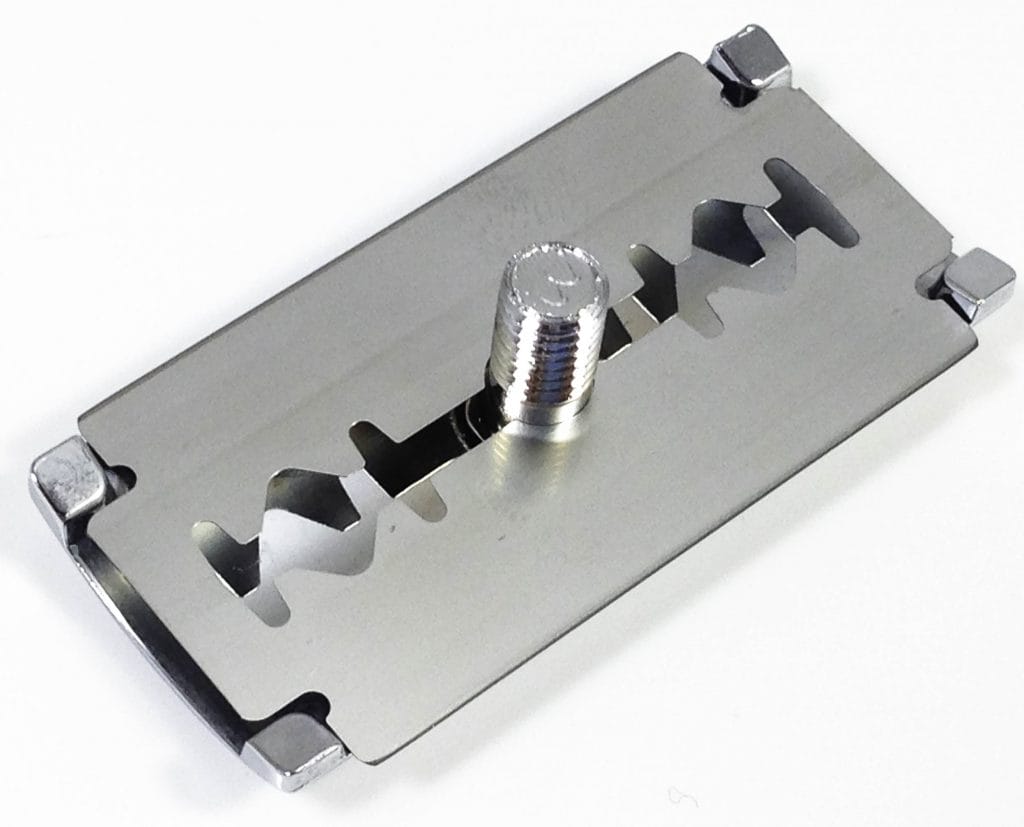 Fit the middle head section on top of the blade (Needs to installed curve side on top of the blade)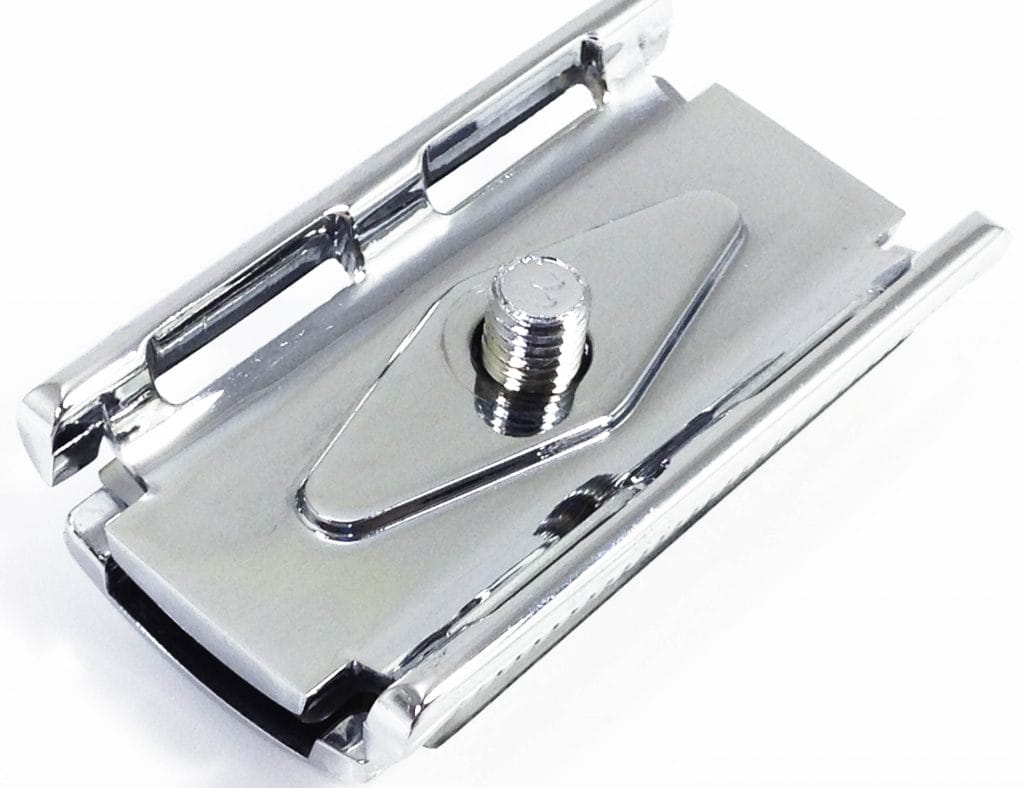 Hold the handle and start to tighten in a clockwise motion until all three sections are tightly sandwiched together.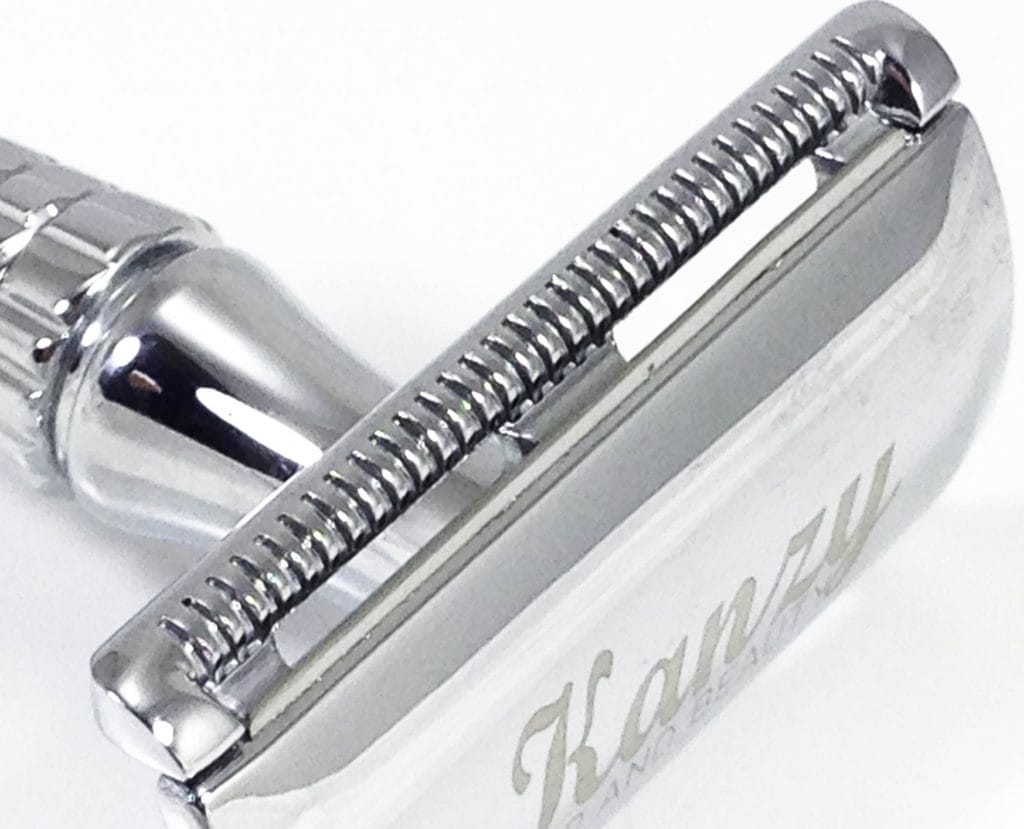 And, that's' it, now it's time to shave your face fuzz!
Replacement Blades.
The KANZY Victory Shaver uses standard double edge razor blades, you'll struggle to find these on some online retailers like Amazon due to their listing compliances, but if you go to any high street beauty shop you'll see them near the usual razor blade section.  It doesn't matter what brand you choose as they will all fit in the KANZY Victory Shaver.  You'll be saving money in next to no time as we all know how expensive disposable razor and cartridges for other branded razors cost.
Using the KANZY Victory Shaver.
OK, I'll admit it…I hate shaving with a passion, I normally allow my face to covered by messy hair until I look unkept and then I might go and shave!  I have tried many different branded razors over the years, I've used ones with 1 blade, 2 blades, 3 blades, 4 blades etc and they all have the same issue, they clog up easily and cut my face to shreds!  This even happens when I use an electric shaver to cut the hair to a smaller length and then attempt to close shave.
I've tried using different shaving foams, creams, and balms and it always happens.  The razor blades start to snag and end up pulling my hair out of face like some sort of torture exercise!
So, after reading up on the issue on the internet, I decided to take a back in time and try using and old-fashioned way of shaving.  I've always been a believer than modern technological advances are better than what my parents had, but in this instance I'm wrong!  This razor works fantastically!
I decided if I was going to test the KANZY Victory Shaver I would test it to the extreme!  So, I let my hair grow to about 1.0cm in length and decided to start to shave with the razor without cutting down the length first.
The Shave.
I was shocked and pleasantly surprised how easy the razor was to use and it was cutting my hair and not plucking it off my face.  I managed to get almost completely through my shave without cutting myself, until I got overconfident on the last section near my jaw line and quickly shaved and nicked myself slightly!  But despite my actions I was impressed.  My face was smooth and hair free!
I've now been using my KANZY Victory Shaver every few days. (Not bad for someone who probably shaved once a month prior to this) Now I don't even cut myself anymore and my shaves have become an enjoyable experience.
I do however recommend changing the blade prior to every shave.  Old shaving foam can get clogged up in the razor.  But since replacement blades literally cost a few pence each I don't mind!
I now look smooth and hair free, not like before when I shaved using other razors, which I looked like Edward Scissor Hands had attacked me whilst he was intoxicated!
Technical Specifications.
Brand: KANZY
Model: Victory Shaver
Model Code: K-100
EAN: N/A
ASIN: B01N7P3UI0
Compliance: CE
Conclusion.
I absolutely love this razor from KANZY.  I'm now shaving more frequently and look the smartest facially that I've been in years!  I seriously cannot recommend this razor enough to you.
If you want the KANZY Victory Shaver for yourself, it's available for purchase only on Amazon. The RRP for this product is £11.99.
Product sample provided by KANZY in exchange for a detailed, unbiased review.
---
Thank you for taking the time to read my post. If you'd like to add a comment or thought on this post, please use the section below. I can also be contacted via the online contact form. Please subscribe for the latest reviews, news, and discounts. Please follow My Helpful Hints on Twitter, Instagram & Facebook too!