Today I'll be reviewing the Chapel Green Shaving Soap. It's been nearly a year since I reviewed for Chapel Soap and Dean's marvellous handmade soaps. Since then, I've been regular customer of Chapel Soap.
Today it's the turn of a shaving soap, something different for this website, but I like mix things up, and always happy to support a small business too.
You may see the from the title that this review is named Chapel Green Shaving Soap, although the product doesn't mention this name. That's because since I received this product, Chapel Soap have had a little rebrand of their shaving range. I can assure you it's the same product.
As with all Chapel Soap products this shaving soap is cruelty-free, sustainable, and organic.
So, is this shaving soap any good? Time to test it out!
Packaging and Contents.
The Chapel Green Shaving Soap is sent in 100% plastic-free packaging. Not a single trace of plastic, not even sticky tape. The outer tin is 100% recyclable and features some knurling to the edge for grip too. Each tin measure 8.2cm x 3.5cm and weigh around 120G (including soap and tin, the shaving soap weighs 100G).
Chapel Green Shaving Soap.
I have two varieties of shaving soap from Chapel Soap, both are equal in weight and price. One is named Soul Salvation and contains Shea Butter, Avocado Oil, Caster Oil, Sunflower Oil, RSPO Palm Oil, Tea Tree, Atlas Cedarwood and Bentonite Clay. The other is named 3 Minute Hero and contains Shea Butter, Avocado Oil, Caster Oil, Sunflower Oil, RSPO Palm Oil, Lemon, May Chang and Bentonite Clay.
Both smell lovely.
I use the Kanzy razor and have been for a few years now, it's the only type of razor that doesn't clog up and rip the hair from my face. For best results it's highly recommend to use a shaving brush, these are fairly cheap and please use a vegan brush. Please don't purchase a brush with badger hair!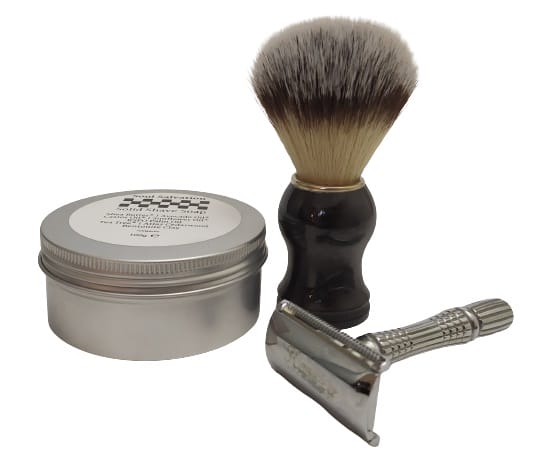 Using the Shaving Soap.
I loathe shaving, it's a chore, then I have the added issue of redness and spots to contend with. But I also can't stand when my facial hair grows too long either, it's itchy, nasty and physically hurts me. Also, beards are gross and hold onto shit and mouldy food.
Usually, I use an electric shaver to clip the hair, before using my razor to gain a smooth finish. This works for me as I don't end up ripping my hair from my face. Shaving has been easier since switching from a major branded multi-blade razor to a single blade razor. Also, I love the fact that I don't contribute to plastic waste either, razor blades are cheap and work better.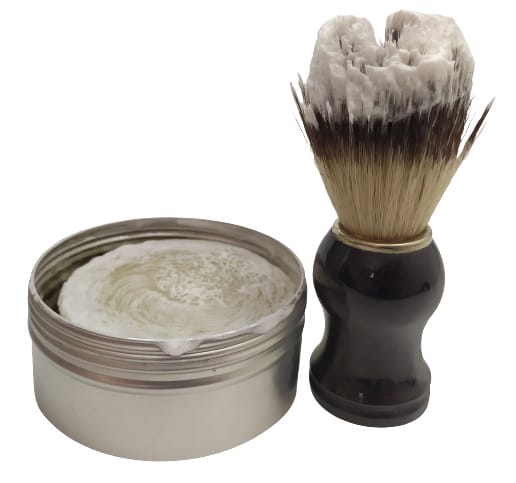 To use simply wet up the shaving brush and work into the shaving soap. You can leave the soap in the tin and it acts like the same as a shaving bowl. The lathering effect is lower than typical branded products that are advertised. I was concerned at first. But, after using the shaving soap I was reassured that it had covered my face, although it was different to what I had been used too. I'd only ever had a completely white creamy face before. The Chapel Green Shaving Soap has a light lather, thinner than major branded shaving creams and soaps. But it works!
I did my usual pre-shave at first and then used the Chapel Green Shaving Soap, no issues whatsoever.
Further Testing.
Seeing as the Chapel Green Shaving Soap managed to achieve the same as any other shaving cream/soap, I decided to step up my shaving game. I did the unthinkable, I grew a dirty, skanky, and most weirdly a ginger beard (although I have brown hair), only to a length of 1.0cm as I haven't got forever, and I hate that face fuzz shit.
It was time then to remove it! (YES)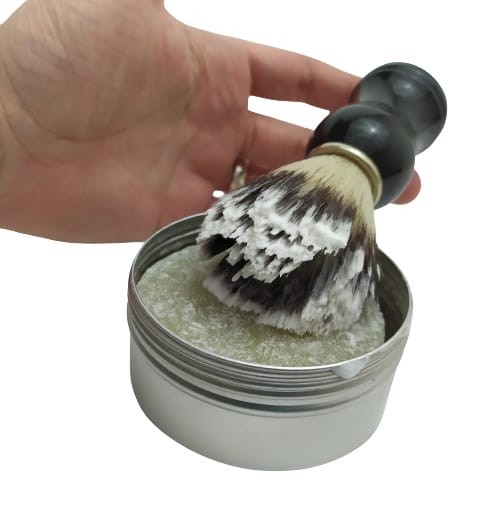 I wet up my brush, worked up a lather into the tin, smothered it onto my face, grabbed my razor and starting to shave, all without pre-shaving. Guess what? It all came straight off, no cuts, no deep gashes, no horror scenes. I was in total shock, not a single hair rip either. The Chapel Green Shaving Soap helps your razor glide all over your face, without fear. I have been consistently using both shaving soaps for a few weeks now and can't believe how much easier shaving is now.
My face afterwards is smooth, and I didn't need to use any aftershave products either with no redness or spots either.
I seriously can't praise them high enough. Also, each tin will last about a year on average too, not bad for £7.00, plus the tin can be reused/recycled too.
Technical Specifications.
Brand: Chapel Soap
Model: Chapel Green Shaving Soap
Manufacturer Code: N/A
Manufacturer Reference: N/A
EAN: N/A
ASIN: N/A
Compliance: N/A
Conclusion.
I absolutely love the Chapel Green Shaving Soap. It's certainly a lifelong purchase from me, no other shaving cream/soap has ever come close to a stress, cut free have before.
I love all Chapel Soap's products; the soaps are brilliant, and the shaving soap is no different.
I would even go a step further and say the shaving soaps are Chapel Soap's most impressive product, and certainty should be highly promoted as it's quite simply put, perfect!
If you want the Chapel Green Shaving Soap for yourself, it's available for purchase only on the Chapel Soap website. The RRP for this product is £7.00.
---
Thank you for taking the time to read my post. If you'd like to add a comment or thought on this post, please use the section below. I can also be contacted via the online contact form. Please subscribe for the latest reviews, news, and discounts. Please follow My Helpful Hints on Twitter, Instagram & Facebook too!
Chapel Green Shaving Soap