The Fancii Maya Lighted Mirror is another great mirrored product from Fancii.
You get 20 true-tone ring light LEDs that mimic natural sunlight, so that you can apply your makeup flawlessly.
Also, this mirror comes with 7x magnification, perfect to view and perform any task, such as tweezing and applying eye makeup, in exceptional and clear detail.
The Maya mirror features a locking suction mechanism which can provide you with a secure attachment to any smooth surface.  This mirror can also rotate 360°, swivel and can be fully adjustable to suite any desired angle or position.
Packaging.
The Fancii Maya Lighted Mirror comes packaged in a White and Black cardboard box, the box features product illustrations, and specifications.  The box measures 24.0cm x 20.5cm x 8.0cm and weighs 470G.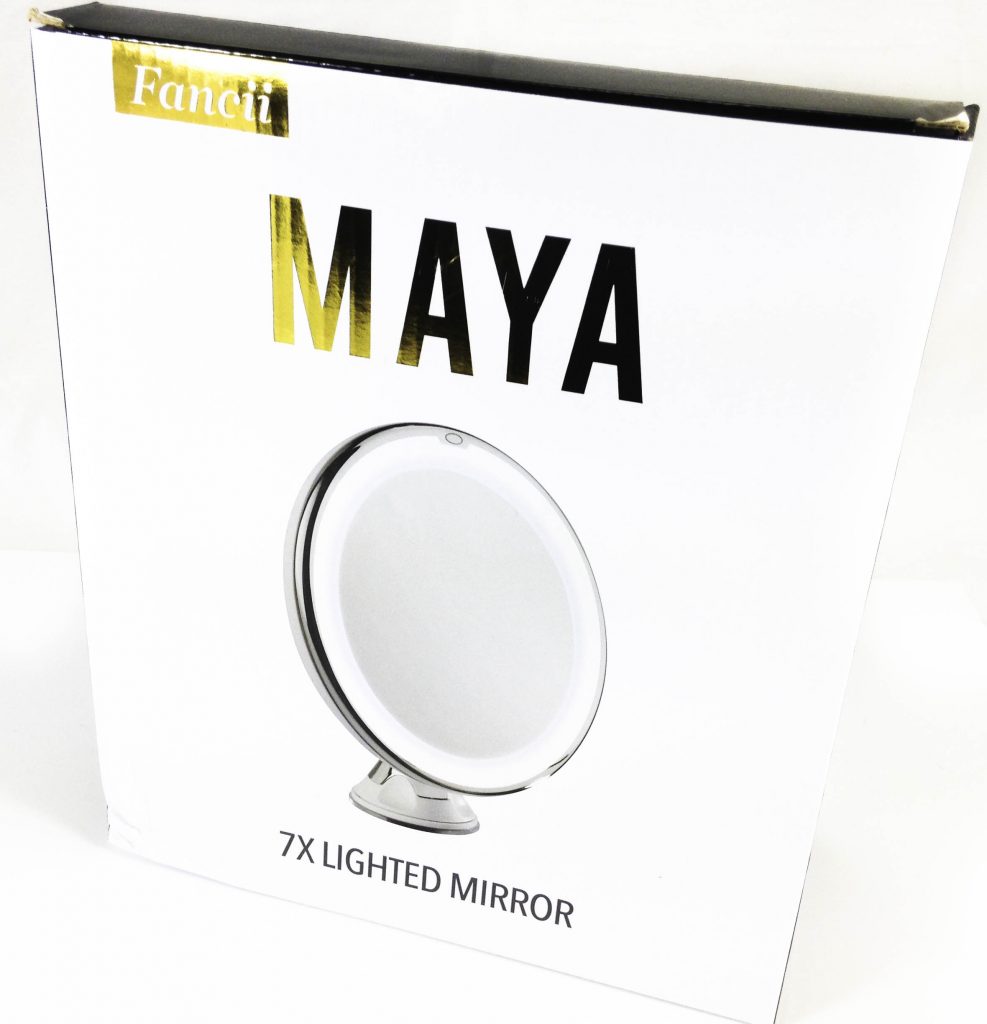 Contents.
Upon opening the Fancii Maya Lighted Mirror box you will find the following items. 1x Mirror, 1x Suction Cup, 1x English Written User Guide, 1x Company Contact Card.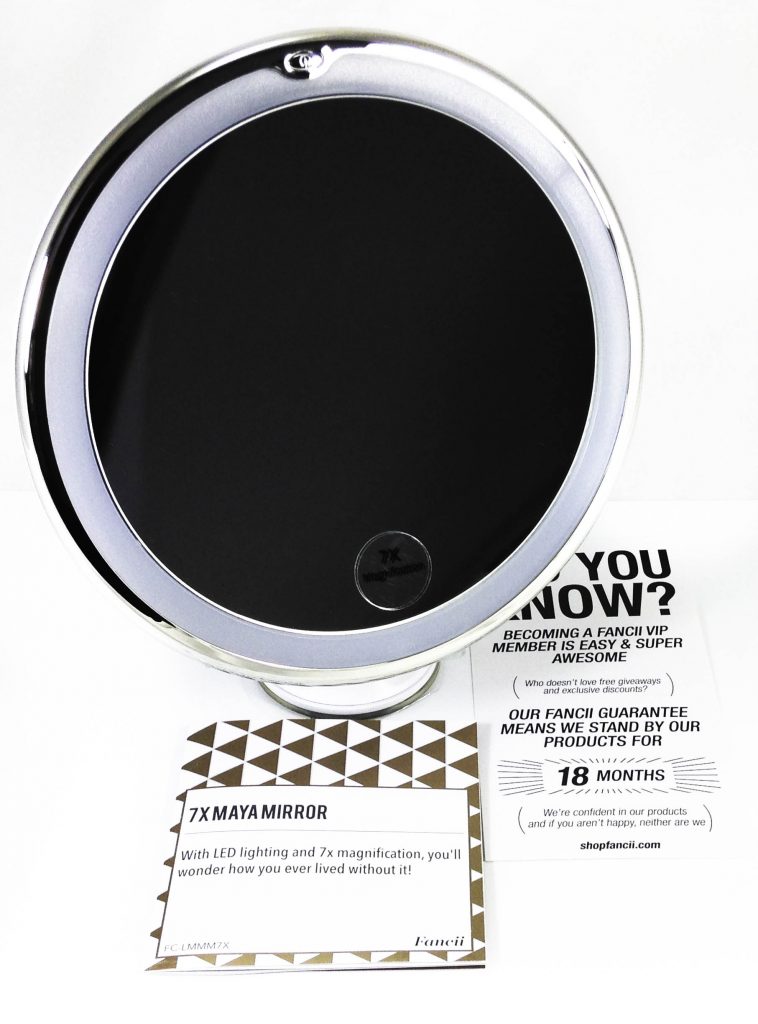 Fancii Maya Lighted Mirror.
The Fancii Maya Lighted Mirror is made from durable plastic and is White in colour with a Chrome edge finish.  The mirror measures 22.5cm in height x 20.0cm in diameter, the suction cup has a diameter of 7.0cm.  The mirror weighs 432G.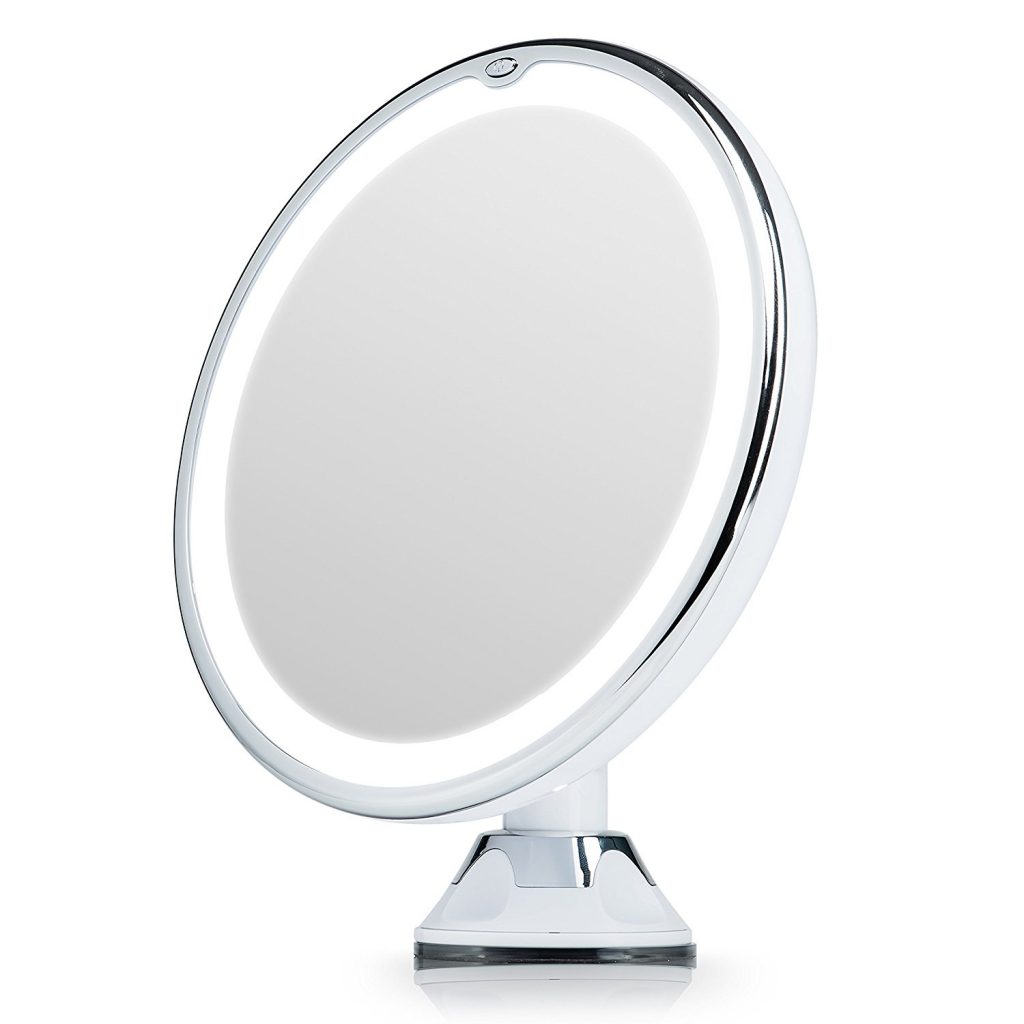 The suction cup is also made from plastic and can be used to install your mirror onto any hard surface, including; Ceramic, Marble, Acrylic, Porcelain, Enamel, and any other smooth surface.
You can't use it on Plasterboard, Wallpapered Walls or any other textured surface or the mirror will fall off!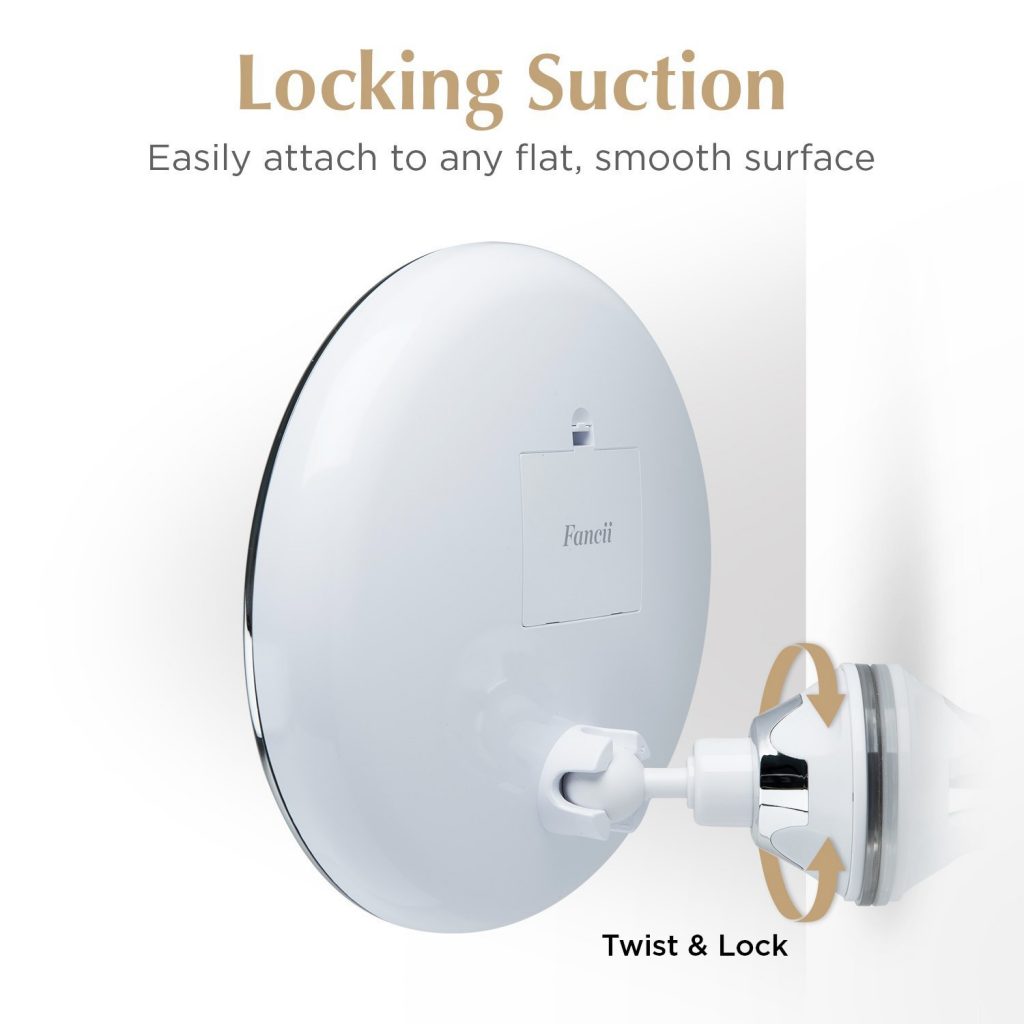 To use the suction cup, you firstly need to remove the packaging film that is on the cup itself or it won't adhere to anything.  Now, place the suction cup onto a smooth surface and in a clockwise twisting motion tighten up the cup.  To remove, simply twist in an anti-clockwise direction and the cup will be released.
LED Lighting.
This mirror features 20 energy-efficient LED lights that have been installed around the mirror to provide excellent daylight simulated lighting.  To use this feature, you'll need 3x AA (Not Included) and you can switch the lighting on/off using the power switch located on the front of the mirror.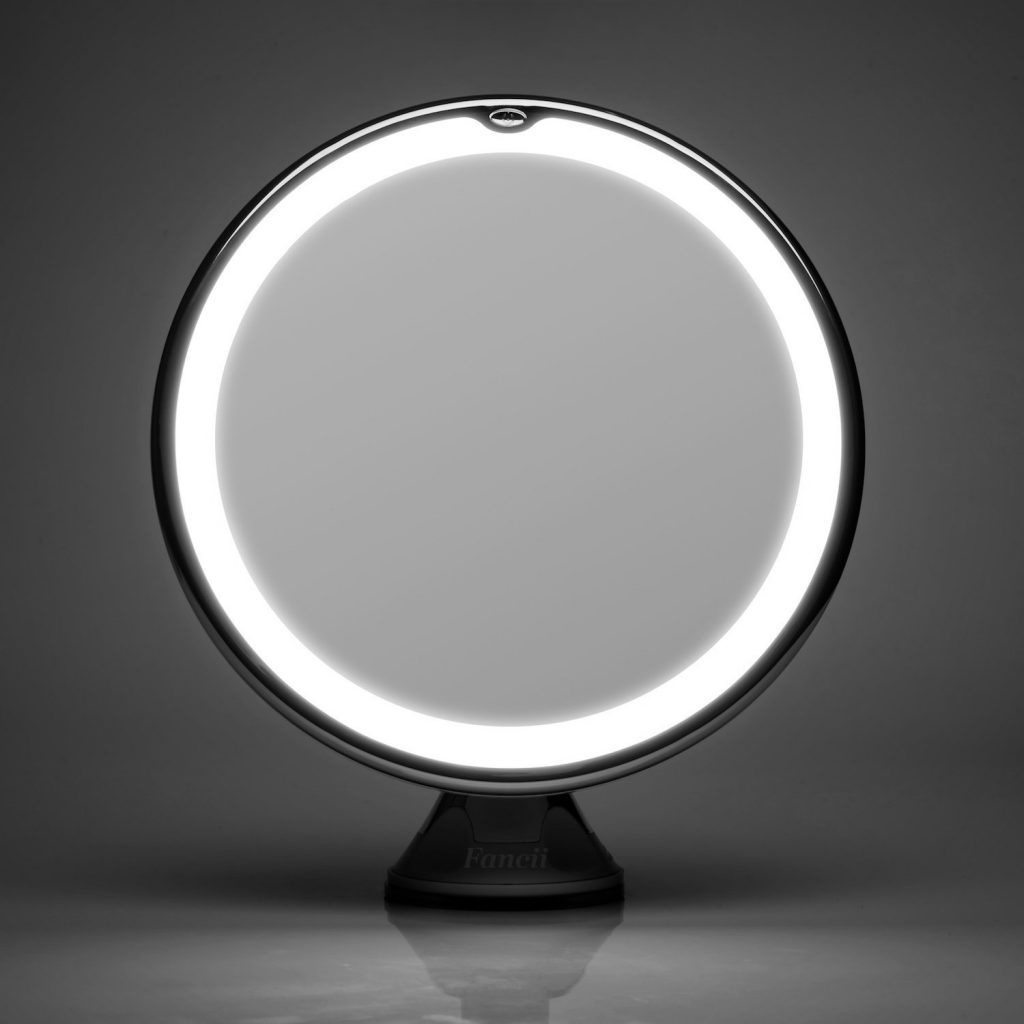 7X Magnification.
The Fancii Maya Lighted Mirror also provides 7x magnification, this makes it perfect for seeing every pore in detail and great for fine detailing work.  The mirrored surface has a diameter measurement of 16.5cm.
You can still see fine facial details, even without the use of the LED lights too!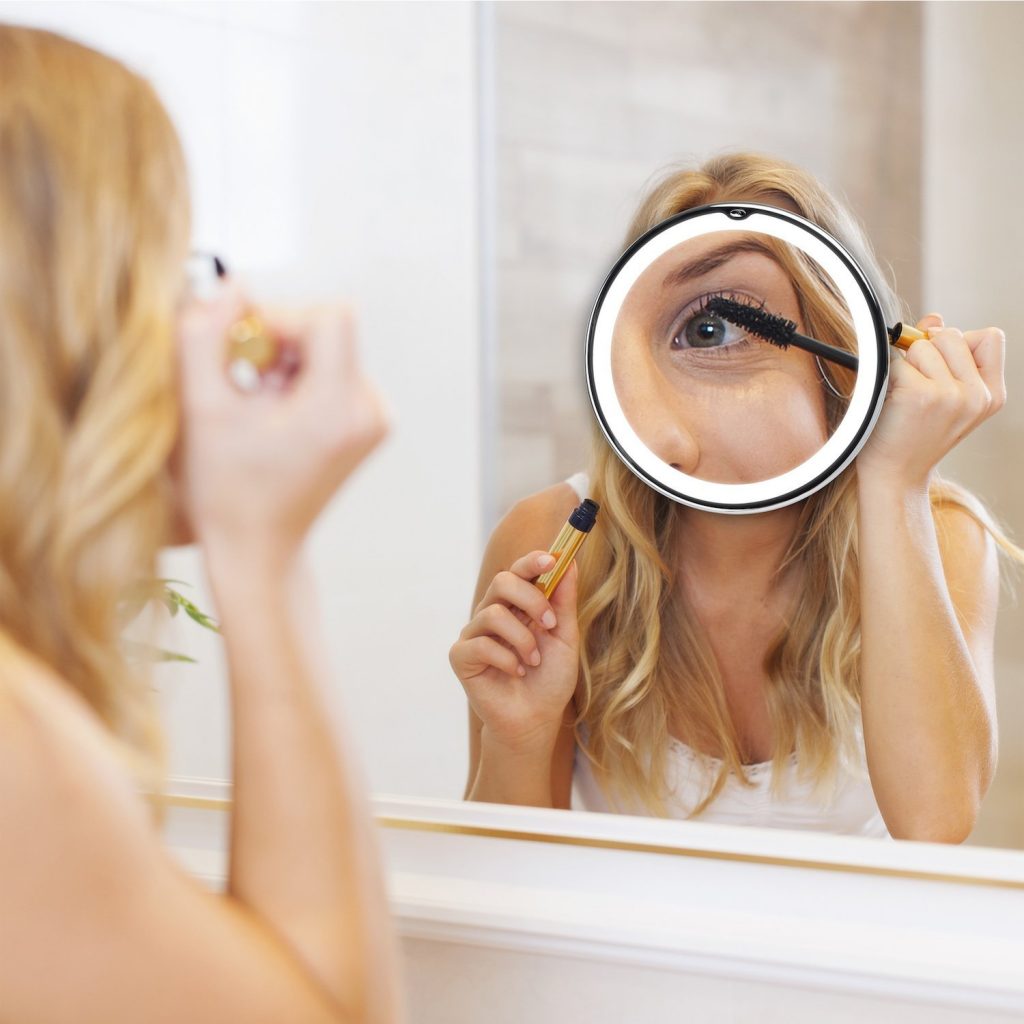 Technical Specifications.
Brand: Fancii
Model: Maya Lighted Mirror
Model Code: FC-LMMM7X
EAN: N/A
ASIN: B077XQ59BR
Power Type: 3x AA Batteries (Not Included)
Compliance: CE
Conclusion.
This is another great mirror from the Fancii range.  The mirror provides clear and excellent close-up detail.  I like the LED lighting too, they're super bright and really light up the face to help you fine tune your beauty regime.
Overall I highly recommend this mirror. The suction cup is great and doesn't fall off my smooth surfaces.
If you want the Fancii Maya Lighted Mirror for yourself, it's available for purchase only on Amazon. The RRP for this product is £11.95.
Product sample provided by Fancii in exchange for a detailed, unbiased review.
---
Thank you for taking the time to read my post. If you'd like to add a comment or thought on this post, please use the section below. I can also be contacted via the online contact form. Please subscribe for the latest reviews, news, and discounts. Please follow My Helpful Hints on Twitter, Instagram & Facebook too!
Fancii Maya Lighted Mirror