Today I'm reviewing the Chapmas LED Makeup Mirror a vanity mirror that comes with 16 LED lights.
This mirror can be used via the USB powered cable or by 4x AA batteries.
Not only do you get a LED vanity mirror, but you also get a small, portable 10x magnified travel mirror too. And… a soft microfibre cleaning cloth as a bonus too.
The Chapmas LED Makeup Mirror can rotate a full 180° so you can find the best angle for your cosmetic needs. This mirror comes in either Black or White. I chose Black as it's easier to photograph.
But is this mirror any good? What is the quality like? Time to test it out!
Packaging and Contents.
The Chapmas LED Makeup Mirror comes packaged in a plain White cardboard box which measures 28.0cm x 19.5cm x 6.0cm and weighs 590G. Upon opening the box you'll find the following 1x Main Mirror Section, 1x Base, 1x Travel Mirror, 1x Cleaning Cloth, 1x USB Cable, 1x Illustrated English Instruction Guide.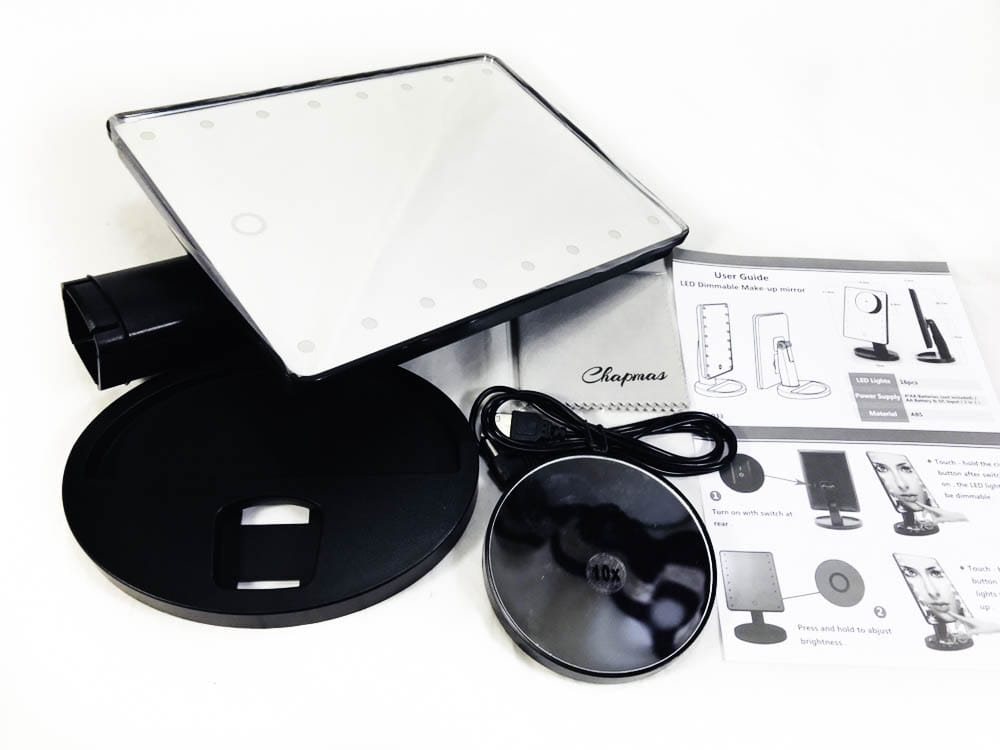 Chapmas LED Makeup Mirror.
The mirror is made from plastic materials. You need to do a little self-assembly before you start using the mirror. Align the base with the mirror and push the main mirror section into the plastic base ensuring it's fully clicked downward. That's it!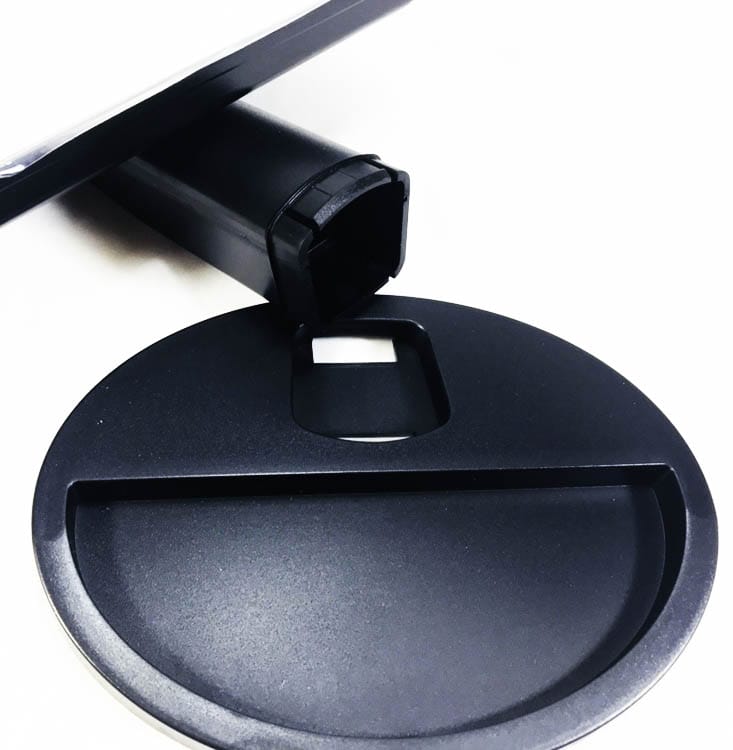 Once assembled the mirror measures 26.5cm in height x 16.5cm in width x 12.0cm in depth and weighs 425G.

The small travel mirror features two suction cups on the back that allows you to stick any non-porous surface. It measures 8.5cm x 1.0cm and has a 10x magnification surface.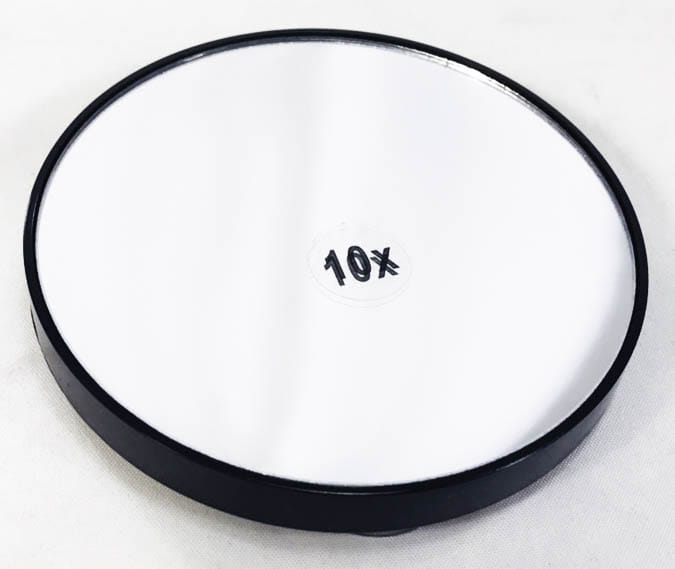 Power Options.
You have two power choices to use the in-built 16 LED lights. You can use the supplied powered USB cable (Which measures 96.0cm in length) or you can use 4x AA batteries. I'd suggest you don't use the USB powered option if you're planning on using the mirror in your bathroom or anywhere else that moisture is present.
If you're planning on using this mirror in a bathroom only use the battery option.
Don't install batteries and then use the USB powered cable as you'll cause a malfunction and potentially can cause the batteries to explode!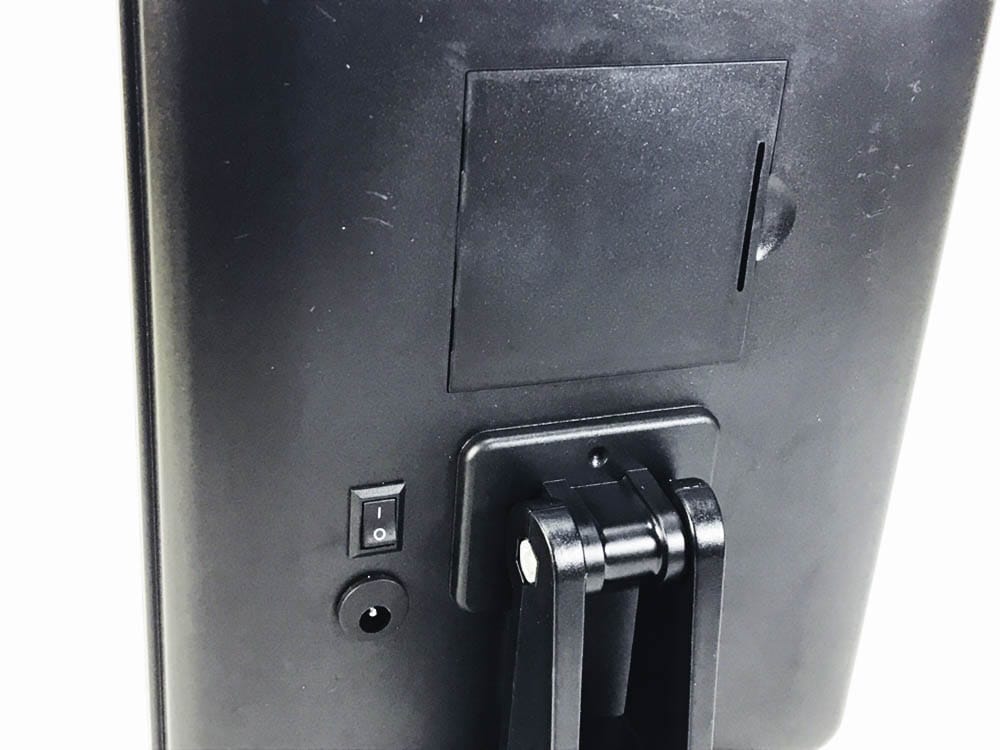 To use the USB powered cable, you can use any 5V DC powered outlet, you can use a mobile phone power plug, or even a powerbank.
Remember to use the on/off power toggle switch on the back before concluding your mirror doesn't work. Hands up… I fell victim of this.
Using the LED Lights.
Once you've powered up the mirror and remembered to switch it on from the back, you're ready to start lighting up the mirror. On the front located towards the bottom you'll see a circular touch sensitive power button.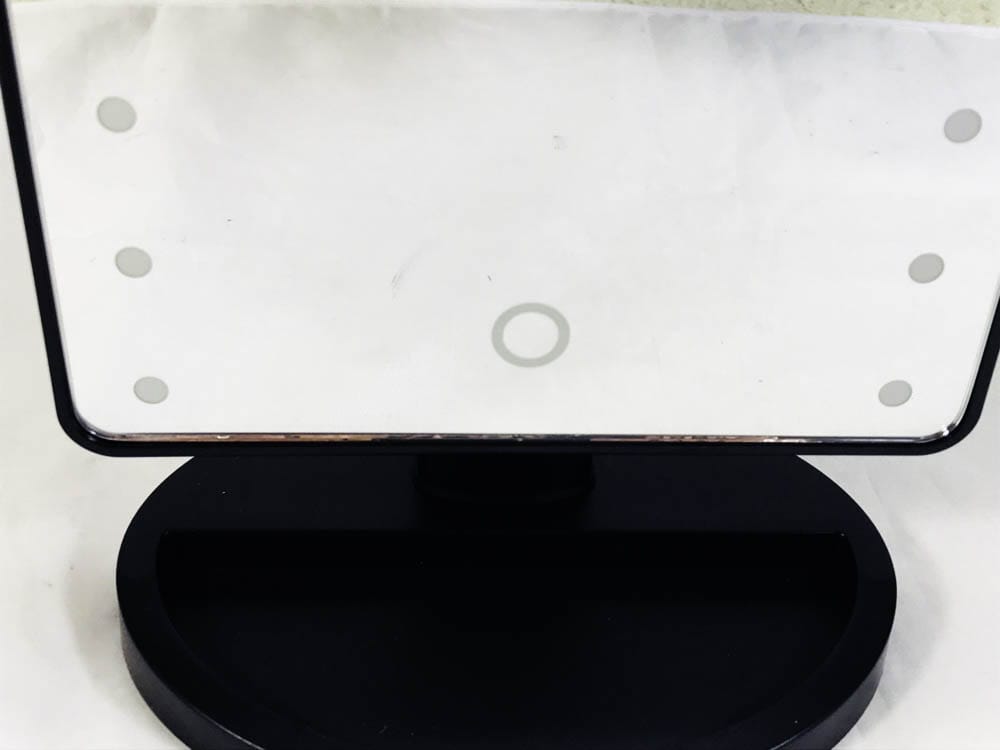 Press the touch button once to turn on all 16 LED lights on full power, press it again and you'll turn them off. But if you press and hold once they're on you're able to dim the LED lights to a light more suitable for you and your application. The lights replicate daylight, but it would be nice if could change the light temperature to a warmer White too.
The touch button works very well and only a light touch is needed.
Using the Mirror.
Obviously aside from learning about the LED lights and how they function, using a mirror is self-explanatory. But there're a couple of things that I'd like to note and advise of my experiences of this mirror.
The first thing is the overall feel of the plastic materials. The mirror feels very light and the plastic materials do feel quite low value and slightly flimsy.
I noticed the main mirror feels plasticky, but still highly reflective. The touch sensitive button works very well, in fact it's quite surprising how well that function works.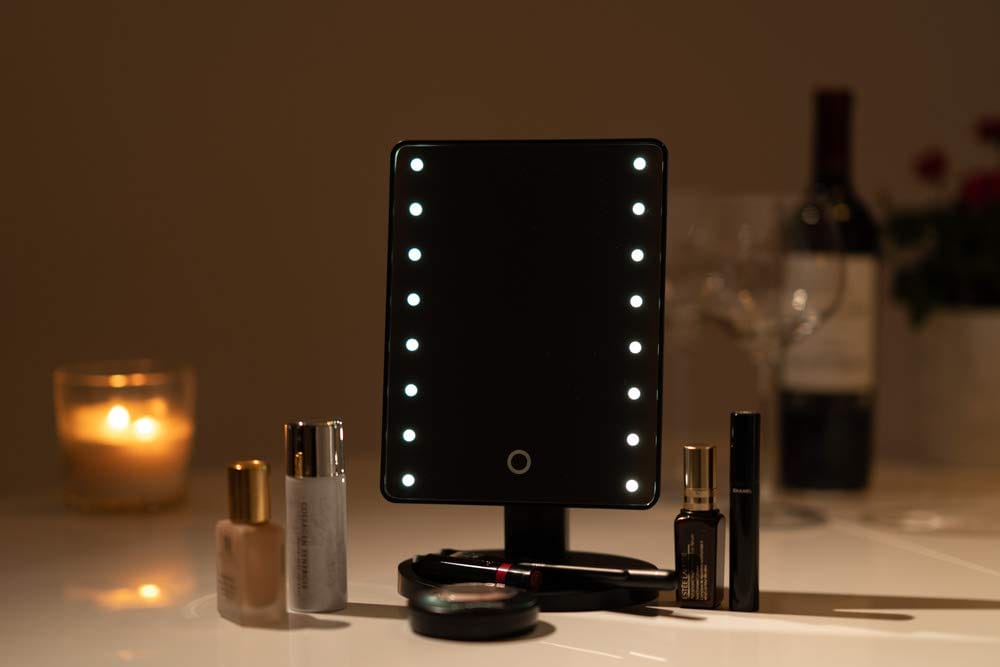 My biggest area of improvement to the Chapmas LED Makeup Mirror would be the base area, although the top section is perfect for storing makeup and accessories the underside is lacking in any non-slip rubberised feet. Without these feet the mirror does slide about on a smooth surface such as a tiled surface. Also, without these you could also damage wooden surfaces.
Aside from that, the Chapmas LED Makeup Mirror is very good.
Technical Specifications.
Brand: Chapmas
Model: LED Makeup Mirror
Model Code: KW 033
Manufacturer Code: N/A
EAN: N/A
ASIN: B07MFDP6D5
Compliance: CE, FCC, RoHS
Conclusion.
I quite like the Chapmas LED Makeup Mirror. It works very well, and you'll struggle to find the same type of mirror for the price tag. The touch sensitive power button works well, and the travel mirror is perfect for portable use.
I'd like some improvements to the base with some rubberised feet, but apart from that, this mirror is great.
Overall, I like this mirror despite the plasticky feel and would still highly recommend this mirror.
If you want the Chapmas LED Makeup Mirror for yourself, it's available for purchase only on Amazon. The RRP for this product is £25.99.
Product sample provided by Chapmas in exchange for a detailed, unbiased review.
---
Thank you for taking the time to read my post. If you'd like to add a comment or thought on this post, please use the section below. I can also be contacted via the online contact form. Please subscribe for the latest reviews, news, and discounts. Please follow My Helpful Hints on Twitter, Instagram & Facebook too!
Chapmas LED Makeup Mirror