The Fancii LED Makeup Vanity Mirror features a 180° swivel design that provides both a horizontal and a vertical viewing angle, so you can always look your very best!
You get 3 different LED light settings and you can choose from Soft Warm, Neutral White, and Natural Daylight.  You can also control the 3 LED light settings with the built-in dimmable function which simulates day, and evening lighting conditions.  So, you can feel confident about how your makeup looks in any environment.
You can power the Fancii LED Makeup Vanity Mirror with the included USB cable or go cord free with 4x AA batteries, making it the perfect travel companion for anyone!
Packaging.
The Fancii LED Makeup Vanity Mirror comes packaged in a White and Green cardboard box, the box features product illustrations, and specifications. The box measures 31.0cm x 18.5cm x 6.5cm and weighs 910G.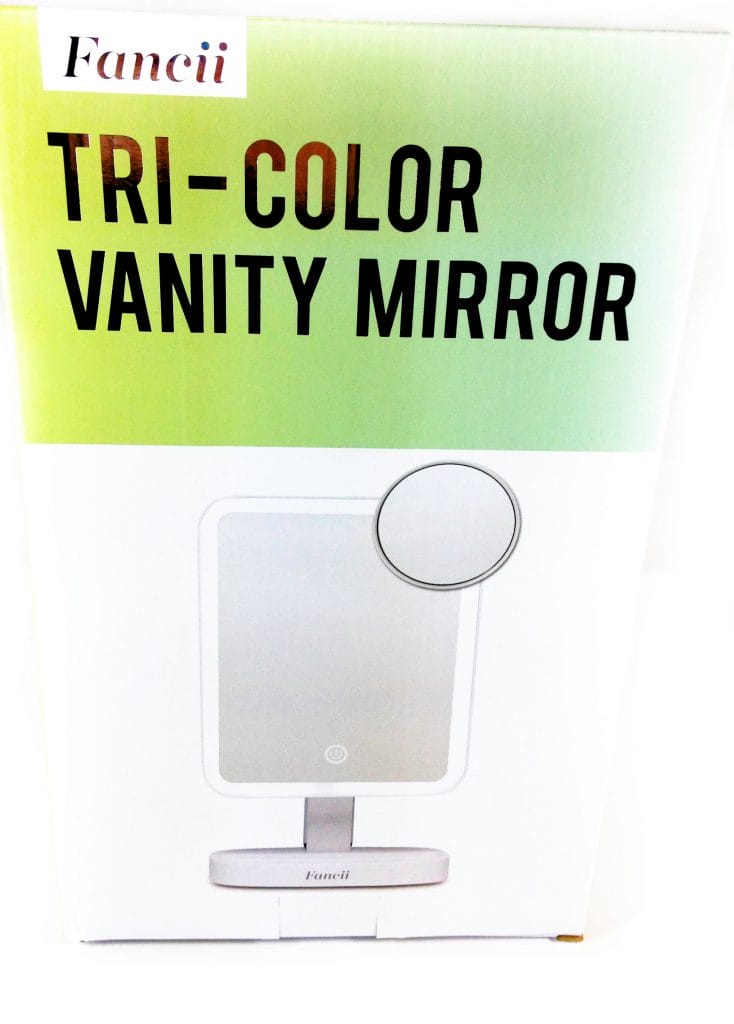 Contents.
Upon opening the Fancii LED Makeup Vanity Mirror box you'll find the following items. 1x Vanity Mirror, 1x Mirror Base, 1x Suction Mirror, 1x USB Cable, 1x English Written User Guide, 1x Company Contact Card.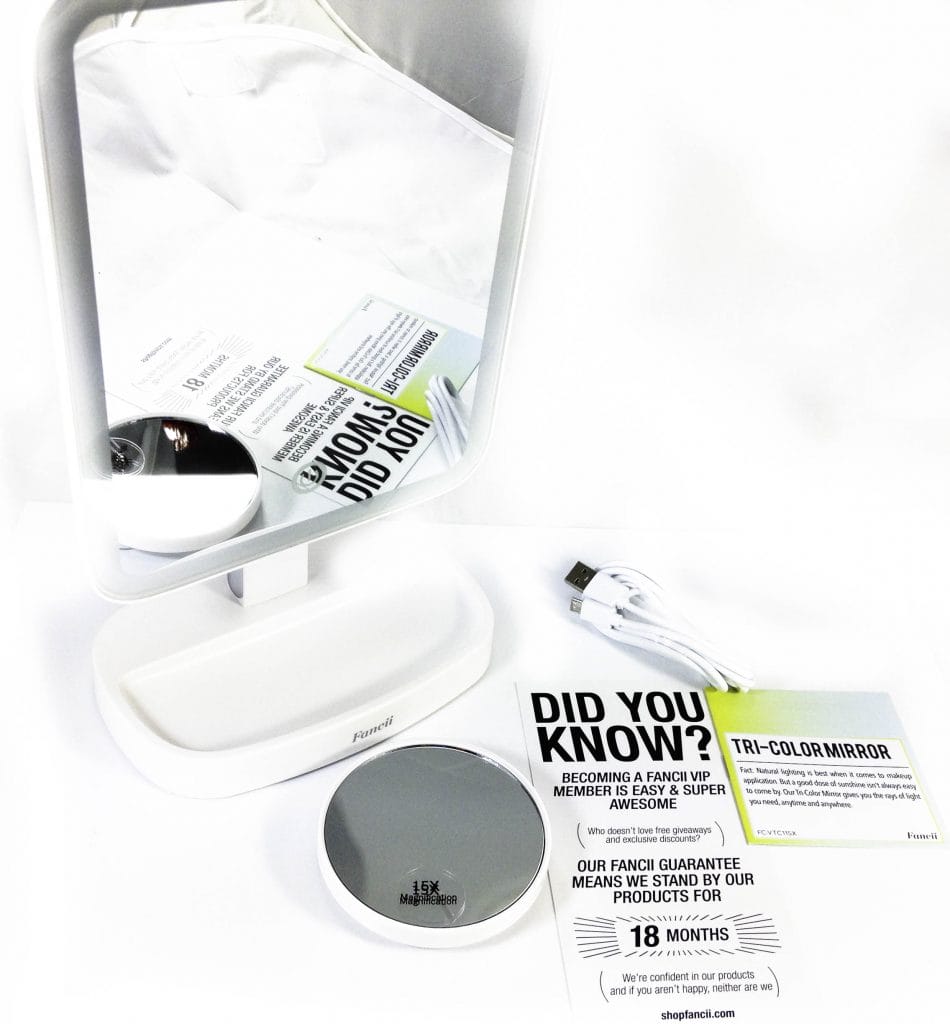 Fancii LED Makeup Vanity Mirror.
The Fancii LED Makeup Vanity Mirror is made from durable plastic and is White in colour.  The mirror when assembled measures 30.0cm high x 18.0cm wide x 11.5cm deep and weighs 690G.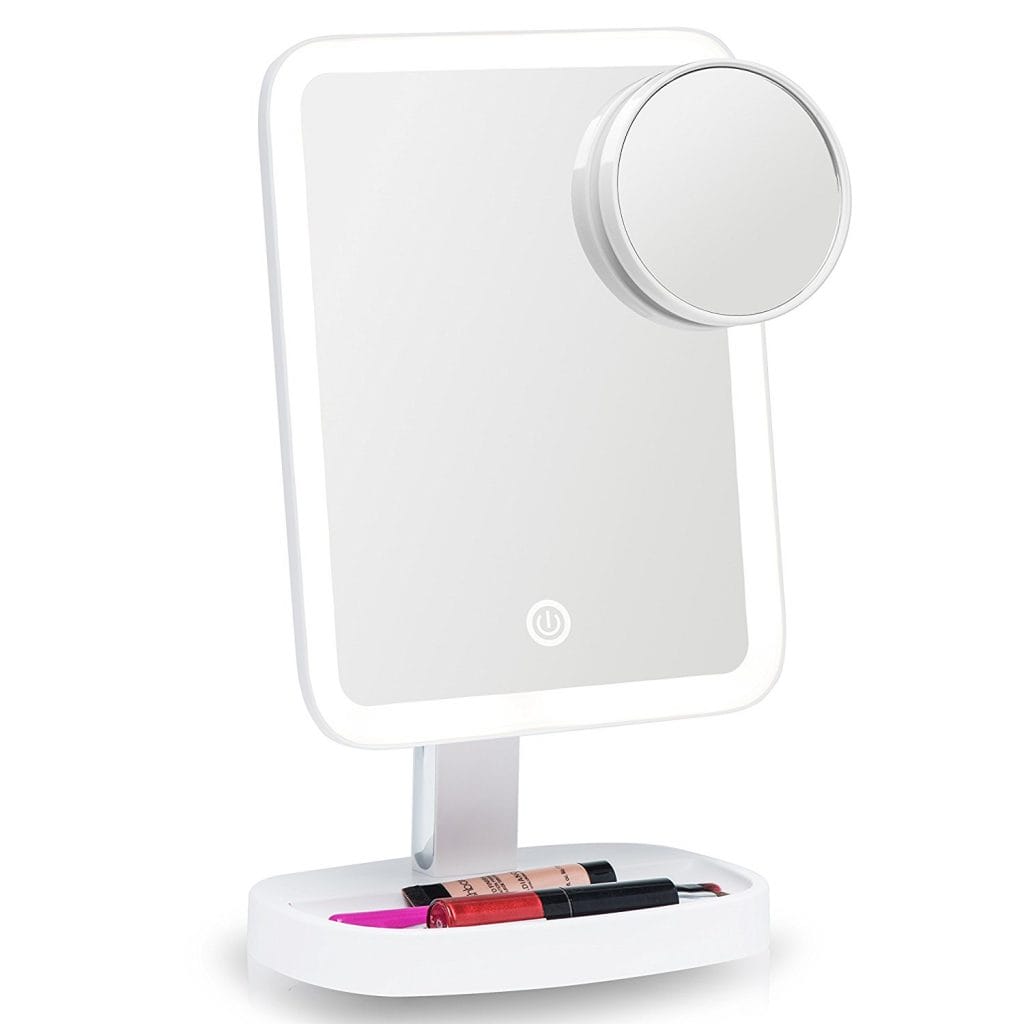 You also get a portable suction mirror which has a 15X magnification, this mirror measures 8.5cm in diameter with a depth of 1.0cm and has two suction cups on the reverse.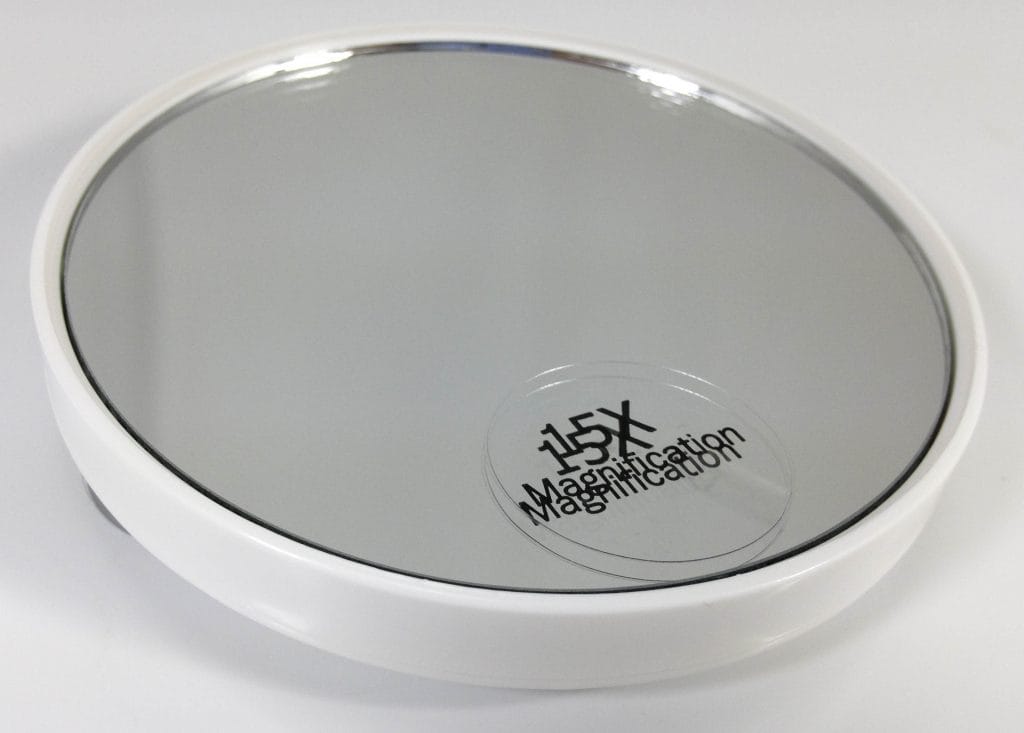 The vanity mirror's base also doubles up as a handy storage tray, perfect for tweezers and other make up items. At the bottom of the base there are 4 rubber feet that provide grip on any hard surfaces.
You can use either 4x AA Batteries (Not Included) or the supplied USB Cable (Which has a length of 150.0cm) to power on the LED lighting on the mirror. To turn on/off the lighting you need to simply touch the power button on the main mirror screen.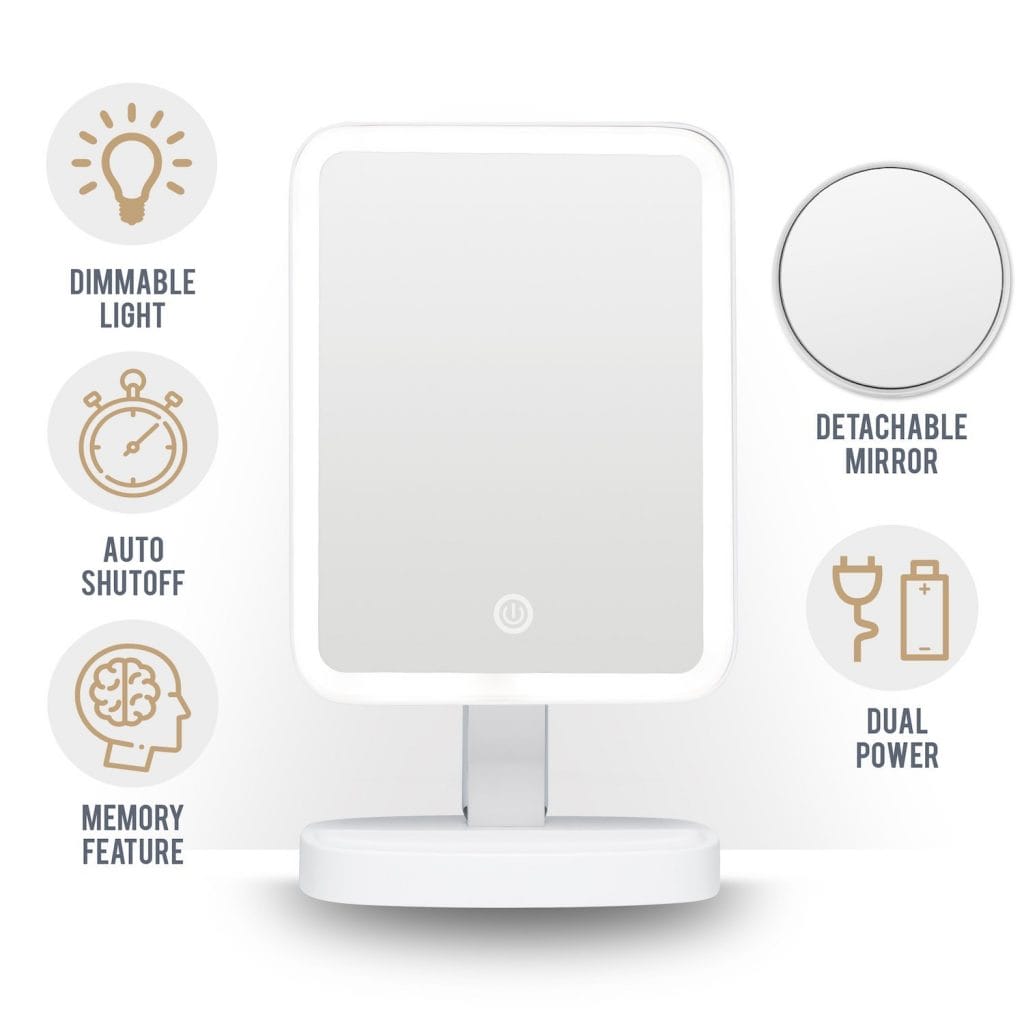 You can choose from 3 different lighting colours.  Each one has a different Kelvin light output, you can pick from Warm (3500K), Neutral (5000K), and Natural (6000K).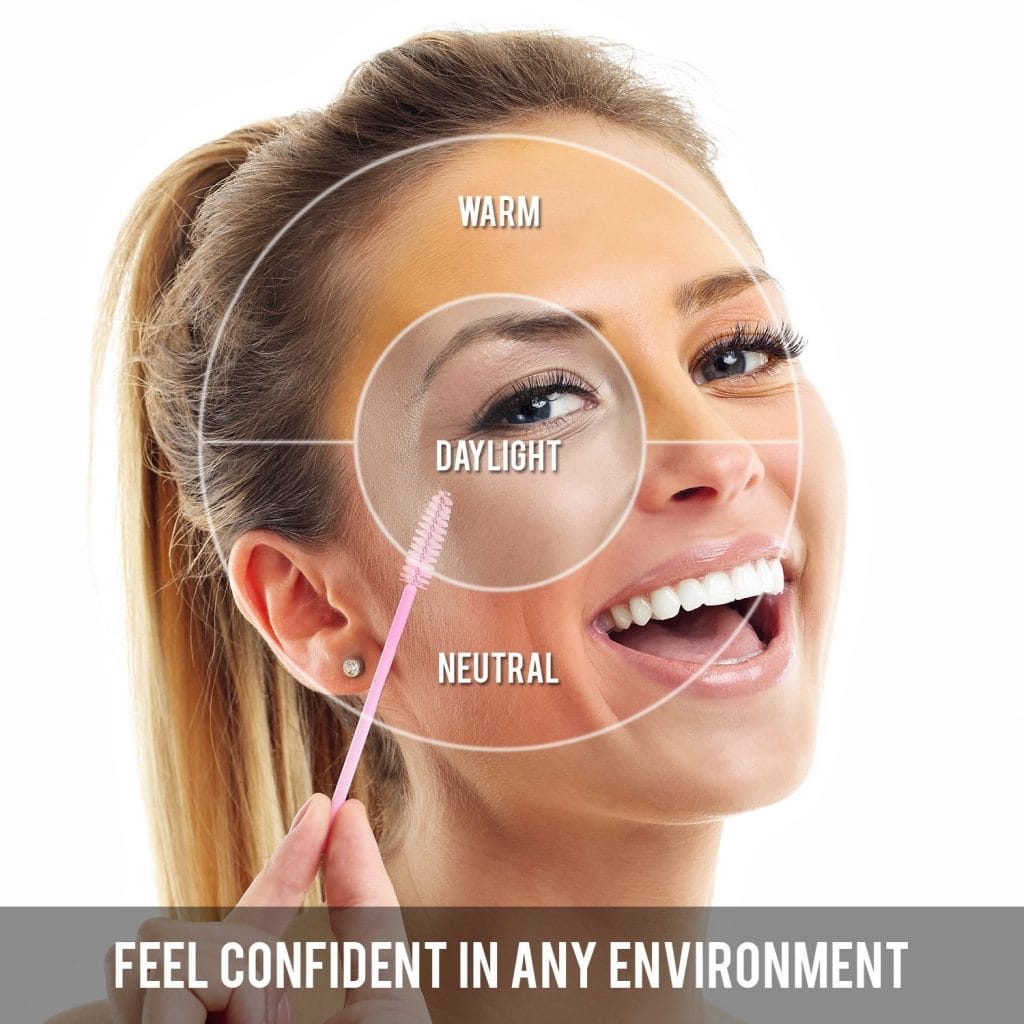 To adjust the LED light brightness, you need to simply press and hold the power button on the front and the light will fade or increase depending on your preference.
Adjustment.
You can adjust and position the vanity mirror in any upward and downward direction and can rotate either vertically or horizontally too.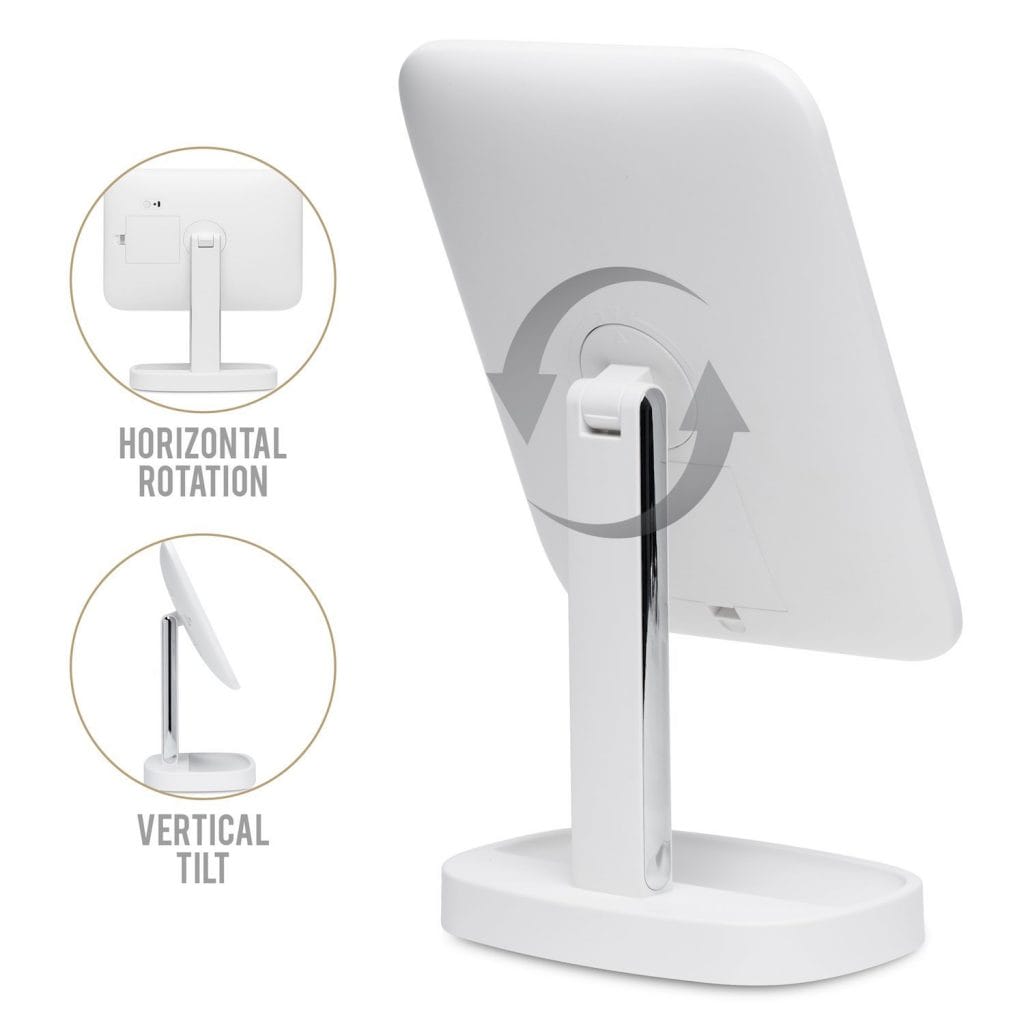 On the back is where you can insert the batteries and USB plug. There is also a main USB port power button.
The battery powered lighting option is best suited for a bathroom environment. Whilst the USB powered option is best suited for a bedroom type environment where no water can ingress into the mirror. The Fancii trifold mirror is not waterproof!
Technical Specifications.
Brand: Fancii
Model:

LED Makeup Vanity Mirror

Model Code: FC-VTC115X
EAN: N/A
ASIN: B078KMVTHL
Power Type: 4x AA Batteries (Not Included) or 5V USB Power
Compliance: CE
Conclusion.
Yet another great product from Fancii, so far, I've not found a single product that I haven't liked and this vanity mirror is another one to the list!  The mirror is great and feels very high quality and durable, the swivel action movement is very good and smooth and the portable 15X mirror is great to take around with you.
Overall I highly recommend this mirror. The LED lighting is bright and dimmable function works brilliantly.
If you want the Fancii LED Makeup Vanity Mirror for yourself, it's available for purchase only on Amazon. The RRP for this product is £31.99.
Product sample provided by Fancii in exchange for a detailed, unbiased review.
---
Thank you for taking the time to read my post. If you'd like to add a comment or thought on this post, please use the section below. I can also be contacted via the online contact form. Please subscribe for the latest reviews, news, and discounts. Please follow My Helpful Hints on Twitter, Instagram & Facebook too!
Fancii LED Makeup Vanity Mirror