Today I'll be reviewing The Kitchen Witch Aromatherapy Soap. A fantastic small business run by Michelle who set up the business in 2017.
The Kitchen Witch Aromatherapy was set up because Michelle was frustrated at buying mass produced products. These products dried and hurt her skin, and she wanted some more natural.
All Michelle's soaps are EU safety assessed, made with love and come beautifully packaged. Each batch of soap take up to 6 weeks to produce before it can be sold. The Kitchen Witch Aromatherapy produce other products such as, Balms, Shampoo Bars, Candles, and including Wax Melts (Look out for this review at a later stage) and much more.
After intensively researching each idea Michelle puts into practice what she has learnt until she is 100% happy with the outcome. Each new recipe must be safety assessed to comply with all EU applicable laws and regulations. This is very reassuring as a consumer that what you're using on your skin is 100% safe to do so.
Plans for The Kitchen Witch Aromatherapy include a completely new line of aromatherapy massage products to aid with both relaxation and herbal remedies.
Today I'll be writing about a Lavender and Vanilla bar of soap.
So, is The Kitchen Witch Aromatherapy Soap any good? Time to test it out!
Packaging and Contents.
The Kitchen Witch Aromatherapy Soap come packaged in clear plastic. This keeps the scent locked in and ensures no other contaminants are on your soap. Each bar of soap weighs approximately 100G. I received a bar that weighed 110G. The shape of each bar of soap is unique to The Kitchen Witch Aromatherapy, and I like it!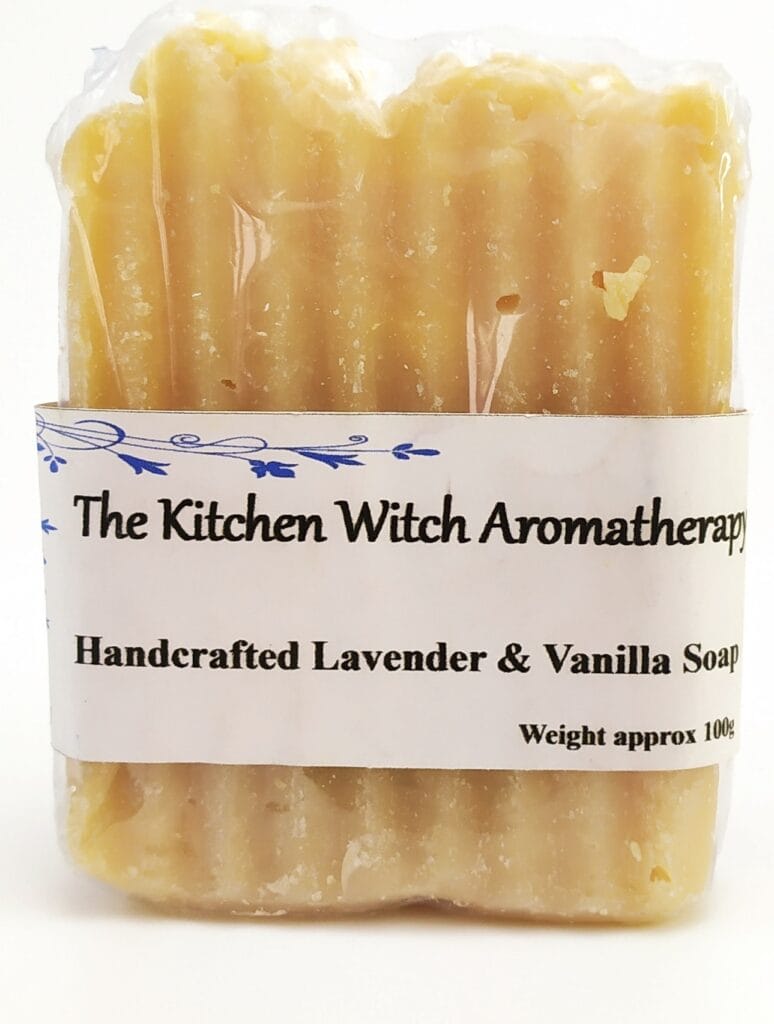 Open the wrapper and you'll be hit with the beautifully scent of Lavender. It's the dominant scent over the Vanilla.
The Kitchen Witch Aromatherapy Soap.
The Kitchen Witch Aromatherapy Soap has a unique crinkle design (Imagine a McCoy's crisp). I sure do like the shape, it's certainly unique!
The soap is nicely shaped for hand grip too. The approximate measurements are 8.5cm x 6.5cm x 2.0cm so great for handheld use.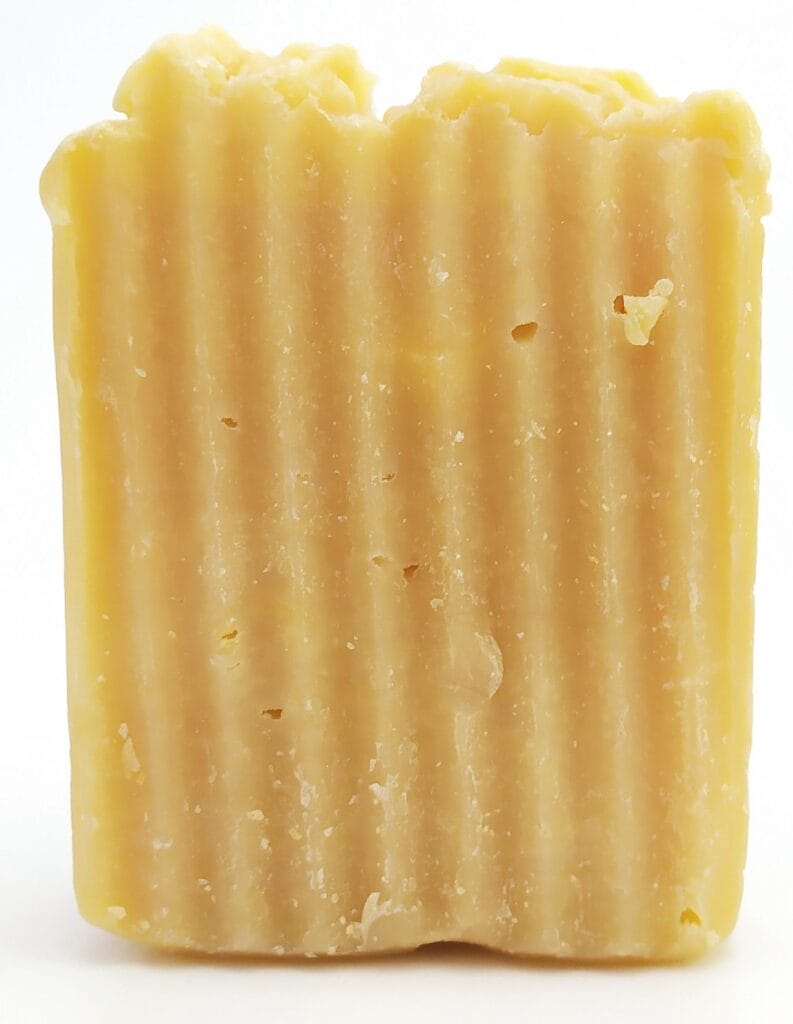 I also like all the cosmetic imperfections too. It looks rustic and not mass produced in anyway. The soap I have is Lavender and Vanilla scented. The ingredients are below.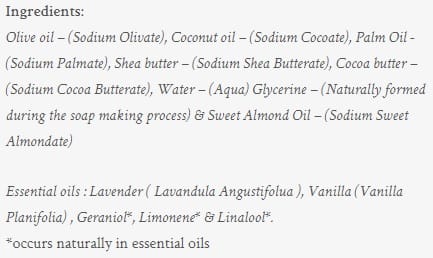 Every bar of soap is given a batch number and an expiry date too. I wasn't aware that soap had an expiry date. I messaged Michelle and asked her about this, and she informed me that certain oils expire over a period. This creates orange spots over the soap to indicate that different oils have gone past their use by date.
Using the Soap.
I couldn't wait to try out the soap. I have sensitive skin, especially on my chest area. Mass produced soap brings out red blotchy spots on my skin. I didn't mention this to Michelle from The Kitchen Witch Aromatherapy as I wanted to try out for myself if this reaction occurred using her soap. I can confirm that I had no and still have no reaction to using this soap.
The soap lathers up very easily too. It's very silky feeling and moisturises your skin at the same time. I've been using the Lavender and Vanilla sop for about 3 weeks now. It still smells as scented as it did from day one. Which I'm extremely impressed with.
Technical Specifications.
Brand: The Kitchen Witch Aromatherapy
Model: Handcrafted Soap
Model Code: N/A
EAN: N/A
ASIN: N/A
Compliance: N/A
Conclusion.
I love The Kitchen Witch Aromatherapy Soap. It's very luxurious and lathers exceptionally well. It's highly scented and leaves skin feeling moisturised.
The Kitchen Witch Aromatherapy is a small business and very friendly on social media too. If you're unsure and want to know more their products or have an allergy I suggest you contact Michelle in the first instance.
If you want The Kitchen Witch Aromatherapy Soap for yourself, it's available for purchase only on The Kitchen Witch Aromatherapy website. The RRP for this product is £7.00.
Product sample provided by The Kitchen Witch Aromatherapy in exchange for a detailed, unbiased review.
---
Thank you for taking the time to read my post. If you'd like to add a comment or thought on this post, please use the section below. I can also be contacted via the online contact form. Please subscribe for the latest reviews, news, and discounts. Please follow My Helpful Hints on Twitter, Instagram & Facebook too!
The Kitchen Witch Aromatherapy Soap