Today I'm reviewing the KBEAR KS2 Earphones and will finish off the review by also reviewing the KBEAR S1 Bluetooth cable. These two were kindly sent to me by Keephifi.
I'll be splitting the review into two sections with the first part being the KS2 earphones and then following on with the S1 Bluetooth cable upgrade. So, we're getting wired and then wireless in this review, all with the same pair of earphones.
KBEAR is a Chinese brand exclusively selling audio products directly on the AliExpress platform. I hadn't heard of them before and that's where Keephifi come into place. They direct Chinese audio manufactured products to markets where they're not well-known. They bridge the gap between manufacturers and consumers.
The KBEAR KS2 Earphones feature a twin-prong socket type plug which enables them to be versatile with additional accessories and upgrades. They're ergonomically designed to fit snuggly in your ear canal and sit flush within your outer ear area.
But are they any good? What do they sound like? Time to test them out!
Packaging and Contents.
The KBEAR KS2 Earphones comes in a small cardboard box which features product images and printed specifications. The outer box measures 12.0cm x 8.0cm x 3.5cm and weighs 75G.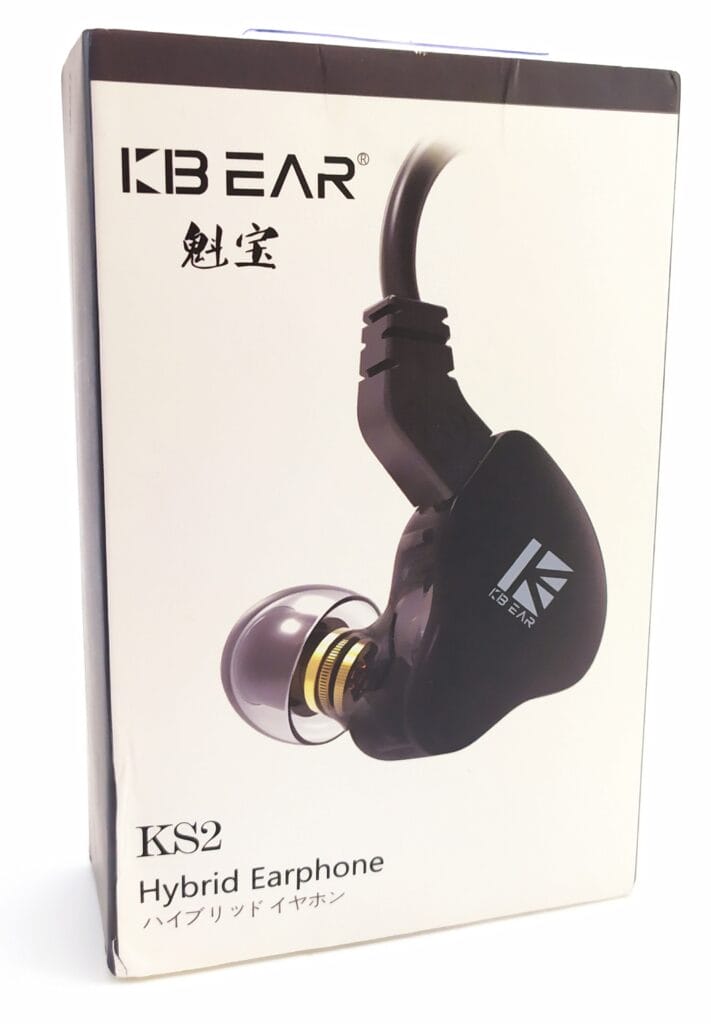 When you remove the outer sleeve for the first time, you'll see the impressive way the KS2 earphones have been packaged.
Inside the box you'll find the following: 1x Pair of earphones (with tips fitted), 1x cable, 3x addition silicone tips, 1x Chinese/English user guide. The guide is more of a safety guide rather than an actual user guide. It's littered with poor translated English text such as not to wear them whilst driving as you won't be able to hear 'horning from other car'.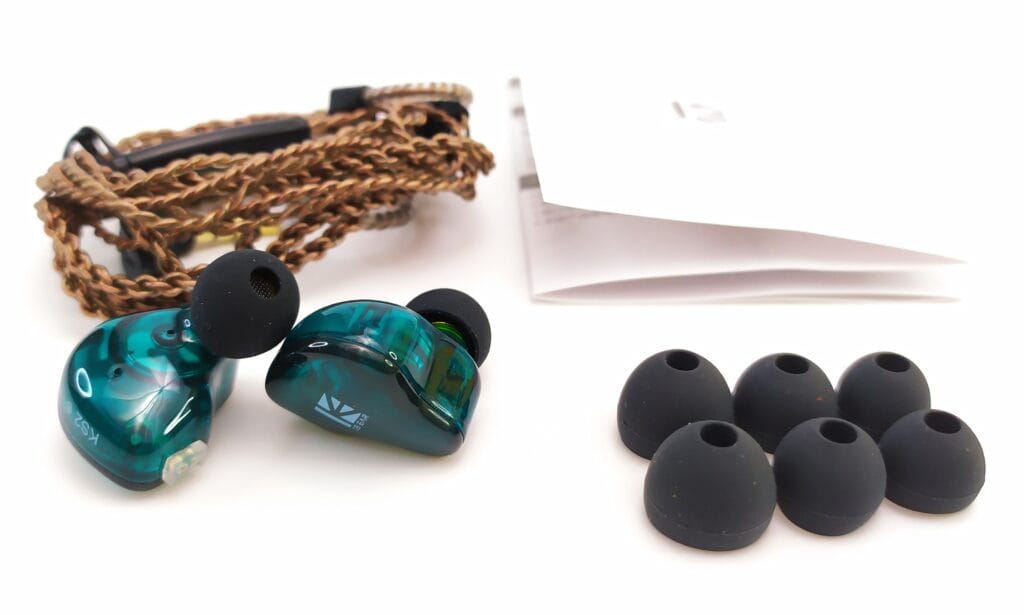 KBEAR KS2 Earphones.
The KBEAR KS2 Earphones are lightweight (each individual earphone weighs just 3.8G with a tip installed) and the pair I have are green in colour with a translucent finish. You can get the KS2 earphones in black if you prefer. But I wanted green (because why not) and I was sent the model with an in-built microphone too. You can choose either green or black and with or without a microphone. The price differentiates between each selection with a few pence saving by not choosing the microphone option. Literally 79p in difference. So, don't be tight and just get the microphone option.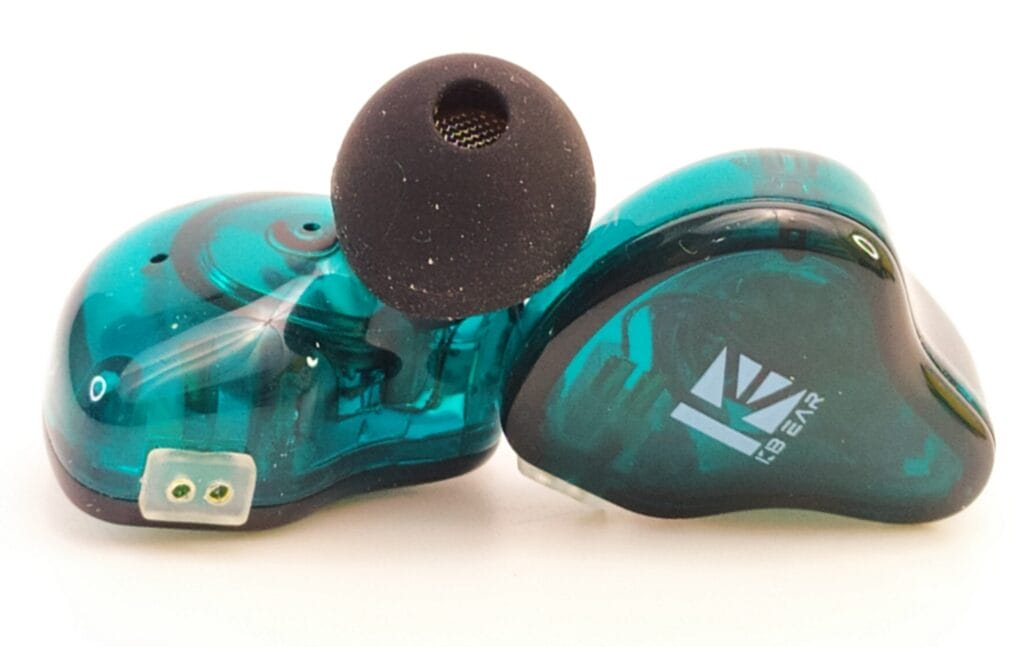 Annoyingly the silicone tips attract dust like crazy. The above image was taken straight out of the box before I had even used them. You can see a whole galaxy of other lifeforms on the tips within a few seconds exposure to the outside world. But as you'll be shoving them into your ears, I suppose ignorance is bliss in this situation.
The cable is a gold toned 4 core twisted chain link designed cable with a total length of around 130.0cm and branches off at the 80.0cm mark to give you some freedom. The inline control is located on the right-hand side of the cable. You might be (or not) interested to know that the cable is made from high-quality OFC (Oxygen Free Copper) copper cable.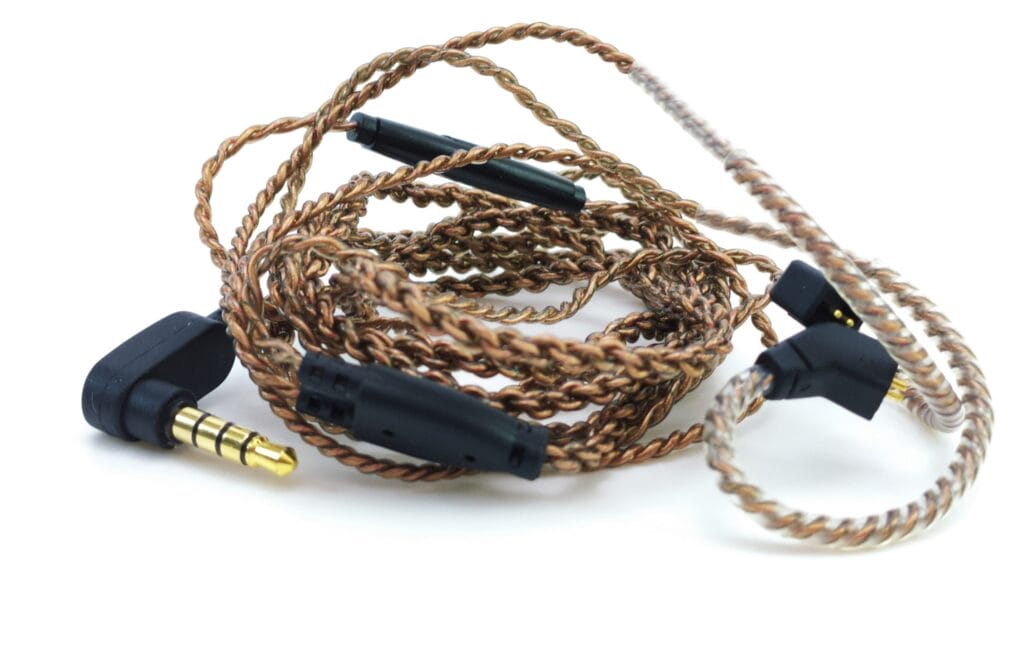 Cable Features.
The cable has a 3.5mm TRRS (Top Ring Ring Sleeve) L-shaped gold-plated jack plug. This shaped plug enables you to prevent damage that can be caused by stress to the standard straight shaped plug.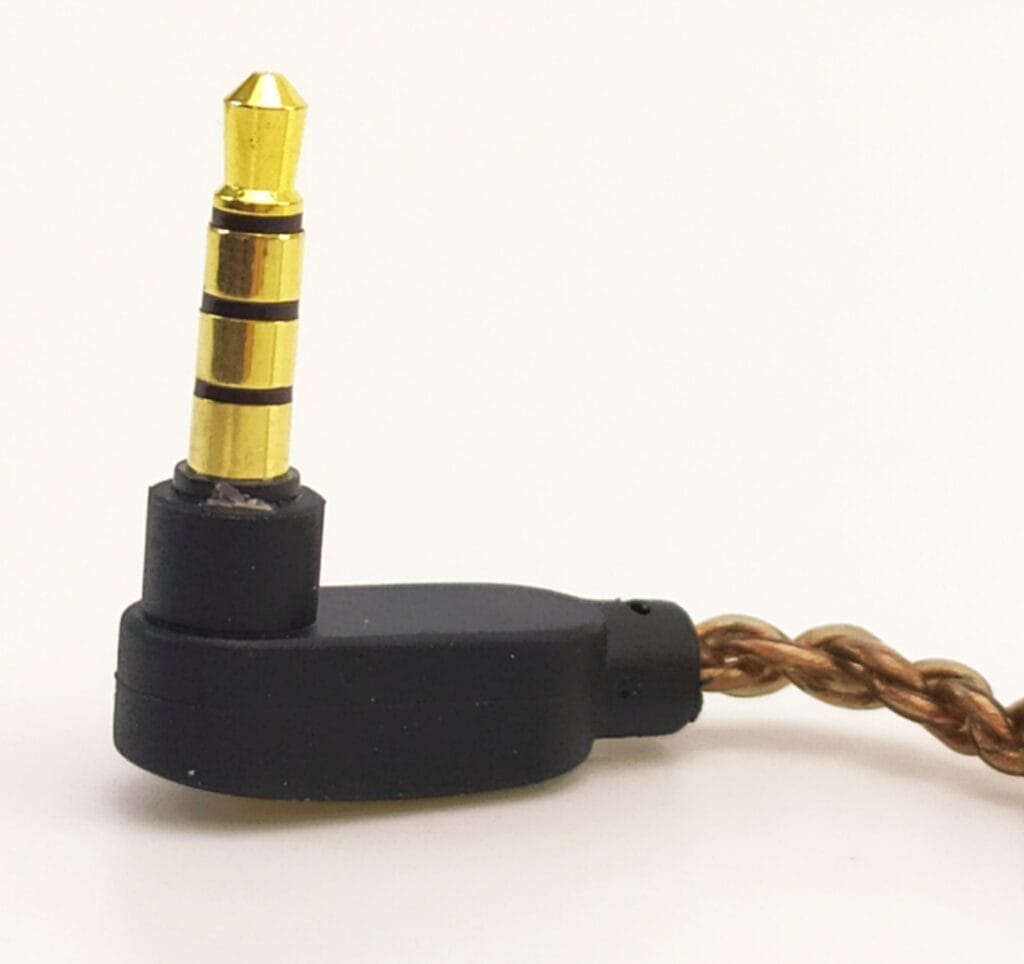 The in-line control as mentioned earlier is located on the right-hand side. It's a singular multi-functional button control system.

You're able to (Well sort of) control audio track selection and answer/end phone calls, all from this single button. The advertised capabilities are listed below:
Press once to pause/play audio or press once to answer a call and press again to end the call.
Long press when your phone is ringing will reject the call.
Double quick press will skip an audio track.
A triple quick press will go back a track.
All these functions work, except for the triple quick press function. Unless you're some sort of quick handed magician you'll never get this function to work. I was trying to master this for ages and all that occurred was a series of track skipping. There's no way on earth that anyone is quick enough to do this function. It's impossible!
So, if you're listening to a track and want to listen to it again, you'll have to go old-school and go back using your device like some sort caveman to select this feature.
Setting the KSs Earphones up.
There's not much to do in order to set up and start using the KBEAR KS2 earphones. You'll see a twin-prong female receptacle on the earphones themselves. The cable features the male plug (a universal 0.78mm Pin TFZ plug)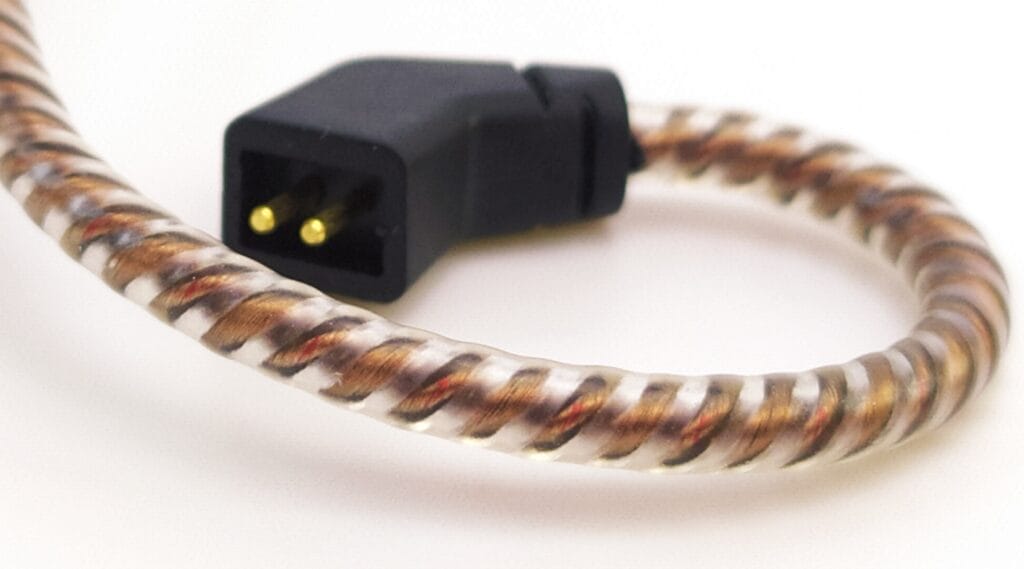 You can't incorrectly insert the cable into the earphones. They either work or don't, that's how you know. There's a plastic curved section that enables the cable to fit over your ear. This enables the earphones to fit so nicely into your ear canal. Once installed correctly they make you look like a TV host with an ergonomic flush outer ear finish. Great for hat wearers too as they don't protrude outward.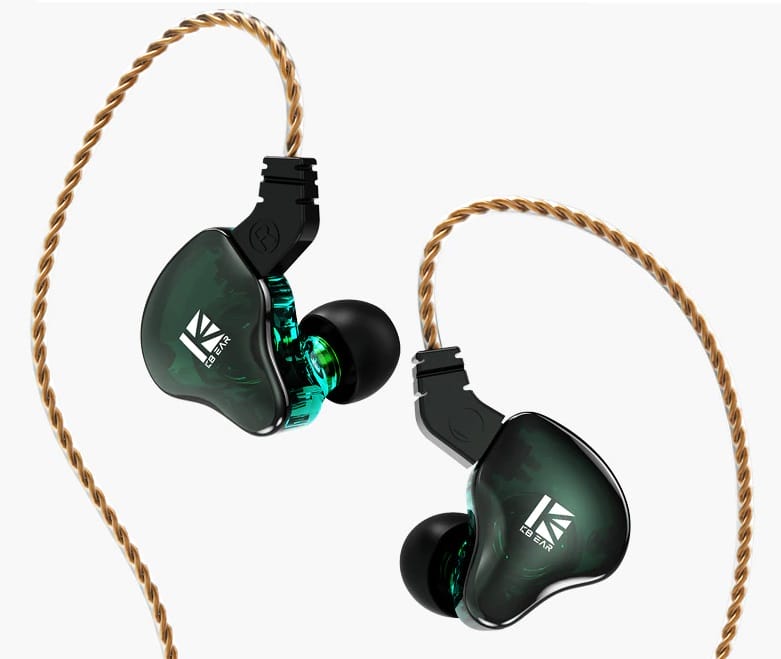 Once inserted into your ears you'll instantly feel the effect of total noise cancellation. Great for autistic people such as myself. You can't hear any background noise, pure bliss!
This leaves you to fully enjoy your music in a total immersive feeling. They're also amazingly comfortable to use and even after wearing for several hours they're still as comfortable as when you first inserted them.
Sound Quality.
The most important factor for earphones is sound quality. I can confirm that the KBEAR KS2 earphone sound brilliant. Bass tones are punchy, so for a bass loving junkie like me you'll love the sound. Audio vocal tones are clear, crisp and of very exceptional quality.
There's no distortion when you increase the volume, which is very impressive.
For all the audio nerds I will paste the sensitivity/frequency graph below. For non-nerds, this graph means that these earphones are the dogs nuts and are great for all music types.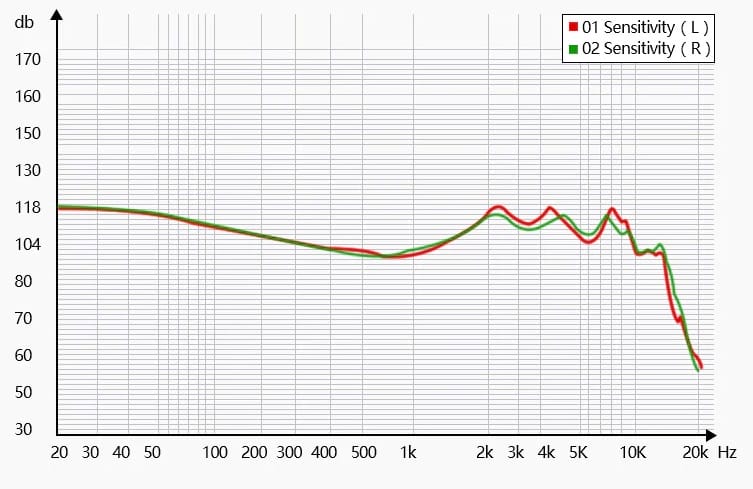 The in-built microphone is OK. It performs exactly as you'd expect a microphone on a handsfree device to work. The caller can clearly hear you.
KBEAR KS2 Technical Specifications.
Brand: KBEAR
Model: KS2 Earphones
Manufacturer Code: N/A
Manufacturer Reference: N/A
EAN: 0768563212789
ASIN: N/A
Interface: 0.78mm Pin TFZ
Frequency Range: 20-20kHZ
Sensitivity: 106±3dB
Impedance: 16Ω
Colour: Green/Black
Material: Plastic
Plug: 3.5mm L curve gold plated connector
Cable Material: Tinned copper
Driver Unit: Hybrid 10mm composite diaphragm Dynamic Driver +Balanced Armature
Cable: High-end 4 core OFC high-purity pure copper cable
Compliance: CE, FCC, RoHS
As promised at the beginning of this review, I'm now going to use the upgraded Bluetooth cable. This enables the KBEAR KS2 earphones to be used wireless and gives you greater control over track selection and audio choices.
KBEAR S1 Bluetooth Cable.
The KBEAR S1 Bluetooth cable comes supplied a foam lined cardboard box which measures 18.5cm x 16.0cm x 3.5cm and weighs 195G.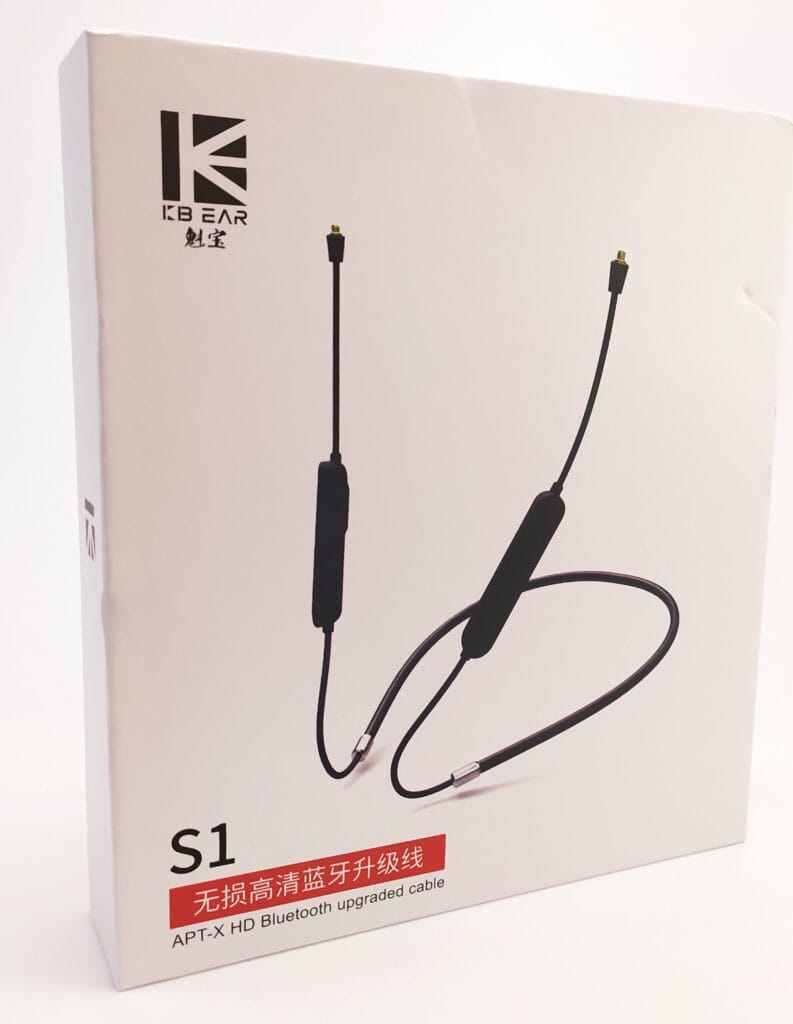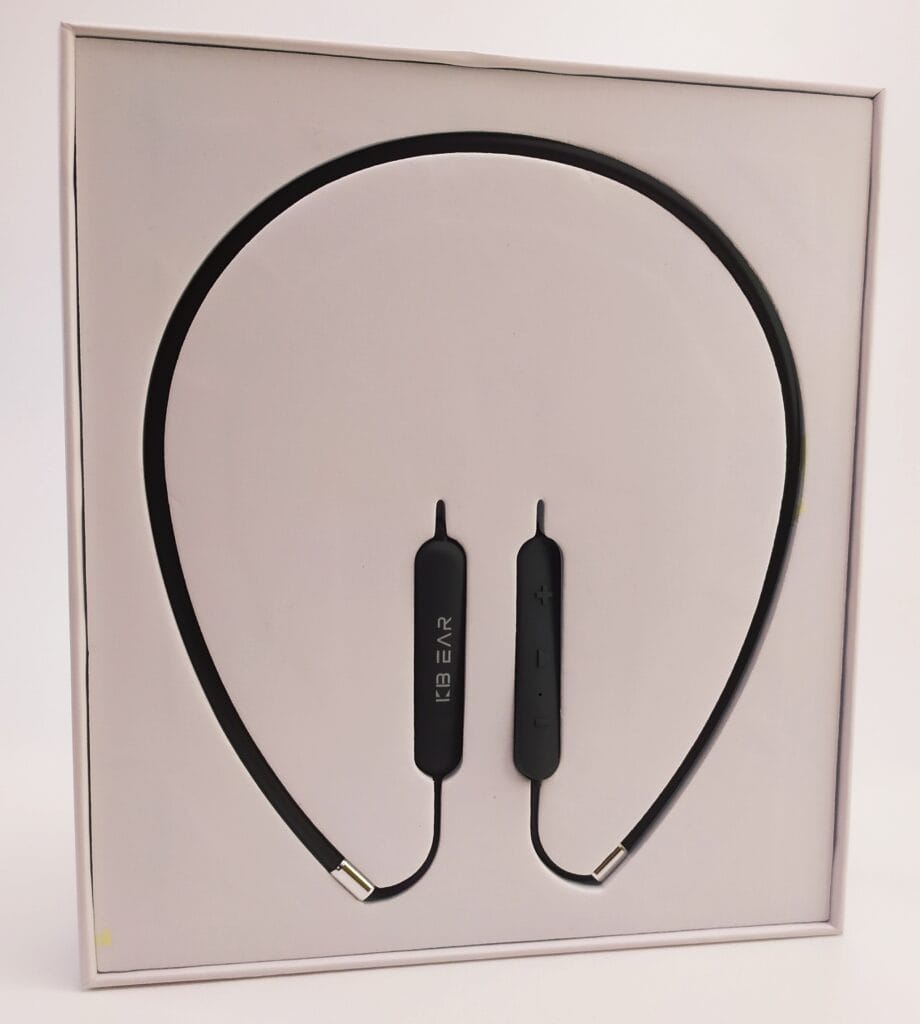 I like the internal packaging; it keeps the cable safe and looks rather cool too. Beyond this beautiful packaging you'll find the following contents: 1x Cable, 1x Micro USB Cable, 1x Chinese/English Guide. Again, this user guide is poorly translated, but it's an actual user guide this time with tips and user usage instructions.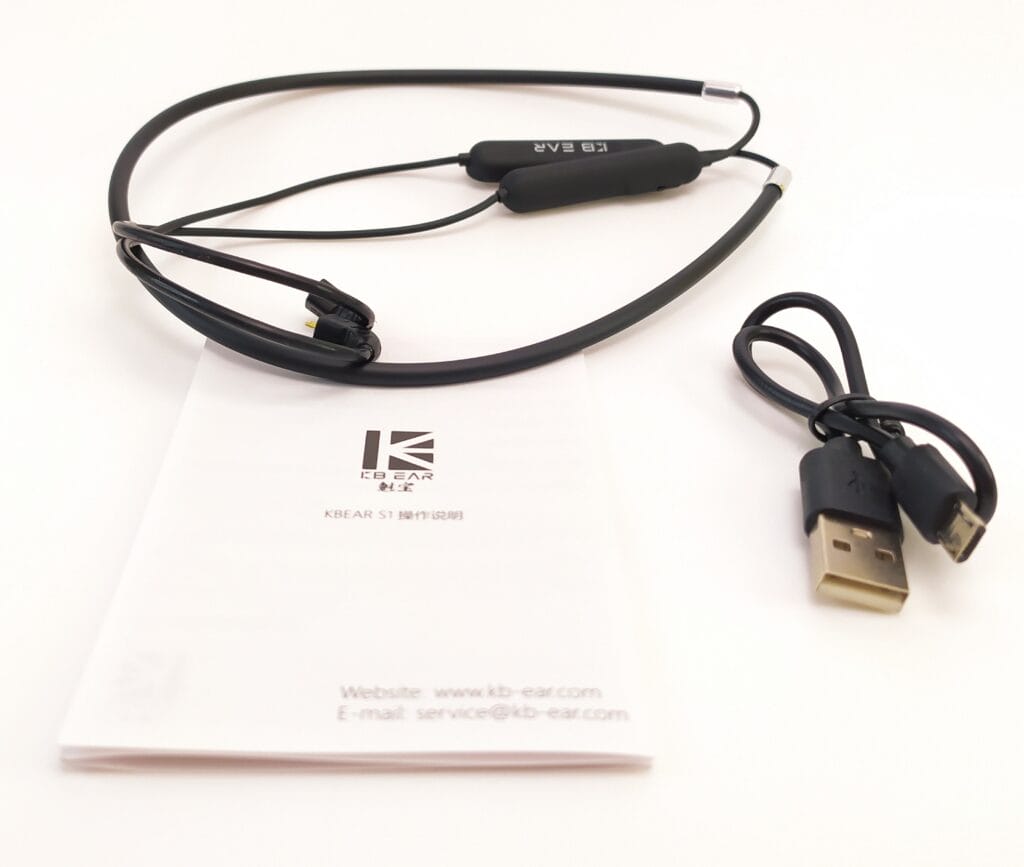 Charging.
The KBEAR S1 Bluetooth cable will require a charge before first use. The supplied cable is a Micro USB/USB-A type cable, it measures 30.0cm in length. You'll need to provide the power source in order to recharge the in-built 120mAh lithium-ion battery. You need to charge the Bluetooth cable with a power source not exceeding 5V DC, you can use any USB port on a laptop, TV, or a powerbank. The charging port is located on the in-line user control area.
A red LED will illuminate upon charging and will switch to a blue light upon being fully charged. This charging process takes around an hour which will give you an audio play time or around 10 hours, or a 100+ hour standby time.
The cable measures 95.0cm, weighs 14G and is designed to go behind your neck, the in-line user control is located on the right-hand side and on the left is where the in-built enclosed battery is located. I like this design as it balances out in the exact position the battery and control.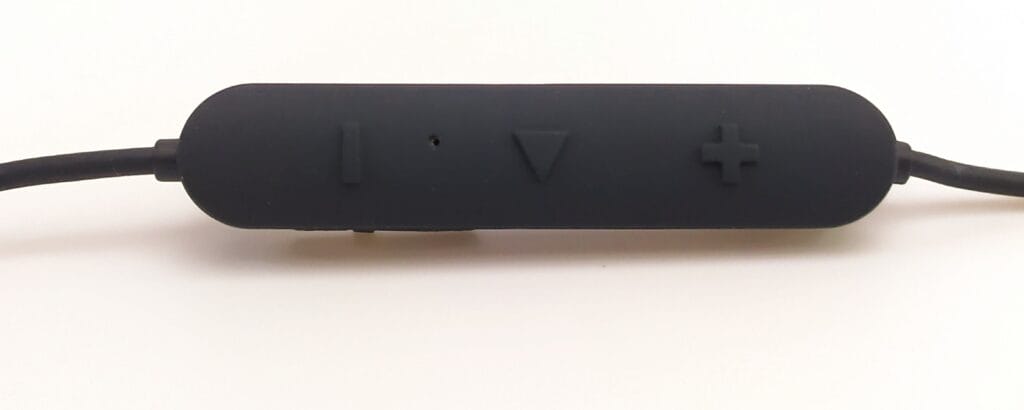 The in-line button on the S1 cable features a trio of buttons. These do the following functions:
Minus (-) button: short press to decrease volume, press and hold to go back a track.
Plus (+) button: short press to increase volume, press and hold to skip a track.
Middle button: short press to answer/end a call and pause/play music, press and hold to power on/off and press and hold for 2 seconds whilst you have an incoming call to reject it.
And unlike the standard cable for the KS2 earphones all the functions work exactly as you'd expect. You're able to adjust volume and track selection without having to handle your device.
Connection.
The KBEAR S1 Bluetooth cable features the latest in wireless technology with a Qualcomm QCC3034 chip and V5.0+ APTX-HD Bluetooth connection. To use, you'll need to power on the cable by pressing and holding the middle button, you'll hear the usual robotic voice to confirm power on. Perform a search on your iOS/Android/Windows device for 'KBEAR S1' and connect to that option. Again, you'll hear the other usual robotic voice confirming successful pairing.
There's no advertised Bluetooth range advertised. Luckily, I've reviewed tons of Bluetooth devices over the last few years. This is something I always test out and have mapped out my home in terms of distance. From my highly technical footstep method I found the S1 had an open range of 15+ metre range without no obstructions. I live in a two up/two down house and the S1 cable didn't loose signal through walls and floor levels either. So, the Bluetooth signal is extraordinarily strong. I couldn't break the signal either, so you'll be fine to use this cable along with wearing your hat.
Bad Parts.
At this point of the review you'll probably expect me to love this KBEAR S1 Bluetooth cable. But, I don't.
It has its advantages over the cable setup in terms of movement freedom, track/volume selection, but that's where it ends.
Firstly, the over ear cable design is different to the original cabled version, it's rubberier in texture and flops around on the top of your ear, and constantly requires adjustment.
The second factor is a massive one. There's an annoying hissing sound when in standby mode for 10-15 seconds. This noise continues throughout use and noticeable on lower volume and on certain audio tones.
It's like hearing Voldemort whispering into your ears.
Universal Use.
The KBEAR S1 Bluetooth cable does not only fit the KBEAR KS2 earphones, depending on your selection you can use the cable across many different audio products. I have the TFZ Universal 0.78mm cable, but you can choose from MMCX Universal and 2 Pin 0.78mm Universal. See the graph below for all the compatible models for each cable selection.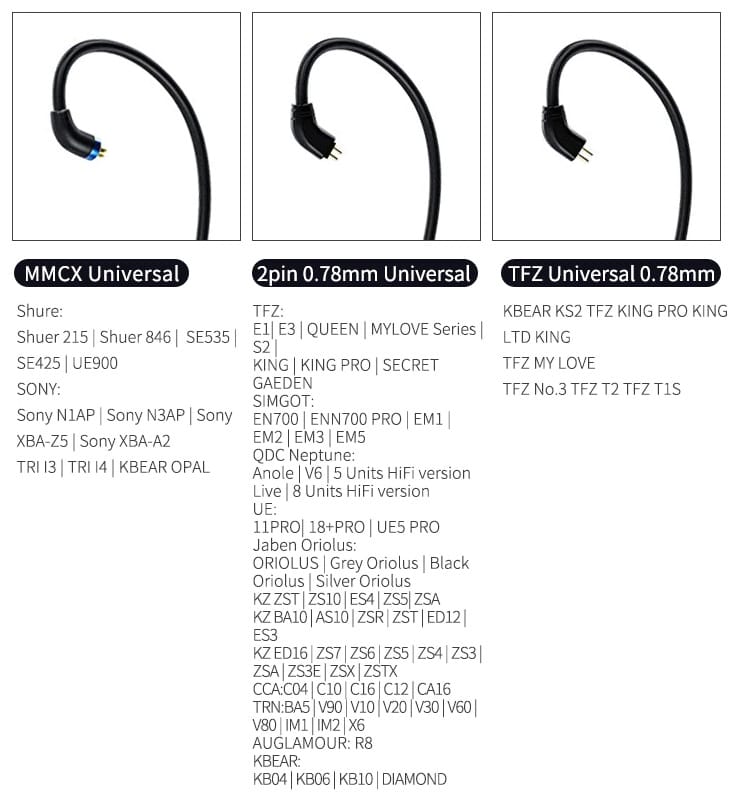 KBEAR S1 Technical Specifications.
Brand: KBEAR
Model: S1 Bluetooth Cable
Manufacturer Code: KS2 Pin
Manufacturer Reference: N/A
EAN: 0768563212833
ASIN: N/A
Battery Capacity: 120mAh
Plug type: MMCX/2PIN/TFZ (KS2 pin)
Running Time: 10+ hours
Standby Time: about 100 hours
Charging Time: about 1 hour
Connection: Bluetooth V5.0+ APTX-HD technology
Chipset: Qualcomm QCC3034 chip
Compliance: CE, FCC, RoHS
Conclusion.
A very mixed review for both the KBEAR KS2 Earphones and the KBEAR S1 Bluetooth Cable. I love the audio quality of the earphones, but the original cable's multi-function control button is quite limiting. Upgrading to the Bluetooth cable improves the user experience in terms of control but creates more nuisance in terms of poor audio quality.
If I had to score the KS2 earphone on their own, I'd score them 9/10 and for the S1 cable I'd score 7/10 and that's an average score of 8/10 for which to base my whole review on.
Purchase the KBEAR KS2 Earphones here for £19.86.
Purchase the KBEAR S1 Bluetooth Cable here for £18.28.
Product sample provided by Keephifi in exchange for a detailed, unbiased review.
---
Thank you for taking the time to read my post. If you'd like to add a comment or thought on this post, please use the section below. I can also be contacted via the online contact form. Please subscribe for the latest reviews, news, and discounts. Please follow My Helpful Hints on Twitter, Instagram & Facebook too!