The ZenZoi Million Dollar Red Fountain Pen is an elegant, stylish, and high-quality writing instrument.
You not only get a striking Red coloured pen but also are able to show that you've got style and sophistication with an eye for quality.

You're able to use the supplied refillable ink converter or can use many standard disposable ink cartridges, the choice is yours.
But is this pen any good? How does it write? Time to test it out!
Retail Packaging.
The ZenZoi Million Dollar Red Fountain Pen comes packaged in a very nice designed fabric lined Red giftbox.  The box measures 17.0cm x 6.0cm x 2.5cm and weighs 105G.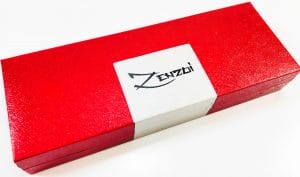 Contents.
Once you open the giftbox you will find the following: 1x Pen, 1x Refillable Ink Converter (Inserted into pen), 1x USA Loyalty Card.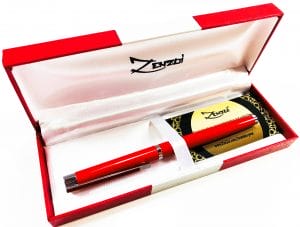 ZenZoi Million Dollar Red Fountain Pen.
The ZenZoi Million Dollar Red Fountain Pen is made from metal materials, the pen is vividly coloured Red with Chrome detailing.  The pen measures (With lid on) 14.0cm in length x 0.7cm in diameter and has a weight of 26G.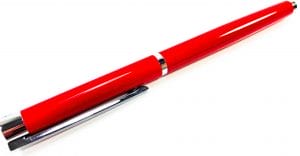 As previously mentioned you can use the supplied empty ink cartridge to refill using your own choice of ink, or if you prefer you can also use many standard sized disposable ink cartridges.  Fitment is done by unscrewing the pen body from the top and inserting a cartridge as you would normally do.
The nib is a 0.5mm medium nib that's been designed for smooth writing and to allow for consistent ink flow.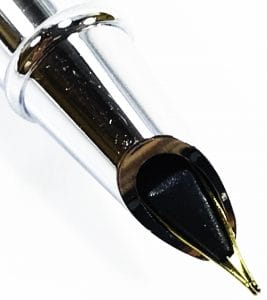 The Ink.
I opted for the standard disposable ink cartridges, I inserted one from a multipack from WHSmith and the ink flow was terrible.  I tried to get the pen to flow following the instructions on the ZenZoi website but with no joy at all.  When I investigated further the cartridge from WH Smith didn't fit far enough into the holder, so the ink flow was restricted.
So, I had no choice but to use the supplied refillable ink cartridge, but then I had another issue.  I didn't have any bottled ink!
What I did in the end was use an old blunt syringe and needle (The ones you get for refilling your printer desk jet ink cartridges).  I syringed the ink from the WH Smith cartridge into the ZenZoi cartridge.  I inserted this and noticed it went in a lot further.
That's it, I was up and running (Or Writing!).
Now I had ink flowing I tried it out on a piece of standard grade printer paper.  I have to say it works well, it's very fine but writes very detailed written work without any smudging or blurred lettering.  You can't write in all directions, but other than that this pen is brilliant!

I found the pen to well-balanced in my hand and the lid to close tightly on the pen body.  The pen clip does feel a little wobbly but serves it purpose as you would expect.
Technical Specifications.
Brand – ZenZoi
Model – Million Dollar Red Fountain Pen
EAN – N/A
ASIN – B01LWJCP9F
Nib Size – 0.5mm (Medium)
Compliance – CE
Conclusion.
After a lot of faffing about I managed to get around to using this pen.  I don't think the blame can be put entirely onto the pen though, WH Smith also had a part to play too!  I don't understand why WH Smith have a more bulbous tip to their ink cartridges, Oh well never mind.  After my little lifehack I managed to get my pen working just fine.  I'm very happy with my new writing buddy!  I also love the Red giftbox too, this would make a great gift or perhaps the perfect Father's Day gift.
If you want the ZenZoi Million Dollar Red Fountain Pen for yourself, it's available only on 
Amazon and comes with a lifetime warranty.  The RRP for this fountain pen is £45.89.
---
Thank you for reading this, feel free to comment down below, your input really matters to me.  I can also be contacted here.  Why not check out my other product reviews here.
Darren