The Betron MC500 Bluetooth Speaker maybe small, but this small cube speaker packs a surprising punch to your ear drums!
This speaker is part of a huge colourful and vibrant model selection from Betron.  In total there are 9 different colours, patterns and finishes to choose from.
Compatible with all Bluetooth devices such as your iPhone, iPad, iPod, Samsung, Tablets and can also be used for non-Bluetooth devices such as mp3 player via the supplied AUX cable.
But will such a small speaker be any good? What does it sound like? Time to test it out!
Retail Packaging.
The Betron MC500 comes packaged in an annoying plastic box, the type that slices you open when you open it up! Yes, this happened to me 😠.  The box measures 9.0cm x 6.0cm x 6.0cm and weighs 150G.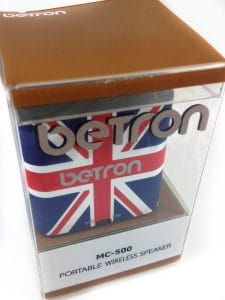 Contents.
Upon opening the Betron MC500 box you will find the following items. 1x Speaker, 1x Mini USB/AUX Cable, 1x Fabric Lanyard, 1x English Written User Guide, and 1x Betron Warranty Information.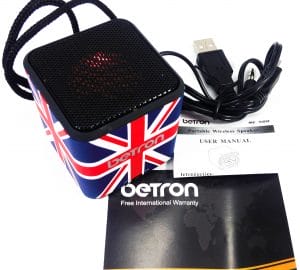 Betron MC500 Bluetooth Speaker.
The Betron MC500 Bluetooth Speaker is made from mixed materials including Aluminium and Plastics.  This amazingly small speaker measures 5.0cm x 5.0cm x 5.0cm and weighs 100G.  The Union Jack colour scheme that I have is probably the most patriotic speaker that I've ever reviewed, and in my opinion the best design Betron do in this speaker.
Not that I'm biased or anything 🇬🇧🇬🇧🇬🇧 Rule, Britannia! 🇬🇧🇬🇧🇬🇧 Even Lizzy would want this speaker for herself!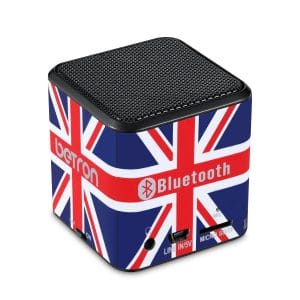 On one side of the cube you'll see the On/Off toggle switch, on the other side there is the AUX, 5V Input, and SD Card input slots.
The bottom of the speaker features non-slip feet and all the control are easily controlled from this area too.  You can control things like Volume, Track Selection, and Play/Pause your audio library.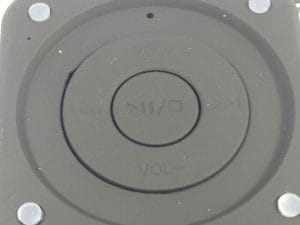 Charging & Pairing.
You'll need to give this speaker a charge using the supplied Mini USB/AUX Cable (Which has a length of 62.0cm), charging takes around 2 hours, but you'll get around 5 hours of playtime on a single charge.
Also, you can charge and use the speaker at the same time if you're the impatient type!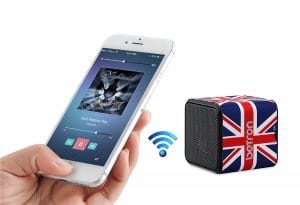 Right, now time to pair this speaker up.  Switch on the speaker using the power switch, you'll hear the usual computer-generated audio of "Bluetooth Mode".  Now pop over to your device and go to your Bluetooth settings and perform a search for "MC-500", and confirm pairing, and that's it! easy peasy lemon squeezy!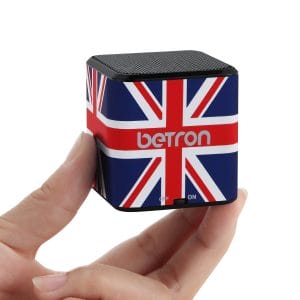 The Betron MC500 is a small cube sized speaker, which to be honest with you sounds quite good.  But, I think the more audio fan would probably be disappointed as I think this speaker is more marketed towards the younger teenage market.  Don't get me wrong, the sound is good, but I think a teenager would be more drawn to the cosmetic appeal of the Betron MC500 more!
So, I need to test this out as a young teenager would, cue an Ariana Grande playlist.  Mind you everyone likes a bit of Ariana Grande 😉
The sound of the speaker is excellent on low and maximum volume which surprised me, I was expecting some distortion, but no there wasn't!  Also, an audible warning beep can be heard when the music is too loud too, which is a nice friendly reminder to turn it down.
Features.
The Betron MC500 can also take handsfree phone calls, you can even answer/end a phone call using your speaker too!
There is even an old-fashioned feature called FM radio? I'm so hip that I don't even know what that is!  But, if you want to take a step back into time you can use this ancient feature and perform a station scan and listen to the local traffic news or those annoying advert jingles!
If you want to use this for a non-Bluetooth device, you can use the supplied cable which also doubles up as 3.5mm AUX input.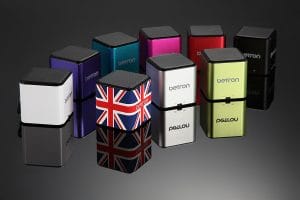 You can also use your Micro SD Card and play music directly from the card onto this speaker.
Technical Specifications.
Brand – Betron
Model – Bluetooth Wireless Speaker
Model Code – MC500
EAN – 5060264023097
ASIN – B00IOTCKOI
Bluetooth Connection – V4.0
Power Supply – DC 5V
Output Power – 3W (1KHz, THD1%)
Frequency – 160Hz – 18KHz
Signal & Noise Ratio – ≥65dB
Impedance – 40Ω
Output – 3.7V ~ 4.2V + 0.05V
Input – 5V
Battery – 600mAH
Charge Time – 2 Hours
Playtime – 5 Hours
Compliance – CE, FCC, RoHS
Conclusion.
As I've previously mentioned, this speaker is more marketed towards the younger market.  But, I like it (Especially the Union Jack design) and you do get a lot of choice of other designs/colours.  The sound is good, and this is something that I've come to expect from Betron.  The overall impression of this small, cube sized speaker is a good one.  I also now have a massive Ariana Grande collection on my iPhone library.
If you want the Betron MC500 speaker for yourself, it's available only on Amazon and comes with a 12 Month warranty.  The RRP for this speaker is £29.99.
---
Thank you for reading this, feel free to comment down below, your input really matters to me.  I can also be contacted here.  Why not check out my other product reviews here.
Darren