Today I'll be reviewing the XTAR PB2S Battery Charger. This small handheld device also doubles up as a useful power bank. The main purpose is of course to charge 18650 batteries.
Great news for any doubters out there, the XTAR has built-in circuit protection which can effectively prevent over-current, over-charge, over-voltage, short-circuit. Combining with XTAR's soft start function too.
Who is XTAR? Well they've been around since 2006 and produce high-end technology such as power banks, battery chargers, torches, power supply's, and more.
Unlike many other cheap alternative branded products on the market XTAR have a fully functioning website, valid contact methods and are active on all major social media channels too. So, contacting them is easy. All products come with warranty and anti-counterfeit product protection too.
So, is the PB2S Battery Charger any Good? Time to test it out!
Packaging and Contents.
The XTAR PB2S Battery Charger comes in a cardboard box which features written product specifications printed on the outside. The box measures 14.5cm x 11.0cm x 3.0cm and weighs 207G.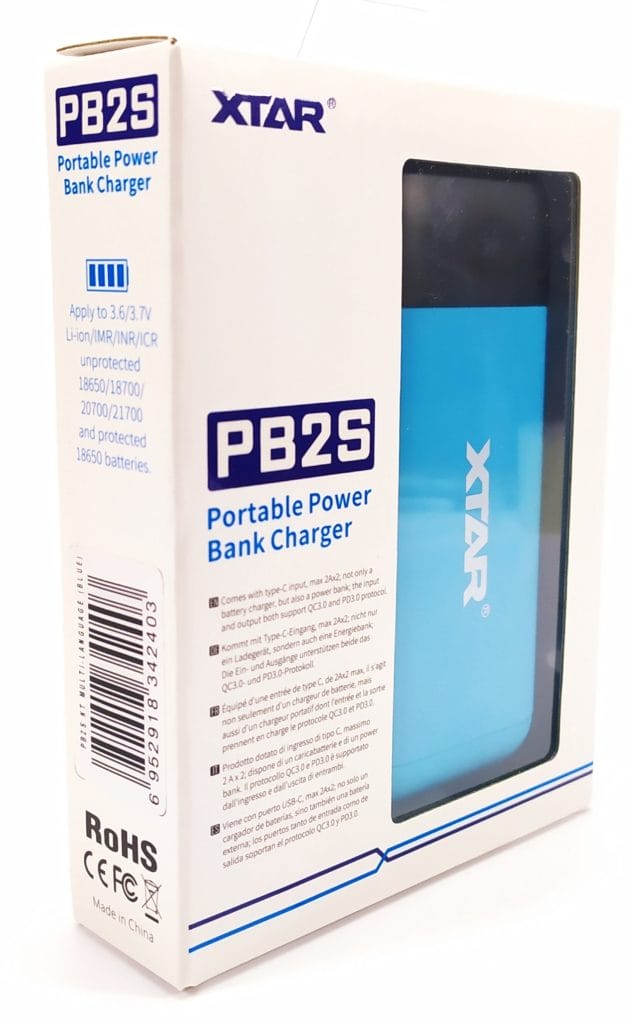 Inside the box you'll find the following: 1x Battery Charger, 1x USB-C Cable, 1x Multi-Lingual User Guide, and I received a 18650 battery. XTAR state on their AliExpress listing that no battery is supplied, my product was directly shipped by XTAR from China, so I'm not sure if it's a different set of rules compared to their AliExpress listing.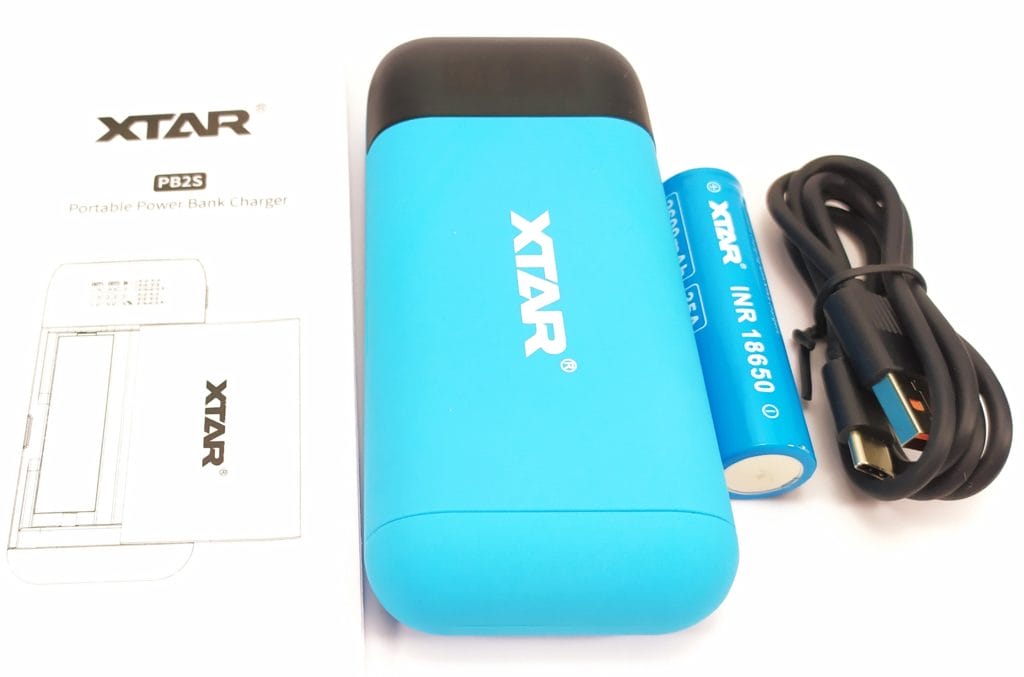 XTAR PB2S Battery Charger.
The XTAR PB2S Battery Charger is a portable handheld device, it measures 12.5cm x 6.0cm x 2.5cm and weighs 82G (Without any batteries). It comes in a choice of Red, Yellow Blue, and Black and features a smooth Matte finish to the outer casing.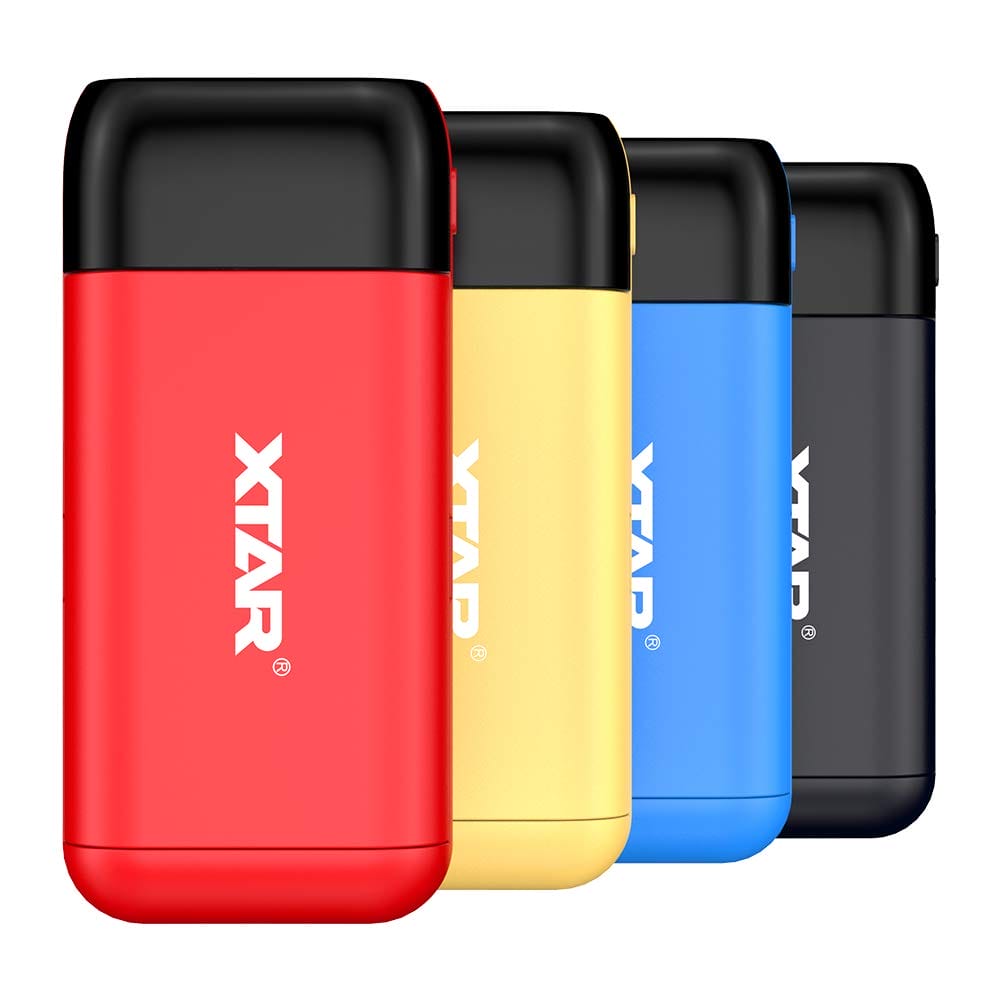 The main door features a twin magnetic catch, making it easier to open and close again afterward. Inside there's enough space to charge two batteries with the positive terminal situated to the top and negative pole towards the bottom. You're able to use the following battery types: Unprotected 18650 18700 20700 21700 and Protected 18650 batteries.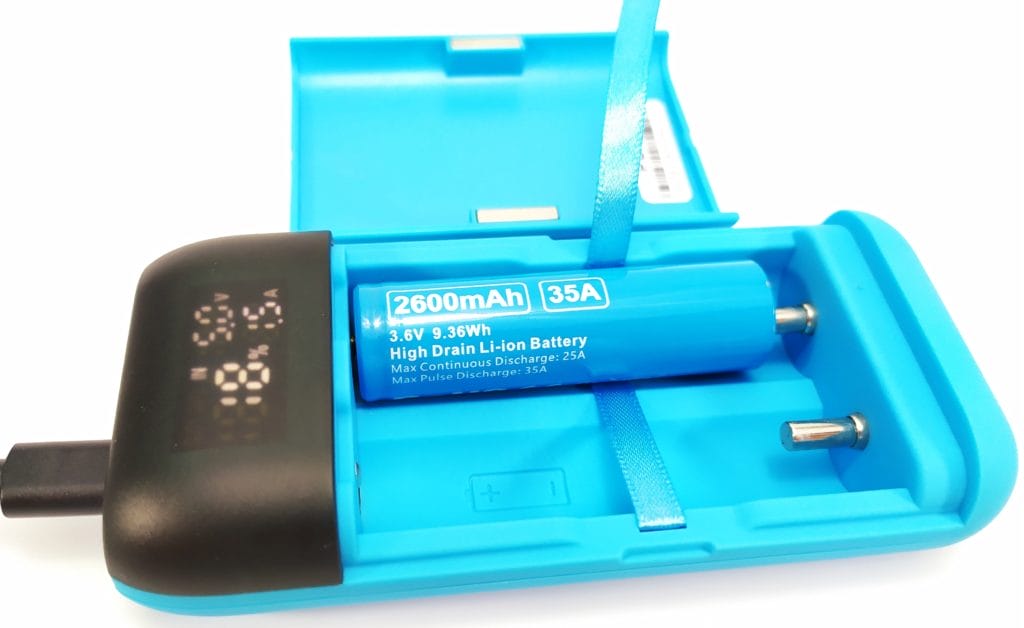 The battery XTAR supplied me was their own branded battery. It's an INR 18650 2600 High-drain Li-ion Battery. Below is table of the capabilities of this battery.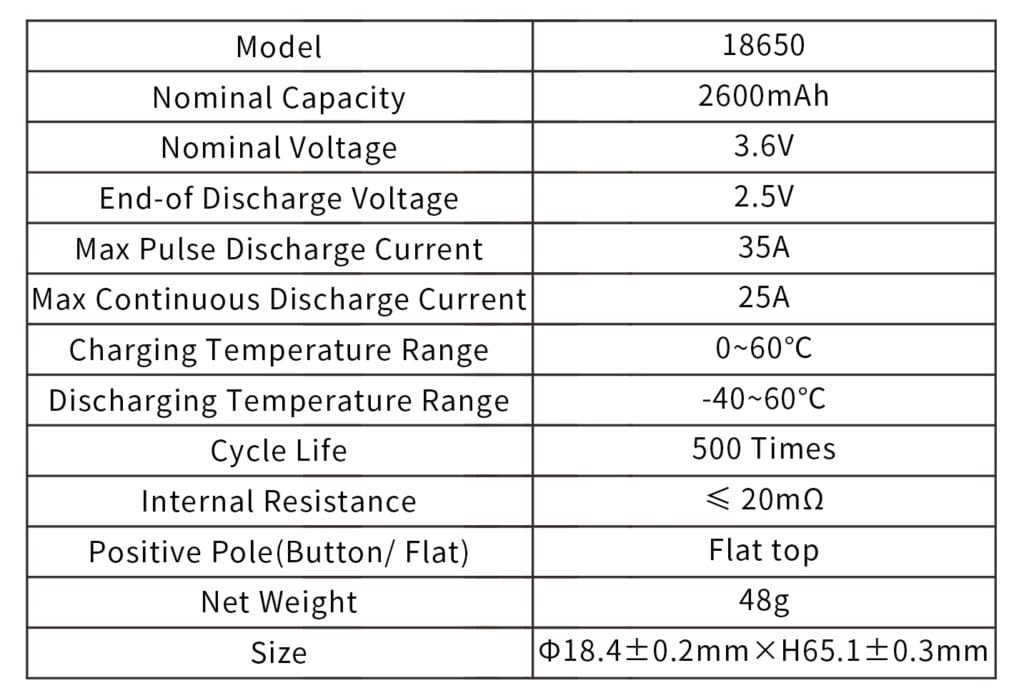 Charging the XTAR PB2S.
Charging is done simply via a USB-C Cable, XTAR supply this cable (which measures 80.0cm in length) which can also double up us a USB-C output cable to your USB-C device using the USB output port.
The required charging voltages are: QC3.0 & PD3.0 (5V 2A / 9V 2A / 12V 1.5A).
I used my Syncwire 4 Port USB Charger to do all the charging. Once connected to a power source the Black area of the XTAR PB2S light up and lets you the battery charging level, the voltage/amps coming into the unit. If applicable and available, the XTAR PB2S will start to charge automatically in fast charging at 9V/2A mode. But in most cases, it'll charge in standard 5V/1.5A mode if using a laptop USB port.
I used my AVHzY Ct-2 USB Tester to see if the XTAR PB2S Battery Charger was accurate. And yes (within 0.1V) it was spot on.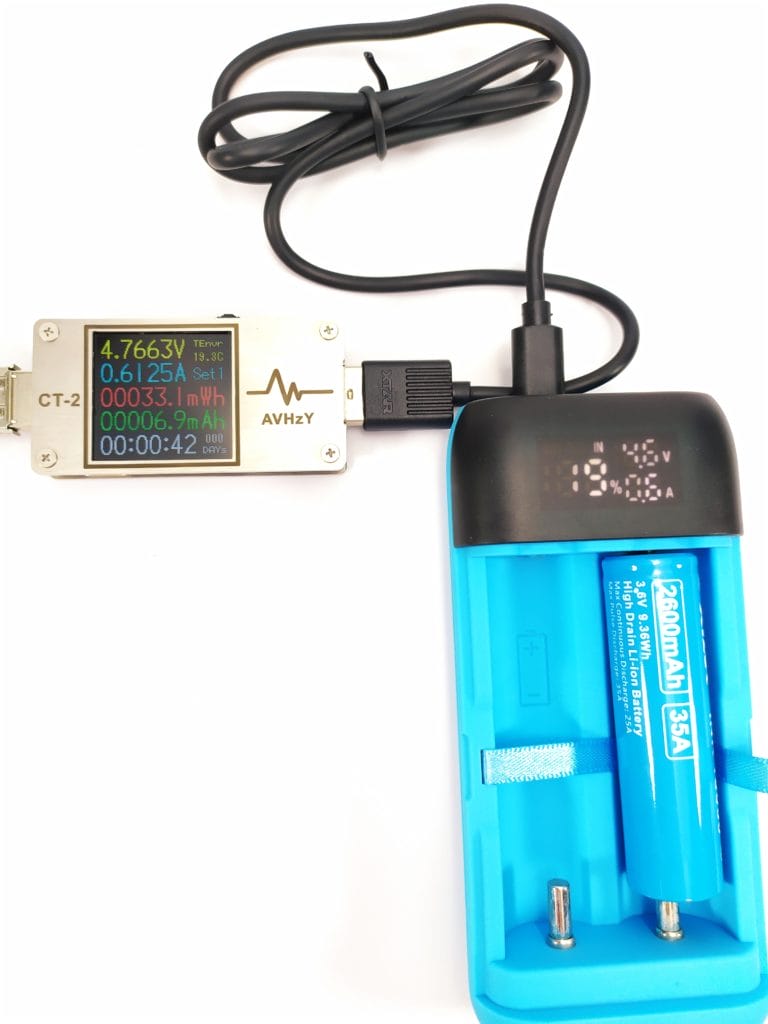 The battery level percentage is also a very good visual indication of the charge level of your battery.
Uses.
The XTAR PB2S Battery Charger is suited for applications where a 18650 battery is required, these applications include torches, laptops, and vaping devices.
Another cool feature of the XTAR PB2S Battery Charger is the fact that you can use it as a power bank. It'll charge any device as you use the standard USB output port and use your own charging cable. The output voltages that it can manage is QC3.0 & PD3.0 (5V 2A / 9V 2A / 12V 1.5A).
I found I was able to charge my USB-C enabled mobile phone easily and it quickly charged it up. Another cool feature is that you can charge two devices at the same time without any issues if you use both USB and USB-C ports as output ports.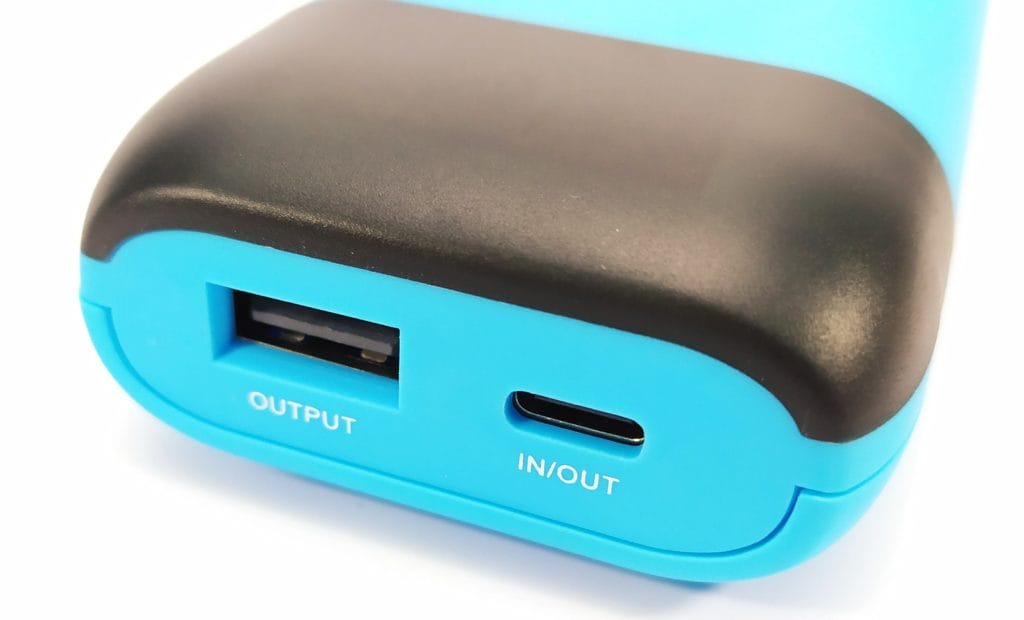 Circuit Protection.
Battery charger and power banks don't exactly have the best reputation, cheaper more inferior products have a habit of overheating and ultimately exploding. But the XTAR PB2S has all the protection that you could possibly want, these include:
Over-Current; In an electric power system, over-current or excess current is a situation where a larger than intended electric current exists through a conductor, leading to excessive generation of heat, and the risk of fire or damage to equipment. (Source Wikipedia)
Over-Charge: Charging a battery beyond its full level leads to permanent or temporary damage of the battery. (Source Quora)
Over-Voltage: When the voltage in a circuit or part of it is raised above its upper design limit, this is known as over-voltage. The conditions may be hazardous. Depending on its duration, the over-voltage event can be transient—a voltage spike—or permanent, leading to a power surge. (Source Wikipedia)
Short-Circuit: A short circuit is an electrical circuit that allows a current to travel along an unintended path with no or very low electrical impedance. This results in an excessive current flowing through the circuit. The opposite of a short circuit is an "open circuit", which is an infinite resistance between two nodes. (Source Wikipedia)
Soft-Start Function: The soft start function in a power supply circuit minimizes large startup currents from flowing when the input power is first applied. As power is first applied to a circuit, the capacitors must be charged from zero to their final values, while the inductors and transformers need to have their flux stabilized. (Source Sunpower UK)
So XTAR have you fully covered for all the electrical nasties that can occur with battery chargers and power banks.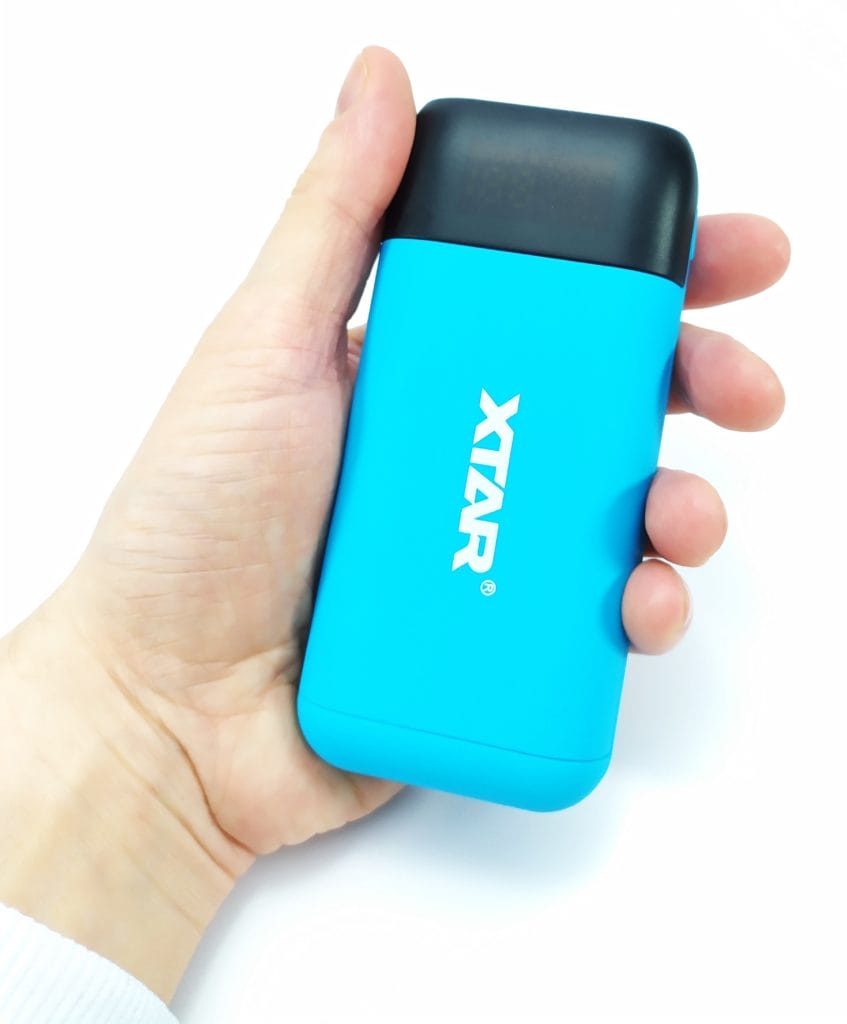 Technical Specifications.
Brand: XTAR
Model: Battery Charger
Manufacturer Code: PB2S
Manufacturer Reference: XTAR PB2S
EAN: 6952918342403
ASIN: B07WG6RK9M

Input: QC3.0 & PD3.0 (5V 2A / 9V 2A / 12V 1.5A)

Constant Current: 2Ax2 2Ax1 1Ax2

End-of Charge Voltage: 4.20 ± 0.05V

End-of Charge Current: ≤120mA

USB Output: QC3.0 & PD3.0 (5V 2A / 9V 2A / 12V 1.5A)

Operating Temperature: 0-40℃

Compliance: CE, FCC, RoHS
Conclusion.
I really like the XTAR PB2S Battery Charger. It feels comfortable to hold and performs better than expected. I also like the safety features that come supplied as standard. Also having a company that you can contact is also a massive plus for me. Loads of cheaper brands are quick to sell you a product but suddenly disappear once you have a question or complaint. At least XTAR are there to help.
I'd like some clarity on the supplied 18650 battery from XTAR, do they ship a battery out if you order direct from them? is it something that happens when you purchase on AliExpress?
Aside from that, I can't fault the XTAR PB2S, and highly recommend this to anyone who needs both an 18650 battery charger and also uses a power bank.
If you want the XTAR PB2S Battery Charger for yourself, it's available for purchase only on AliExpress. The RRP for this product is £29.97.
Product sample provided by XTAR in exchange for a detailed, unbiased review.
---
Thank you for taking the time to read my post. If you'd like to add a comment or thought on this post, please use the section below. I can also be contacted via the online contact form. Please subscribe for the latest reviews, news, and discounts. Please follow My Helpful Hints on Twitter, Instagram & Facebook too!
XTAR PB2S Battery Charger