Today I'll be writing a review for the nukka Cat Scratcher. This eco-friendly cat scratching and lounge pad has been designed for the comfort and enjoyment of your cat.
My not so little now kitten Tammy is a fussy, playful bundle of fur, so when I saw the opportunity to review the nukka I jumped at it. Not only do you get a cat scratching pad, but you also get a free teaser toy, which I was sure she'd love. The pad however I wasn't sure if she'd like it as she is fussy and would rather claw at our Divan bed base!
So, it was worth a try at the very least.
So, would Tammy enjoy the nukka? Is it value for money? Time to test it out!
Packaging and Contents.
The nukka Cat Scratcher comes wrapped in cellophane. Included contents of the packaging include, 1x Cat Pad, 1x Cat Teaser Toy, 1x Cat Nip.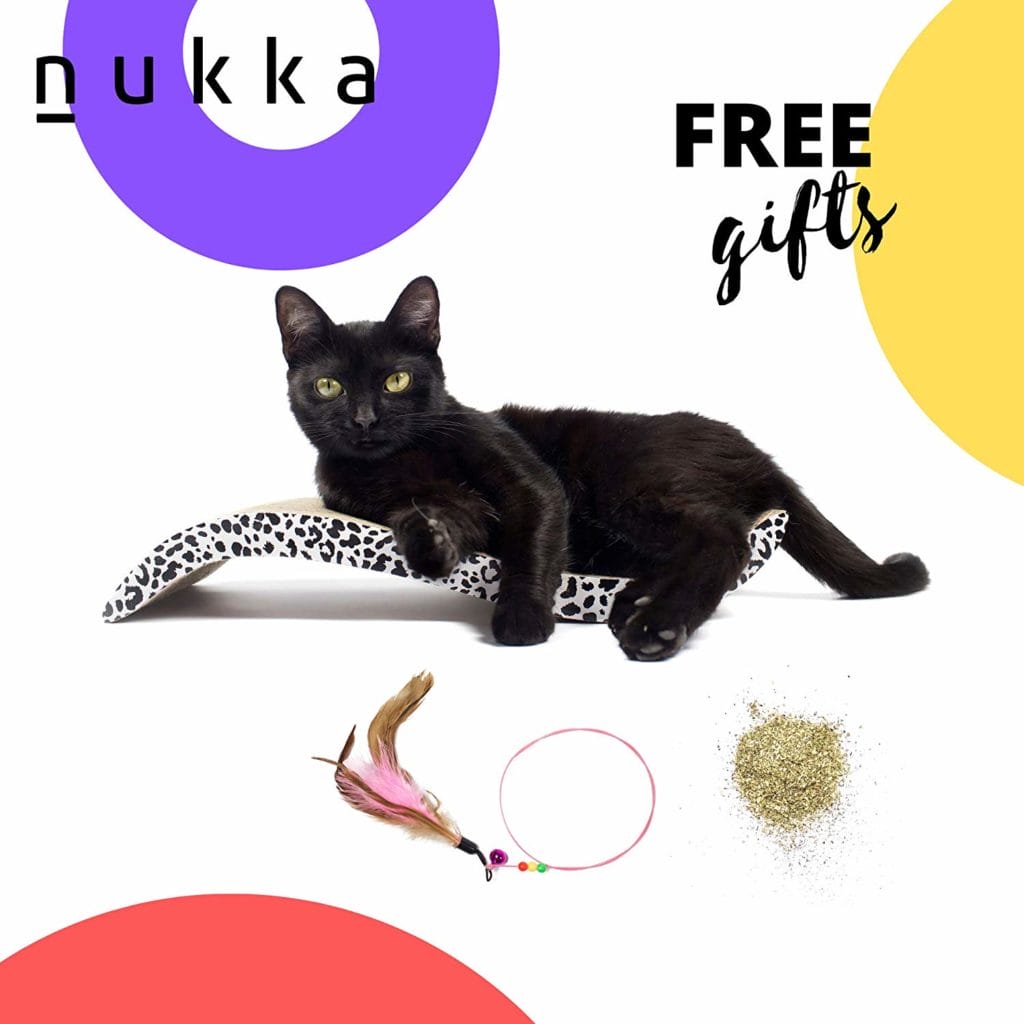 The pad itself is made from 100% recyclable cardboard and measures 41.0cm in length and has width of around 20.0cm. It's also reversible, so when one side becomes frayed you can simply turn it over and prolong the use of the nukka for longer. This cat scratching pad is best suited for small-medium sized cats, any larger cats wouldn't sit comfortably onto the curved shape of the pad.
Using the nukka.
Rather predictably Tammy didn't take to using the nukka, she sat on it once and has never been on it again since. We tried to encourage her onto it by using the cat teaser toy, but it was no use, she wasn't and still isn't interested. She's a fussy cat and know what she likes/dislikes.
The free cat teaser on the other hand she absolutely adores. It's made from artificial feathers and has a metal semi-rigid wire rod to encourage natural hunting play. It has a comfortable handle too. I did however remove the bell that was attached onto the end of the feathers. This was not only due to the noise (Tammy doesn't like noises) but also to stop myself from accidentally hurting her in the face with it. The bell adds a bit of extra weight to the end that's not really needed.

Once the bell was removed Tammy enjoyed playing with the toy. But not the cat scratcher itself.
Technical Specifications.
Brand: nukka
Model: Cat Scratcher
Manufacturer Code: N/A
Manufacturer Reference: CSP-WAV-BW
EAN: N/A
ASIN: B07Q47YKVB
Compliance: N/A
Conclusion.
I was hoping Tammy would like the nukka Cat Scratcher, but unfortunately, she didn't take to it. There's nothing wrong with the product itself, in fact it's well-built and 100% recyclable too!
I like the concept and the design, your cat (well hopefully) can lay out and claw away at this pad leaving your furniture undamaged.
Overall, I still recommend the nukka, there's nothing wrong with the product, only I have a fussy kitten . It's also very good value for money too!
If you want the nukka Cat Scratcher for yourself, it's available for purchase only on
Amazon. The RRP for this scratcher is £10.99.
Product sample provided by nukka in exchange for a detailed, unbiased review.
---
Thank you for taking the time to read my post. If you'd like to add a comment or thought on this post, please use the section below. I can also be contacted via the online contact form. Please subscribe for the latest reviews, news, and discounts. Please follow My Helpful Hints on Twitter, Instagram & Facebook too!