Today I'll be reviewing the Omars Mini Pro power bank. This credit card sized portable charging device features 2x USB outlets along with a USB-C input/output port too for greater flexibility.
Who exactly are Omars? Well they are part of a group named Wellmade which has been around since 1997 in Shenzhen, China. Unlike other companies Omars have their own website and contact details, so you can be sure that contact can be made, even after a purchase.
The power bank that I have is called the Mini Pro. Omars have a variety of different power banks and assorted wall chargers to suit every individual. The Mini Pro is a 10,000mAh USB-C power bank.
But is the Mini Pro any good? Is it safe to use? Time to test it out!
Packaging and Contents.
The Omars Mini Pro power bank comes in a cardboard box which features written product specifications printed on the outside. The box measures 11.0cm x 8.0cm x 3.0cm and weighs 230G.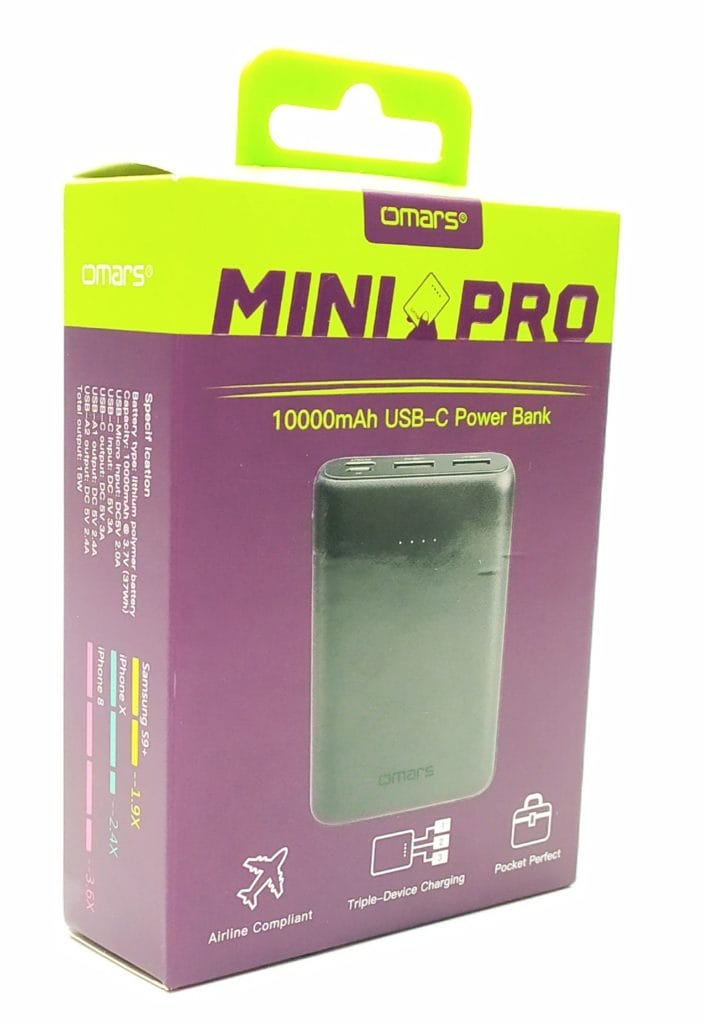 Inside the box you'll find the following: 1x Power Bank, 1x Micro USB Cable, 1x Multi-Lingual User Guide.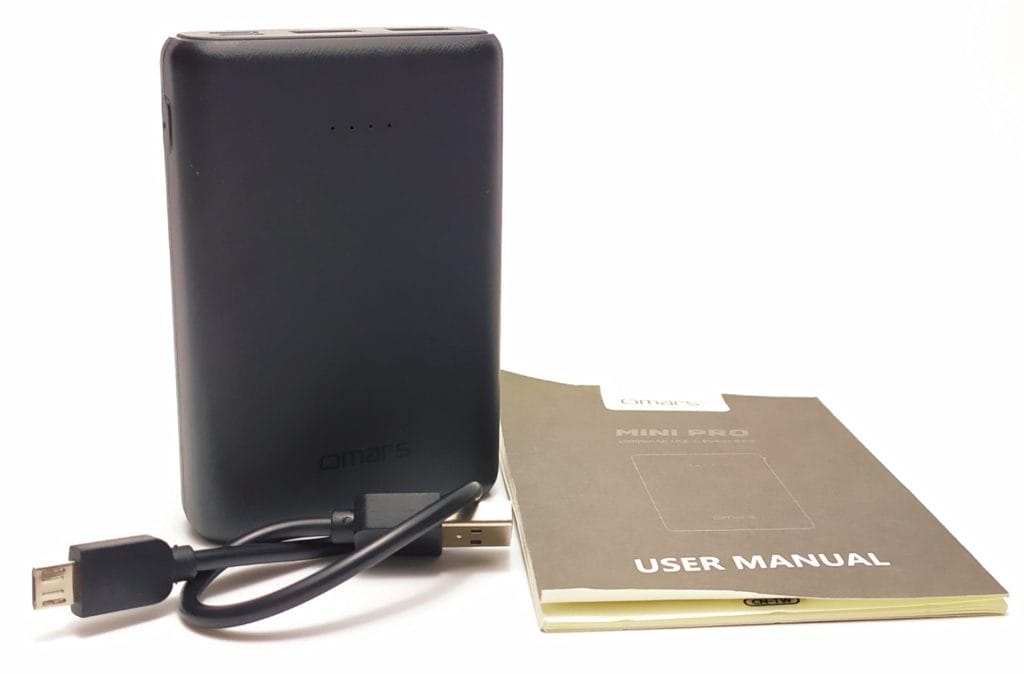 Omars Mini Pro.
The Omars Mini Pro power bank is Black in colour and measures 9.0cm x 6.0cm x 2.0cm and weighs 190G. You get 2x USB Outlets, 1x USB-C Input/Output Port, and 1x Micro USB Charging Port.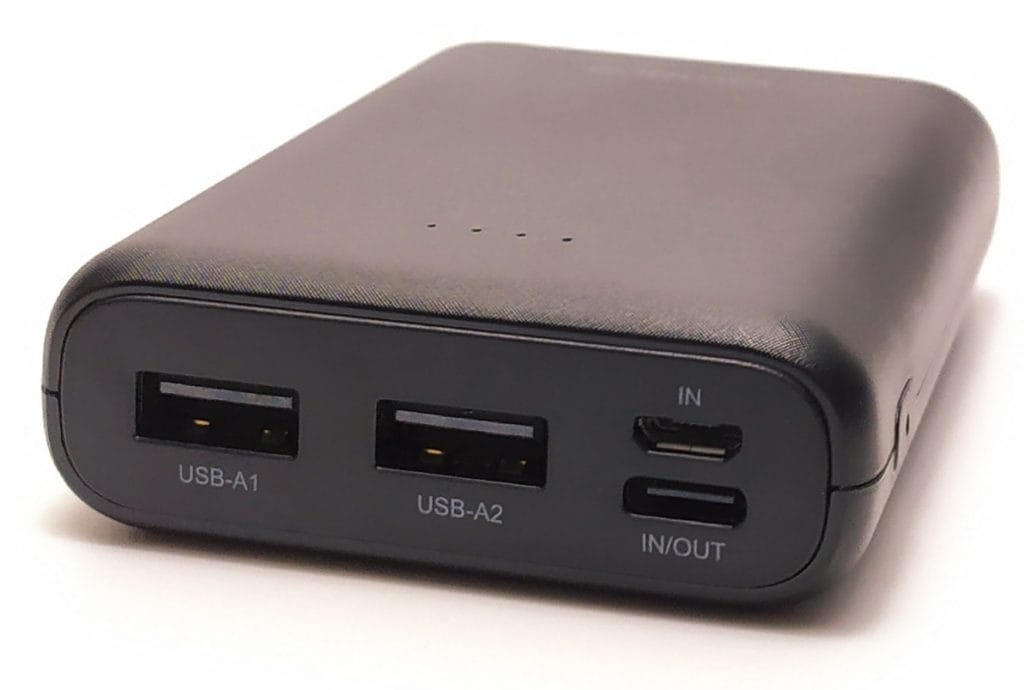 On top there's 4 LED lights to show current power levels. These lights also act show you when the power bank has been charged when you switch to recharge function.
On the side there's a push button, if you press it it'll show the current battery level via the LED lights.

Recharging.
To recharge the power bank, you need to use either the supplied Micro USB Cable (Which measures 22.0cm) or any other Android/Micro USB Cable. You'll also need a 5V power source. This can be a USB port on your laptop, or a dedicated USB power adapter.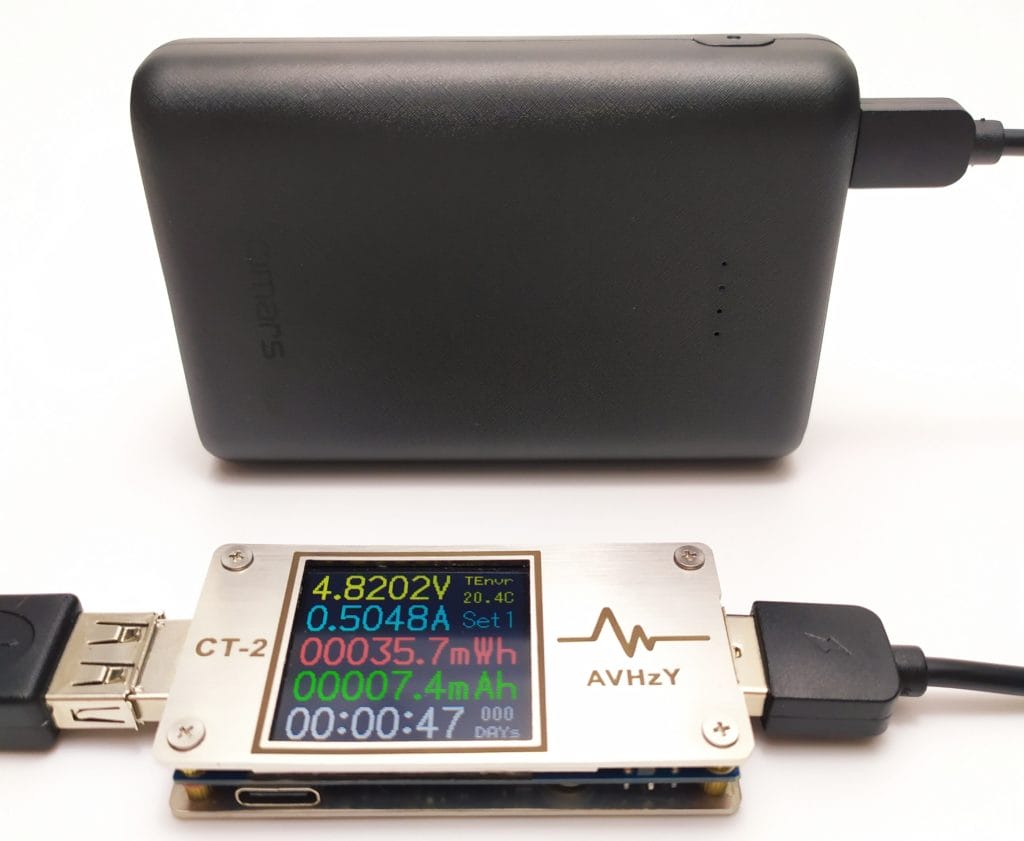 As you can see from the above image the power bank was only accepting a 4.8V/0.5A input charge, despite using a wall charger capable of achieving 5V/2.4A. I reckon it'll take about 4 hours to fully charge the Omars Mini Pro power bank. The advertised input figures say it should be 5V/2A. So, it was a little off from what I was experiencing.
Once charged you'll be able to use it to charge a typical mobile phone around 3 times before needing to recharge.
To test the power bank I'm using a USB tester from AVHzY, I've previously reviewed this and this can be found here.
Using the Omars Mini Pro.
I tested both the USB-A and USB-C outlets; I was more interested in the USB-A outlets as these are mostly going to be used by most people as they can be used for all devices. The advertised capabilities say I should be drawing 5V/2.4A. You can see from the below image again this wasn't the case, in fact the best I could achieve was 5.1V/1.8A. So again, a case of false misleading information.

The actual usage of the power bank is very easy, and the LED lighting system ensures you always know the remaining battery level. These can be broken down as follows:
No White LED's: Battery Level 0%
1x White LED Light: Battery Level 1% – 25%
2x White LED Lights: Battery Level 25% – 50%
3x White LED Lights: Battery Level 50% – 75%
4x White LED Lights: Battery Level 100%
For charging the lights will flash and when fully charged all four lights will stay illuminated Blue to indicate a full battery.
Impressively though I did manage charge 3 separate devices simultaneously without any issues and each device was able to charge. These included 2x mobile phones and a rechargeable night light. Although understandably the battery did drain quite quickly.
Technical Specifications.
Brand: Omars
Model: Mini Pro Power Bank
Manufacturer Code: OMPBPW1810BKWTB
Manufacturer Reference: N/A
EAN: N/A
ASIN: B07XM65K2D
Battery Type: Li-Polymer Battery
Battery Capacity: 10,000mAh @ 3.7V (37Wh)
Micro USB Input: DC 5 V/2A
USB-C Input/Output: DC 5V/3A
USB-A Output: DC 5V/2.4A
Total Output: 15W
Operating Temperature: 10~40°C
Compliance: CE, FCC, RoHS
Conclusion.
I quite like the Omars Mini Pro power bank. It manages to charge 3 different devices all at once without any issues. I'm however a little disappointed that this power bank is not as capable as Omars make out. In fact, it's only half of what they state. I don't know why they can't be honest as they've a great product, there's no need to falsely advertise capabilities.
Aside from the false advertisements, the Mini Pro is also safe and is both CE/FCC marked. Which is a welcome reassurance to see.
Overall, I highly recommend this power bank, it's great for all your mobile devices and will last almost 3x longer than your iPhone battery.
If you want the Omars Mini Pro power bank for yourself, it's available for purchase on Amazon and directly from the Omars website. The RRP for this power bank is £14.99.
Product sample provided by Omars in exchange for a detailed, unbiased review.
---
Thank you for taking the time to read my post. If you'd like to add a comment or thought on this post, please use the section below. I can also be contacted via the online contact form. Please subscribe for the latest reviews, news, and discounts. Please follow My Helpful Hints on Twitter, Instagram & Facebook too!