Today I'll be writing about the Supportiback Contour Pillow. A memory foam pillow which features an integrated cooling gel pad. This pillow has been designed for all sleeping positions.
Supportiback offer a 100-night sleep money back guarantee. It's nice when a brand has so much confidence in their product that they can offer such guarantees.
There're so many memory contour type pillows available. In fact, I've previously reviewed one. But this one is different. It's firmer and has a CoolGel® gel pad to aid heat dissipation.
So, is this pillow any good? Time to test it out!
Packaging and Contents.
The Supportiback Contour Pillow comes in a zip type bag which features product images and printed specifications. Inside the packaging you'll find your pillow.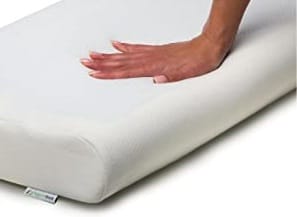 The first thing that'll hit you is the smell. All memory foam pillows have a nasty chemical type smell. Unfortunately, this smell lingers for around 3 weeks. Which, in comparison with other pillows is a lot less than usual 4-5 weeks' timeline.
The pillow measures 55.0cm in length x 34.0cm in depth and has height of around 11.0cm in two areas. The middle-dipped section has a height of around 8.0cm.
Supportiback Contour Pillow.
The Supportiback Contour Pillow features a zipped soft washable outer cover. This cover is made from Polyester. The memory foam is made from Polyurethane. A hypoallergenic and dust mite free pillow.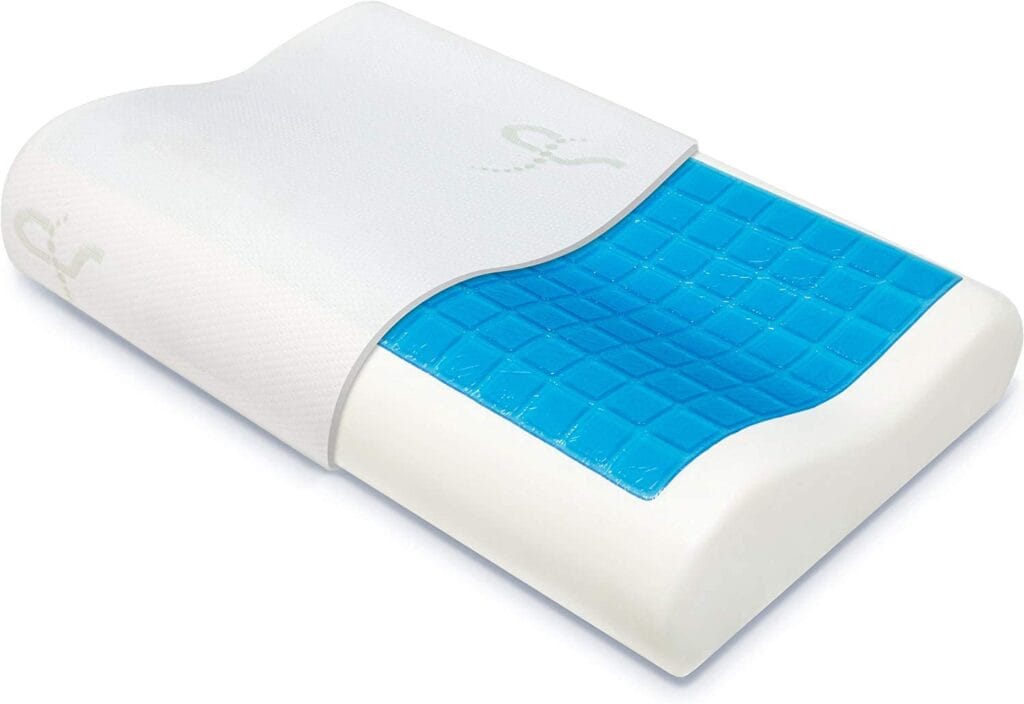 If you unzip the outer cover, you'll see the blue CoolGel® gel pad, this gel is designed to help dissipate heat that's generated with using a memory foam pillow. Memory foam pillows have a habit of producing and retaining heat, this makes for them to be uncomfortable.
So, does this gel pad work? Yes!
This shocked me, I was ready to call bullshit on these claims, but it does work. If you're expecting a cold pillow, you'll be disappointed. This is not that type of pillow. The best way I can explain this pillow is same feeling you get when you turn over pillow and get that refreshing cooling feeling. It won't however chill you whilst you're sleeping. There're others on the market that claim to do this.
I found it amazingly comfortable to sleep on too. The Supportiback pillow is quite firm, which I find supportive.
Sleeping with the Pillow.
I normally sleep on soft micro-fibre type of pillows due to Asthma; I presumed a firm pillow might be uncomfortable. But I was wrong!
This pillow is extremely comfortable whilst being firm. The firmness keeps your head, neck and back in perfect alignment. It's this alignment that prevents a poor night's sleep. I awoke fresh feeling.
I've been using this pillow for a couple of weeks now and won't go back to a traditional type pillow again. Also, you're able to use a standard pillowcase over it too. Which is fantastic.

Your head fits perfectly into the dipped section and stays there all night. Your neck aligns into the first height section. You'll find it perfectly designed.
I can't fault it as a product, and I'm not the only one. This pillow has 2405 4.4-star reviews on Amazon (correct as of 23/07/2020). That's an incredible review rating.
I sleep on my side, but you're able to use this pillow if you also sleep on your back or front.
Technical Specifications.
Brand: Supportiback
Model: Contour Pillow
Manufacturer Code: N/A
Manufacturer Reference: N/A
EAN: N/A
ASIN: B071VJ2BJD
Certified: GMP, ISA and HACCP
Compliance: CE, FCC, RoHS
Conclusion.
I love my Supportiback Contour Pillow. It's quite firm and supports you all night long. The cooling gel helps with the heat issue you get with memory foam pillows. Overall, I was surprised, I was too quick to initially judge it before trying it out.
Just that smell when you first open the bag. Although it does go a lot quicker than other memory foam pillows, it's still quite pungent.
If you want the Supportiback Contour Pillow for yourself, it's available for purchase only on Amazon. The RRP for this product is £29.87.
Product sample provided by Supportiback in exchange for a detailed, unbiased review.
---
Thank you for taking the time to read my post. If you'd like to add a comment or thought on this post, please use the section below. I can also be contacted via the online contact form. Please subscribe for the latest reviews, news, and discounts. Please follow My Helpful Hints on Twitter, Instagram & Facebook too!
Supportiback Contour Pillow