Today I'll be writing about the HP Notebook 15-db0049na Laptop. This is a follow-on review from the drama of the iOTA BASE Desktop PC.
I've been using this laptop for just over 6 months and thought now is the right time to share my experiences.
I wanted a half-decent laptop, nothing super powerful, but with enough processing speed to allow me to use it every day. The HP Notebook 15-db0049na certainly had everything I needed. It has 1TB HDD storage, has 4GB RAM DDR4, and an AMD A4 9125 processor.
It's a basic laptop that's perfect for home use, it certainly wouldn't cope with online gaming. But, that's not what I wanted a laptop for. I needed to be able to access my website, write reviews, upload/edit images, use social media, and general internet usage.
I ordered this laptop in blue from Argos for £299.99 (January 2020) with same delivery.
Setting Up.
The setting up process is an amazingly simple to follow with a step-by-step guide. You simply power on the laptop and you'll be taken through the process. The UK power lead has a cable length of around 2M.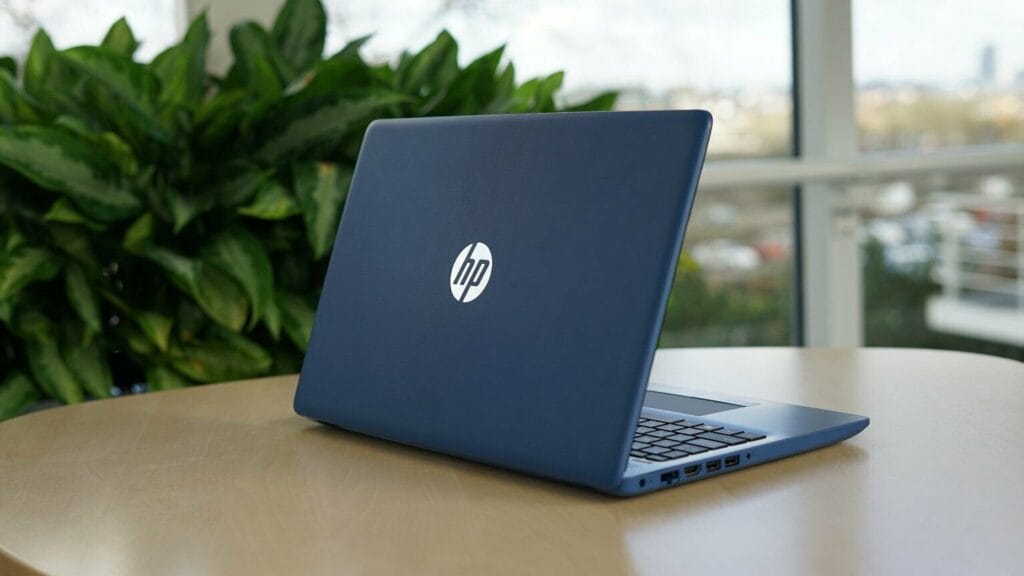 The setting up process takes less than 30 minutes to complete. Along the way you need to add your WiFi password and sign into your Microsoft account (if applicable).
Once set up you'll be greeted with the Windows 10 desktop (Windows 10 Home 64 Operating System). You'll now want to edit and add some apps and change some permissions. I personally loathe Windows Edge as a search engine and prefer Google Chrome. When you've finished installing Google Chrome the begging tactics from a desperate Windows starts. Please try us, we're just as good as Google Chrome type of bollocks. You'll have to change default permissions from Edge to Chrome.
But when you do eventually put Windows in its place with regards to their Edge programme, they sort of listen. Well, until the next maintenance update where they try their luck again.
Whilst I'm mentioning about maintenance updates, the HP Notebook 15-db0049na Laptop generally updates at a time to suit you without deciding to do whenever it pleases. Which is good.
These updates and notifications can be found in the bottom right hand corner. But HP will also use this function to spam you with adverts for their products too. You can stop them, but every now and then another one appears.
Using the Laptop.
The HP Notebook 15-db0049na Laptop is an incredibly good laptop, it works quickly, it operates smoothly between multiple open tabs and features a special anti-glare screen. This is perfect for those annoying days when sunlight can affect your screen use.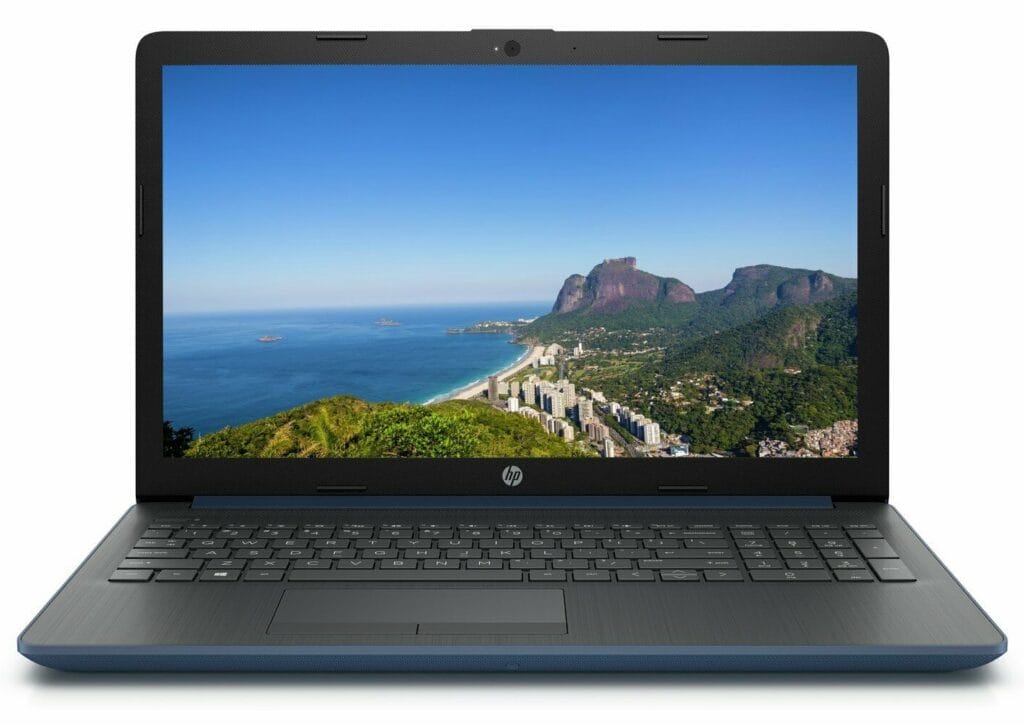 The battery is a 3-cell, 41 Wh Li-ion, which supports a fast charge function at approximately 50% in 45 minutes and can last upto 13 hours (dependant on usage). You'll be pleased to know the processor is an 8th Generation Intel® Core™ i3 processor.
Internal memory of 4 GB DDR4-2400 SDRAM (1 x 4 GB) and has internal storage of 1 TB 5400 rpm SATA. So, the laptop has plenty of memory and storage for home use.
The HP Notebook 15-db0049na Laptop has a screen display specification of 39.6 cm (15.6″) diagonal FHD SVA anti-glare WLED-backlit, 220 nits, 45% NTSC (1920 x 1080), with an Intel® UHD Graphics 620 integrated graphics unit.
That's enough nerd talk.
Everyday Use.
The keyboard features a standard UK QWERTY layout. The buttons are spaced apart, but they're very plasticky and feels cheap to type with. They're quite wobbly to type with. the trackpad mouse is OK and swipes in a multi-directional pattern with ease, but the left/right trackpad buttons are also cheap and tacky.
Luckily, I use an external wireless keyboard anyway, its what I've become accustom too and ensures I can touch type without too many typing mistakes (sort of). The HP Notebook 15-db0049na Laptop features 3x USB ports, So I had enough to use my keyboard and USB mouse.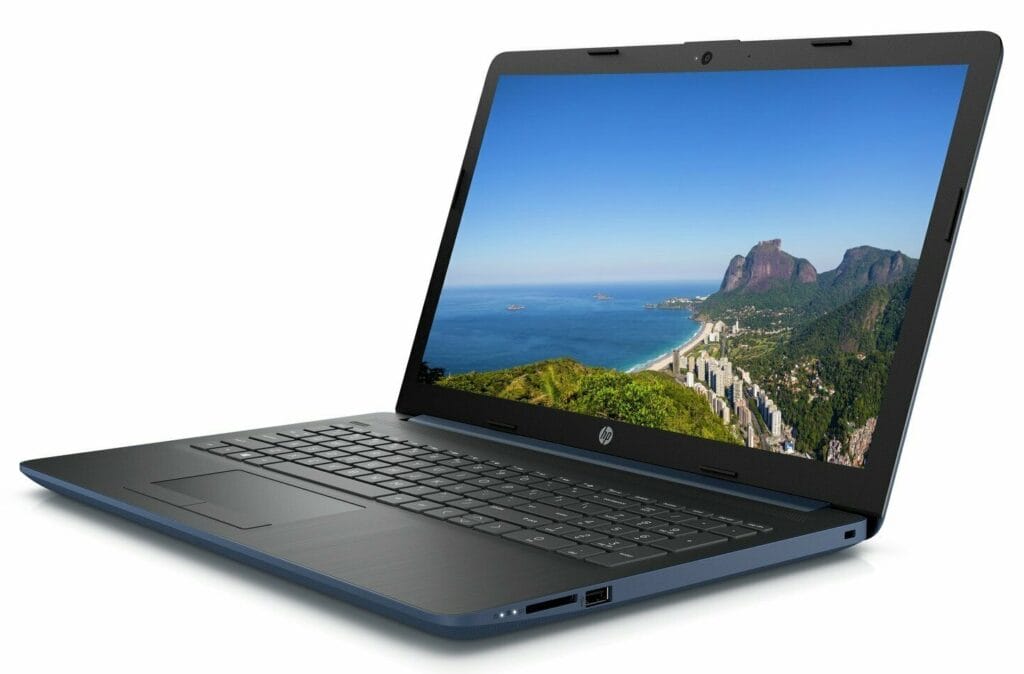 The laptop has a SD card port which allows you to transfer images quickly and easily. There's no optical disk drive with this model, so you'll have to use an external USB powered disk drive if required
Other features include: Internal microphone, webcam, RJ-45 jack, audio in/out jack, HDMI port and a security cable slot.
Technical Specifications.
Brand: Hewlett Packard
Model: Notebook Laptop
Manufacturer Code: 15-db0049na
Manufacturer Reference: 5SX49EA
EAN: 193905356478
ASIN: N/A
Operating System: Windows 10 Home 64
Processor Family: 8th Generation Intel® Core™ i3 processor
Processor: Intel® Core™ i3-8130U (2.2 GHz base frequency, up to 3.4 GHz with Intel® Turbo Boost Technology, 4 MB L3 cache, 2 cores)
Memory: 4 GB DDR4-2400 SDRAM (1 x 4 GB)
Internal drive: 1 TB 5400 rpm SATA
Cloud service: Dropbox
Optical Drive: Optical drive not included
Display: 39.6 cm (15.6″) diagonal FHD SVA anti-glare WLED-backlit, 220 nits, 45% NTSC (1920 x 1080)
Graphics Integrated: Intel® UHD Graphics 620
Ports: 2x USB 3.1 Gen 1 (Data transfer only), 1x USB 2.0, 1x HDMI 1.4b, 1x RJ-45, 1x headphone/microphone combo
Camera: HP TrueVision HD Camera with integrated digital microphone
Audio Features: Duel Speakers
Keyboard: Full-size island-style ash silver keyboard with numeric keypad
Network Interface: Integrated 10/100/1000 GbE LAN
Wireless: Realtek RTL8821CE 802.11b/g/n/ac (1×1) and Bluetooth® 4.2 Combo
Power Supply Type: 45 W AC power adapter
Battery Type: 3-cell, 41 Wh Li-ion
Energy Efficiency: ENERGY STAR® certified & EPEAT® Silver registered
Dimensions (W x D x H): 37.6 x 24.6 x 2.25 cm
Weight: 2.04 kg
Security Management: Kensington MiniSaver™ security lock support
Conclusion.
I really like the HP Notebook 15-db0049na Laptop. It's a fantastic everyday use laptop, however there's a few annoying things. The first is the cheap feeling keyboard and mouse trackpad, secondly adverts. I didn't buy a laptop to be plagued with HP product advertisements, it is beyond annoying.
Aside from my man moans the HP Notebook 15-db0049na Laptop is incredibly good, it's quick and does exactly what I want from a laptop. Highly recommended.
If you want the HP Notebook 15-db0049na Laptop for yourself, it's available for purchase only on Argos. The RRP for this product is £299.99.
I purchased this product myself and decided to write a review. HP/Argos didn't send me the product or know about this review until published. (Although I'd love for them to do this)
---
Thank you for taking the time to read my post. If you'd like to add a comment or thought on this post, please use the section below. I can also be contacted via the online contact form. Please subscribe for the latest reviews, news, and discounts. Please follow My Helpful Hints on Twitter, Instagram & Facebook too!
HP Notebook 15-db0049na Laptop