I'm back after a short break reviewing and will be writing today about this Mexllex LED Strip Light. This is a multi-functional light that can be operated with both the remote control and via a special app.
Other features include a sound sensitive microphone, user-controlled brightness, light patterns, infinity colour choice and much more!
A self-adhesive strip ensures that you can install this light anywhere. The supplied size is 7.5m but can be cut to size.
But is this light any good? Time to test it out!
Packaging and Contents.
The Mexllex LED Strip Light comes in a white cardboard box which features product images and printed specifications. The outer box measures 17.5cm x 17.5cm x 6.5cm and weighs 495G.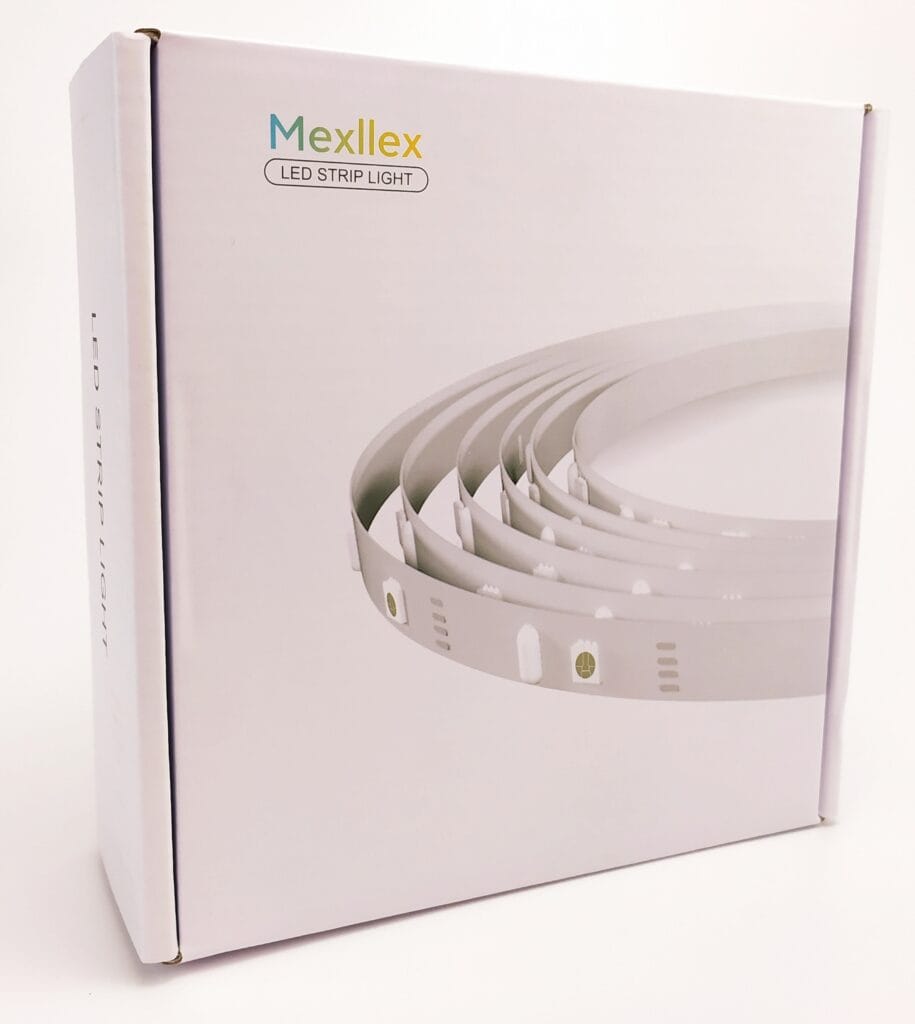 Inside the box you'll find a massive haul of contents, these include: 1x Strip Light (on a reel), 1x Remote Control, 1x LED Strip Controller, 1x UK Power Supply, 1x Double-Sided Tape, 1x Pack of Strip Hooks, 1x Pack of LED Strip Light Connectors, 1x Multi-Lingual User Guide, 1x Quick Start Guide, 1x Company Contact Card.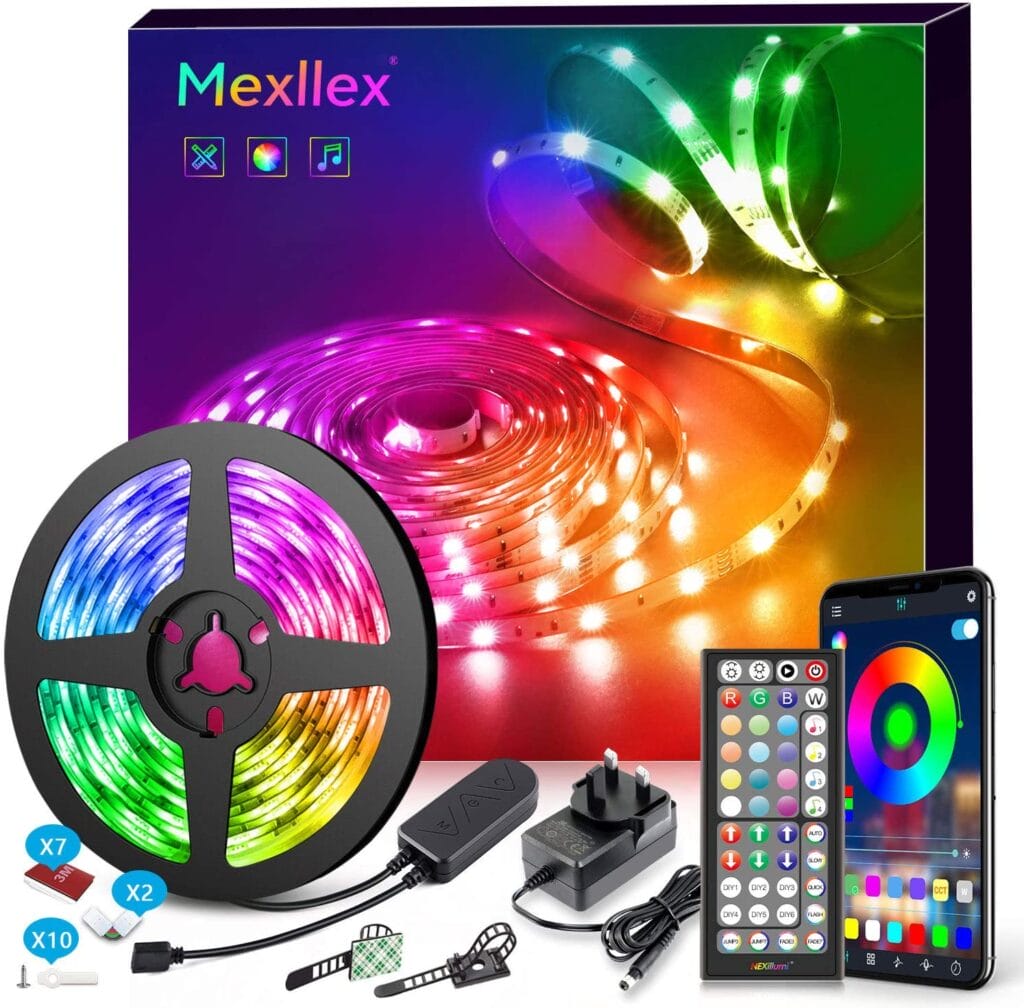 Phew!
Mexllex LED Strip Light.
The Mexllex LED Strip Light comes as a standard length of 7.5m, it's neatly positioned on a plastic reel. you get 225 surface mount LED lights. The power supply features a standard UK 3 pin plug and the length of the cable measures 150.0cm.
The LED strip controller features some manual button controls, it's also where you'll find the remote-control sensor and the in-built sound sensitive microphone.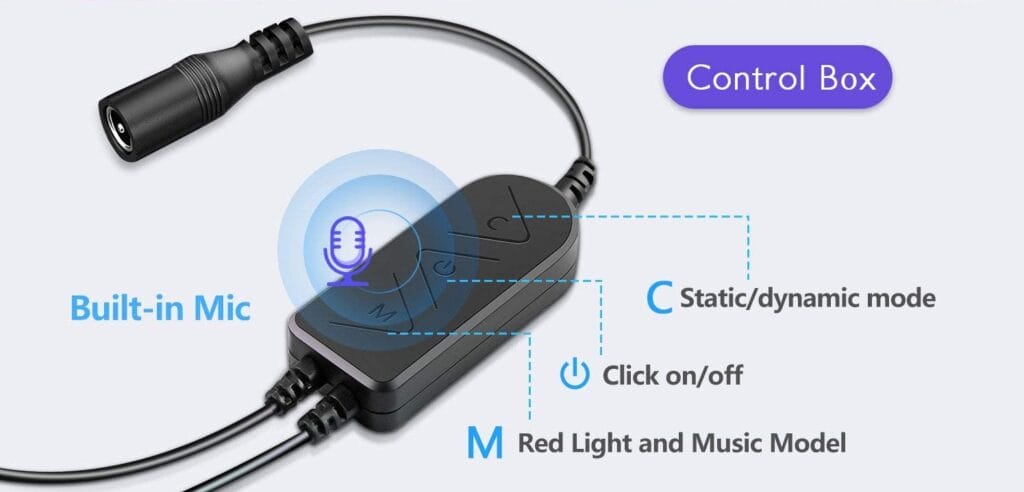 The rated input voltage of the strip controller is 5-12V DC. The output plug features a unique 4 pin female adaptor, you'll need to pay close attention to this, as there is an arrow to indicate correct installation. This arrow will need to align to the arrow on the male end of the strip light itself.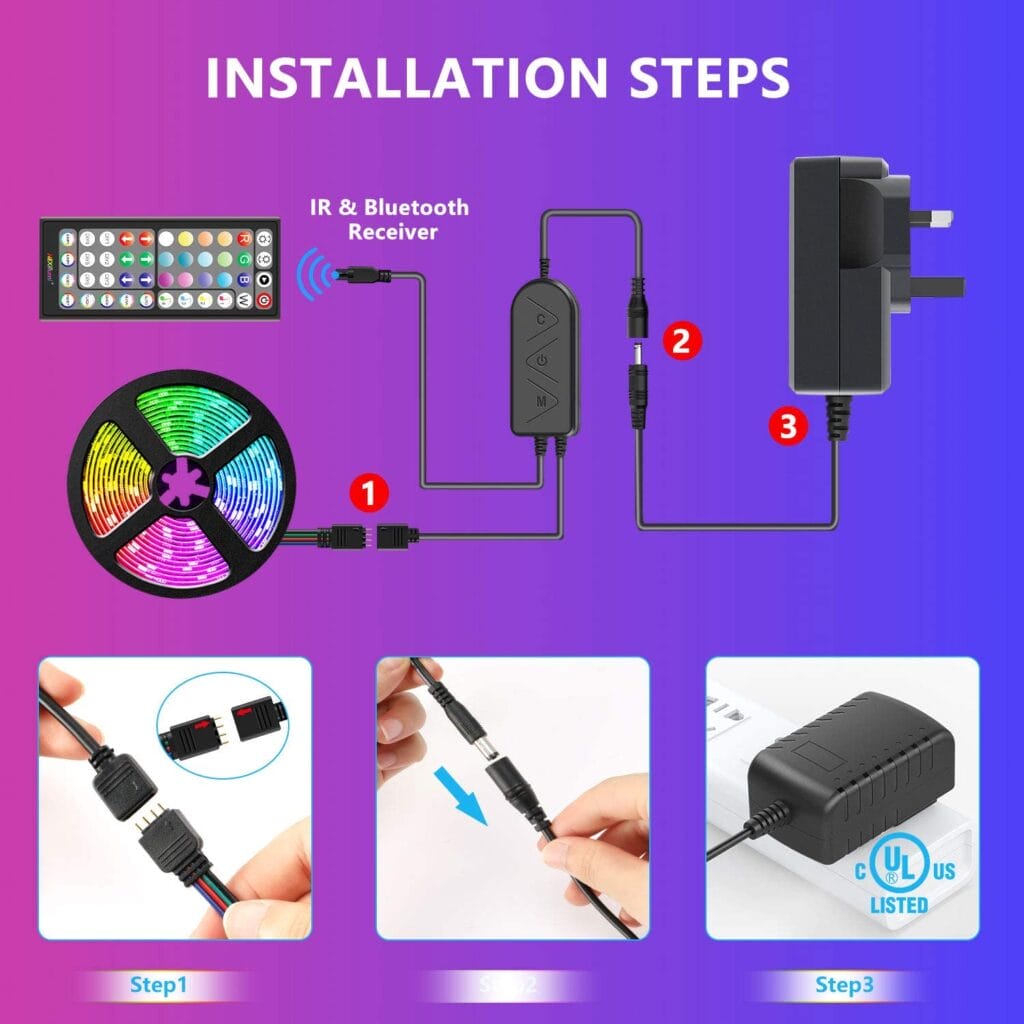 Installation of the Lights.
The Mexllex LED Strip Light comes with a self-adhesive backing tape, simply remove this and press onto your chosen smooth surface. To cut down the strip light or to use the corner pieces you'll need to use a pair of scissors and cut between the contacts, as shown below.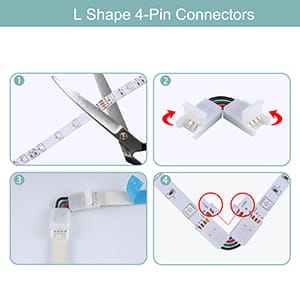 I would highly suggest that you do this function with the power off. Obvious I know!
Once installed you'll want to crack on and start to use the strip light, and who could blame you. There're a few ways to control the strip light. There's the boring manual way of pressing the button on the controller, or you can use either the remote control (getting more exciting) and even use the app (now we're talking).
Remote Control.
The remote is quite sophisticated and has 44 user control buttons. You're able to control colour, pattern, brightness, patterns, and set 6 designs exclusive to you.
The remote works very well. Some of these types of remote controls are total crud, but the Mexllex version works brilliantly. Button responsiveness is accurate and the working distance between the remote and the sensor is around 10M.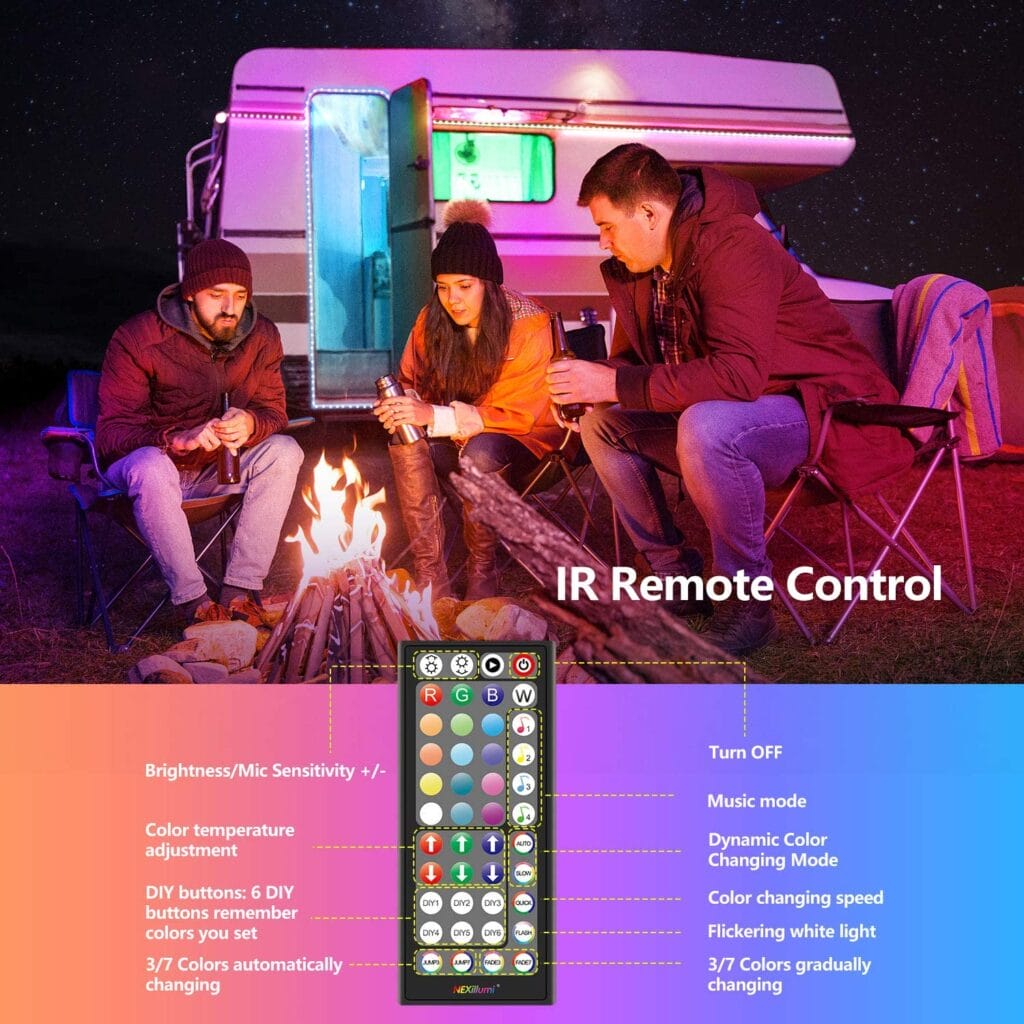 The above image shows how to operate the remote control. I don't know what the reference of three people sat around a fire drinking has to do with a remote control. Any ideas? let me know and enlighten me!
App Control.
For me this is biggest selling point of the Mexllex LED Strip Light. You get to control so much through the app. You're able to do everything that you can do on the remote control, but with added extras. These include, choosing your own custom colour with the colour wheel, frequently used colours will be saved, and shift between interfaces.
These interfaces include some outstanding features such as changing the style/pattern of the lights, you can even choose a strobe function if you want to destroy your retinas. Music mode is a rather special feature, the strip light will flash along to your saved MP3 files on your device, but unfortunately won't work with music apps such as Amazon Music, Spotify etc. You need to manually download each track onto your device.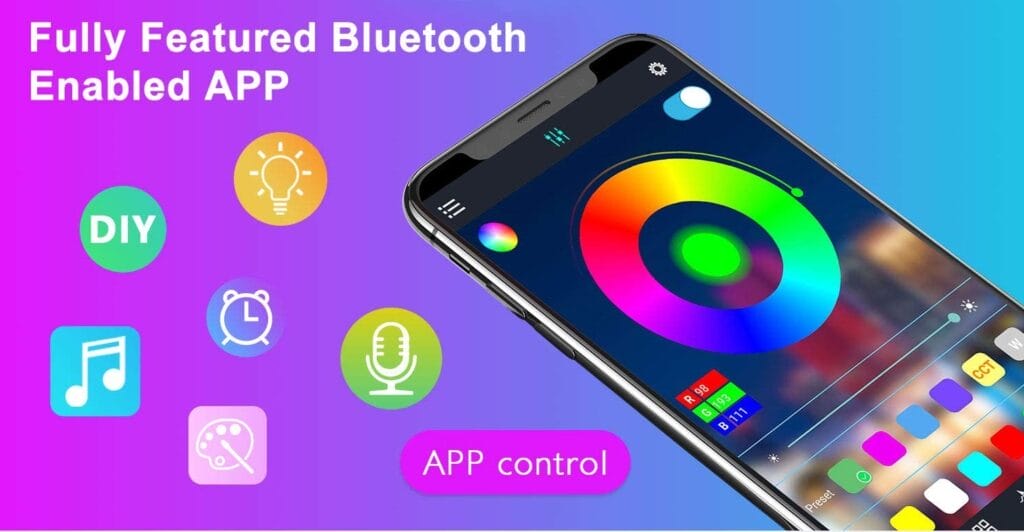 Another feature is Microphone Mode, this is probably the best to use for your online music collection. Play music through a speaker for extra loudness and the strip light will pick up the sound and perform some lighting miracles whilst you dance along.
If that's wasn't enough, Mexllex have a feature where you can manually set a timer too, set switch on/off times to suit your lighting needs.
Ehome Light.
The app to download is called Ehome Light. It's free to download for both Android and iOS users from your usual app store.
I tried it out on Android, you'll need to give some permissions such as access to your microphone, music library.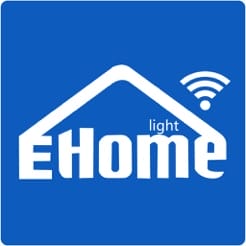 Ehome Light Logo Image – Image Source – Ehome (Subject to Copyright)
The app uses Bluetooth technology and will automatically connect to the strip light without you needing to do any installation methods.
Other Points to Note.
The Mexllex LED Strip Light can't be used in an outdoor environment. So, it's for indoor use only. I've heard a little rumour circulating that Mexllex are releasing an outdoor version soon. But, until that day, stick to indoor use.
You'll be pleased to know that Mexllex offer an 18-month warranty from the date of purchase, which is very impressive.
There's no limit to the lighting colour, the surface mount LED chips are RGB and you're able to choose millions of combinations between these primary colours.
Technical Specifications.
Brand: Mexllex
Model: LED Strip Light
Manufacturer Code: N/A
Manufacturer Reference: N/A
EAN: N/A
ASIN: B08576BM7M
Number of Lights: 225
Maximum Compatible Wattage: 36W
Voltage: 12V DC
Compliance: CE, FCC, RoHS
Conclusion.
I love the Mexllex LED Strip Light. It's amazingly easy to install and in a matter of minutes you can enjoy your new lighting system. The self-adhesive tape on the reverse of the LED strip is very sticky too. The remote control works very well, and I love the app too.
The only thing I can fault is the user guide. It's littered with both spelling and grammatical mistakes, but aside from that this strip light is the complete package.
If you want the Mexllex LED Strip Light for yourself, it's available for purchase only on Amazon. The RRP for this product is £21.98.
Product sample provided by Mexllex in exchange for a detailed, unbiased review.
---
Thank you for taking the time to read my post. If you'd like to add a comment or thought on this post, please use the section below. I can also be contacted via the online contact form. Please subscribe for the latest reviews, news, and discounts. Please follow My Helpful Hints on Twitter, Instagram & Facebook too!