Today I'll be writing a review for these Srhythm S5 Wireless Earbuds. I love the audio brand Srhythm, they also produce quality products at affordable prices. I have previously reviewed the Srhythm NC15, NC25, NC35 and NC75 overhead headphones, but this will be my first True Wireless Stereo (TWS) review for Srhythm.
Upon first inspection of receiving the Srhythm S5 Wireless Earbuds I was instantly reminded of the NANNIO A1 ANC Earbuds, they look almost identical, so I already had high hopes for the S5 earbuds as the NANNIO A1's sound amazing.
The Srhythm S5 Wireless Earbuds feature Active Noise Cancellation (ANC) which can cancel a maximum 28dB of ambient noise. They also feature something called Ambient Mode (ADT Mode), this allows background noises for your safety, for example background traffic whilst enjoying excellent audio.
Touch sensitive controls. a lightweight design, and quick charging with a battery life of 50 hours in between hours make these earbuds highly desirable to both wear and enjoy.
Ready for the review? Time to review these earbuds!
Packaging and Contents.
The Srhythm S5 Wireless Earbuds come packaged in a plain looking black box. The box measures 9.5cm x 11.0cm x 4.0cm and weighs 165G.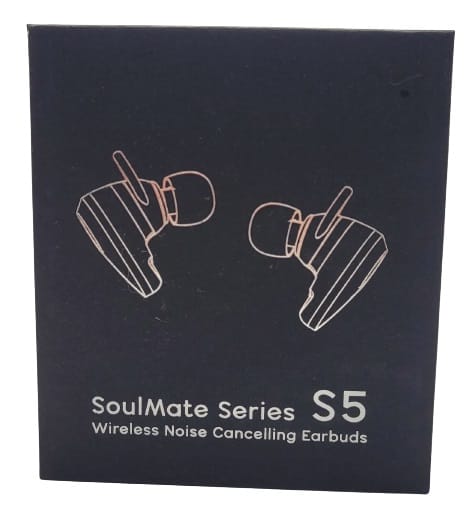 Inside the box you'll receive the following: 1x Pair of Earbuds, 1x Charger Case, 1x Charger Cable, 2x Additional Pairs of Tips, 2x Additional Pairs of Wings, 1x Warranty Guide, 1x Quick Start Guide.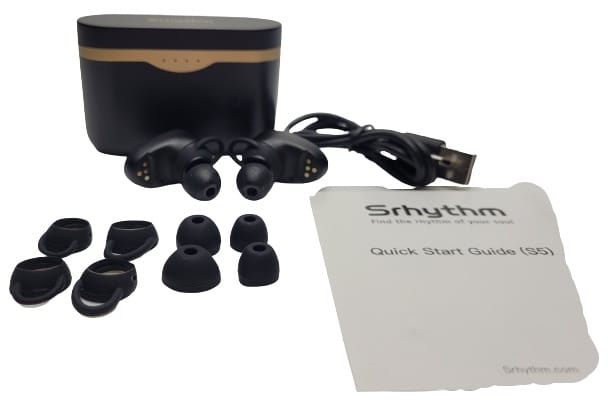 Srhythm S5 Wireless Earbuds.
Each Srhythm S5 Wireless Earbud measures 31.8mm x 29.0mm x 17.2mm and weigh 6.6G (with ear-tip attached). The charger case measures 76.3mm x 29.1mm x 50.0mm and weighs 60.0G and is fitted with a non-replaceable built-in 1000mAh lithium-ion battery.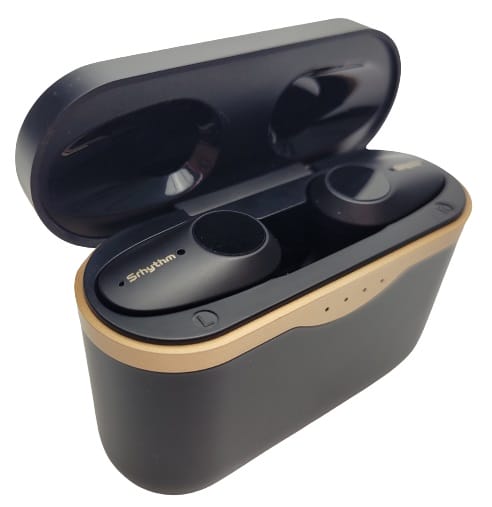 4 LED lights on the front of the battery case indicate a battery remaining level of 75-100%, 50-75%, 50-25%, and 20% or under. It takes around 2 hours to fully charge the battery case, the supplied USB-A/USB-C cable measures 30.0cm.
The case requires a 5V DC charging current. A full charge will provide 4 full charges of the earbuds, which once charged will last around 5 hours too, so in total you get around 20 hours of listening pleasure on a single battery case charge.
You can also charge the case via a wireless method too, charging the case this way takes around 3-5 hours using a 5-10W power option.
Pairing.
Firstly, you need to charge the battery case before use, remembering to remove the contact pin tape to allow the earbuds to charge too. Next, it's time to pair. This is a simple process and requires this only the once, all future uses of the S5's are automatically paired to the last device, it's just as easy as opening the lid of the case.
To initially pair you need to open the case, remove the Srhythm S5 Wireless Earbuds, one earbud will flash with LED lights, now head to your device, and perform a Bluetooth search for the S5, now confirm pairing and you'll hear a confirmation vocal.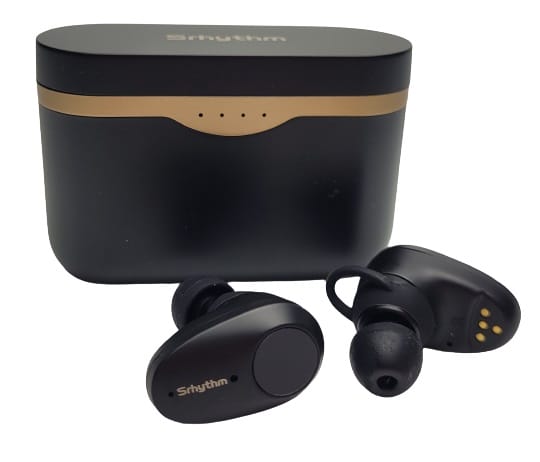 Issue Time.
This is my second pair of Srhythm S5 Wireless Earbuds. The first pair didn't work, the left earbud was cream crackered upon arrival, despite numerous attempts to charge and resetting, it wasn't playing along. But this is where I got to test the warranty and customer service promises of Srhythm, this is something I don't get to do too often, shit happens and products can become faulty, so what was it like dealing with Srhythm?
There are several ways to contact Srhythm, email, and social media contacts. I chose to make contact via Instagram as it would show that they had read my messages 😏, please remember Srhythm are a China based company, but they replied to me very quickly. Firstly, they sent me a YouTube video of how to reset the earbuds, this usually fixes most issues. I'll add the video below in case you ever need it.
But my first set was faulty. Srhythm then immediately processed my replacement set of S5's. They arrived the next day via Amazon Prime. An all-round excellent level of customer service and why I love the brand Srhythm. Now back to the review!
Comfort.
The Srhythm S5 Wireless Earbuds are very light in weight, this makes for a comfortable fit. You get 2x additional pairs of both ear-tips and ear-wings. Play about with them and get the best fit for your ears, they need to fit snuggly into your inner ear canal and the wing section needs to fit into the funny bit of your outer ear pressing against the outer ear to assist in keeping them in place. Changing both tips and wings are a simple pop one off and replace system.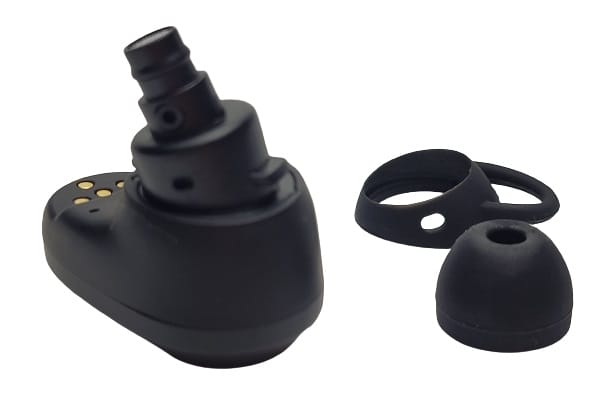 I wore the Srhythm S5 Wireless Earbuds for many an hour over a few weeks, they are super-comfortable, with very minimal heat transfer and no earache at all.
Touch Control.
Each earbud features a touch-sensitive control area, you're able to pause, play, switch between modes and so much more.
Music Pause/Play:

One Tap L/R

Answer/hang up call: One

 Tap L/R

ANC/ADT/Normal Mode:

Double tap L/R to toggle between the 3 Modes

Voice Assistant:

Triple Tap L/R

Game Mode: Quadruple

 Tap L/R

Previous/Next Song: 

Hold the Left/Right touchpad for 3 seconds

Turn Off:

 Hold the touchpad for 5 seconds L/R

Reset:

 Hold the touchpad for 12 seconds L/R
The touch-sensitive controls work very well, you're able to easily adjust and blindly press each area with ease.
Sound Quality.
Here we go then, what do the Srhythm S5 Wireless Earbuds sound like? Well…remarkably good, very punchy bass tones and clear, crisp vocals too. You'll certainly not be disappointed with the audio quality.
The Active Noise Cancellation (ANC) works very well for a pair of wireless earbuds, usually TWS earbuds have very weak ANC capabilities, but not on the S5 earbuds. I've also hyped up Srhythm products for having excellent ANC technological advances. Especially being an autistic person, ANC technology is a must, drowns out the unwanted background overwhelming noises, like humans and other human noises such as fucking noisy breathers and chewers.
The Ambient Mode (ADT Mode) is also a great feature if you're after some noise cancellation but must still hear some background noise, such as traffic, it's all good listening to Ashnikko walking down the street, but not if you're gonna become roadkill, this is where ADT comes into place.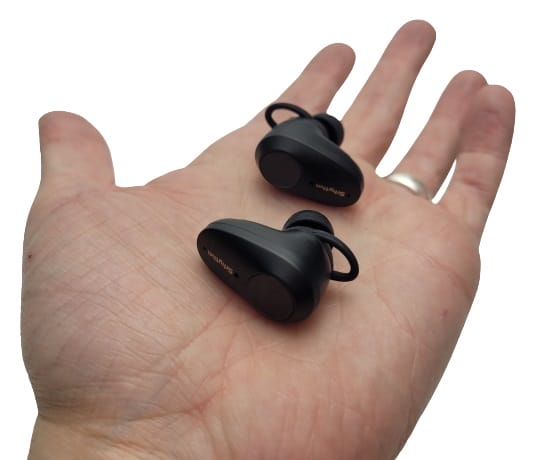 Other Features.
Yep. The Srhythm S5 Wireless Earbuds have more to offer, which means I have more to write about. They're fitted with the latest V5.1 Bluetooth chipset, which provides a stable transmission connection with fast pairing and a universal compatibility across a multitude of devices such as smartphones, tablets, laptops, TVs and more.
The advertised Bluetooth transmission distance is 10M, but I managed to achieve a 20M transmission distance with no distortion whatsoever. I couldn't break the signal, despite trying hard.
How annoying is it when you wear Bluetooth earbuds and watch videos and the audio lag is noticeable? It's an issue that plagues man users of Bluetooth earbuds. But guess what? Srhythm have another feature called Ultra-Low Latency Mode. When connected to your phone, tap the touchpad of either earbud 4 times to enter the Ultra-Low Latency Mode, and another 4 times to exit. This is also brilliant for mobile gaming, especially if like me you're a PUBG New State gamer, the usual lag is the difference can affect your game, but not with the Srhythm S5's.
Technical Specifications.
Brand: Srhythm
Model: S5 Wireless Earbuds
Manufacturer Code: N/A
Manufacturer Reference: Soul Mate Series.
EAN: N/A
ASIN: B08GP3DY83
Load Impedance: 32Ω
Frequency Range: 2.402G-2.480G
Battery Life: 1000 times
Maximum Noise Deduction: >-28dB
Waterproof Level: IPX5
Bluetooth Version: V5.1
Sensitivity: – 94 dBm
Bluetooth Support: AAC,SBC,A2DP,HFP,HSP,AVRCP
Battery Capacity: Earphone 65 mAh, Charging Box 1000 mAh
Compliance: CE, FCC, RoHS
Download the full Srhythm S5 Wireless Earbuds user guide in a PDF format Srhythm_S5_User_Manual_20220128.
Conclusion.
I absolutely love the Srhythm S5 Wireless Earbuds. They're comfortable to wear, sound great, packed full of awesome features and above all, they're affordable too.
I'm so impressed with the whole product package, even more impressed with the Srhythm customer service skills too they attended to my needs promptly and efficiently.
If you'd like to purchase this item, please check out the purchasing options below. The RRP for this product is £28.99.
Product sample provided by Srhythm in exchange for a detailed, unbiased review.
---
Thank you for taking the time to read my post. If you'd like to add a comment or thought on this post, please use the comments section below. I can also be contacted via the online contact form. Keep up to date with the latest news on social media.
Srhythm S5 Wireless Earbuds