Another day reviewing and another great audio related product, this time I'll be reviewing these Srhythm NC75 ANC Headphones. A small audio business that has been trading for a decade Srhythm only have a handful of products available, but each one is of high quality.
Their focus is Active Noise Cancellation (ANC) technology which creates an Antiphase which is a wave of amplitude, like that of the outside noise; but with an inverted phase.
The NC75 headphones come with Srhythm's ANC technology, a strong Bluetooth 4.1 CSR chipset, a 380mAH in-built Lithium-Ion battery that will produce audio for around 15-24 hours (Depending on ANC use).
I normally loathe overhead headphones as I generally find them uncomfortable and prefer in-ear earphones any day. So, these headphones must do a lot to impress and covert me.
But are they as good as all the hype? Are they comfortable? Time to test them out!
Packaging and Contents.
The Srhythm NC75 ANC Headphones come packaged in a rather understated Black cardboard box with product images printed on the front and specifications printed on the reverse. The box measures 22.0cm x 23.0cm x 6.0cm and weighs 750G.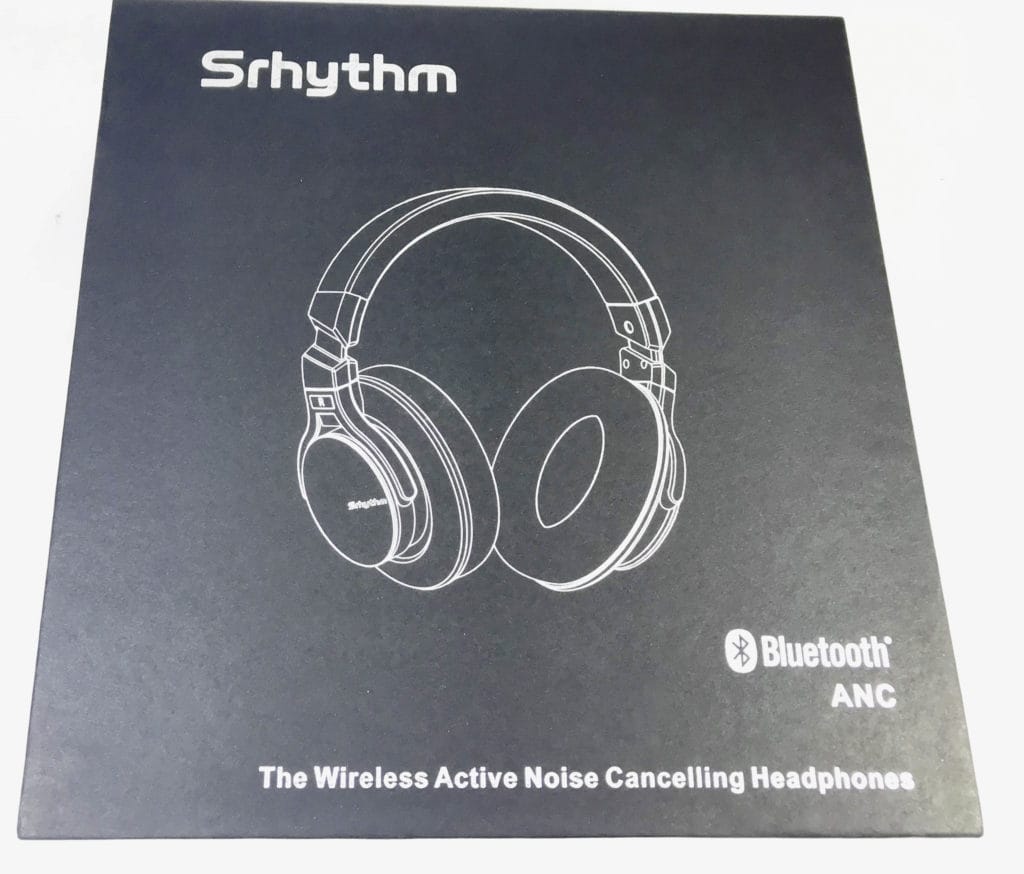 Upon opening the outer box you'll see the hard-shell carry protective case. And inside this case you'll see the headphones all neat and securely in place.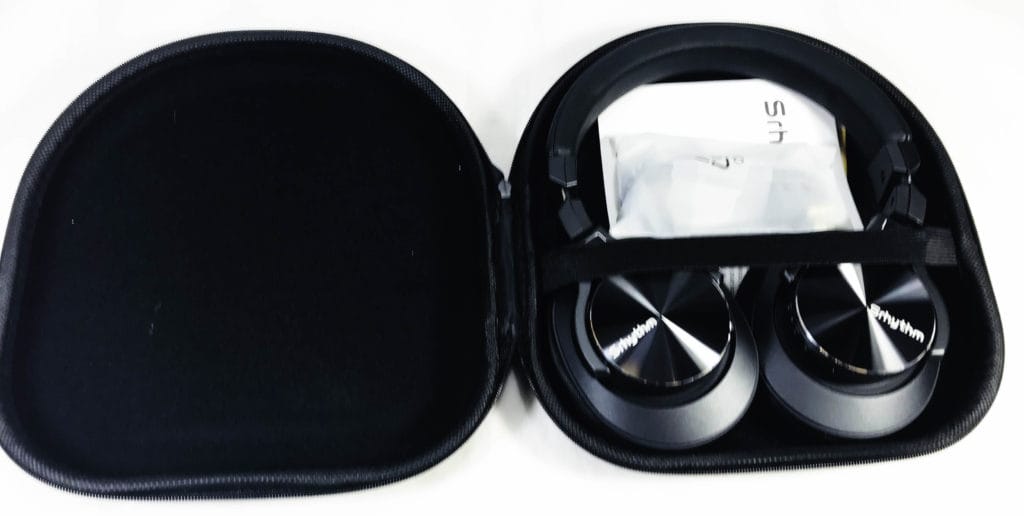 When you remove all the contents from the case, you'll find the following: 1x Headphones, 1x Micro USB Cable, 1x 3.5mm AUX Cable, 1x Airplane Adapter, 1x Multi-Lingual User Guide.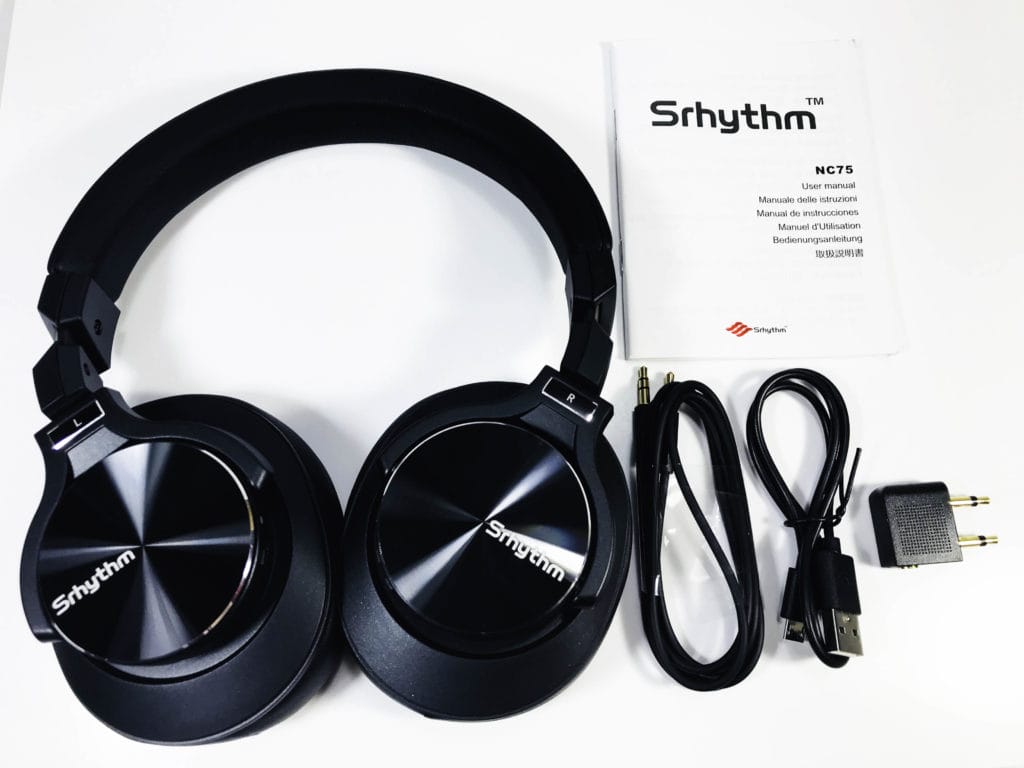 Srhythm NC75 ANC Headphones.
The Srhythm NC75 ANC Headphones are Black in colour and made from plastic, foam and metallic materials. They measure from ear-cup to ear-cup (Measuring from the bottom of the ear-cup and across the top of the headband to the bottom of the other ear-cup) 55.0cm but can extend upto 62.0cm and weigh 270G. These ear cups rotate and swivel, so you can a fit that's suitable for your head.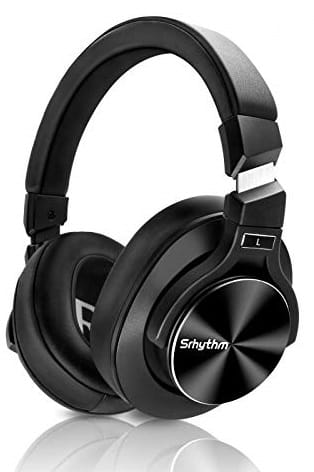 The headband is also padded with soft memory foam and sits comfortably on your head.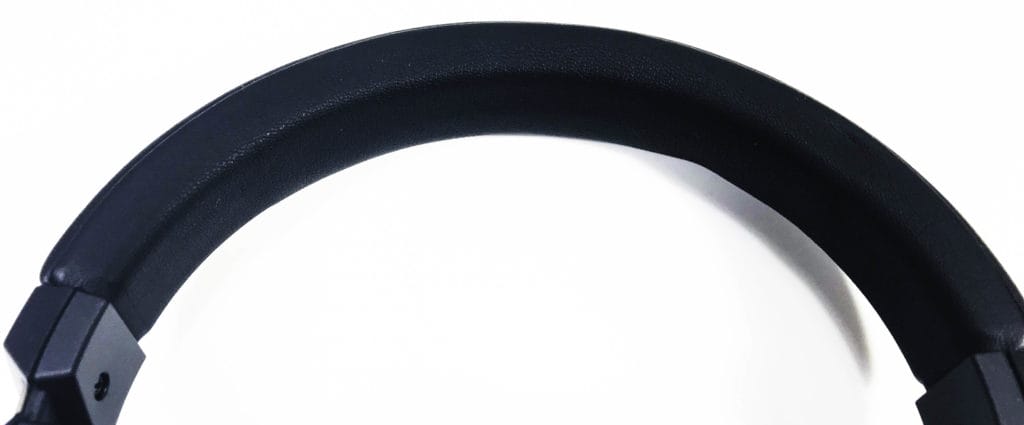 The Ear-Cups.
The ear cups rotate 45° and each one is heavily padded with memory foam and PU leather, each ear-cup measure 10.0cm x 10.0cm with the centre section hole measuring 6.0cm x 5.0cm. Inside each ear cup there's either the letter R or L to show you the correct way to wear these headphones. Wearing the headphones with these padded ear cups make for a very comfortable experience.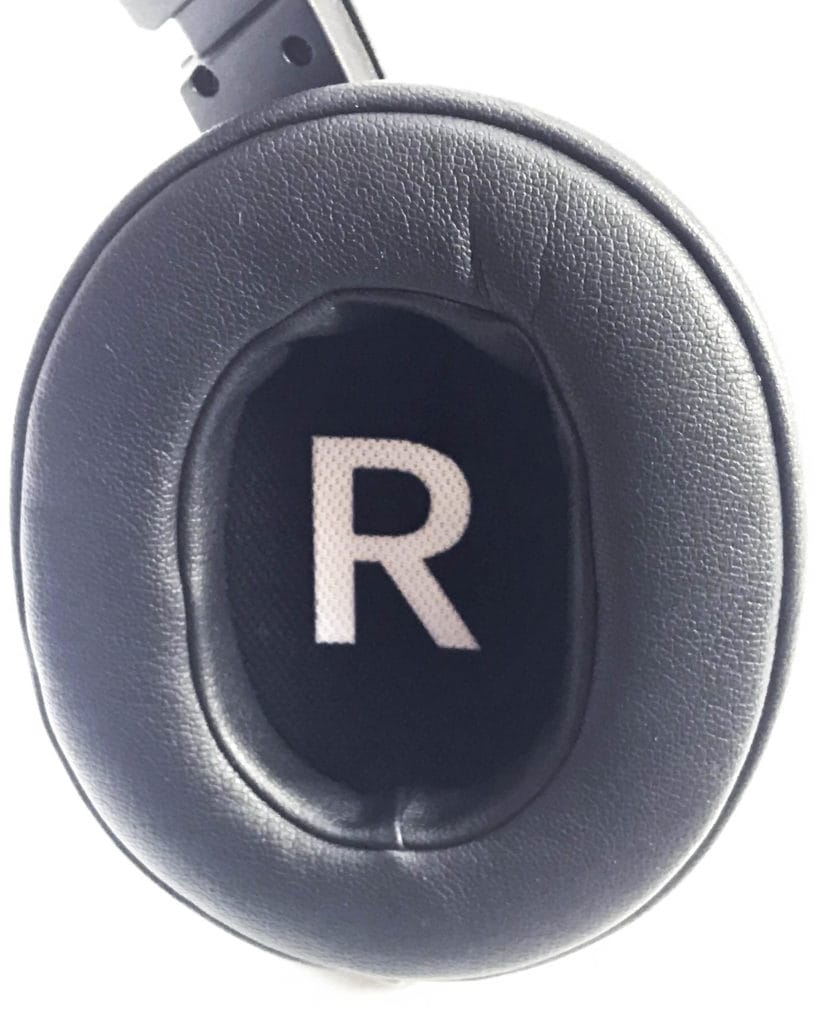 Functions can be controlled with the right ear cup.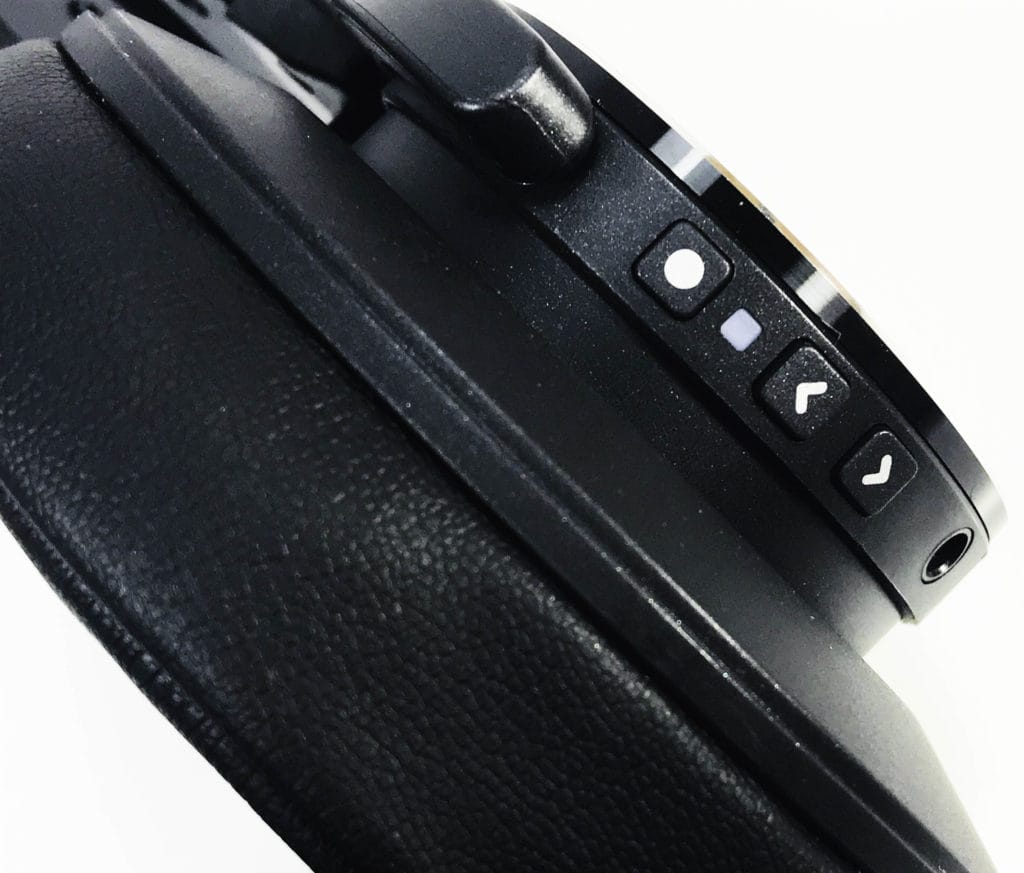 MFB Button – This button powers on/off, play's/pauses audio, this button will also answer/ends phone calls.
Volume + Button – This increases the volume and by pressing and holding will skip forward a track.
Volume – Button – This decreases volume and by pressing and holding will play a previous track.
The ANC function on the left ear cup features a tactile slide switch.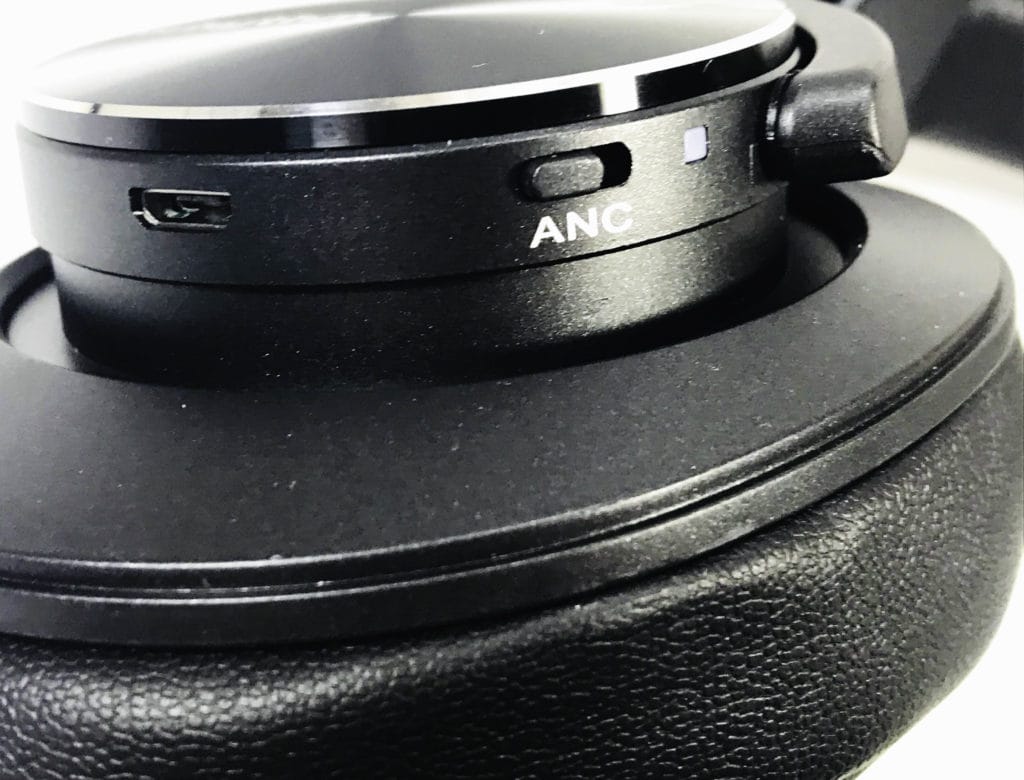 The buttons have a nice tactile feel to them, and with practice you'll be able to control many functions using just these instead of reaching for your device.
Charging and Setting up the NC75 Headphones.
Charging is a simple process and will require using the supplied Micro USB cable (Which measures 60.0cm in length) and will require a power source of 5V DC.
The Micro USB charging port is located on the bottom of the right-hand side ear cup.
Any power source will do, and the charging time takes around 2 hours and will last anywhere from 15 hours to 24 hours, depending on volume and ANC use. A power LED light will show Red when charging and go out when fully charged.
Once charged you'll want to pair the Srhythm NC75 ANC Headphones to your device via a wireless Bluetooth connection. This is very simple, and you'll need to power on the headphones by pressing and holding the Multi-Function button. You'll hear and audible tone to confirm that they're switched on. Now, perform a Bluetooth search on your device and locate and pair to the option 'NC-75', and that's it. You're all set.
The best way to enjoy these headphones is via a wireless Bluetooth connection. But if the battery has depleted on your headphones, or if want to use on a non-Bluetooth enabled device, then you can use the supplied AUX cable. The length of this cable is 100.0cm and is a standard 3.5mm AUX plug.
Sound Quality.
So far, I've learnt that the Srhythm NC75 ANC Headphones are comfortable and feature soft memory foam ear cups and headband. They're also super-easy to set up and using the on-ear user control is also very simple.
And now they all come down to the sound quality. Probably the most important element of owning a pair of headphones.
And I confirm that the Srhythm NC75 ANC Headphones sound absolutely fantastic, and probably in the top 5 audio products that I've reviewed on the My Helpful Hints website. The sound is super clear with no distortion whatsoever, even when increasing the volume way passed what I'd call a comfortable level, they still produce high quality, clear, crisp sounding audio.
Bass tones are also noticeable too, and quite punchy (If you select the right tracks) and without even using the ANC function you're totally immersed into your music library with absolutely no background noise being detected whilst using them. In fact, for about 90% of the time you'll not need the ANC function, but if you slide the switch on you'll instantly hear the music volume change and counteract any background noise being detected. I was very impressed by both the ANC function and the sound in general. I can't find any improvements to report back too!
The noise isolation is also very good with very minimal audio bleeding can be heard from around you.
There're perfect, and I don't say that too often. Honestly, I love them!
Other Features.
And, just when you thought nothing more could be said about the Srhythm NC75 ANC Headphones they also come with a built-in microphone so you can take incoming phone calls too. The microphone is very good, and the call quality is the same as you'd have if you used the phone to your ear.
The Bluetooth range is advertised as 10M, but in fact it's more like 15M and the signal quality is strong. I tried my best to block and interfere with the signal, but it was no use, it's too strong.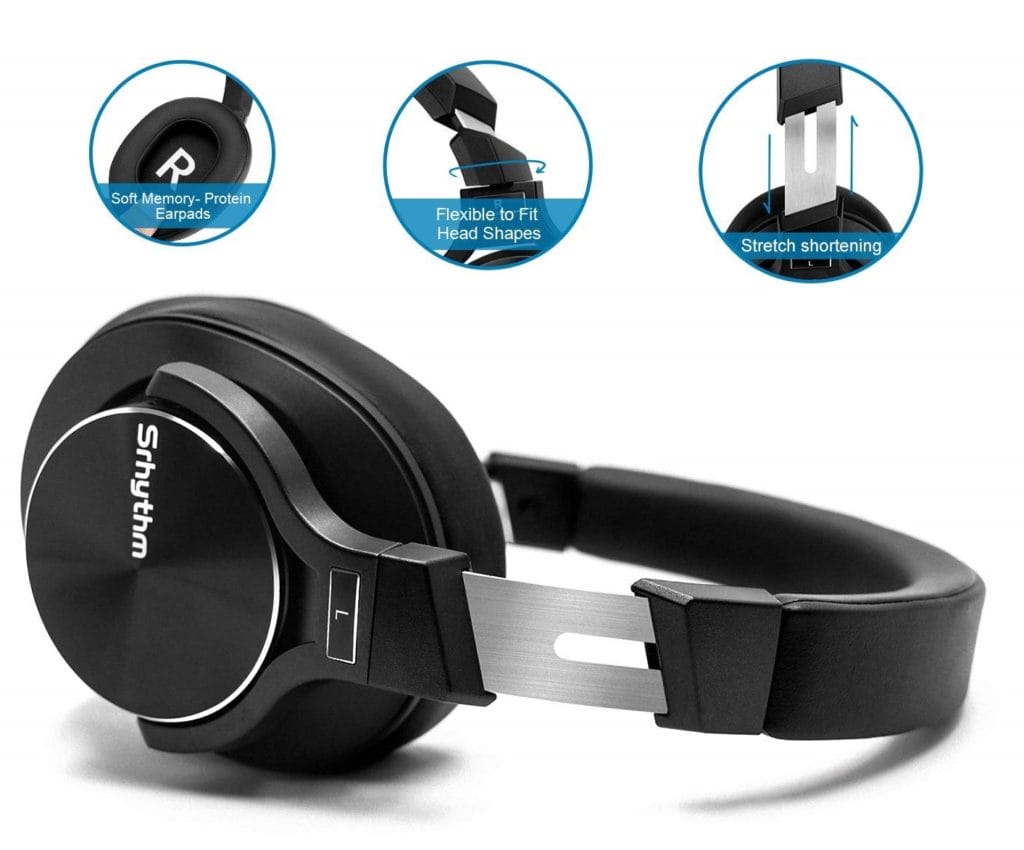 The Srhythm NC75 ANC Headphones also have a waterproof rating of IPX4. This means that they can they are splash proof and can withstand splashing of water for up to 10 minutes without any issues. So, they'll be fine for outdoor use. Many other audio products don't have the same type of rating, so the NC75 outperform once again.
Basically, this review is concluding that the Srhythm NC75 ANC Headphones are literally pissing all over the competition when it comes to producing a high-quality audio product. They're comfortable, sound great, have a strong Bluetooth connection and are also IPX4 waterproof rated.
Technical Specifications.
Brand: Srhythm
Model: ANC Bluetooth Headphones
Model Code: NC75
EAN: N/A
ASIN: B07BQQDSSB
Battery Capacity: 3.7V 380mAh
Input: 5V 220mA
Charging Time: ≤ 2 Hours
Usage Time: ≥ 15 Hours
Bluetooth Version: V4.1
Bluetooth Chip: CSR
Working Range: ≥ 10M
Bluetooth Profile: A2DP, AVRCP, HSP, HFP, CVC
Impedance: 32Ω ± 10%
Driver Diameter: 40mm ∅
Magnet: Neodymium
Frequency Response: 20Hz -20KHz
Active Noise Cancellation: Yes
Active Noise Cancellation: ≥ 23-27 dB
Sensitivity: 105 ± 3dB
Waterproof Rating: IPX4
Compliance: CE, FCC, RoHS
Conclusion.
I absolutely love the Srhythm NC75 ANC Headphones. They're one of the best audio products that I've had the pleasure to review. I don't score products a 10/10 very often, but in this case, I can't possibly score them any lower, they are literally perfect. I was trying to find something to score them down on, but I simply couldn't find anything. Normally I find headphones uncomfortable and usually settle for in-ear earphones, but the NC75 are very comfortable indeed. My ears didn't get warm either, which is a normality for me after wearing headphones.
So, to summarise, they sound amazing, they're super comfortable, have an un-breakable Bluetooth signal, and are also waterproof. Basically, only one word can be used to describe them…Perfect!
If you want the Srhythm NC75 ANC Headphones for yourself, they're available for purchase only on Amazon. The RRP for this product is £69.99.
Product sample provided by Srhythm in exchange for a detailed, unbiased review.
---
Thank you for taking the time to read my post. If you'd like to add a comment or thought on this post, please use the section below. I can also be contacted via the online contact form. Please subscribe for the latest reviews, news, and discounts. Please follow My Helpful Hints on Twitter, Instagram & Facebook too!
Srhythm NC75 ANC Headphones