Today I'll be writing about the XTAR VC4SL Battery Charger, an upgraded model to the XTAR VC4L Battery Charger which I've previously written about.
Upon looking at the two models, very little seems to of changed. I guess if it's not broke, don't fix it. The VC4SL has some improvements with regards being compatible with 21700 batteries and self-control of the charging current (0.25A to 3.0A) using the current mode button.
The XTAR VC4SL Battery Charger can charge the following batteries: 3.6V/3.7V LI-ION/IMR/INR/ICR: 10440 14500 14650 16340 17335 17500 17670 18350 18490 18500 18650 18700 20700 21700 22650 25500 32650; 1.2V NI-MH NI-CD: AAAA AAA AA A SC C D. The XTAR VC4SL Battery Charger automatically recognises each battery type and will charge at the correct current.
A LED backlit display allows you to see Battery Voltage, Charging Current, Internal Resistance, Capacity and Battery Type and reverse polarity, short circuit, overcharge and overheat protection systems too.
So, is this battery charger any good? Time to test it out!
Packaging and Contents.
The XTAR VC4SL Battery Charger comes packaged in a typical XTAR box with an anti-counterfeit scratch test. The box measures 18.0cm x 12.5cm x 4.0cm and weighs 335G.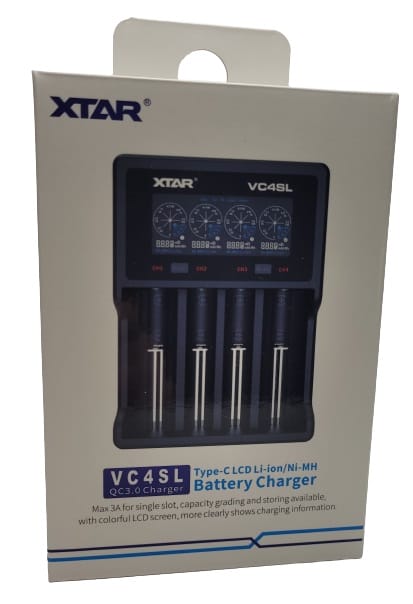 Inside the box you'll find the following: 1x Battery Charger, 1x USB-C Cable, 1x XTAR Branded Drawstring Bag, 1x Multi-Lingual User Guide.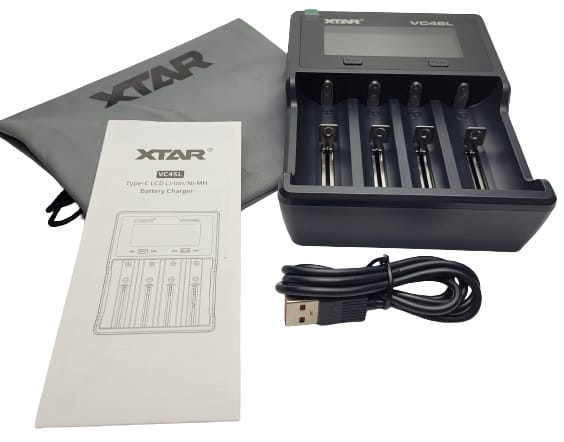 XTAR VC4SL Battery Charger.
The XTAR VC4SL Battery Charger is black in colour and is made from fire retardant materials. The charger measures 15.5cm x 11.5cm x 3.5cm (The LCD screen measures 7.5cm x 3.0cm) and weighs 238G. You get an XTAR branded USB-A/USB-C cable supplied too which measures 80.0cm in length.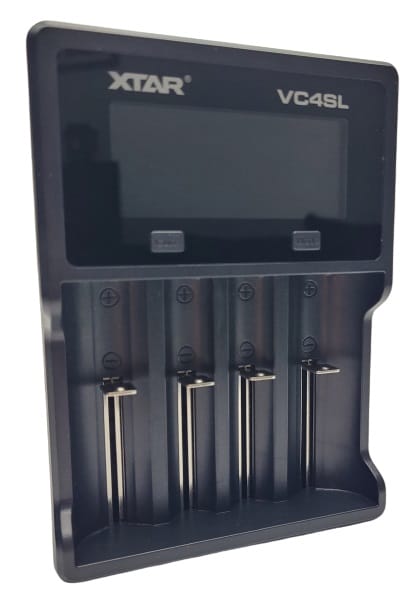 On the top area there's a USB C port. you're also able to power the XTAR VC4SL Battery Charger using a powerbank too, perfect for on-the-go battery charging. But for best results you'll need to supply a decent Quick Charge DC power supply from a suitable USB source.
Features.
The four-bay charging area allows you to insert a battery and the spring-loaded contacts keep them in place. Once inserted, and powered on, the display shows you the battery type, and battery information such as capacity, voltage, internal resistance and more. The display switches off after 1 minute, press the CURR button to put it back on again. Manual battery charging is also an option thanks to the cycle feature via the CURR button. But to be honest with you, the auto feature is superb as it is, but always handy to have full control too.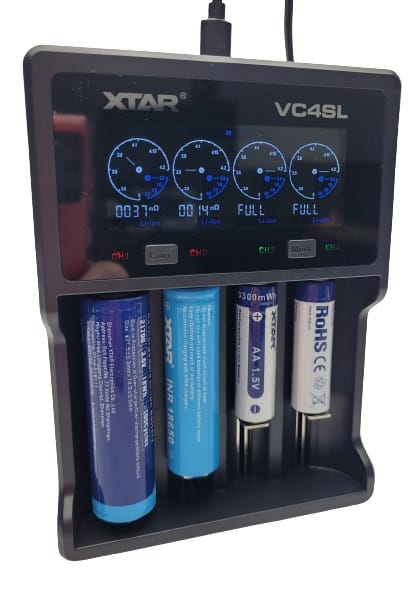 Other features include the ability to repair an over charged battery and a battery storage feature that safely discharge a battery for maximum lifespan or long-distance travel.
When a battery has fully charged, the XTAR VC4SL Battery Charger automatically turns itself off too.
Are you the stupid type? Do you like to insert a battery incorrectly? Don't worry XTAR have your back with polarity protection, an ERR code comes up instead of blowing the battery up. Nice!
Technical Specifications.
Brand: XTAR
Model: VC4SL Battery Charger
Manufacturer Code: VC4SL
Manufacturer Reference: N/A
EAN: 6952918344339
ASIN: N/A
Input: QC3.0 (5V/3A, 9V/2A)
Constant Current: 3A x1, 2A x2, 1A x4, 0.5A x4
Cut-Off Voltage: 4.2 ± 0.05V / 1.45 ± 0.1V
Cut-Off Current: ≤120mA
Compliance: CE, FCC, RoHS
Conclusion.
Of course, the XTAR VC4SL Battery Charger is bloody brilliant, I've so far failed to find a problem with any XTAR branded product. XTAR are a top-notch company with lots of exciting and high-quality products, safety is their focus, every product is tested to ensure safety. I 100% trust any XTAR branded product, they're also super affordable too.
If you'd like to purchase this item, please check out the purchasing options below. The RRP for this product is £41.46.
Product sample provided by XTAR in exchange for a detailed, unbiased review.
---
Thank you for taking the time to read my post. If you'd like to add a comment or thought on this post, please use the comments section below. I can also be contacted via the online contact form. Keep up to date with the latest news on social media.
XTAR VC4SL Battery Charger