Today I'll be writing about the SoundPEATS Free2 Classic Wireless Earbuds. I've previously reviewed before for SoundPEATS, the last being in 2018, so when they approached me again, I was thrilled. SoundPEATS are a quality audio brand, with an awesome product range that is very affordable. 4 years ago they were unknown until the Q30 earphones came along, now they've featured on some well-known publications including, CNET, Forbes and Newsweek.
So, anyway SoundPEATS asked if I would like to review the Free2 Classic Wireless Earbuds, and of course I said yes. They feature a IPX5 waterproof ergonomic design, 8-hour playtime, a 6mm dynamic driver, a stable Bluetooth V5.1 connection, all for under £30.00.
But what are they like? Time to test them out!
Packaging and Contents.
The SoundPEATS Free2 Classic Wireless Earbuds come packaged in a card sleeved boxed, which features product images and specifications. The box measures 10.5cm x 9.0cm x 4.0cm and weighs 96G.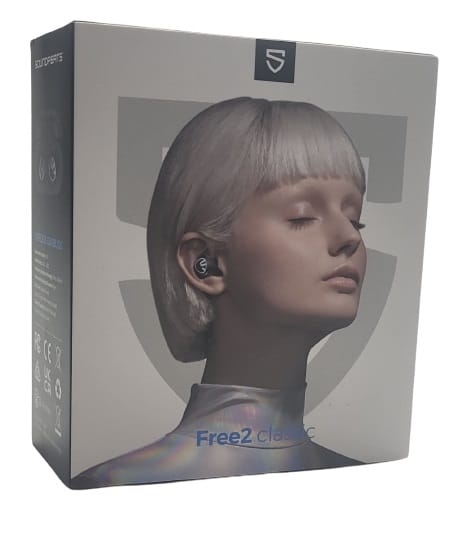 Inside the box you'll find the following: 1x Earbuds (inside the box), 1x Charging Box, 1x Charging Cable, 2x Additional Tips, 1x Multi-Lingual User Guide.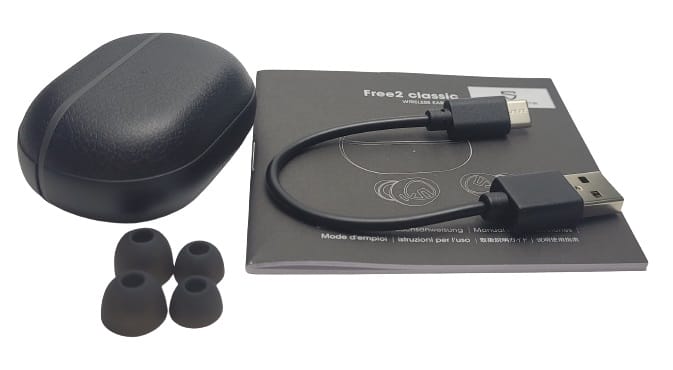 SoundPEATS Free2 Classic Wireless Earbuds.
The SoundPEATS Free2 Classic Wireless Earbuds are small, lightweight, and ergonomically designed to be comfortable to wear. Each earbud measures 11.7mm x 13.mm x 20.0mm and weigh (with silicone ear tip attached) a mere 4.1G.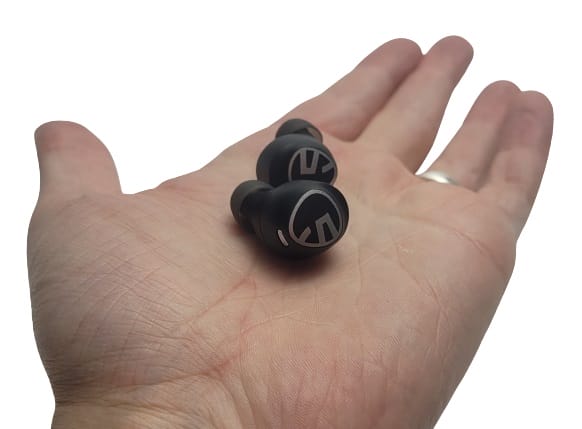 The charging box measures 57.5mm x 21.5mm x 38.5mm and weighs 30G, it's a nice pebble shape, ideal for you to place in a pocket without taking up too much room. The charging box is fitted with a non-replaceable 350 mAh Lithium-Ion battery.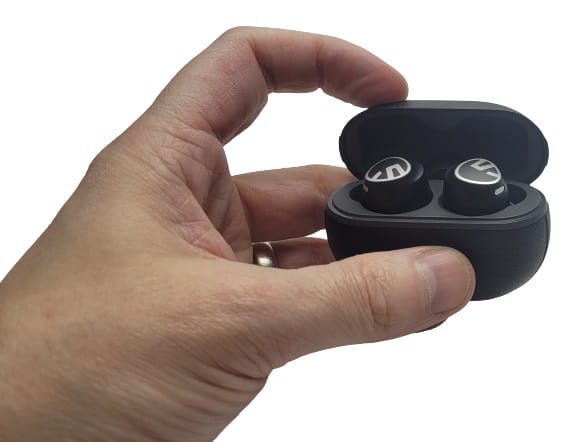 On the back there's a USB C charging port. A full charge of the charging box takes around 2-3 hours, and this will allow you to charge the earbuds just over 2.5 times. Each charge gives the earbuds 8 hours' worth of playtime before they need a charge via the charging box. A flashing Blue LED light indicates a charging cycle, it'll switch to a steady Blue LED light upon a full charging cycle.
Connecting.
Connecting the SoundPEATS Free2 Classic Wireless Earbuds via Bluetooth is a very simple process, and only needs to be done once. To start, simply open the charging box lid, remove both earbuds, you'll see them enter pairing mode with LED lights. Now head over to your device and perform a Bluetooth search for SoundPEATS Free2 Classic and confirm pairing, you'll see the earbuds flash Red and White alternately, a steady white LED light indicates a paired connection to your device.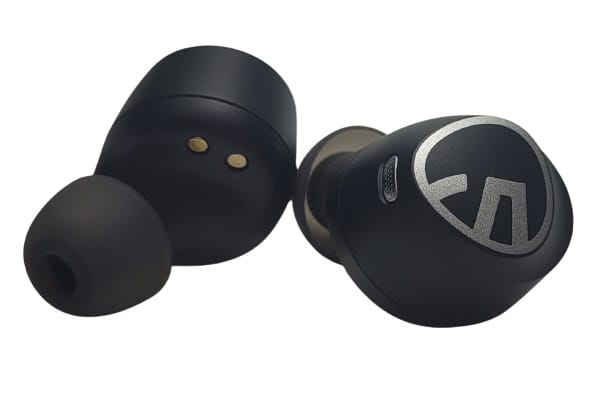 After you've finished using the SoundPEATS Free2 Classic Wireless Earbuds simply pop them back into the charging box and close the lid. The earbuds will start to recharge from whatever battery level they were at, this is indicated again by a visible LED light on each earbud. Next time you want to use them, simply take them out of the charging box, they'll automatically pair with your device.
Using.
Before you start using the SoundPEATS Free2 Classic Wireless Earbuds you'll need to select an ear tip size that suits your inner ear canal. This serves two purposes, obviously for comfort, but also better audio enjoyment too. a closer fitting ear tip will ensure a more immersive experience and remove unwanted background audio distractions.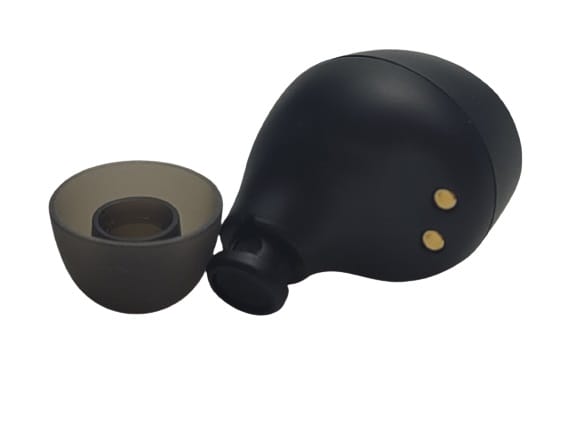 Changing of tips is a simple process, remove a tip and push on a new tip, nice and easy. Once you've selected your desired ear tip you'll now be able to insert the earbuds comfortably into your inner ear. Place them into your ear and gently twist upward to ensure a tight fit. The egromancy design ensure that they fit flush to your outer ear area, you're able to still wear a hat if desired without impacting your comfort. They basically don't protrude from outside your outer ear area.
Touch Control.
Each earbud features a touch sensitive control area. This is located near to the SoundPEATS logo on each earbud, it takes a few minutes to get used to where to automatically press, but soon after that it's a natural process.
Pause/Play: Double tap the either earbud.
Volume Decrease: Touch the left earbud once.
Volume Increase: Touch the right earbud once.
Previous Track: Press and hold the left earbud for 1.5s
Skip Track: Press and hold the right earbud for 1.5s.
Answer/Hang up Phone Call: Double tap either earbud.
Reject Incoming Call: Press and hold either earbud for 1.5s.
Switch Between Calls: Press and hold either earbud for 2s.
Activate Voice Assistant: Triple tap the right earbud.
Manually Power On: Press and hold both earbuds for 1.5s.
Manually Power Off: Press and hold both earbuds for 10s.
I found the touch control to be accurate and easy to use.
Sound Quality.
This was the bit I was most excited about having already reviewed a few SoundPEATS products, and I wasn't disappointed. The audio is clear, with nice punchy bass tones. Another surprising feature is the noise cancelling, despite not being an Active Noise Cancelling (ANC) product, the background noise removal from the ergonomic fit was impressive and comparable to a ANC set of earbuds. In fact, they quickly replaced my usual ANC wireless earbuds for everyday outdoor life.
Noise isolation is also incredibly impressive too, with very if anything sound leakage. Noise distortion is also not noticeable, even when increasing volume towards the naughty end of my phone telling me I'm about to blow my ear drums to pieces. Very impressive.
The SoundPEATS Free2 Classic Wireless Earbuds also have a built-in microphone for taking phone calls, if speaky speaky on the phone is your thing, again very impressive and your voice is clearly heard and vice versa with the caller's voice.
The only issue found was a notable 0.5/1.0 second lip sync lag when watching video clips, this is comparable with most wireless Bluetooth earbuds on the market. Oh, speaking of Bluetooth, the Free2 Classic Wireless Earbuds have an advertised Bluetooth transmission distance of 10M, I managed around 15M before the transmission dropped.
Technical Specifications.
Brand: SoundPEATS
Model: Free2 Classic Wireless Earbuds
Manufacturer Code: N/A
Manufacturer Reference: N/A
EAN: N/A
ASIN: B09D7BMYHF
Frequency Range: 20-20kHZ
Bluetooth Version: V5.1
Supported Bluetooth Codec: SBC
Bluetooth Profiles: HFP, A2DP, AVRCP
Transmission Range: 10M
Battery Capacity: 350 mAh (Case)
Battery Capacity: 43 mA (Earbuds Each)
Driver Unit: 6mm Dynamic Driver
Waterproof Rating: IPX5
Compliance: CE, FCC, RoHS
SoundPEATS Free2 Classic Wireless Earbuds User Manual PDF.
Conclusion.
I absolutely love the SoundPEATS Free2 Classic Wireless Earbuds. They're awesome to use and the noise cancelling design ensure maximum audio enjoyment. The punchy bass tones are a winner and both earbuds are harmonically in sync with each and produce an immersive listening experience.
I can't praise them enough, I guess the biggest praise is they're now promoted to my everyday outdoor pair of earbuds.
If you'd like to purchase this item, please check out the purchasing options below. The RRP for this product is £29.99.
Product sample provided by SoundPEATS in exchange for a detailed, unbiased review.
---
Thank you for taking the time to read my post. If you'd like to add a comment or thought on this post, please use the comments section below. I can also be contacted via the online contact form. Keep up to date with the latest news on social media.
SoundPEATS Free2 Classic Wireless Earbuds