Today I'll be writing about the HZSOUND Bell Rhyme Earphones. Another brand from the awesome audio company Keephifi, who I've built up a wonderful business relationship up with. I love their brand ethos and they have some of the best audio brands/products that I've had the pleasure of trying out.
HZSOUND is another of these brands, so I was excited to be able to review these Bell Rhyme Earphones. They feature a 15mm dynamic driver, with a reported distortion loss of around ≤1% and all with a universal 3.5mm jack plug.
The outer body is made from aluminium alloy, with a cool looking cosmetic shell pattern surface.
But are they any good? Time to test them out!
Packaging and Contents.
The HZSOUND Bell Rhyme Earphones come packaged in a black card sleeve boxed, which features product images and specifications. The box measures 12.0cm x 8.5cm x 4.0cm and weighs 105G.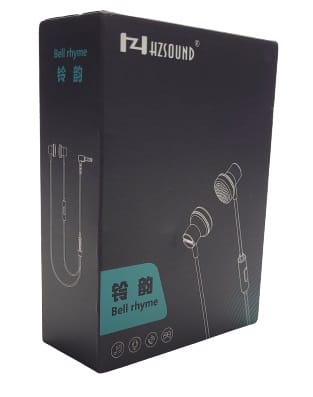 Slide the outer sleeve and you'll see the HZSOUND Bell Rhyme Earphones in a foam lined interior protective area.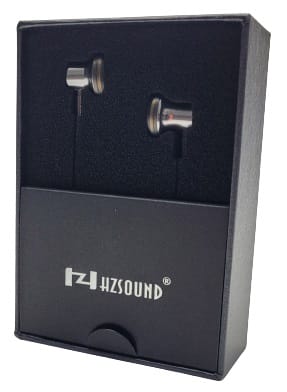 Inside the box you'll find the following: 1x Earphones, 1x Storage Bag, 4x Pairs of Foam Tips, 1x English/Chinese User Guide.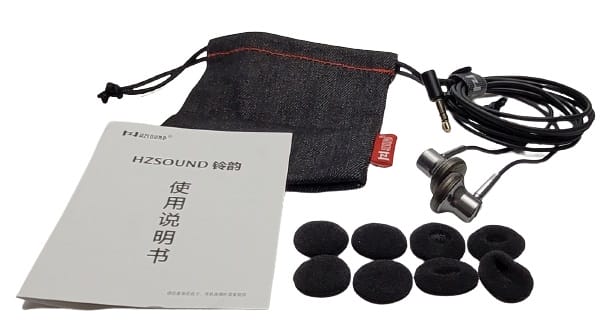 HZSOUND Bell Rhyme Earphones.
The HZSOUND Bell Rhyme Earphones weigh 16.5G, the aluminium body measures 1.5cm x 2.5cm, the diaphragm area measures 1.5cm in diameter and this caused me discomfort wearing them (more on this further on in the review).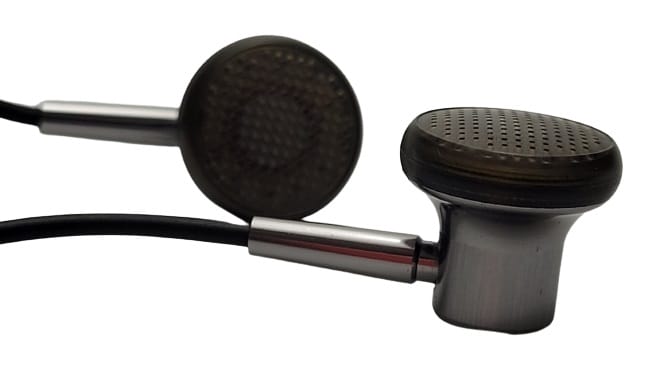 You can use them either bare (like the above image) or use the supplied foam covers, which slip over the outer surface, but these surface foam covers also increase the outer measurement of an already large diaphragm area.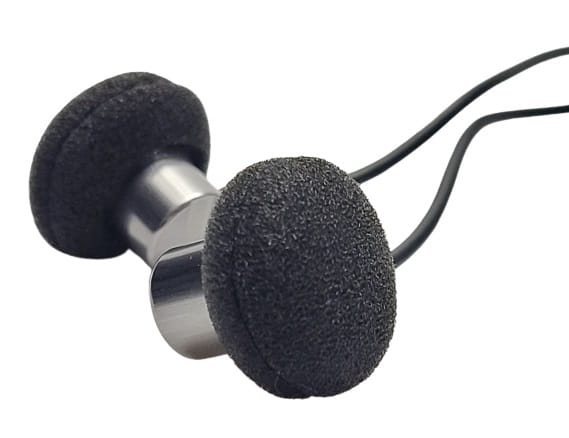 Cable and Plug.
The HZSOUND Bell Rhyme Earphones features an Oxygen Free Copper (OFC) cable which measures 120.0cm in length, this ensures maximum sound quality with very little transmission loss.
The jack plug features a Gold-Plated L shaped plug for durability and high quality sound transmission, a standard 3.5mm TRRS (Tip Ring Ring Sleeve) that can be used in many devices that feature a 3.5mm audio port. Or via an adapter via the USB C port on your smartphone.
Comfort and Sound Quality.
This is where I was disappointed with the HZSOUND Bell Rhyme Earphones. They hurt, not just hurt, but are painful to wear, even after a minute of use. I tried with the foam covers, without, any foam cover, without again, but no matter what I did I hated wearing them. The 1.5cm area that goes into your ear causes nothing but pain. It stretches your inner ear canals almost like some sort of torture device. I really wanted to like them, but unfortunately, we're not going to be pals anytime soon.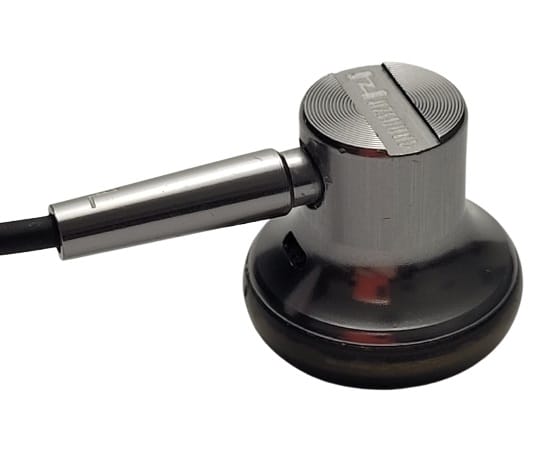 The HZSOUND Bell Rhyme Earphones come packed with some awesome audio specifications. These include, a 15mm driver unit and a high-performance rubidium magnet. But I couldn't enjoy any of the audio, as I simply found them so uncomfortable to wear for anything longer than a minute. Maybe it's my ears, I don't know, it is the first time I've ever reviewed any earphones like this in terms of its shape.
Technical Specifications.
Brand: HZSOUND
Model: Bell Rhyme
Manufacturer Code: CCZ6684
Manufacturer Reference: HZ67561E1Sil-BellRhy
EAN: N/A
ASIN: B09TFJ2PQW
Frequency Range: 20-20kHZ
Sensitivity: 116±3dB
Impedance: 32Ω(±15%)
Distortion: <1%@1khz
Plug: 3.5mm gold plated connector
Cable Material: 4 Core Oxygen Free Copper Cable
Driver Unit: 15mm Dynamic Driver
Compliance: CE, FCC, RoHS
Conclusion.
It's a disappointing review for the HZSOUND Bell Rhyme Earphones. I was really looking forward to reviewing these too, but they're just too uncomfortable for me. I did however have the option to order them directly via the Keephifi store, which is not something I had done before, delivery is around the same as ordering via AliExpress, but works out slightly cheaper to order direct. Would recommend creating an account on the Keephifi website.
If you'd like to purchase this item, please check out the purchasing options below. The RRP for this product is £25.00
Product sample provided by Keephifi in exchange for a detailed, unbiased review.
---
Thank you for taking the time to read my post. If you'd like to add a comment or thought on this post, please use the comments section below. I can also be contacted via the online contact form. Keep up to date with the latest news on social media.
HZSOUND Bell Rhyme Earphones