Today I'll be writing a review for a lovely small business named Laverock Hall Farm. I love nature and enjoy feeding the local birds, I find it relaxing to sit and watch. I did purchase those big bags of mixed seeds from the well-known pet superstore. My fussy feathery friends used to pick and choose which seeds to eat, tossing the rest to the ground, and eventually they started to germinate, and I ended up with some big dude grasses growing.
So, I needed a change. I'd seen a few social media posts from Laverock Hall Farm. They were different to all the other bird seed sellers around. They produce seeds themselves; I didn't want to pay for a middleman type of reseller and going direct to the producer would eliminate that. Laverock Hall Farm have a brilliant ethos and caring attitude to their local Northumberland area, and as a family run business for over 150 years, they were a perfect choice for my feathery friends. They have been producing bird seed, pigeon feed and other feeds for over 25 years, and so they know a thing or two about seeds.
Laverock Hall Farm cares so much for their local area. They maintain wildflower margins, which encourages lots of local wildlife, they've also planted thousands of trees over the years, these trees surround a natural pond, which is left undisturbed.
Ordering & Delivery.
You order direct on the Laverock Hall Farm website. I ordered the 12.5KG no waste bird seed, which contains no wheat (my garden backs onto a wheat farm, so I'm fed up with wheat germinating in my garden) and is a small seed type, suitable for smaller birds. I also ordered a 7.5KG bag of peanuts for the larger (mostly my fat wood pigeon visitors) birds, too.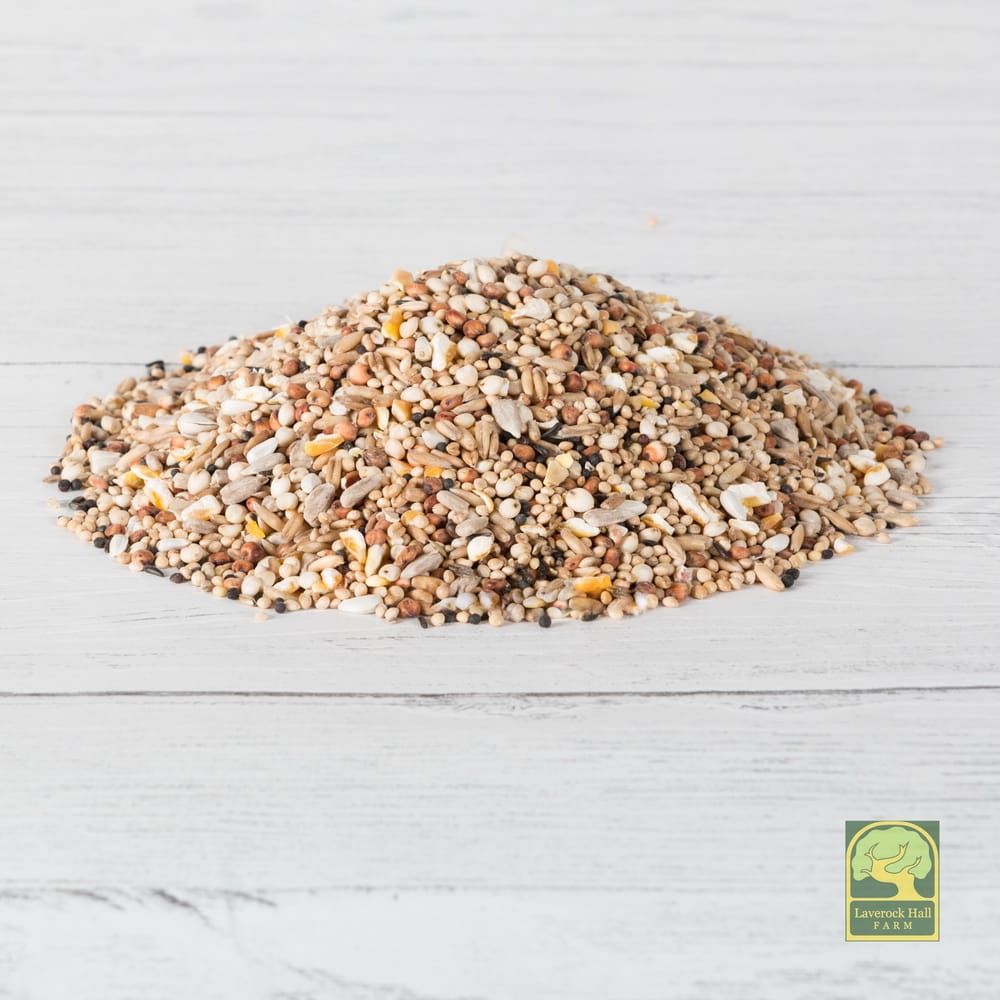 Prices were impressive too, comparable to what I was paying, but I was getting better quality.
A few days later my order arrived, the products come in a reusable woven polypropylene bag, which I found useful for gardening clippings to take down to the recycling centre.
Upon opening the bird seed I smelt a scent of aniseed, and upon checking, the no waste bird seed does in fact contain aniseed oil, this attracts more birds, and from a greater distance too.
Laverock Hall Farm even included a freebie bag of fat balls too, which was a nice touch.
Impressions.
I couldn't wait to start using the Laverock Hall Farm birds seed and peanuts. So, I filled my three feeders with seed and two trays of peanuts, and within a few minutes my usual customers came to check it out. Fat fucker Percy the pigeon ate his whole-body weight in peanuts, his partner Polly decided to hit the seeds, they both flew back into the nearby tree for a groom and to sleep off their feast. Next up came the local sparrow hooligans, they decided to all fight each other over one feeder, despite having an addition two feeders next to it, anyway, they had a fight, ate some seeds, had another fight then flew off. This was all being watched by the Blue Tits, who were sat patiently waiting on the fence, they then had their turn.
As I said, I use three feeders. I'm having to refill all three every couple of days. The birds love the seeds that much, same with the peanut dishes.
I'm very satisfied with the whole ordering, delivery and product experience and already planning my next purchase very soon, I won't go anywhere else now, the local birds eat better than me! I also have no random germination happening too, all the seeds are consumed too, they even hold up in the feeder in a windy day too, which with others that seem to blow onto the floor.
Technical Specifications.
Brand: Laverock Hall Farm
Model: No Waste Wild Bird Food
Manufacturer Code: N/A
Manufacturer Reference: N/A
EAN: N/A
ASIN: N/A
Compliance: N/A
Conclusion.
I'm so happy to be using Laverock Hall Farm products. I love them. The Laverock Hall Farm website also features a blog. This blog has some wonderful and behind the scenes access to farm life and what Laverock Hall Farm are doing. It's a great read and I thoroughly enjoy reading them.
I can't recommend Laverock Hall Farm highly, great products, at great prices too. My birdy friends agree, and I'll be ordering more soon, especially at the rate they're consuming these seeds!
No Waste Wild Bird Food (12.5 KG) £18.50 –
Peanuts (7.5KG) £12.75
---
Thank you for taking the time to read my post. If you'd like to add a comment or thought on this post, please use the comments section below. I can also be contacted via the online contact form. Keep up to date with the latest news on social media.