The OTIUM Car Socket Adapter is a twin cigarette lighter port adapter that also allows you to use two USB ports and a USB-C port, all at the same time.
You can independently switch each socket on/off and a useful LED display will also display your car's battery voltage.
But will this adapter perform as good as it says? Is it safe? Time to test it out!
Packaging.
The OTIUM Car Socket Adapter comes packaged in a plain looking Brown cardboard box. The box measures 14.5cm x 9.0cm x 4.5cm and weighs 110G.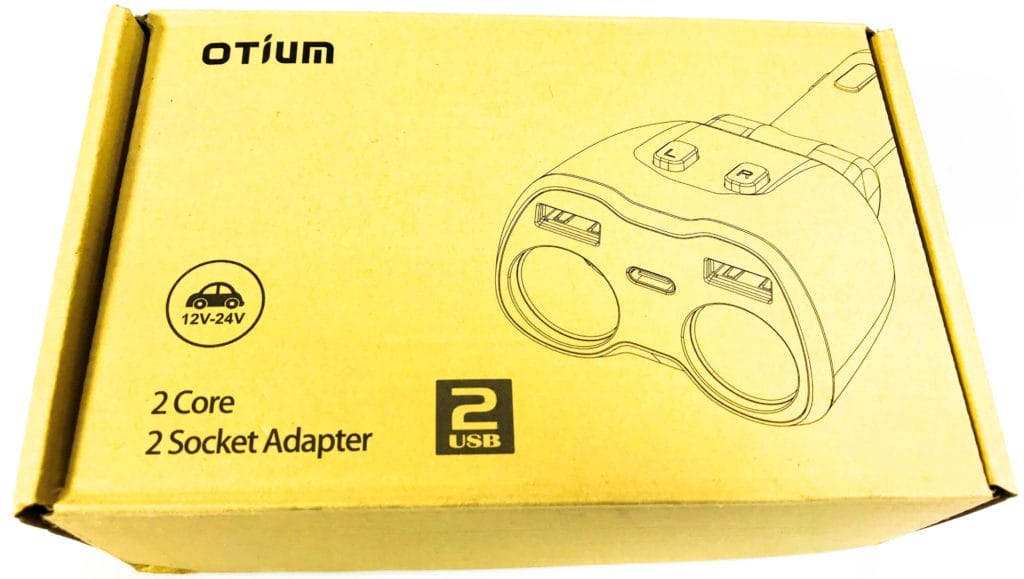 Contents.
Upon opening the box, you will find the following items. 1x Car Adapter, 1x Spare 7.5A Fuse, 1x English/Chinese User Guide.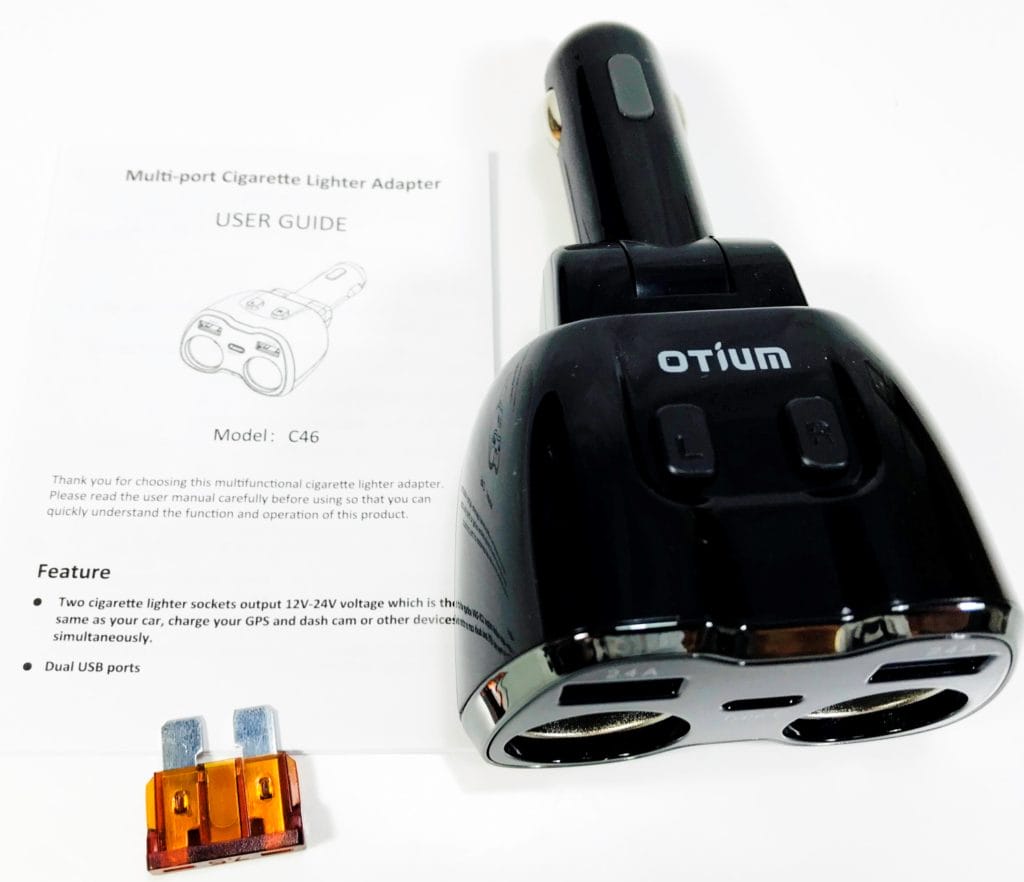 OTIUM Car Socket Adapter.
The OTIUM Car Socket Adapter is made from plastic materials and is Black in colour. This adapter measures 12.5cm in length x 6.5cm in width and has a depth of 4.0cm and weighs 75G.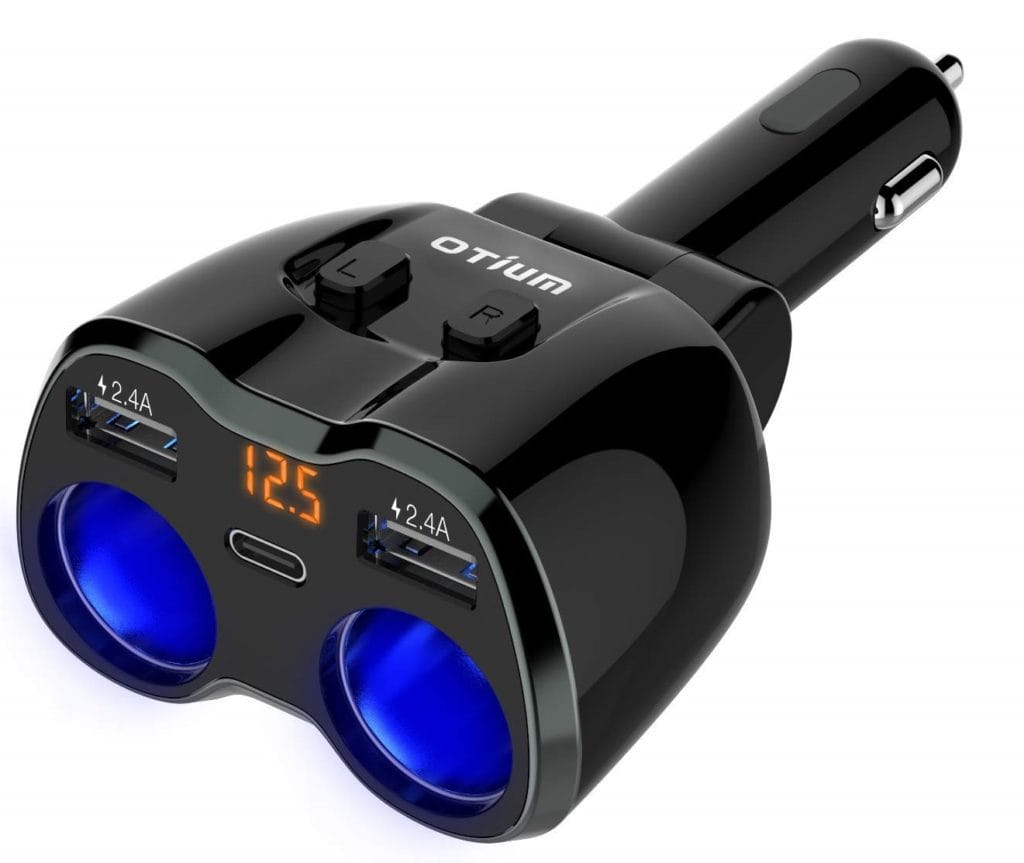 The car adapter features a flexible plug that can move 90° and angles the front of the adapter to where you can easily access it. On top there's two power buttons for each of the car cigarette ports. On the main face of the adapter you get 2x USB ports, 2x Cigarette sockets and 1x USB-C port. Just above the USB-C port you also get a LED display of your vehicle's current battery charge too, this is a great visual for the remaining life of your battery.
The OTIUM adapter will also automatically work on any 12V or 24V vehicle too! On the reverse side there's a 7.5A replaceable car fuse just in case of overload and this safety fuse will operate if there's an issue.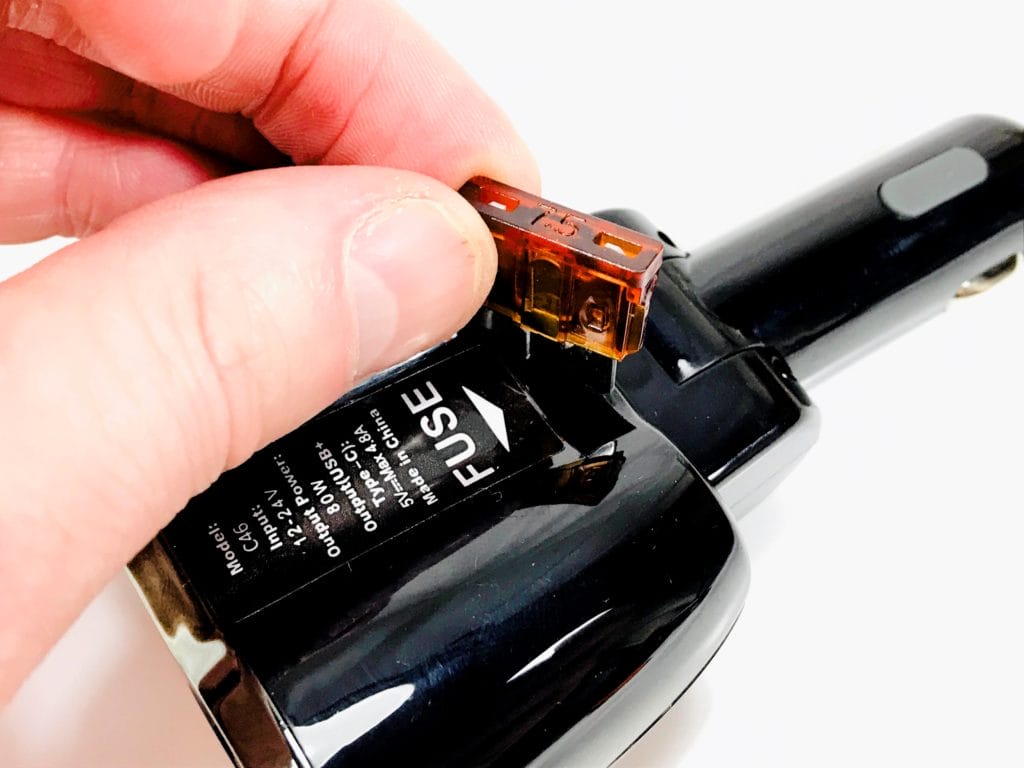 Using the Adapter.
Simply plug the end of the adapter into your vehicle's cigarette lighter and that's it, you're good to go. The LED display will show your vehicles battery life, mine displayed 14.3V which means my battery is perfect for my vehicle.
I tested each of the USB and USB-C ports to see if the advertised claims where true, to do this I used my AVHzY CT-2 to record the actual readings.
Both USB ports gave a reading of 1.8A and 4.9V, in the user guide it has a reading of 2.4A and 4.9V, so that's a massive difference and will extend the time it takes to charge your phone.
The USB-C port gave a reading of 1.4A and 4.9V, whilst in the manual its 1.5A and 4.9V, so that's pretty much spot on, give or take 0.1 of an Amp.
Further Testing.
I couldn't load test the two cigarette ports as I don't have a suitable tester for these, but I managed to plug two different items in, and both had power. So, I'd assume these are OK for your usual vehicle gadgets.
The on/off switches also work well too, you can have either one, or both powered on at the same time, a Blue LED light will illuminate the port with power, although this light can be distracting whilst driving at night!
The angled plug is also great and allows you to place the adapter exactly where you require it, it also feels quite sturdy and well made, which is good!
Technical Specifications.
Brand: OTIUM
Model: Car Socket Adapter
Model Code: C46
Manufacturer Code: CC5JT46C-UK1WE
EAN: N/A
ASIN: B07KP7QK2K
Input: 12-24V DC
Output: 80W
USB Port Protection Current: 5.3A ± 7.5A
Type-C Port Charging: Android & iOS
Compliance: CE, FCC, RoHS
Conclusion.
I really like the OTIUM Car Socket Adapter, it's well built and is handy to use every day in your vehicle. But the actual power readings are different than the advertised power ratings. This seems to be common amongst lower ended budget goods and fail to live upto the advertised expectations. But, aside from some false advertising, the OTIUM car socket adapter is actually very good, it's certainly well-built and feels very sturdy, not like cheap plastic at all.
Overall, I'd still recommend this for your vehicle despite not being as powerful as they state, I like the replaceable safety fuse idea, this simple and effective protection method gives you peace of mind.
If you want the OTIUM Car Socket Adapter for yourself, it's available for purchase only on Amazon. The RRP for this product is £12.99.
Product sample provided by OTIUM in exchange for a detailed, unbiased review.
---
Thank you for taking the time to read my post. If you'd like to add a comment or thought on this post, please use the section below. I can also be contacted via the online contact form. Please subscribe for the latest reviews, news, and discounts. Please follow My Helpful Hints on Twitter, Instagram & Facebook too!