Today I'll be writing a review for the Keenray Mini Slow Juicer. This is the second product I've now reviewed for Keenray. The first one didn't quite go to plan, especially as I trashed it. Also, I trashed their marketing tactics and methods. So, when they approached me again my first reaction was why? Did you not have enough punishment last time? My second reaction was a feeling of absolute fair play to them, despite the first review not exactly going well, they had enough respect for my review website to ask again.
That's a proper life lesson there, if at first you piss off a reviewer, who then trashes your product, try again! Let's start afresh and forget about the last review and focus on today's offering, a mini slow juicer.
The Keenray Mini Slow Juicer is a masticating type of juicer, which uses a 130W motor. It's a quite motor with just 60 decibels when in use. A large 600ml jug collects juice from fresh fruit and vegetables with ease.
So, is this juicer any good? Time to test it out!
Packaging and Contents.
The Keenray Mini Slow Juicer comes packaged in a plain cardboard box. The box measures 45.0cm x 14.5cm x 16.0cm and weighs 2.01KG.
Inside the box you'll find the following: 1x Juicer Main Body, 1x Pulp Container, 1x Juice Container, 1x Cleaning Brush, 1x Multi-Lingual User Guide.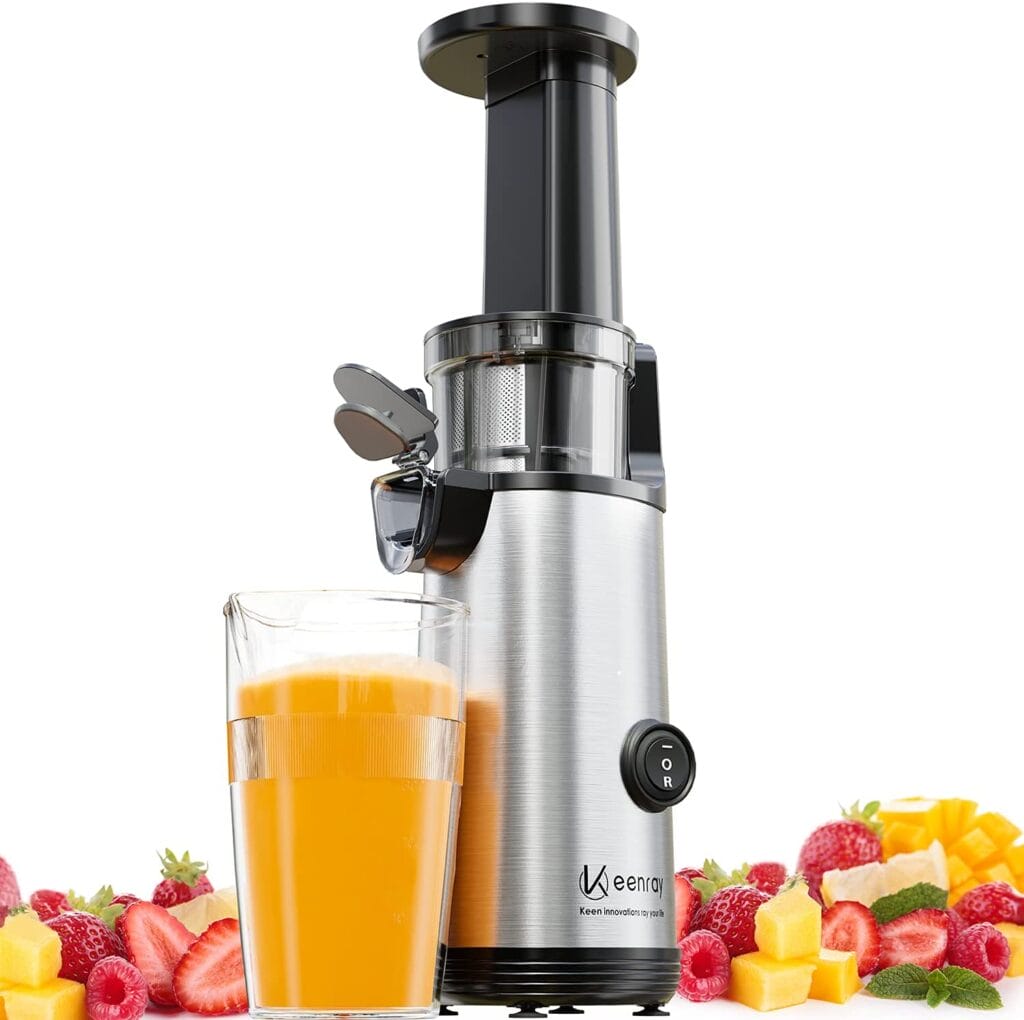 The user guide is clear and well-written too, a rarity these days.
Keenray Mini Slow Juicer.
The Keenray Mini Slow Juicer measures 36.0cm in height and has width of 12,0cm (at the widest point) and weighs 1.9KG. The juicer has a brushed stainless-steel finish with black trim, so it's ideal for most modern kitchens and will fit into place with most decorative choices.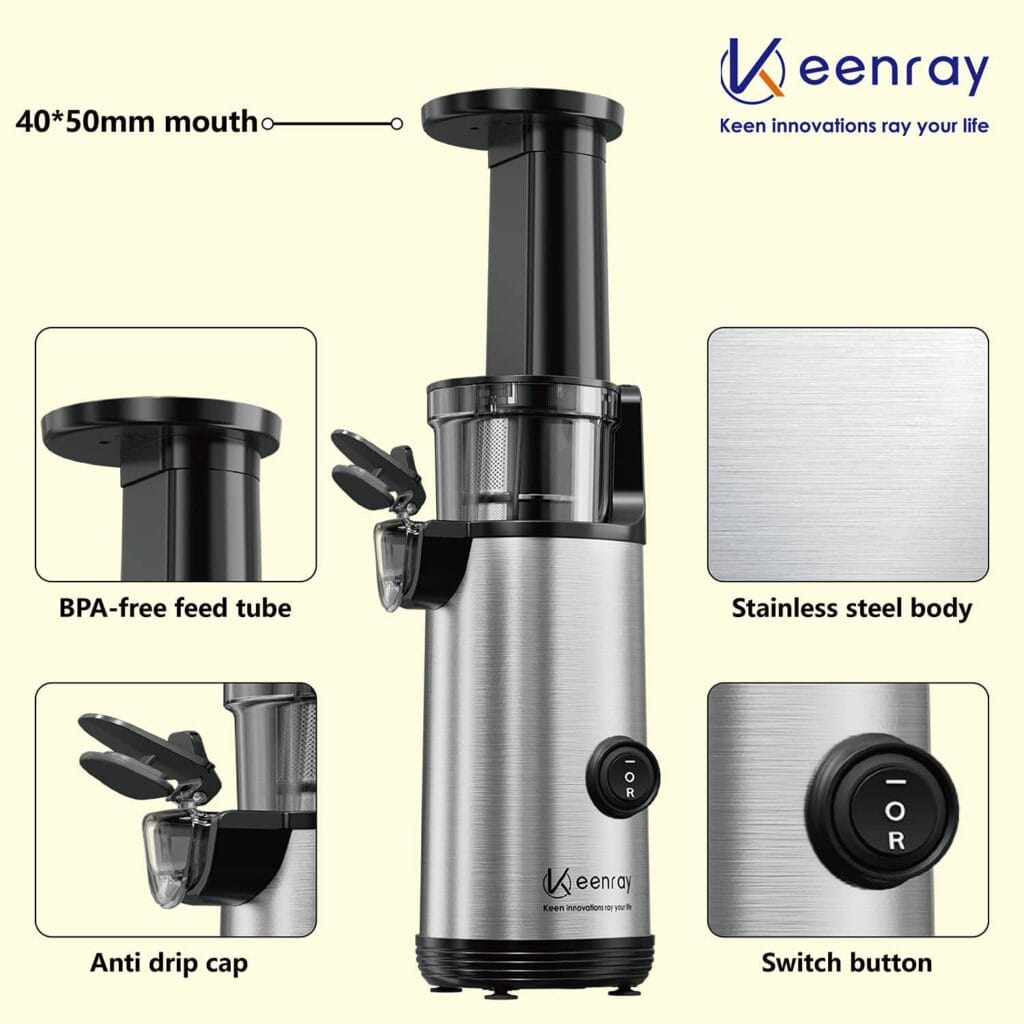 The mouth area is 4.0cm x 5.0cm and has a long 11.0cm chute too. Assembly and disassembly of the squeezing auger is simple too, the auger is made from high-quality PolyCyclohexylendimethylene Terephthalate Glycol plastic (PCTG). This material is tough, strong and chemical resistant too.
The Keenray Mini Slow Juicer features a on/off/reverse power switch too, which is a nice feature. If stuff gets stuck, back it up like a boss.
One feature I love is the drip cap, you can contain juice until you're ready to collect. Also, it's a great feature o stop excess juice spills on your worktop too.
On the underside there's 4 suction pads too, these are great and stop the juice from moving about when in use.
Using the Juicer.
As the mouth area is relatively small (4.0cm x 5.0cm) you're required to chop up your fruits and vegetables to accommodate this area. I didn't do this on the first go, I went a bit crazy and continually feed the machine until it become stuck (that's how I test things of course, and certainly wasn't a case of not reading the user guide ?).
The back it up like a boss button worked a treat and my orange slices popped back out at the top. I then sliced my orange pieces (peel and everything) into smaller pieces and fed them into the Keenray Mini Slow Juicer. Pulp started coming out from one side into the pulp container, the rejected pup felt dry, which I was impressed with. Juice started flowing into the 600ml juice container. One issue I found is juice container moves away from the machine due to vibration during use. To solve this Keenray could look at maybe putting some rubber onto the bottom of the container to provide some friction.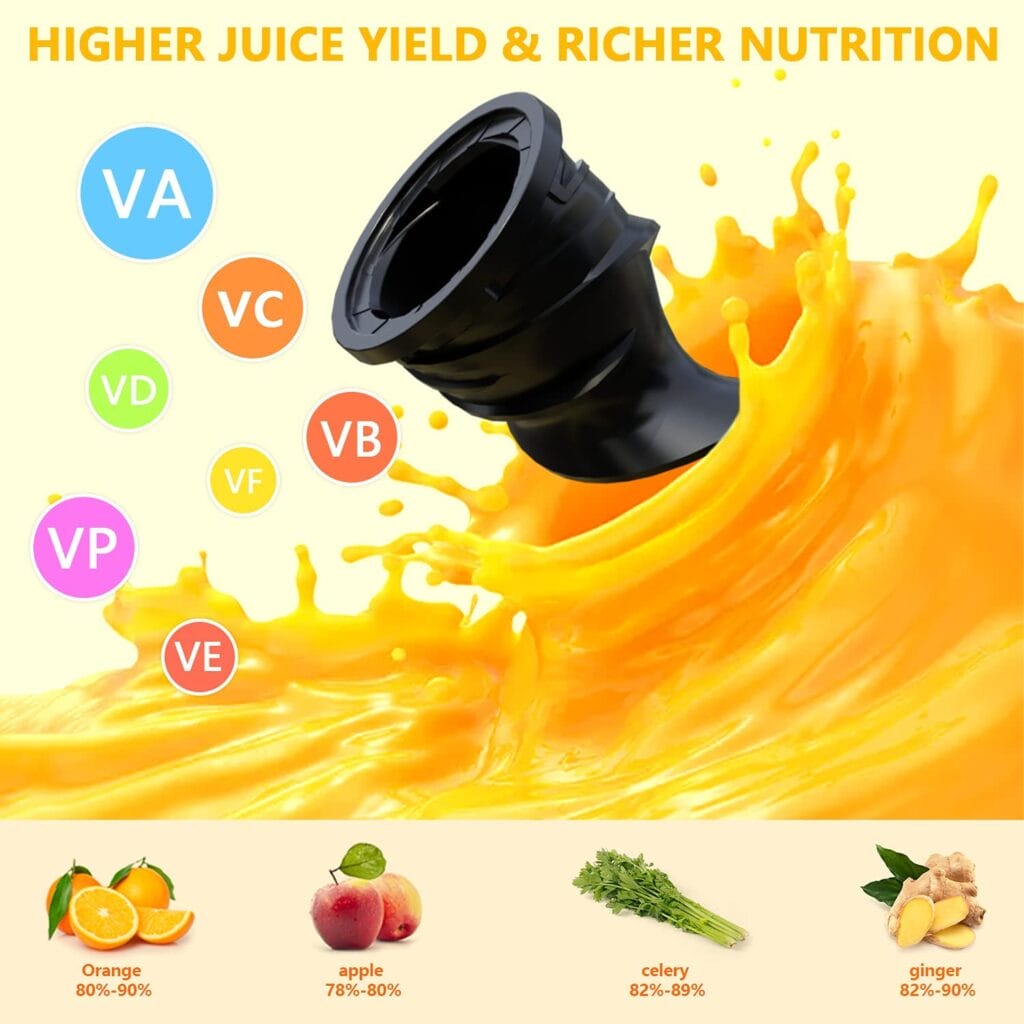 The supplied 3 Pin UK plug is attached to a long 90.0cm black flex cable. The attachments come apart easily and require a rinse under running water. I did find some pulp got stuck in the juicing bowl. But, Keenray have designed a silicone valve/cover that enables you to use the cleaning brush to get rid of any pulp that becomes stuck. This I thought was a well-designed function.
I was able to juice apples, carrots, and oranges with ease. Keenray also state that you make nut milk with cashews, almonds, and walnuts etc. Simply soak for 8-12 hours in advance and put them into the juicer with water.
Technical Specifications.
Brand: Keenray
Model: Mini Slow Juicer
Model Code: EL10
EAN: N/A
ASIN: N/A
Power: 4130W
Input: 230V AC 50/60Hz
Juicing Container Capacity: 600ml
Pulp Container Capacity: 450ml
Compliance: CE Marked
Conclusion.
I like the Keenray Mini Slow Juicer, it works exceedingly well, and it's super-quiet too. I was more impressed in the way Keenray came back to me after receiving a scalding in their previous review, that takes some guts to do, so fair play to them. They're certainly in this for the long game and already have built up a collection of products in their catalogue.
The Mini Slow Juicer is not 100% perfect. It only requires some slight medications, not to the juicer itself, but rather the plastic containers. They move about when the motor of the juicer is in use, all they need is some rubber and this would be a spot-on perfect kitchen appliance.
Overall, I highly recommend this juicer.
If you want the Keenray Mini Slow Juicer for yourself, it's available for purchase only on Amazon and on the Keenray website. The RRP for this product is £99.00. There's also a £30.00 money off voucher (available only on Amazon until 11/06/2021).
Product sample provided by Keenray in exchange for a detailed, unbiased review.
---
Thank you for taking the time to read my post. If you'd like to add a comment or thought on this post, please use the section below. I can also be contacted via the online contact form. Please subscribe for the latest reviews, news, and discounts. Please follow My Helpful Hints on Twitter, Instagram & Facebook too!