Today I'll be writing about the XTAR VC4L Battery Charger. A 4-bay battery charger that is powered via a USB-C 5V DC source. The VC4L can charge a huge range of batteries, including: 3.6V/3.7V LI-ION/IMR/INR/ICR: 10440 14500 14650 16340 17335 17500 17670 18350 18490 18500 18650 18700 20700 21700 22650 25500 32650; 1.2V NI-MH NI-CD: AAAA AAA AA A SCC D. You'll be pleased to know you can also charge protected 20700 21700 batteries too.
The XTAR VC4L has a backlit display that shows you charging current, battery voltage, battery charged capacity, battery types and channels. The VC4L also comes with reverse polarity, short circuit, overcharge and overheat protection systems too.
I'm a huge XTAR fan, their products are always top quality and most importantly, safe!
So, is this battery charger any good? Time to test it out!
Packaging and Contents.
The XTAR VC4L Battery Charger comes packaged in a typical XTAR box with an anti-counterfeit scratch test. The box measures 18.0cm x 12.5cm x 4.0cm and weighs 323G.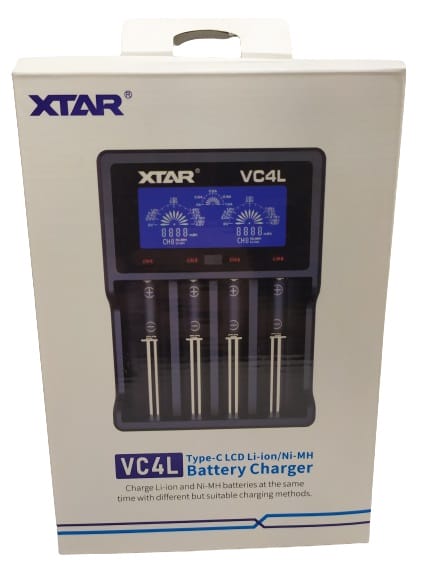 Inside the box you'll discover: 1x Battery Charger, 1x USB-C Cable, 1x XTAR Branded Drawstring Bag.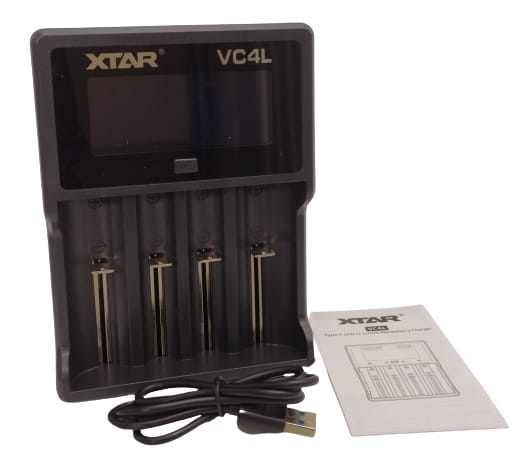 XTAR VC4L Battery Charger.
The XTAR VC4L Battery Charger is black in colour and is made from fire retardant materials. The charger measures 15.5cm x 11.5cm x 3.5cm (The LCD screen measures 7.5cm x 3.0cm) and weighs 235G. You get an XTAR branded USB-A/USB-C cable supplied too which measures 8.0cm in length.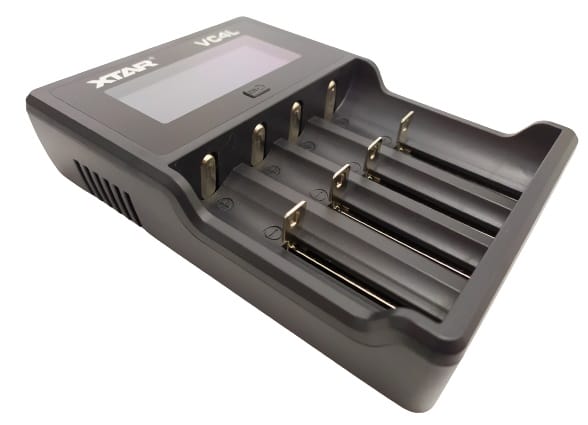 On the top you'll see a USB-C port, this is where the cable plugs into. You then need to supply the VC4L with a 5V DC power source.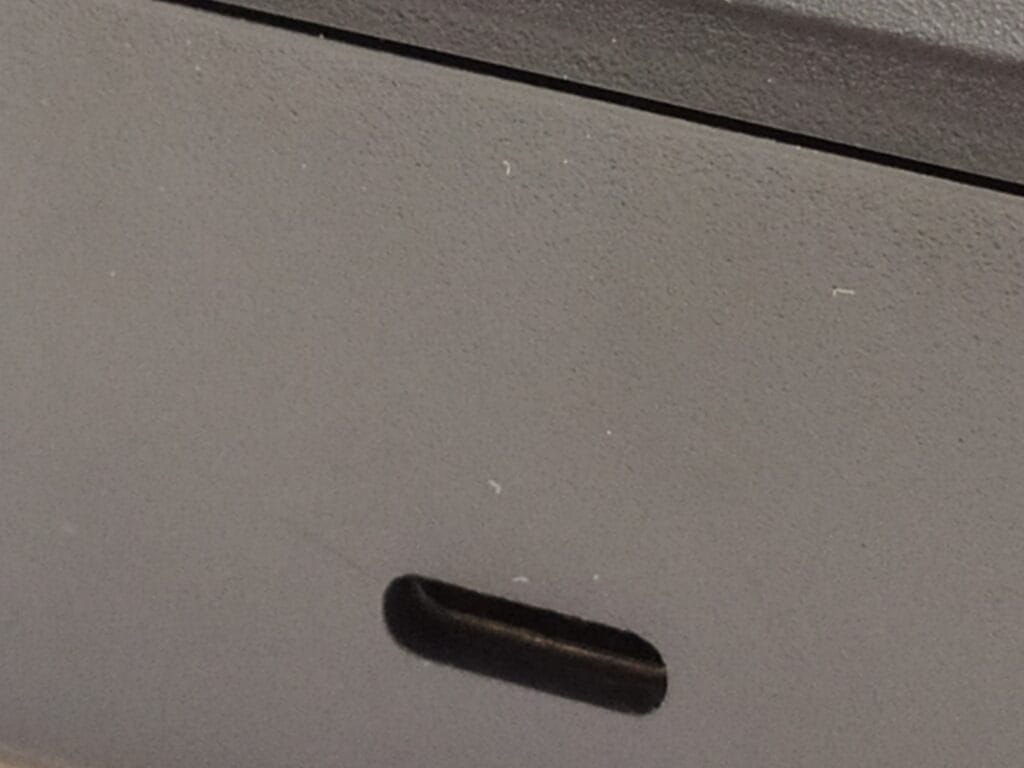 Using the VC4L.
I have a few battery types to hand to try out the XTAR VC4L Battery Charger, these include a 21700, 18650, AA and C type batteries. All of which the VC4L can automatically charge via its three-stage charge system and will automatically cut off at 1.2V for Ni-MH, for Ni-Cad 1.5V/3.6V/3.7V and for Li-ion battery types 4.2V. I tried the reverse polarity protection system and can confirm an 'ERR' message appears on the screen.
As you can see the VC4L has 4 channel charging bays. Channels 1 and 4 can charge to a maximum current of 1.0A. Channels 2 and 3 charge to a maximum current of 0.5A. If you use bays 1,4 and either 2 or 3 the maximum current changes to 0.5A for all bays. An LED colour indication also shows the charging status of your batteries too.
When you insert a battery into the XTAR VC4L Battery Charger, it'll automatically detect whether it's a Li-Ion, Ni-MH, or a Ni-CD battery type and this will be displayed on the LCD screen. The LCD screen also shows you the charging capacity. You can also turn on or off the backlight too by pressing and holding the button on the LCD screen. The Ni-MH symbol will flash a maximum of 10 minutes when charging NI-MH battery, this is due to the built-in over-voltage activation.
Technical Specifications.
Brand: XTAR
Model: VC4L Battery Charger
Manufacturer Code: VC4L
Manufacturer Reference: N/A
EAN: 6952918343769
ASIN: B08R3DRFLB
Channels 1 & 4 Constant Current: 1.0A 500±50mA
Channels 2 & 3 Constant Current: 0.5A 1000±80mA
Cut-off Charge Voltage: 4.2V±0.05V / 1.45±0.1V
Cut-off Current: ≤120mA
Compliance: CE, FCC, RoHS
Conclusion.
I really like the XTAR VC4L Battery Charger, it's a great desktop battery charger. Obviously, as it only has s a 5V DC powered source, it takes longer to charge over a main powered battery charger, but for what it is, it's a great piece of kit. I think having a USB-C battery charger around that can charge a multitude of battery types is ideal. You can even charge batteries on the road via USB source in your car. I even powered the VC4L via a powerbank too.
Highly recommended by me.
If you want the XTAR VC4L Battery Charger for yourself, it's available for purchase only on Amazon and AliExpress. The RRP for this product is £21.19.
Product sample provided by XTAR in exchange for a detailed, unbiased review.
---
Thank you for taking the time to read my post. If you'd like to add a comment or thought on this post, please use the section below. I can also be contacted via the online contact form. Please subscribe for the latest reviews, news, and discounts. Please follow My Helpful Hints on Twitter, Instagram & Facebook too!
XTAR VC4L Battery Charger