Today I'll be writing about the Keenray Towel Warmer. A new brand for this website, and the first towel warmer that I've reviewed too.
I received this product on the 8th February 2021, and I usually review products within 30 days of receiving a product. Keenray were pushy for a review, despite me instructing them that I have a list to work through. I informed them that I'd be able to do a review at the end of February, and at 00:17am on the 1s March, Keenray thought it be a wise idea to message me again, this time to say, is it March now?
If you send a product to a reviewer don't be a Keenray, it pisses me off and there's a good chance I'll send the product back to you, I will review your item. I'm hardly about to steal your item!
Anyway, I have a review to write, and a review I shall write.
So, is this towel warmer any good? Is it a crappy warm bucket? Time to test it out!
Packaging and Contents.
The Keenray Towel Warmer comes packaged in a plain cardboard box. The box measures 53.0cm x 37.0cm x 37.0cm and weighs 4.8KG.
Inside the box you'll find the following: 1x Towel Warmer, 2x Fragrance Sachets, 1x Multi-Lingual User Guide, and a Warranty Card.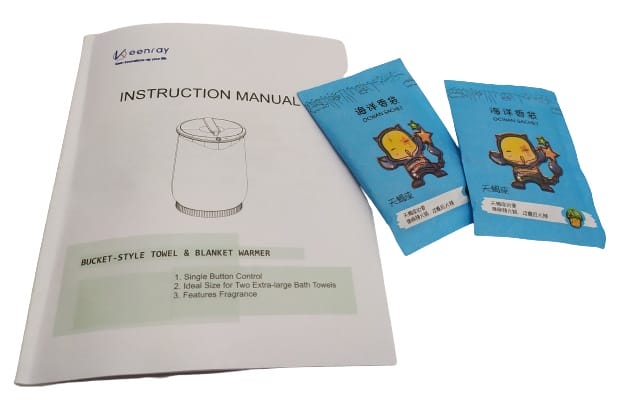 The sachets are in Chinese, I had to use my camera on Google Translate to identify them as Ocean Scent. There's some text, but again it's in Chinese, Google translated it as Scorpio Love, so I'd imagine it's not exactly accurate.
Keenray Towel Warmer.
The Keenray Towel Warmer is white in colour, there're other colours available, including pink, grey, blue, green, and purple. The towel warmer is a bucket shaped electrical appliance, it measures 480cm in height x 33.0cm in diameter and weighs around 3.5KG, with a 20L internal capacity.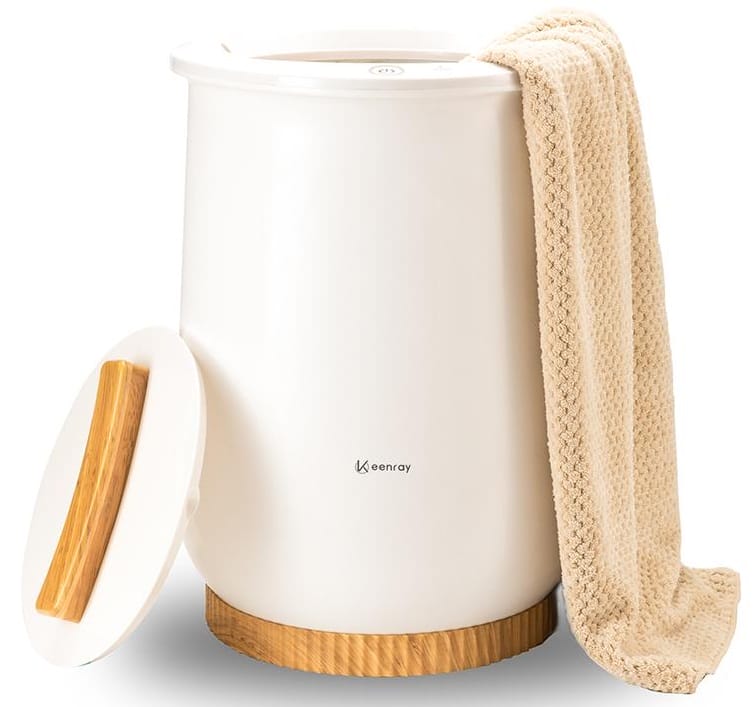 The main material is plastic, internally the towel features a steel wall. Before use I carried out an earth resistance test from the UK 3 pin Plugtop and the internal steel wall, I recorded 0.01Ω, so I can confirm the appliance is correctly earthed for UK households. As mentioned above the Keenray Towel Warmer features a UK plug and a 2M cable length.
The internal element is rated at 450W.
What's the Fuss?
I've never personally never come across an electrical appliance that warms up towels. And there's a good reason, in the UK you can't have a mains powered electrical socket within 3M of your bath or shower. There are 3-bathroom zones that have been identified by the 18th edition IET wiring regulations and all applicable British standards. So, if you have a large bathroom, measuring 3M or more you can use this appliance. Most of us don't have a bathroom of this size, so this item is rendered useless.
The only exceptions to this rule, are 110V powered shaver sockets and fixed wire appliances such as fixed towel warmers, heaters, domestic hot water heaters etc.
Don't be stupid as to use this appliance or any other appliance via a power electrical extension lead in your bathroom, you will fucking die! (that's how you do proper warnings for stupid people)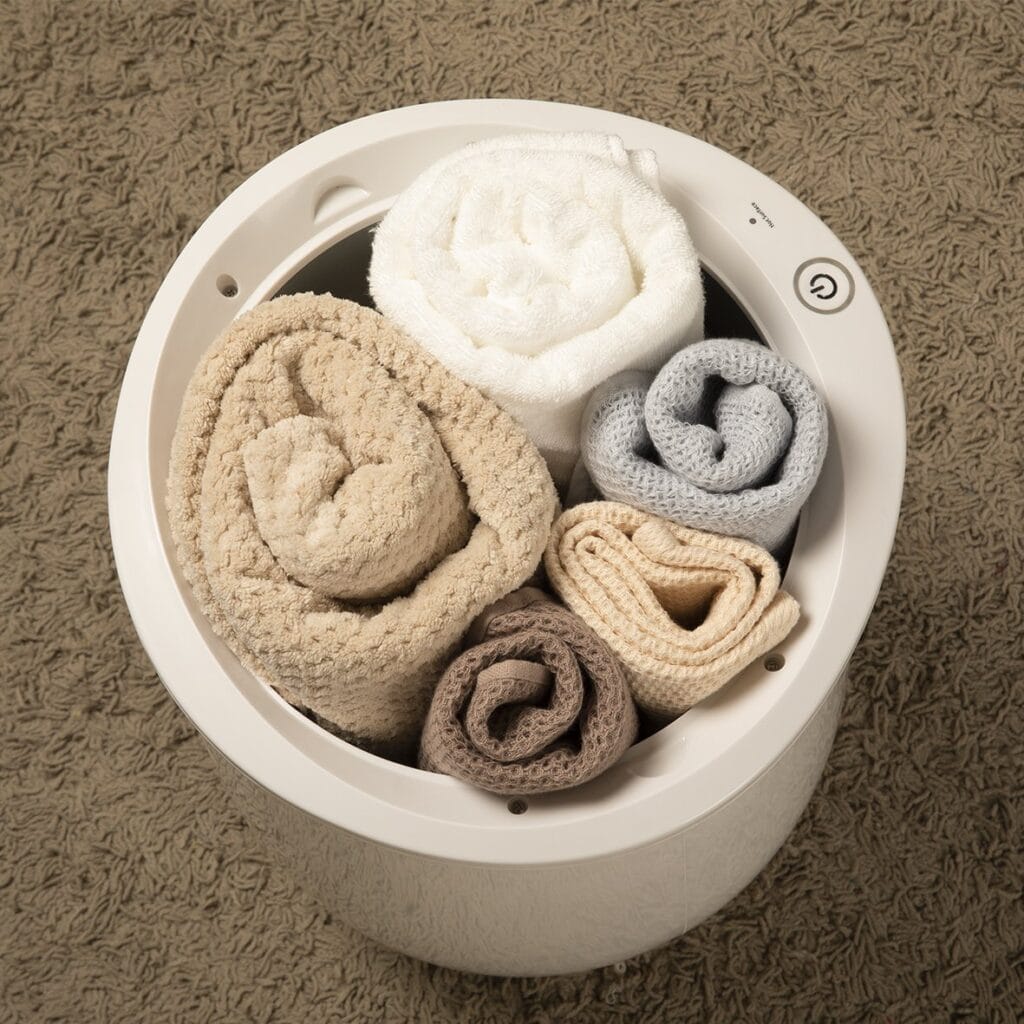 Testing.
Aside from the not being able to use part, the Keenray Towel Warmer works. You press the power button, it'll light up red, and within 1 minute it'll warm up via the rapid warming cycle. After 6 minutes it'll warm your towels to 130°C and the red light will extinguish to indicate the unit has warmed up.
You can't use damp towels, it's not a dryer, it warms towels only.
Don't put wet or damp towels in the Keenray Towel Warmer, you'll blow it up!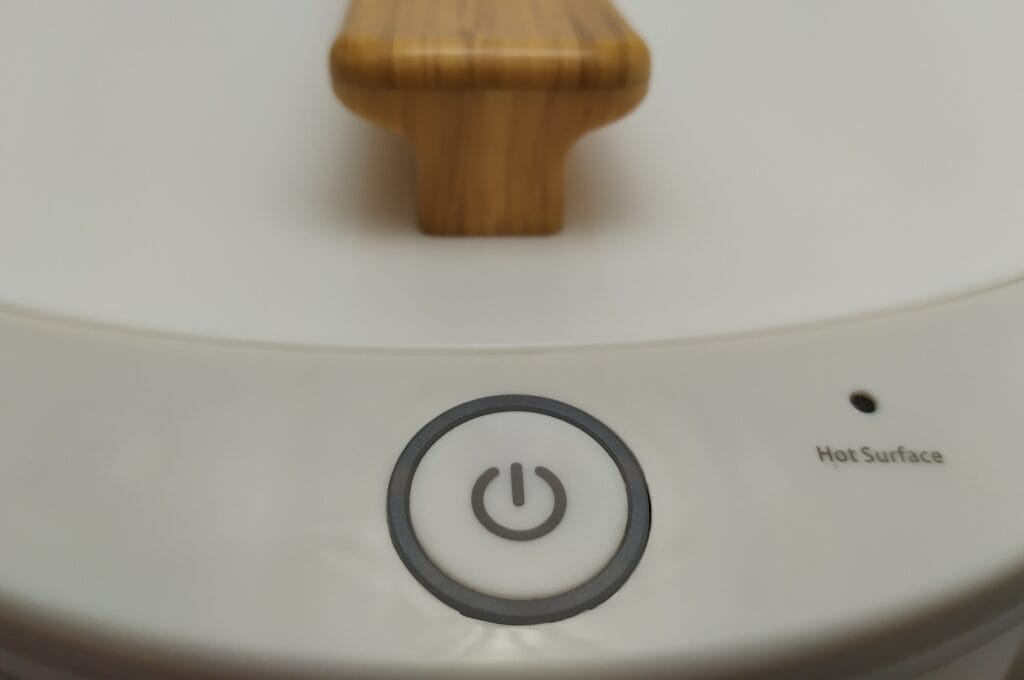 Like I said the towel warmer does work. But you'll be left wondering how you can use such an appliance. Especially if you have an airing cupboard.
So, what you need to do is plug the towel warmer on your landing area. You'll the take a bath, then run out of the bathroom cupping your wibbly wobbly bits and grab a towel from the towel warmer, all without being seen or being arrested for indecent exposure. Easy!
You can use the supplied scented sachets though, there's an area in the inside of the lid to place these.
The Keenray website has an option that allows you to change the currency from USD to GBP, but it don't work, the website also has more glitches than a Boris speech.
Technical Specifications.
Brand: Keenray
Model: Towel Warmer
Model Code: CL1
EAN: N/A
ASIN: N/A
Power: 450W
Input: 230V AC 50/60Hz
Compliance: CE Marked
Conclusion.
Strange review for the Keenray Towel Warmer. It works, but it's an absolute pointless electrical appliance for the majority UK households.
Is it something we need in the UK? I don't think so, we have airing cupboards.
Keenray are also too pushy for their review too, almost to the point of harassing me, not a good way to start a business relationship.
If you want the Keenray Towel Warmer for yourself, it's available for purchase only on the Keenray website. The RRP for this product is £135.00.
Product sample provided by Keenray in exchange for a detailed, unbiased review.
---
Thank you for taking the time to read my post. If you'd like to add a comment or thought on this post, please use the section below. I can also be contacted via the online contact form. Please subscribe for the latest reviews, news, and discounts. Please follow My Helpful Hints on Twitter, Instagram & Facebook too!