Today I'll be reviewing something a little different. I was sent some Generic PS-16-N Smart Plugs. I have no idea who sent these to me, or why? But, I'm glad they did.
Not because they're good. but because they're illegal and should not be used in any UK home. I'll go on in further detail below as to why.
I wasn't just sent one plug, but unbelievably it's a twin pack of crap!
The model code on the plug says PS-16-N and a quick Google search brings up multiple brands using this model number, which is a cause of concern.
The market is currently flooded with smart WiFi plugs, in fact I've reviewed one previously on this website. Hopefully after reading this review, you'll be more clued up as to what makes a safe product.
Packaging and Contents.
The PS-16-N Smart Plugs comes in a plain Brown cardboard box. The box measures 13.0cm x 7.5cm x 5.0cm and weighs 210G.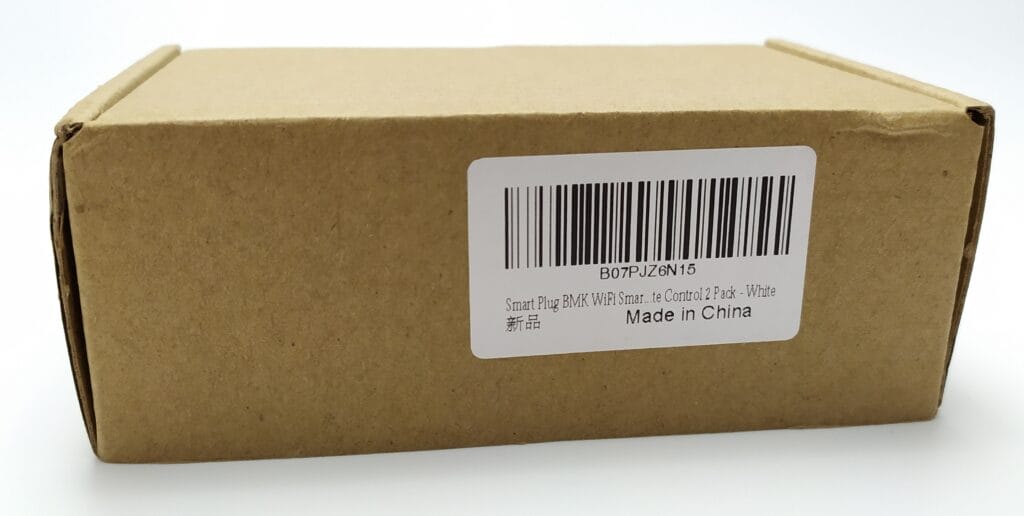 There's an Amazon barcode on the box, but it wouldn't link to any product page. I also searched on my Amazon Affiliate system for the ASIN code, but still couldn't find the product. My presumption is that this is a rejected product from Amazon, and quite rightly so.
Inside the box you get: 2x Smart Plugs, 2x English User Guides.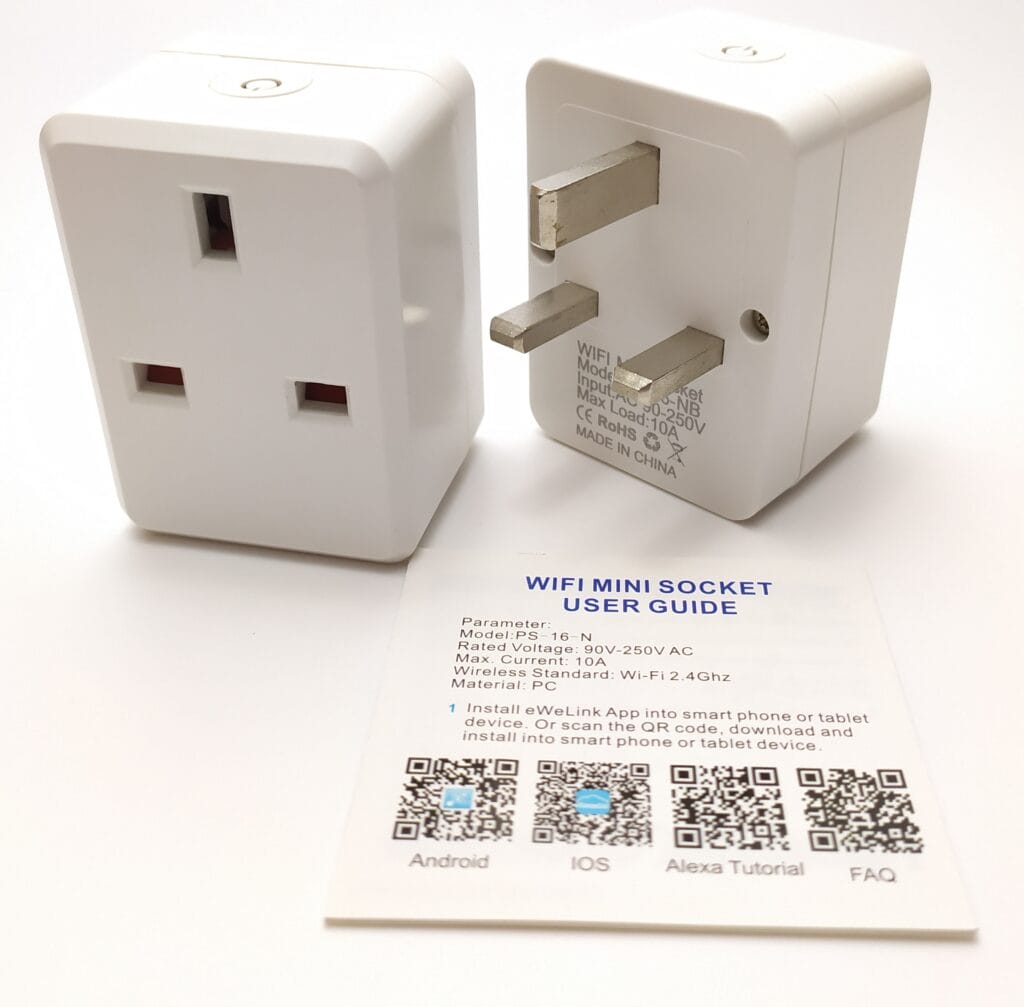 For those who are in the know, the above image might give you some indication as to the first issue.
Generic PS-16-N Smart Plugs.
The Generic PS-16-N Smart Plugs measure 6.0cm (Height) x 4.5cm (Width) x 4.0cm (Depth, not including contact pins) and each weigh 90G.
On top you'll see a button, this button acts as both a manual switch and a pairing button.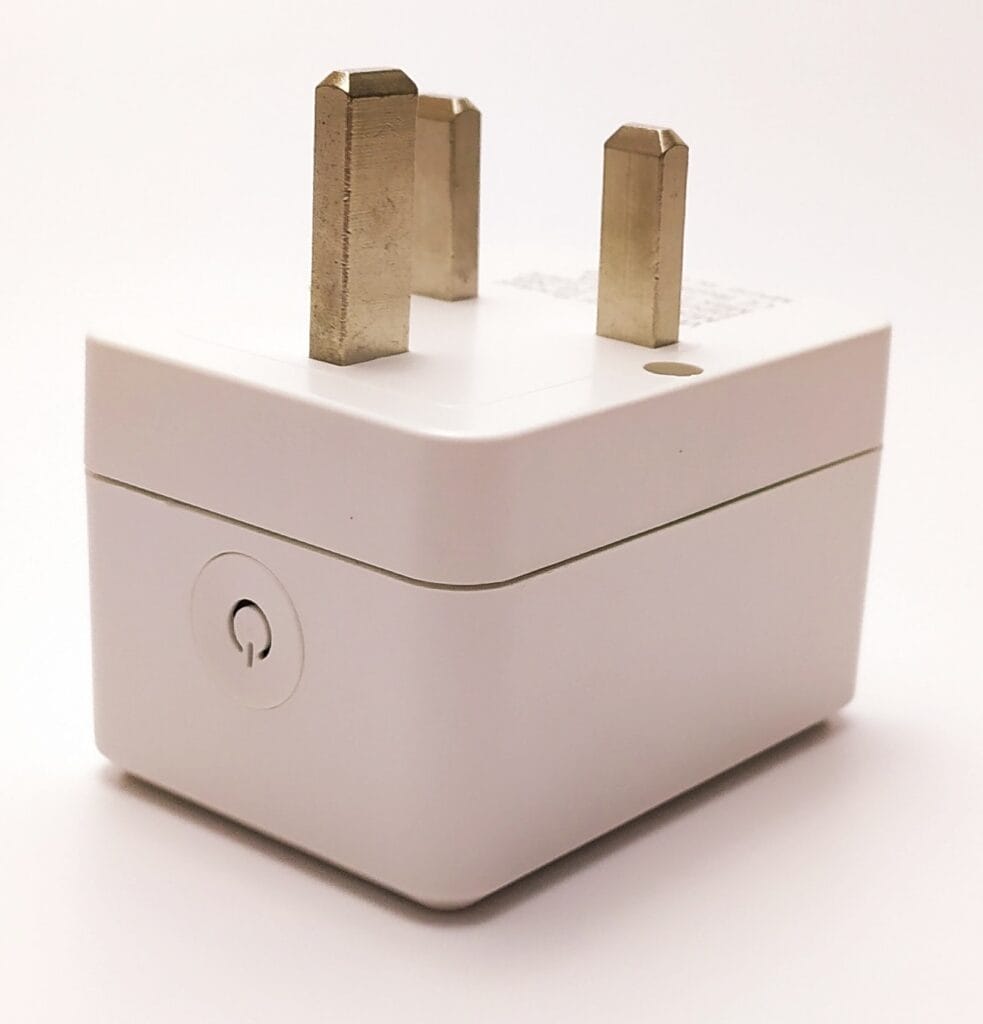 On the underside there's a USB power outlet.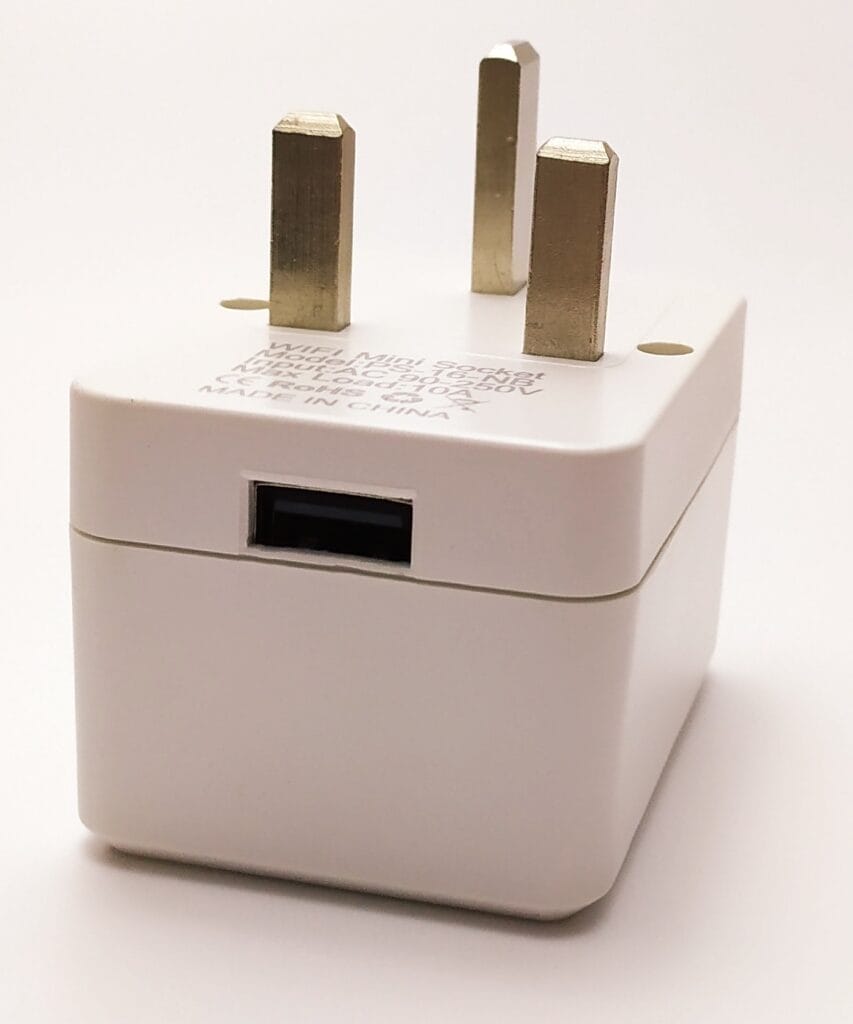 Instantly Illegal.
The first prominent issue that causes concern is the exposed live and neutral pins. This is in breach of BS 1363, a British Standard code for plugs and sockets. And since 1984 it has been a legal requirement for all new plugs to have both the live and neutral pins insulated. But why?
For safety, a person with small fingers such as a child could unplug the plug just enough to get their fingers behind and touch the contacts, whilst it being enough in contact with the wall socket to continue electrical current.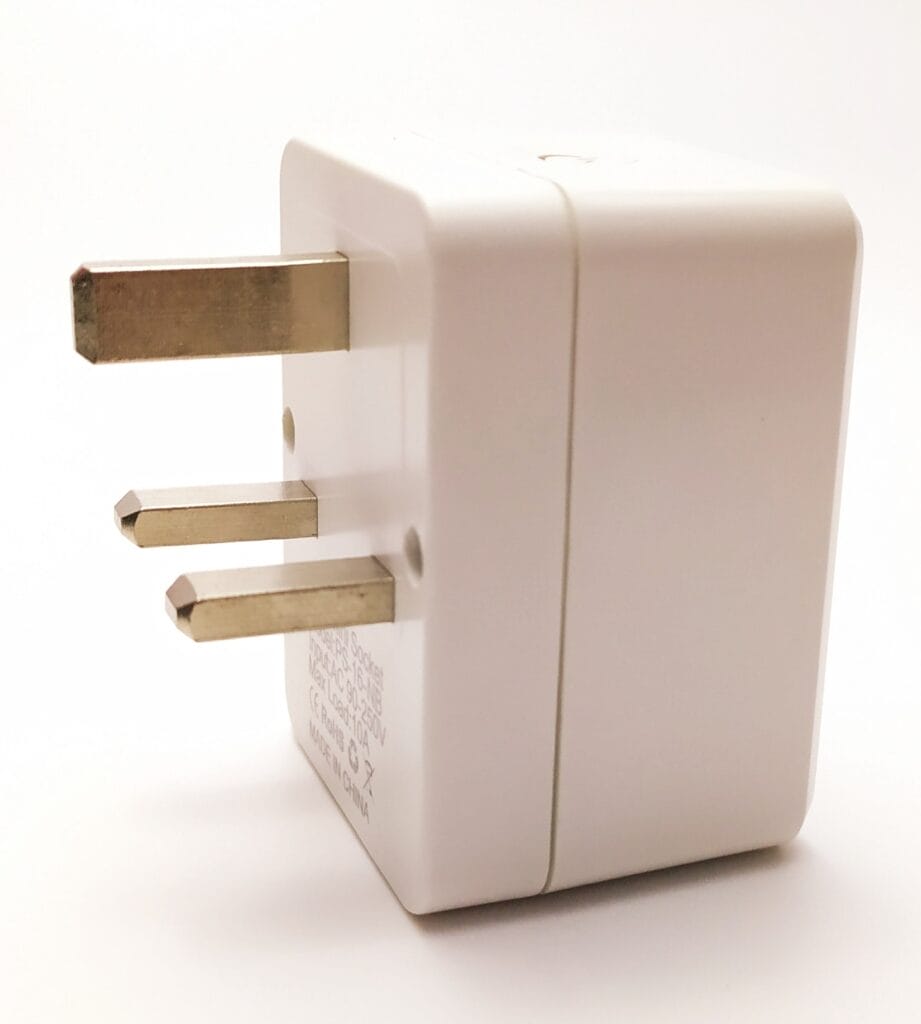 On a safe plug which has insulated pins the electrical current will stop flowing when a plug has been removed and no one can touch the live pin. Check out your BS 1363 plug and you'll see both neutral and live pin is insulated. The earth pin is fine to be left uninstalled.
In the UK, the earth pin (The top longer pin on the plug) and the wall socket are an ingenious design. The earth pin when inserted into the wall will release the live and neutral socket covers.
Inside.
I've decided I'll tear one down so we can see what's inside. Surprisingly, there's a spring-loaded socket cover. The same type as you'd expect from your wall socket.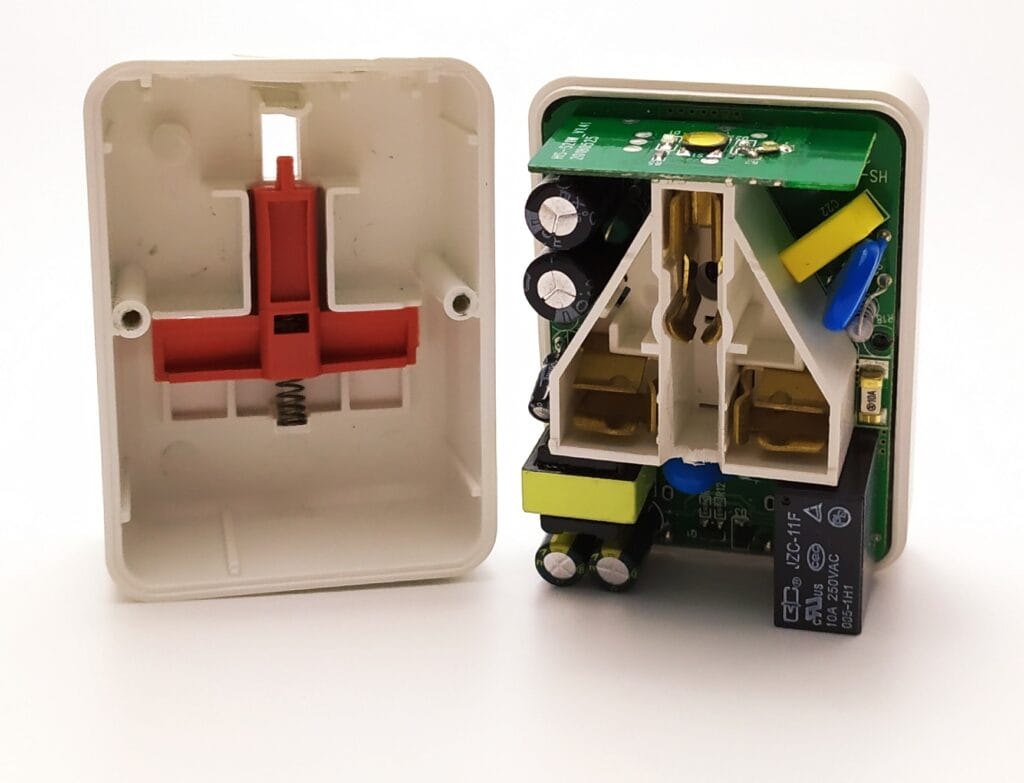 Inside you can see a 10A/250VAC relay, transformer, capacitors, etc and a WiFi receiving board. The brass contacts are shielded from the other electrical components, which is perfectly fine. There'll be no jump of electrical current from the AC to the DC side.
Let's go in further…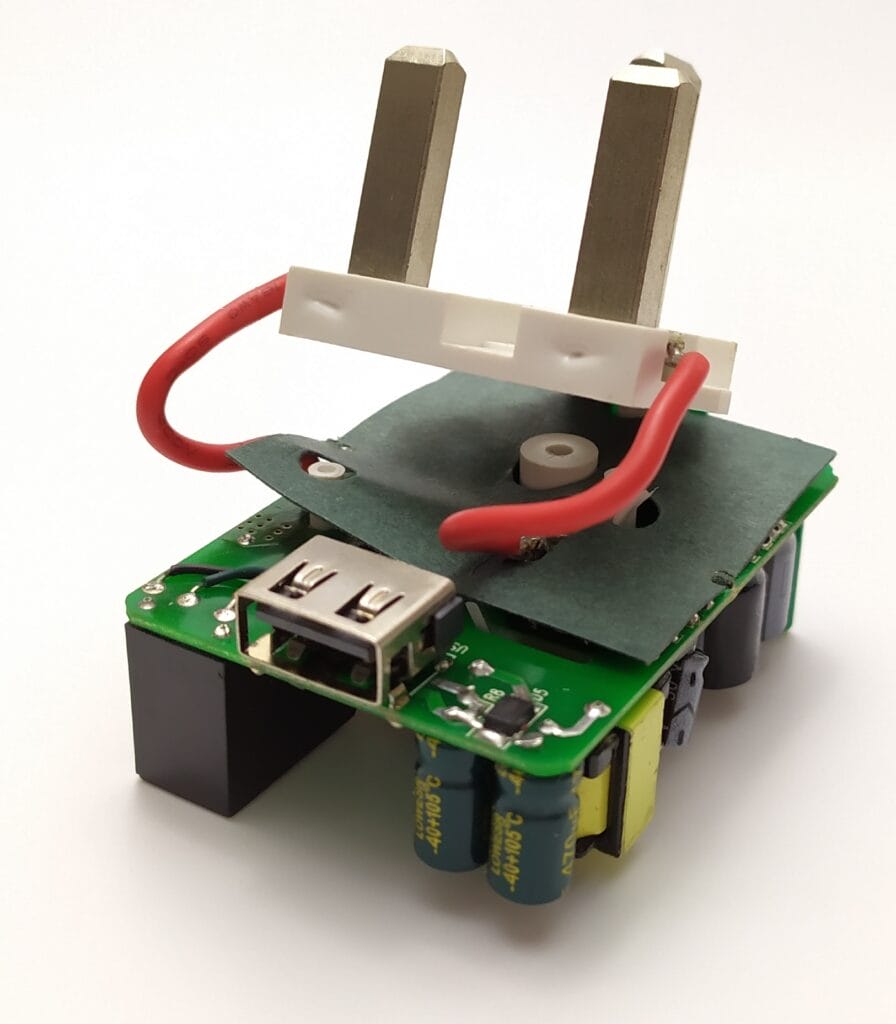 In the above image you can see two stress marks on the plastic. It's worth noting the plastic is very flimsy and can easily break with very minimal force. It's basically crappy and cheap.
If you look closer, you'll see how the cable has been soldered onto the pin, it's attached to a brass plate which is then crimped onto the underside of the pin. The crimp isn't even tight and relies on the outer casing to support it, which as it's very flimsy and of course not support anything.
I managed to get a continuity reading of the earth pin and the earth input, so at least you'll have a continuous earth from wall socket to appliance.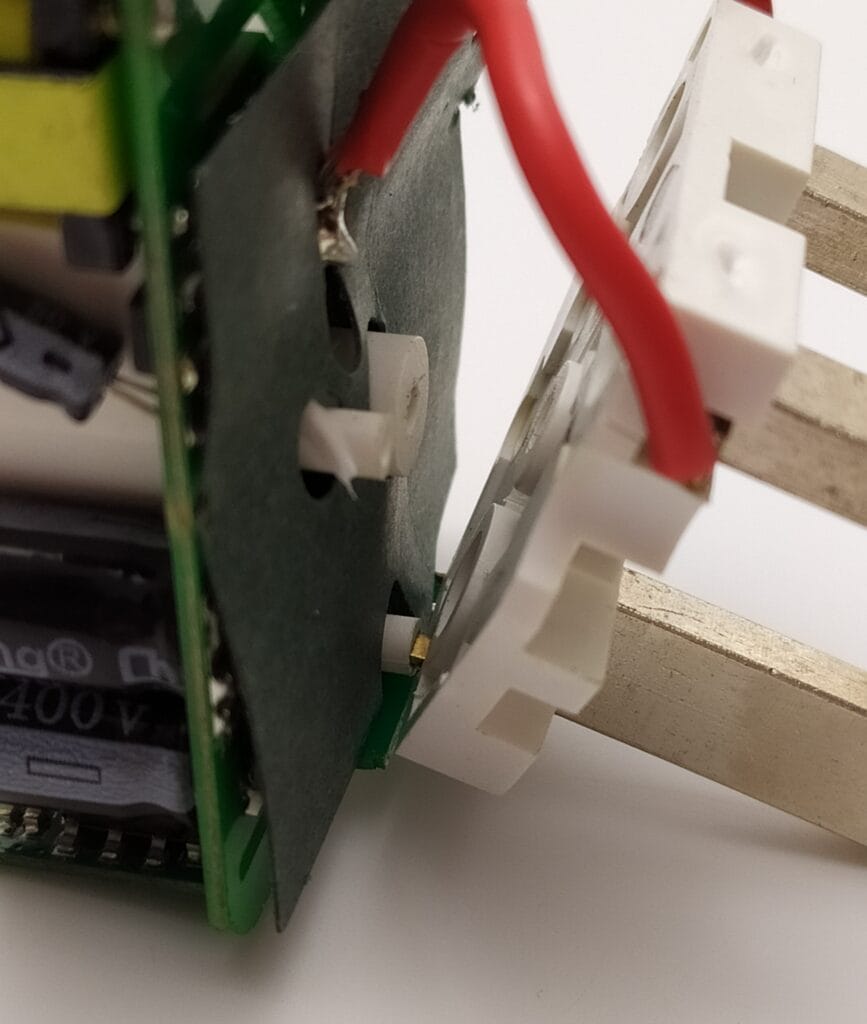 Downloading the app.
I'm going to attempt to download the app that accompanies these plugs, it's called eWeLink and is free to download for both iOS and Android users.

The first you can see is that it's very Chinese, and when you open the app things get a little bit easier to understand. The English is rather good (sort of) and the menus seem easy to navigate. Once registered you'll need to pair the smart plugs to the network. The paper user guide says that you need to download the app, plug in the smart plug, press the button on the plug for 5 seconds (green flashing LED lights will start to blink), go to the app and press the plus (+) symbol. Tap confirm and choose a WiFi for the device (Whatever that means), you then waiting pairing.
But there's a much simpler way.
Plug in the smart plug, press and hold the button for 5 seconds, the green light will flash quite quickly, press the plus icon (+) on the app and choose quick pairing, enter your WiFi password and it'll automatically connect. Simple!
Once paired you're able to turn on/off your plug, rename it, schedule time, set a countdown turn off timer, and even set a loop timer of multiple on/off times.
The app works surprisingly well.
Switching it on/off using the app will instantly alert you to the very noisy clicking sound of the relay, it's very clicky.
USB Outlet.
The Generic PS-16-N Smart Plugs feature a USB power outlet, I plugged in my iPhone 7 and recorded a reading of 4.94V 0.2A. So, it'll take forever to recharge my battery. Basically, it's not much use, you get a standard reading of 1A for Apple Lighting cables, so it's 20% in power in comparison to a standard Apple plug/cable combination.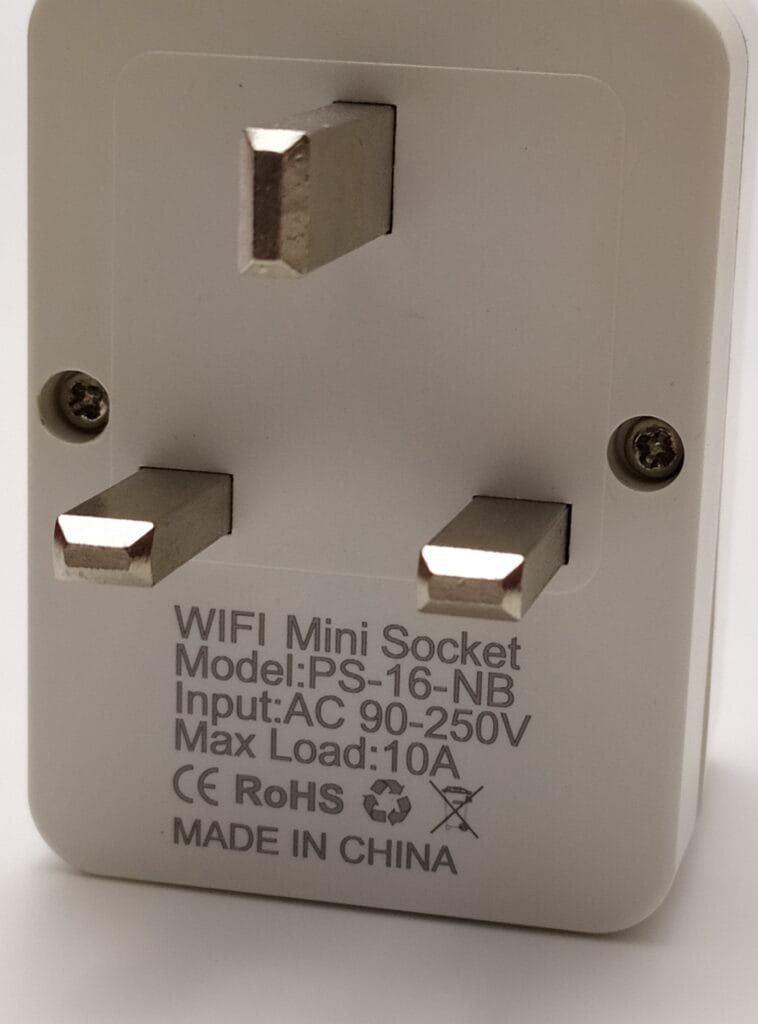 As you can see from the above image, this product is supposed have a CE mark, this must be bollocks. No way, not in a million years.
The plastic is too cheap and flimsy, and I doubt it would withstand any heat dissipation from the electrical components without scorching, misshaping and probable/likely ignition.
Technical Specifications.
Brand: Unknown
Model: Smart WiFi Plug
Manufacturer Code: PS-16-N
Manufacturer Reference: N/A
EAN: N/A
ASIN: N/A
Rated Voltage: 90V-250V AC
Max Current: 10A
Wireless Standard: Wi-Fi 2.4Ghz
Conclusion.
I can't recommend an illegal electrical product, and that's exactly what the Generic PS-16-N Smart Plugs are. They're illegal to be used in the UK. Upon looking through Amazon I've seen a few (well-known brands too) uninsulated pinned plugs for sale. Some have over a 1000 5-star reviews!
Trading standards need to be involved to stop these non-UK approved devices from being sold with the UK.
The app (eWeLink) works very well and can be used for other devices, but I'm sure they'll also be not too pleased to be associated with a horrid, dangerous plug.
If in doubt, check out it before using. Every UK mains powered plug will carry a British Standard Kitemark and usually a BS code too.
Would I recommend the Generic PS-16-N Smart Plugs, no fucking way, throw them away!
Thank you to whoever sent me this for review, I didn't get your name, but I appreciate it.
Product sample provided by a kind person in exchange for a detailed, unbiased review.
---
Thank you for taking the time to read my post. If you'd like to add a comment or thought on this post, please use the section below. I can also be contacted via the online contact form. Please subscribe for the latest reviews, news, and discounts. Please follow My Helpful Hints on Twitter, Instagram & Facebook too!
Generic PS-16-N Smart Plugs