Today I'll be writing about the GlobaLink PD Fast Charger. This twin charging plug features both USB-C and USB-A outlets to accommodate for a huge range of devices.
Included with the charger is a USB-C to Lightning cable, this enables you to quick charge your iPhone. You get 20W of power and it's advertised that you can charge your iPhone 8 from 0% battery level to 50% within 30 minutes.
The GlobaLink PD Fast Charger is also Apple MFI certified too, so you're guaranteed 100% compatibility without the dreaded Accessory Not Supported message on your screen.
You get a built-in intelligent chip that automatically matches the correct current required. You also get over-voltage, over-current, overheating, and short circuit protection and 480Mbps of data transfer rate and charges up to 20W.
So, is this charger any good? Time to test it out!
Packaging and Contents.
The GlobaLink PD Fast Charger comes packaged in white cardboard box and has information printed to the front and reverse. The box measures 11.0cm x 11.5cm x 4.5cm and weighs 157G.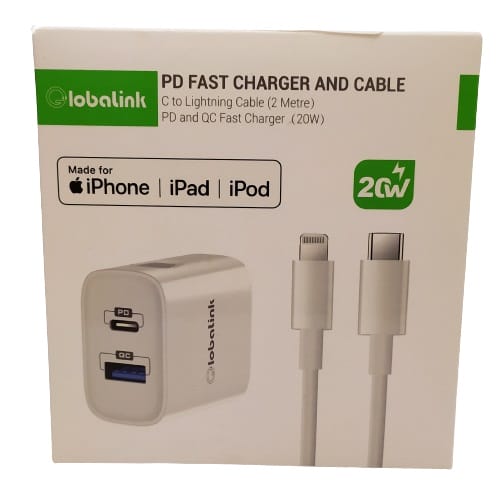 Inside the box you'll find the following: 1x Charger, 1x USB-C/Lightning Cable, 1x Multi-Lingual Specifications Guide.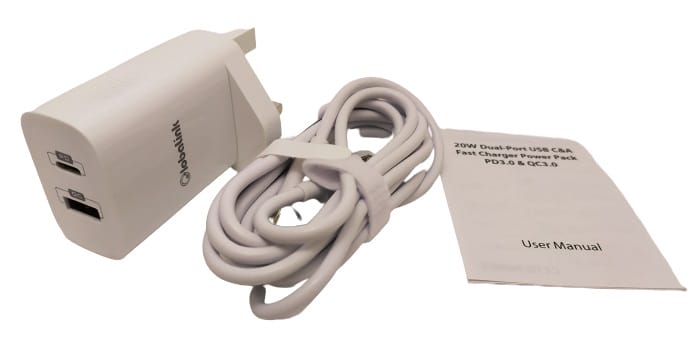 GlobaLink PD Fast Charger.
The GlobaLink PD Fast Charger is white in colour, the plug measures (when plugged into an electrical outlet) 6.0cm x 2.5cm x 4.3cm.
On the top and bottom there's some grooves to aid in grip whilst plugging and unplugging the charger. On the front you'll see both outlet ports.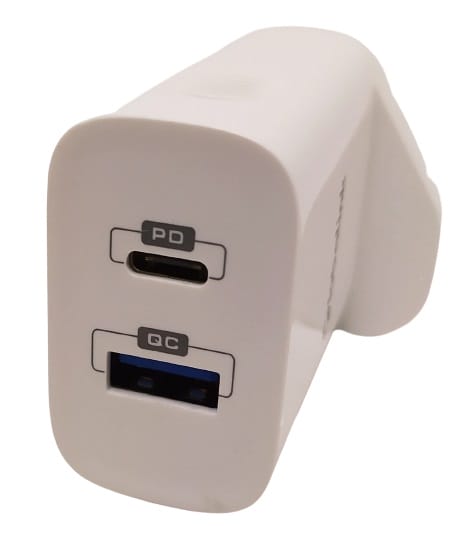 You can use the GlobaLink PD Fast Charger for just about anything that has a USB plug, but more commonly it's perfect for the following list of devices.
| | |
| --- | --- |
| USB-C Fast Charging: | iPhone 12, iPhone 12 mini, iPhone 12 pro, iPhone 12 pro max, iPhone 11, iPhone 11 pro, iPhone 11 pro max, iPhone 8, 8 Plus, X, XS, XR, XS Max, iPhone SE 2020; iPad Pro 10.5; 10,5 Zoll iPad Air3; iPad mini 5 7,9 |
| USB A QC 3.0 Charging: | Samsung Galaxy: Note 20/ 20 Ultra /S20 / S20 + / S10 / S10e / S10 + / S9 / S9 + / S8 / S8 + / S7 Edge / S6 Edge / S6 Edge +; Samsung Others: 10/10+ / 9/8/7/5/4/3 |
| Normal Charging: | This iPhone fast charger is also compatible with iPhone 7 7 Plus, 6 6 Plus, 6s 6s Plus, 5, 5c, 5s, SE, iPad Air, iPad mini, iPad Pro and other Android devices with a USB port charging. |
The USB-A port does not support fast charging like the USB-C port. If both connectors are charging at the same time, the charging speed is reduced to 7.5W.
Testing.
The supplied USB-C to Lighting cable measures 2M in length too, which is great. It's also Apple MFI certified so will work on any Apple device.
GlobaLink PD Fast Charger have a lot of claims, and it wouldn't be fair to leave it at that, so I tested each port, using both an iPhone and Android device. To test I always use my AVHzY CT-2 USB Power Meter Load Tester.
I tested the supplied cable on my iPhone 7 and recorded 5.1V/0.5A/2W but I had to rig up a Frankenstein cable set up (USB-C-USB-C Cable > Then through the AVHzY CT-2 Tester > then out using USB-C to a Lightning cable), so it would naturally add some weird figures.
In comparison I used the same setup but using an original Apple power plug and recorded 5.0V/0.2A/1W. So, it's double the power of a standard Apple plug.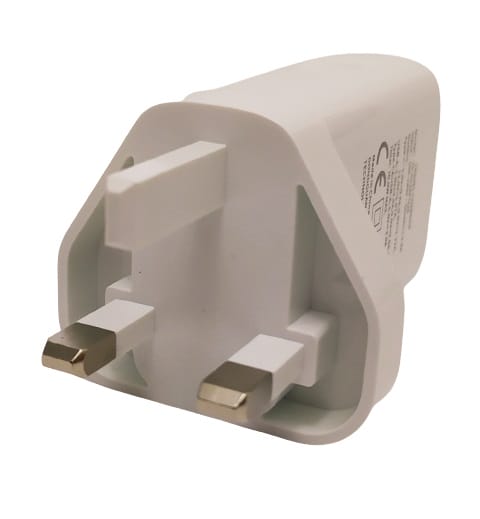 On my Android device I tried both the USB-C and USB-A port. For the USB-C port I recorded 5.6V/1.7A/7W, and for the USB-A port I recorded 5.0V/1.2A/6W.
For one last recording attempt I decided to charge my Srhythm NC35 ANC Headphones which have USB-C charging capabilities, I recorded 5.1V/0.3A/1.6W.
The GlobaLink PD Fast Charger is certainly an improvement on your original Apple plug in terms of power output. I was unable to find a device capable of enabling me to test the advertised 20W output from GlobaLink.
Technical Specifications.
Brand: GlobaLink
Model: PD Fast Charger
Model Code: GL118
EAN: 713101948354
ASIN: B08D76WKYM
Material: PVC (Fire-Proof Level)
Input: 100V – 240V AC ~ 50/60Hz 800mA
Certification: Apple MFI
Compliance: CE Marked, FCC, RoHS
Conclusion.
I like the GlobaLink PD Fast Charger. It seems decent and can at least charge twice as fast as an original Apple charger. You can use it for multiple devices and are able to charge two items simultaneously with ease.
I can't find any issues to be honest and fully recommend this as a great power plug for your home.
If you want the GlobaLink PD Fast Charger for yourself, it's available for purchase only on Amazon. The RRP for this product is £15.99.
Also, get an additional 10% off too when you enter code W3XZ4WRD before 31/12/2022.
Product sample provided by GlobaLink in exchange for a detailed, unbiased review.
---
Thank you for taking the time to read my post. If you'd like to add a comment or thought on this post, please use the section below. I can also be contacted via the online contact form. Please subscribe for the latest reviews, news, and discounts. Please follow My Helpful Hints on Twitter, Instagram & Facebook too!
GlobaLink PD Fast Charger