Today I'll be reviewing the Golf Target Screen Protector.  It's something a little different for review. I do love to mix stuff up, no one wants to be stagnant and boring!
So, what exactly is this gadget? Well, basically if you play (or know someone who does) golf games on your iPhone, you'll know it's bloody difficult to line up an accurate shot. This is where this screen protector comes into play, it has a very feint lined target. Android users don't need this product, you can download an app called Crosshair Hero, it's free and serves the same purpose. The Golf Target Screen Protector is for iPhone users and gives you the same advantage as an Android user.
Not only do you gain a golfing advantage, but you also get a super-tough tempered glass screen protector too.
So, is this gadget any good? Time to test it out!
Packaging and Contents.
The Golf Target Screen Protector comes packaged in small card packaging and has information printed on the front and the reverse. The packaging measures 17.5cm x 9.5cm x 0.5cm and weighs 82G.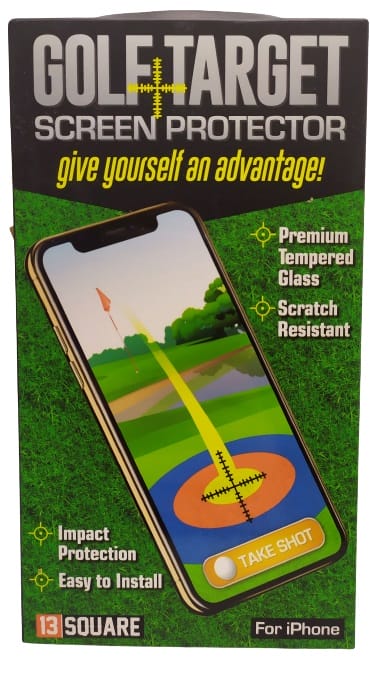 Inside the box you'll find the following: 1x Glass Screen Protector, 1x Alcohol Wipe, 1x Microfibre Cloth, 1x 2x Screen Dust Remover Stickers.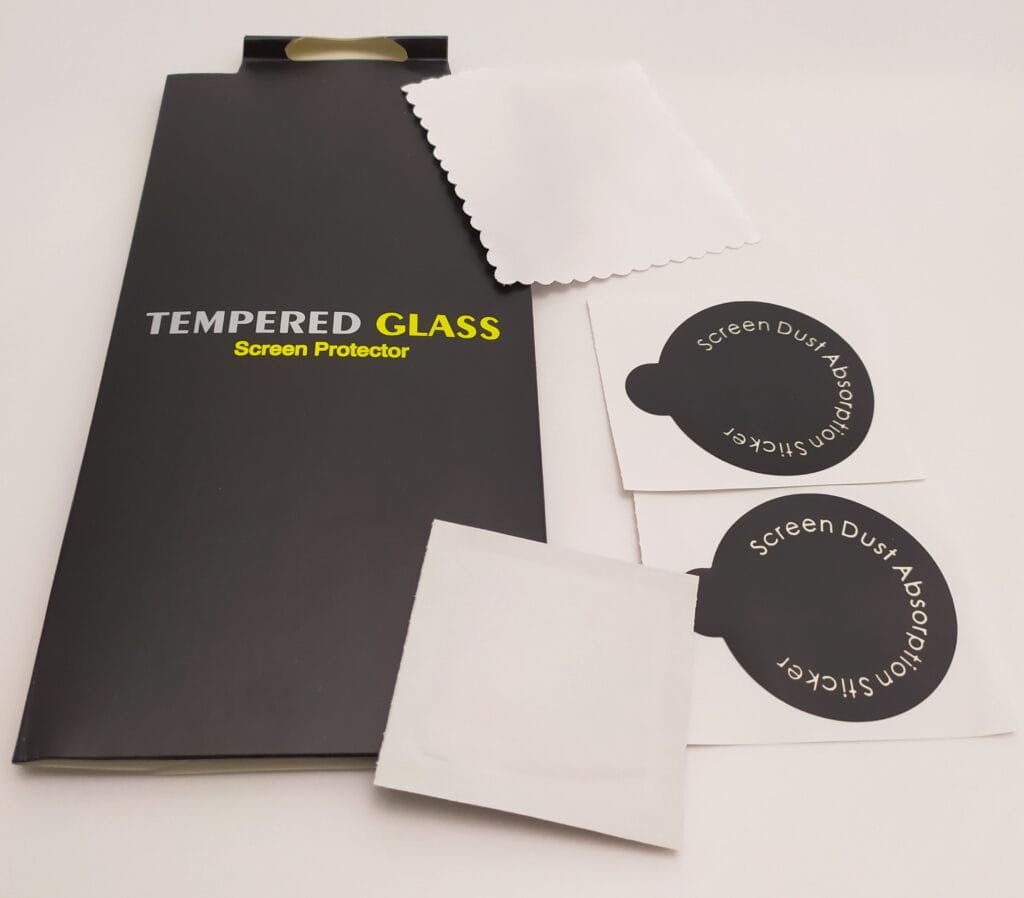 Golf Target Screen Protector.
The Golf Target Screen Protector is quite easy to install, it's available for the following iPhone models:
6, 7, 8, SE
6 Plus, 7 Plus, 8 Plus
XS Max, 11 Pro Max
X, XS, 11 Pro
XR, 11
iPhone 12 Mini
12 Pro Max
12, 12 Pro
To fit the screen protector, you'll need to clean the screen using the alcohol wipe, then dry with the supplied microfibre cloth. The next instruction asks you to use the dust remover stickers to remove fine dust, I found this made things worse, in fact it left behind a tacky area. I had to use the Alcohol wipe again, then buff using the microfibre cloth, this removed all the dust for me.
Next, you'll need to remove the protective strip on the tempered glass itself. I found it easier to remove a small section, place then screen on my phone and then smooth the tempered glass downward whilst removing the strip, ensuring to remove trapped air bubbles in the process. Once fitted the Golf Target Screen Protector fits perfectly on your screen and still enables you to scroll with ease.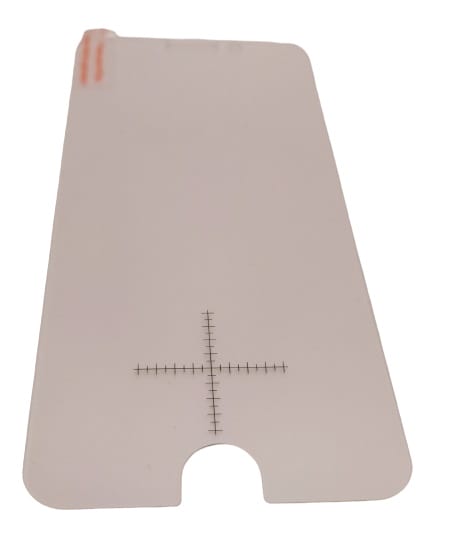 The screen protector is made from lass and is scratch resistant, it also has an anti-fingerprint coating, which is a nice touch. The crosshatch area is finely etched and doesn't interfere with finger movement. Although feint enough to leave on your device, it does become visible on other non-golfing activities, especially a brightly lit screen. Twitter on dark mode for instance doesn't make the target stand out on the screen.
Playing Golf.
After fitment, you'll want to play some games, the Golf Target Screen Protector will work with almost all golfing type games from the AppStore. It gives you the same advantage as Android phone users. So, did it improve my game?
Turns out the answer is no, I was just as useless as before, but that's more to do with my lack of accuracy rather than the screen protector itself. I suppose it helped and I wasn't as bad as I was before, but still shocking.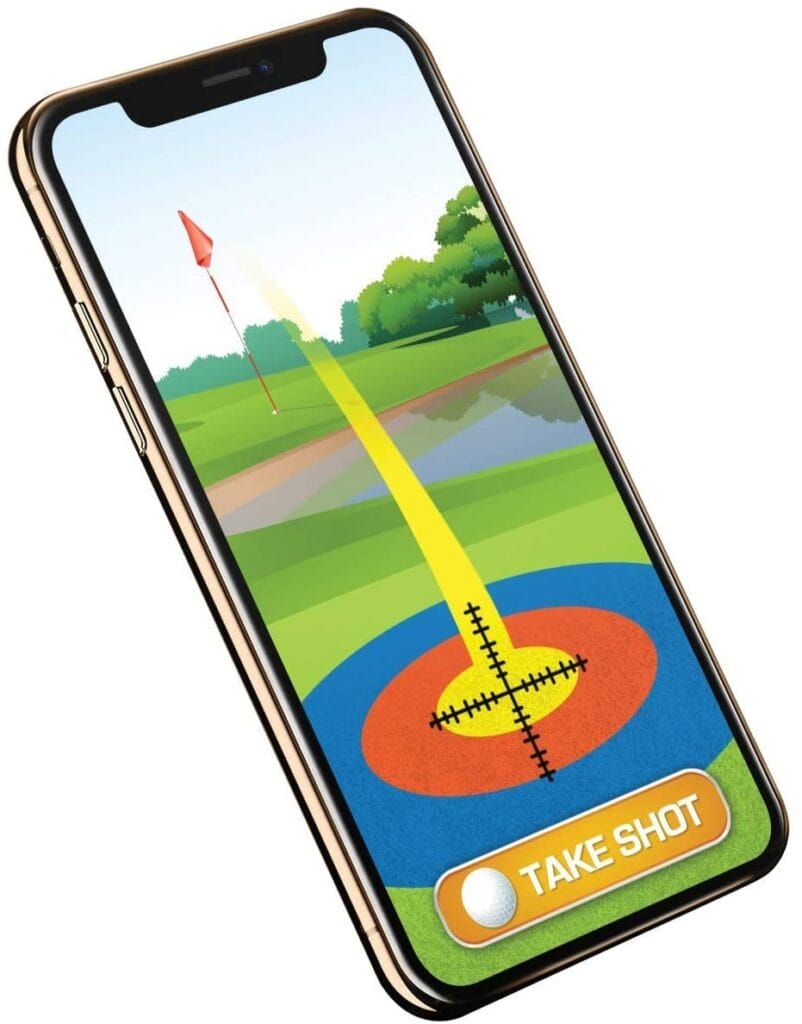 The Golf Target Screen Protector is certainly a unique product, it's one of those products you'll want if you're an avid phone gamer, especially golfing games. I'm not sure if it can be used on any other games to gain an advantage either.
Technical Specifications.
Brand: 13 Square
Model: Golf Target Screen Protector
Model Code: N/A
EAN: 762535174884
ASIN: B08P262WC4
Compliance: N/A
Conclusion.
I surprisingly like the Golf Target Screen Protector. I thought I was going to hate having it on my iPhone, but it's not noticeable when you get used to it. On lighter screened applications it's more noticeable, but it doesn't interfere with your everyday phone use.
The only negative point to mention is the fitment instruction and the supplied dust removal stickers. They aren't needed, and make things worse, you're better off using the wipe and then the cloth only.
If you want the Golf Target Screen Protector for yourself, it's available for purchase only on Amazon. The RRP for this product is £12.99.
Product sample provided by 13 Square in exchange for a detailed, unbiased review.
---
Thank you for taking the time to read my post. If you'd like to add a comment or thought on this post, please use the section below. I can also be contacted via the online contact form. Please subscribe for the latest reviews, news, and discounts. Please follow My Helpful Hints on Twitter, Instagram & Facebook too!
Golf Target Screen Protector