The Oittm Smart Plug connects electrical sockets with your Wi-Fi connection and can control them wirelessly and easily.
The Oittm smart plug allows you to set some timing schedules and be able to turn on/off automatically your lights, electrical heater, air conditioning, TV, and other appliances. It could help you reduce your electricity bill too!
You can easily control your electrical sockets by using the Oittm smart app.
You can also use the plug with Voice Control for Amazon Alexa and Google Assistant to control your electrical sockets with hands-free voice commands.
The Oittm smart plug has internal overload protection that avoids overcharging, and is made from materials that conform to UL94 V-0 standards for flammability.
Retail Packaging.
The Oittm Smart Plug comes packaged in a cardboard box with a product picture sleeve.  The box measures 12.0cm x 12.5cm x 8.0cm and weighs 217g.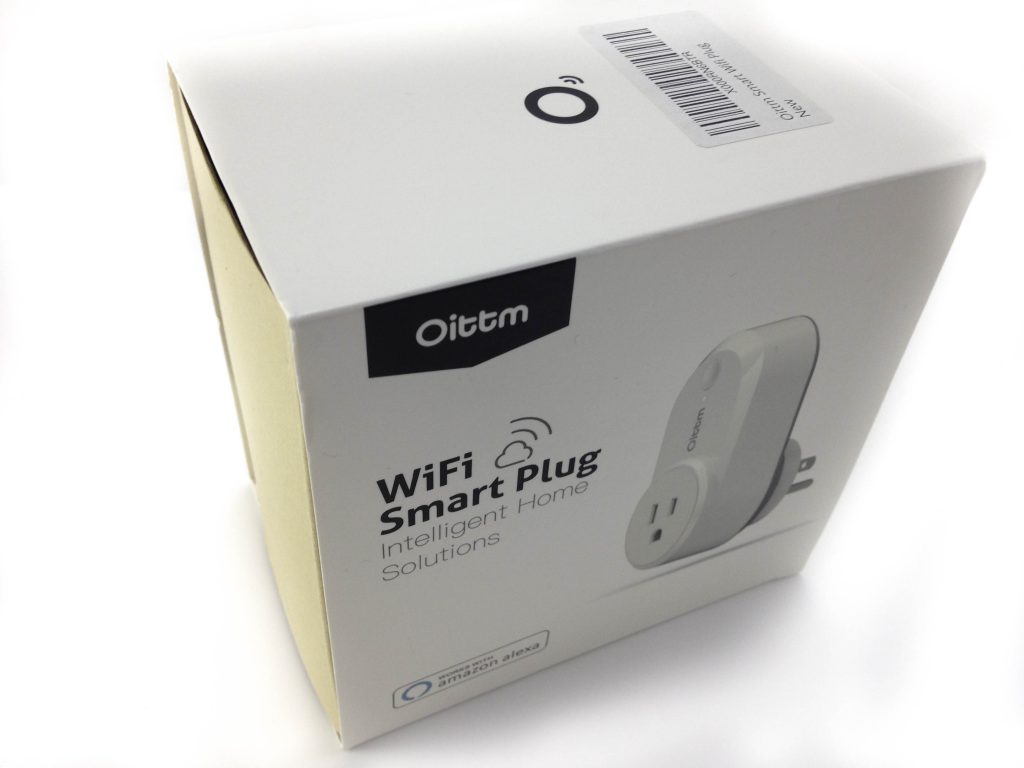 Contents.
Upon opening the Oittm Smart Plug box you will find the following items. 1x Oittm Smart Plug, 1x English Written User Instructions.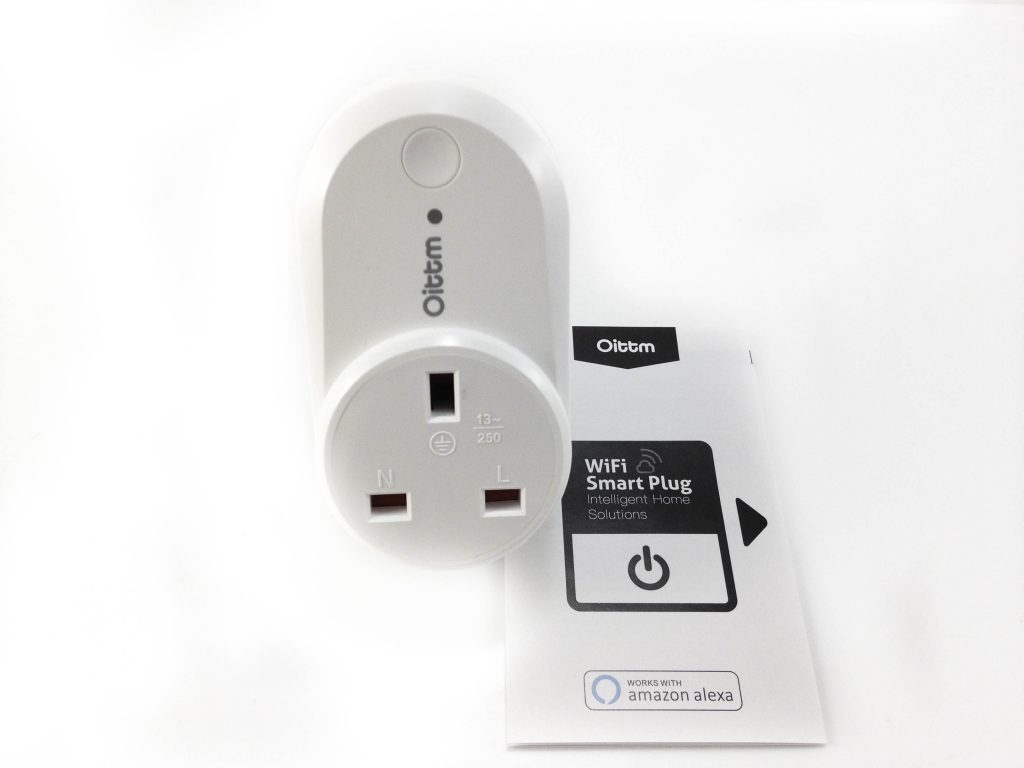 Oittm Smart Plug.
The Oittm Smart Plug is a well-built smart plug that can be used in any UK electrical socket.  The smart plug is White with Grey detailing and measures 9.5cm high x 5.0cm wide and has a depth of 4.0cm when it has been plugged into a socket, it also weighs 105g.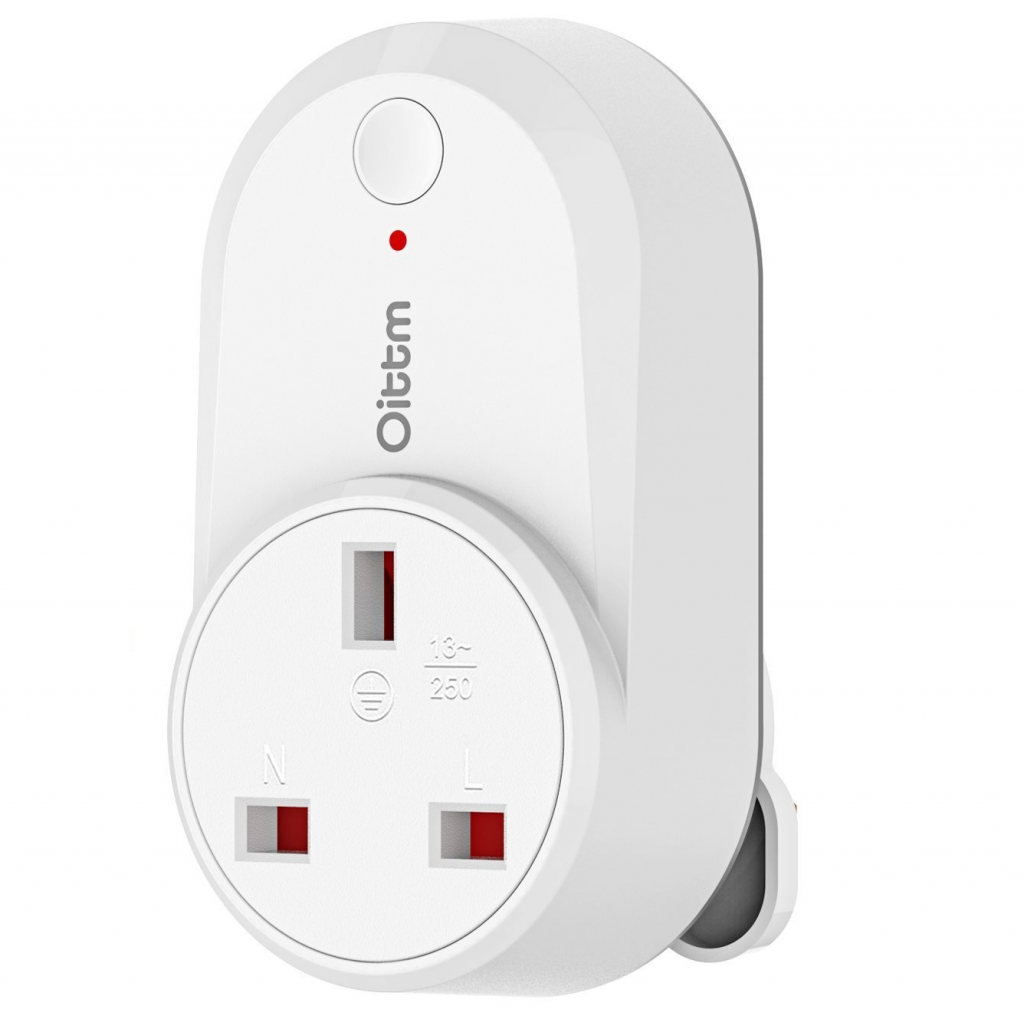 To use the Oittm smart plug the first thing you need to do is download the Smart Life App from the App Store for iOS users or Google Play for Android users.  Search for the Smart Life App and download.
The next stage is to set up an account with your region, mobile number/email and create a password.  A special unique code will be sent to your mobile phone or email, this is needed to be able to log onto the app.
To set up the plug you'll need to plug it into a powered electrical socket and press the power on/off button that is located on the front of the plug for around 5 seconds until the indicator light flashes quickly.
Press the + icon in the top right corner of the app and select the device that you are using.
Ensure the indicator on the front of the smart plug is flashing quickly and then proceed to set-up within the app, next you will need to select local Wi-Fi and enter your router password (Remember passwords are case sensitive).
Await confirmation that the set-up has been completed within the app and you're now connected.
Using the Smart Life App.
You can rename any electrical socket within the Smart Life App, for example if you're trying to control a bedroom lamp, then you can rename the device Bedroom Lamp.  You're also able to set a schedule to switch on/off and have the function of a countdown timer to switch on/off the smart plug.
You can control the smart plug even when you're away from your Wi-Fi connection and the smart plug works via a 3G connection with ease.
The Oittm Wi-Fi Smart Plug also works seamlessly with Amazon Alexa and Google Assistant too!
You can also turn on/off the smart plug without using the app, you just need to simply press the button on the front of the smart plug.
The Oittm Wi-Fi Smart Plug even remembers it's settings when there has been a power cut!
Technical Specifications.
Brand: Oittm
Model: Smart Plug
Model Code: N/A
Colour: White
EAN: N/A
ASIN: B076Z9CLPS
Connection Type: UK 3 Pin Connection
Input Voltage Range: 100-250V
Current: 10A
Input Frequency: 50/60Hz
Output: 90-250V 16A
Max Rating: 2500W
Wi-Fi Standard: Wi-Fi 2.4GHz b/g/n
Wireless Standard: IEEE802.11b/g/n
App Support: Android 4.1 and iOS8.0 or higher
Accreditations: UL94 V-0
Compliance: CE, FCC, RoHS
Conclusion.
I really like the Oittm Smart Plug.  It's very easy to install and use.  In fact, I use it every day to turn off a bed lamp without the need of getting out of bed!  I love the fact that you can purchase more smart plugs and create a network of easy to control appliances.  I highly recommend the Oittm smart plug and I think it's very good value for money too!
If you want the Oittm Smart Plug for yourself, it's available for purchase only on Amazon. The RRP for this product is £10.00
Product sample provided by Oittm in exchange for a detailed, unbiased review.
---
Thank you for taking the time to read my post. If you'd like to add a comment or thought on this post, please use the section below. I can also be contacted via the online contact form. Please subscribe for the latest reviews, news, and discounts. Please follow My Helpful Hints on Twitter, Instagram & Facebook too!