The Mud & Bloom subscription box is a monthly box that encourages you to get outdoors and educate kids about nature and the environment.
Every monthly box has something new to grow, explore and create. The Mud & Bloom box is great for adults and kids aged 3-8.
You don't need a garden, special tools or equipment as everything is provided for you.
Every box also comes with a step-by-step instruction to help you grow and look after your creation.
Is the Mud & Bloom subscription good value for money? What's inside? Time to test it out!
Packaging.
The Mud & Bloom box is completely plastic free and is a Royal Mail Large Letter sized cardboard box. So, you don't have to be into receive your subscription as Royal Mail can simply post your box along with your usual bills, and local double glazing and pizza takeaway leaflets.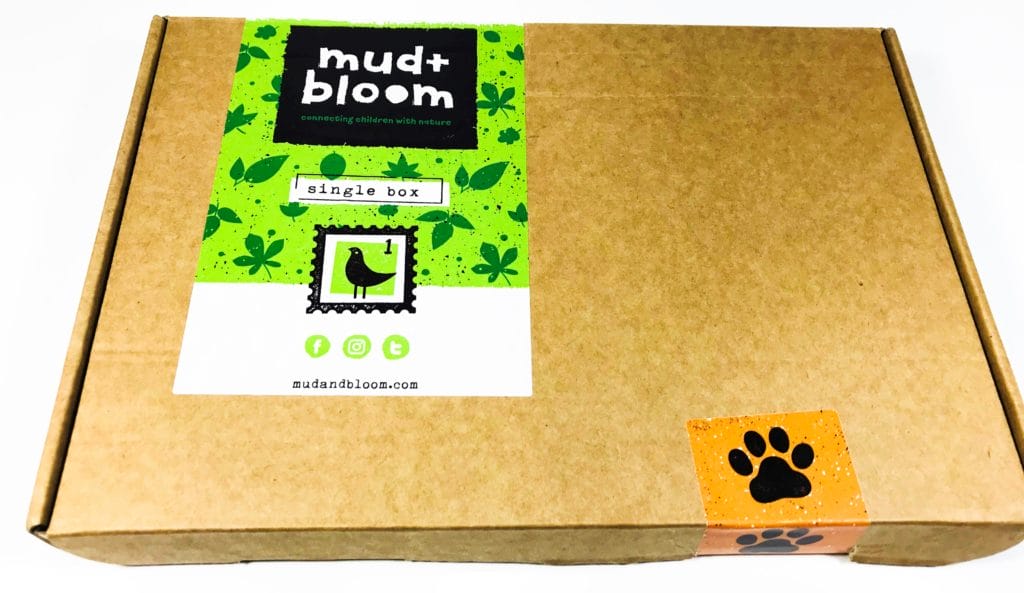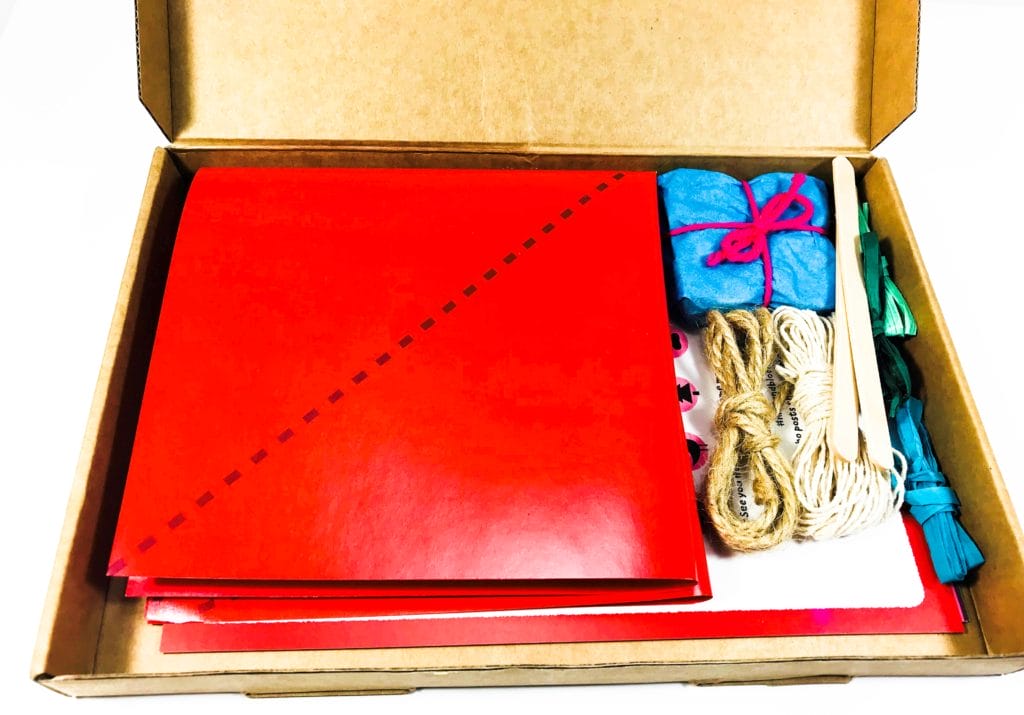 Contents.
Upon opening the box (February 2019) I found I'd been given: Ice Making Decorations, Aubergine Seeds, Cosmos Seeds, 4x Compost Pellets, 2x Lolly Sticks, Kite Kit, Flower Spotter, and a Quiz.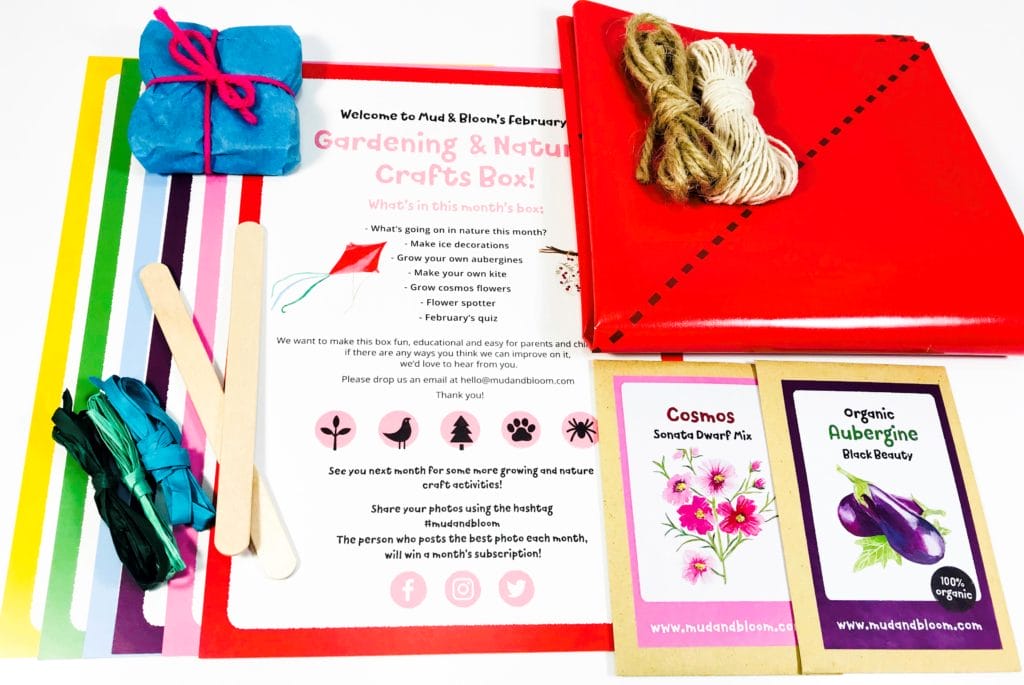 Mud & Bloom.
Mud & Bloom is the creation of Anja Ffrench who in 2018 left full time work and enrolled on an RHS Horticulture Course. The idea for Mud & Bloom came about when Anja noticed a gap in the market for a subscription service that encourage young children to get out and learn about nature and the things around them.
My box is for February 2019 and I have what is known as the single box, suitable for one child. Mud & Bloom also do a Sibling box that is great for families with two children. Each month the seeds, activities and challenges are new.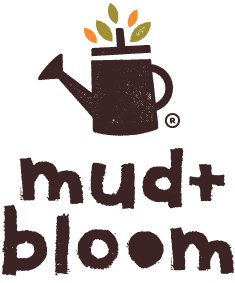 The monthly cost for a Mud & Bloom box is from £9.95 for a single box and from £12.95 for a sibling box, depending on subscription levels. Postage within the UK is also free, and the boxes are available throughout the EU. You can skip a month and can cancel your subscription at any time.
Mud & Bloom try to wherever possible send you items that're completely plastic free and are aiming to be completely plastic free in 2019.
Using the Mud & Bloom Box.
In the box I received (February 2019) you get two packets of seeds, one is for growing your own Aubergines and the other to grow your own Cosmos flowers.
I'm very interested in the growing aspect of the box as being a novice it intrigued me the most. I used bio-degradable pots to plant my Aubergines and Cosmos as I too believe in a plastic-free environment.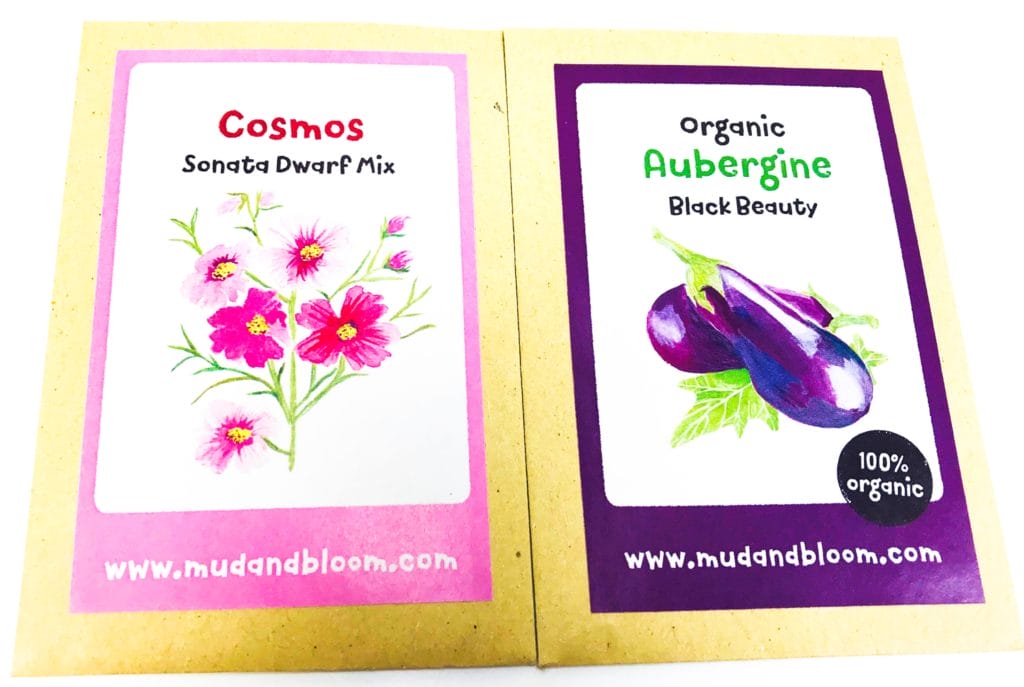 I like how Mud & Bloom have supplied a simply, yet informative step-by-step planting guide. And that's not all, it also tells you when to expect seedlings and how to look after your plants.
Is this subscription box value for money?
I think so, for around a tenner you get a monthly subscription box sent through your letterbox which encourages you and your kids to get involved in nature.
The value of the contents is within keeping of such a price tag, but the price of doing enjoyable activities with your kids is priceless, which is where Mud & Bloom wins every time.
And besides, Mud & Bloom supplied 5 Aubergine seeds, each seed can develop into a plant. Each plant can produce around 3-4 Aubergines. So, you should get at least 15 Aubergines. Tesco currently are selling Aubergines for £0.70 each, so times that by 15 and you get a figure of £10.50, which is more than the subscription box.
Conclusion.
I really like the Mud & Bloom subscription box, I like the concept and the way it's presented too. I'm also very happy about the environmentally friendly approach to both the products and the packaging too.
Overall, I can't fault the Mud & Bloom subscription box, it's affordable, great for kids and every month is completely different.
If you want the Mud & Bloom subscription box for yourself pop over to the Mud & Bloom website.
I've also got a special 15% money off voucher. Simply enter the code MYHELPFULHINTS at the checkout.
Product sample provided by Mud & Bloom in exchange for a detailed, unbiased review.
---
Thank you for taking the time to read my post. If you'd like to add a comment or thought on this post, please use the section below. I can also be contacted via the online contact form. Please subscribe for the latest reviews, news, and discounts. Please follow My Helpful Hints on Twitter, Instagram & Facebook too!