Today I'm excited to be writing a review for Paint Paws, a fabulous small business run by artist Julie Hollinshead. Julie is a talented artist who specialises in pet portraits. I've been in awe at some of her work and was thrilled when Julie approached me asking if I'd like to collaborate on a review. I knew she'd do a lovely picture of Tammy too.
I wanted to be treated the same as everyone else who approaches Julie to get a portrait commissioned. So, my experiences would be the same as anyone else, no special treatment at all.
Julie's artwork has been displayed in several art exhibitions, including the The Menier Gallery in London. Julie has a Diploma (with distinction) for coloured pencil artwork from The London College of Art. You'll also be pleased to hear that Julie also works with paints on canvas too.
Paint Paws Process.
The process of commission is quite simple. Submit a photo, and receive your own portrait, that's it. Julie kindly sends you work in progress images throughout too.
It's advisable to send Julie at Paint Paws a few photographs, she'll then select which one works best to provide you the best results. That's what I did, I sent 12 photos to Julie, she suggested this one below.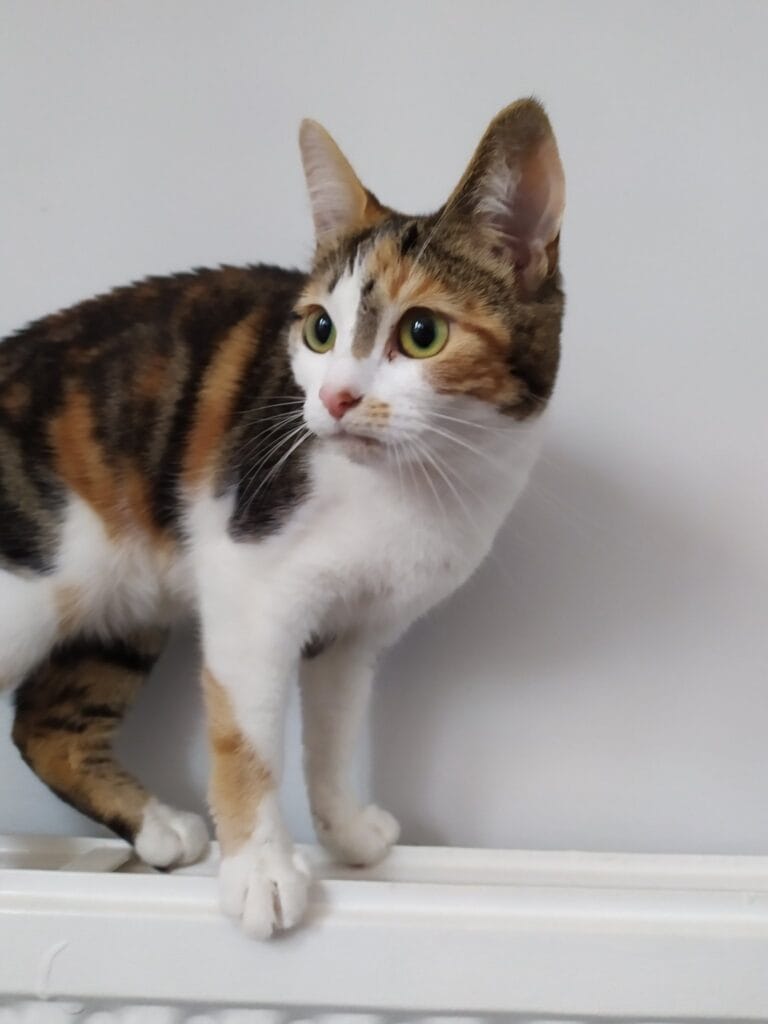 That's Tammy, she's in charge of the My Helpful Hints household, she's nearly 2 (end of this April) and here she is standing on a radiator. It took me several attempts to capture a half-decent image as she's a pain and kept moving all the time. I was relieved when Julie said she could work with at least one of my images too. I dreaded the thought of forever chasing Tammy around trying to capture images that weren't blurry or goofy looking.
The Next Stage.
Julie from Paint Paws uses a variety of tools to produce your artwork. Julie uses Daler Rowney heavy weight fine grain drawing paper and a mixture of Prismacolour, polychromos and Caran D'Ache luminance pencils. It's a mixture of both wax and oil-based pencils. Julie also uses Jaffa Cakes too; this is the most important piece of equipment required for pet portraits.
Soon after Julie sent me my first work in progress, it was Tammy's eyes. I was mesmerised just how well she captured Tammy's eyes. And that little nose… boop!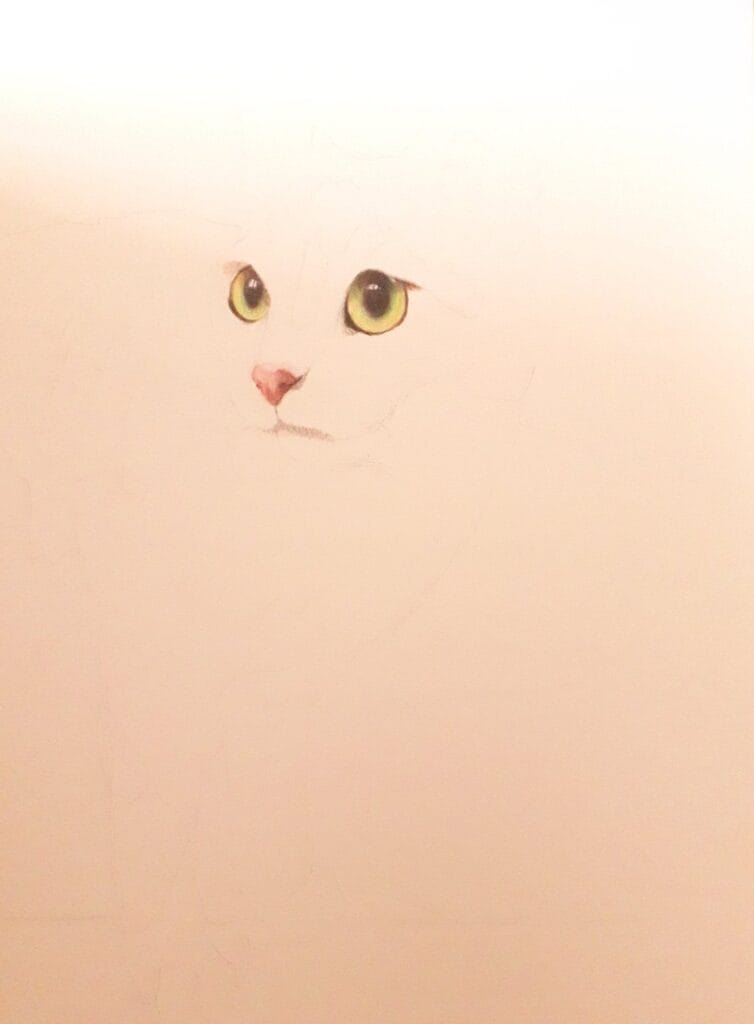 Second WIP.
A couple of days later Julie sent me a second work in progress, this time more of Tammy was visible, with mostly her head complete and the outline of the rest of her body too. I was impressed that Julie had captured Tammy's slight ginger mark above her mouth on the left-hand side.
What impressed me most from this image was Tammy's whiskers, not sure how Julie did it, but you can clearly see Tammy's whiskers standing out from the image.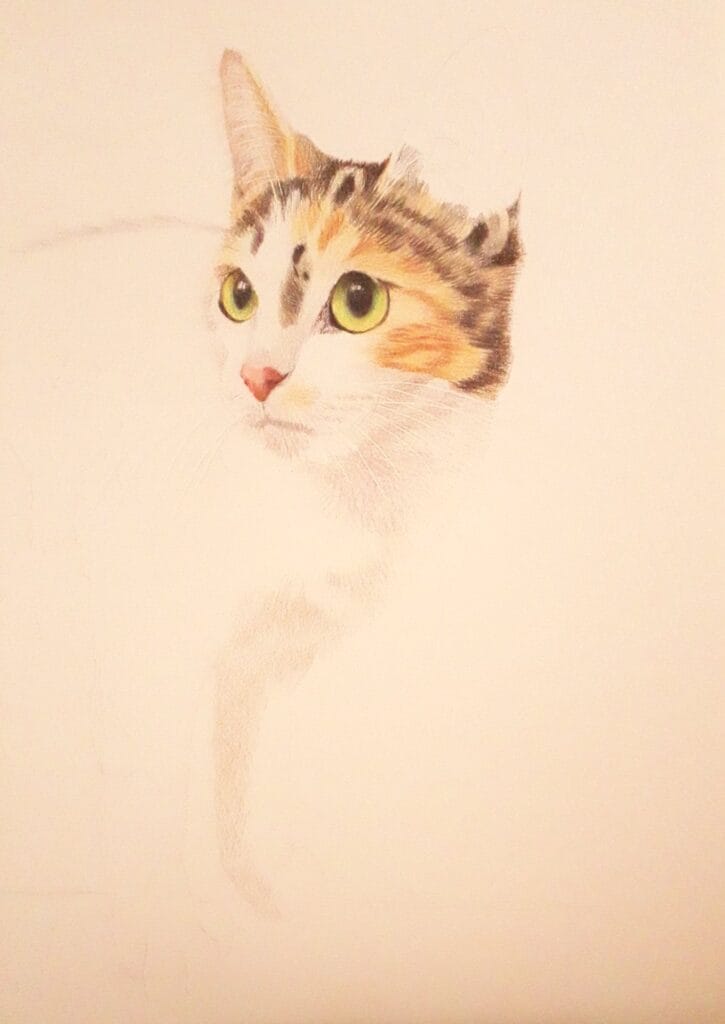 Julie from Paint Paws does generally send another image, but became very immersed in drawing Tammy that she forgot to send another. I was happy with the two work in progress images and was happy with how things were progressing. At any point you can message Julie and she'll accommodate any modification or request. The below image is the final drawing, it's literally an exact replica of Tammy. The picture perfectly captures my photograph, minus the radiator.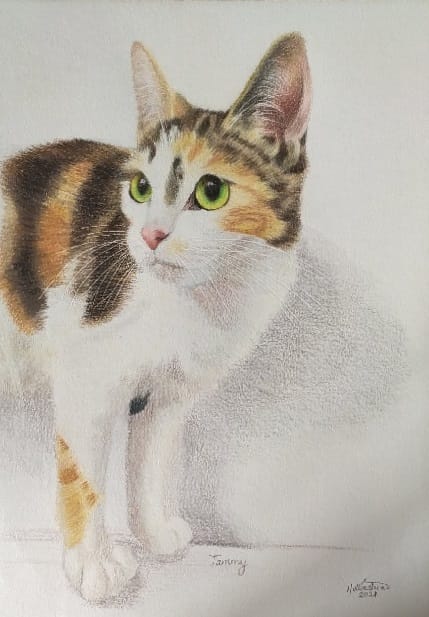 There's some shadow to the image scanned above that's not present in real life. I couldn't get a decent enough scan and that's my bad. The Paint Paws image looks so much better in real life. Without any question, it's Tammy.
Packaging.
Your item arrives heavily protected in both a card envelope, and also a plastic mailing bag, this protects both the structure and water ingress during the postal transit.
Delivery is free.
My portrait arrived in pristine condition.
Technical Specifications.
Brand: Paint Paws
Model: Pet Portrait
Model Code: N/A
EAN: N/A
ASIN: N/A
Compliance: N/A
Conclusion.
I love my pet portrait from Paint Paws. Julie is an amazing and talented artist and is able to bring a photograph to life using coloured pencils. I'm so impressed overall, the whole process is simple too, which is nice.
Paint Paws offer gift vouchers too, this is an ideal birthday or gift idea for a loved one. Prices start from £150 for a an A4 pencil (Like what I have) and go up to according to size and media used.
I cannot fault the whole process, I'm so impressed and Julie is certainly talented.
If you want a Paint Paws pet portrait for yourself, they're available for purchase only on Paint Paws website. The RRP for this portrait is £150.00.
Product sample provided by Paint Paws in exchange for a detailed, unbiased review.
---
Thank you for taking the time to read my post. If you'd like to add a comment or thought on this post, please use the section below. I can also be contacted via the online contact form. Please subscribe for the latest reviews, news, and discounts. Please follow My Helpful Hints on Twitter, Instagram & Facebook too!