Today I'll be reviewing these Butterfly Garden Solar Lights from TekHome. You get a set of three fibre-optic-coloured butterflies with LED stems, suitable for outdoor use.
Each butterfly cycles through 7 different coloured light colours, with plenty of blended colours in between too.
You'll be pleased to hear each light is IP65 waterproof rated. So, ideal for outdoor moisture, including and rain and snow.
But are these lights any good? Time to test them out!
Packaging and Contents.
The Butterfly Garden Solar Lights come packaged in a plain looking brown cardboard box. The box measures 41.5cm x 11.0cm x 8.5cm and weighs 450G.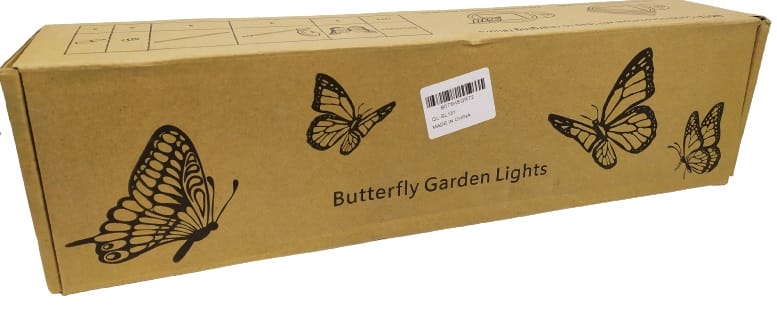 Inside the box you'll find the following: 3x Butterflies, 3x Stems, 3x Solar Panel Sections, 3x Silicone Connectors, and 3x Ground Spikes.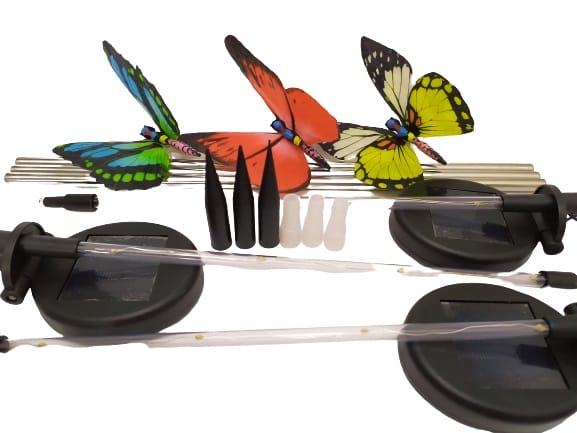 Butterfly Garden Solar Lights.
The Butterfly Garden Solar Lights are made from plastic, each one measures 9.0cm x 10.0cm and features a fibre-optic underside. There're two colour pack colour choices available. Purple, Blue, and Yellow, or the pack I have of Red, Blue and Yellow.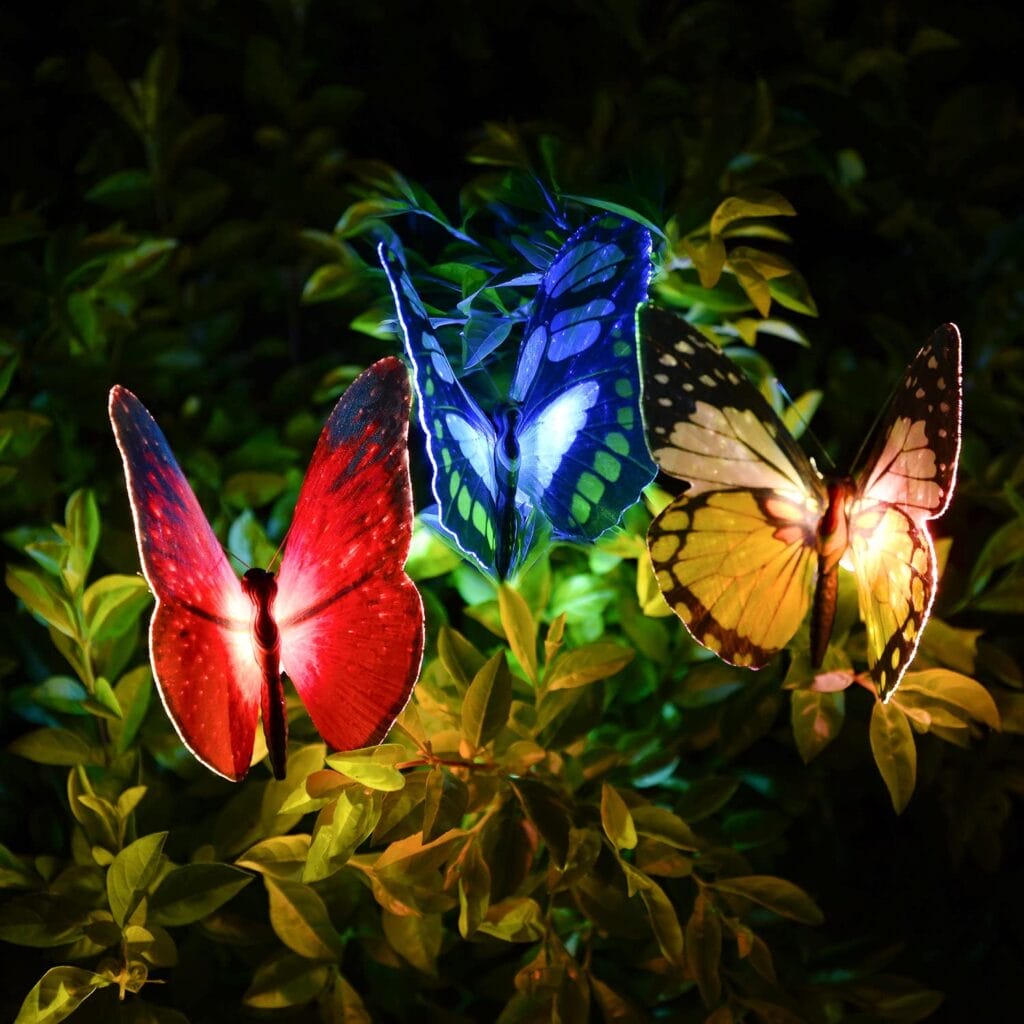 To build you need to attach the silicone connector to the butterfly, and then slide that onto the LED stem. Next, you attach the steel stems onto the underside of the solar panel section, and then attach the plastic spike to the bottom. The complete height from floor spike to the tip of the butterfly is 87.0cm.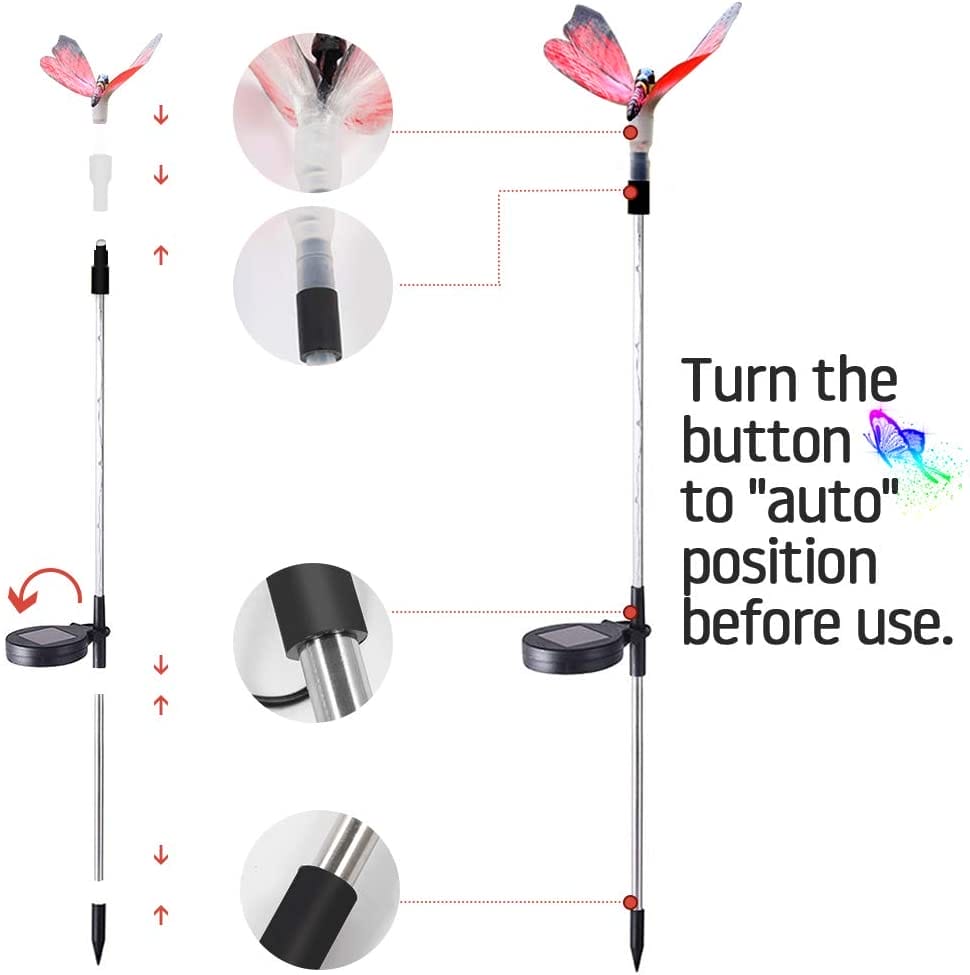 The solar panel area measures 4.5cm x 4.5cm and features a single replaceable Ni-MH AA sized 600mAh 1.2V rechargeable battery.
To ensure Butterfly Garden Solar Lights correctly work, you need to switch them on to the auto position. This is located on the underside of the solar panel.
Technical Specifications.
Brand: TekHome
Model: Butterfly Garden Solar Lights
Model Code: QL-SL131
EAN: N/A
ASIN: B08TBT86BD
Compliance: CE Marked, FCC, RoHS
Conclusion.
I like these Butterfly Garden Solar Lights from TekHome. They're bright, colourful and work incredibly well. The only downside is the awkward way you must push together each section, it takes some effort to achieve. Once down though, it's an impressive garden light.
The solar panel rechargeable area works well too, usually these things are a bit naff. It automatically turns each butterfly on and off too.
They light up well, look pretty and are affordable. What's not to love.
If you want the Butterfly Garden Solar Lights for yourself, they're available for purchase only on Amazon. The RRP for this product is £23.99.
Product sample provided by TekHome in exchange for a detailed, unbiased review.
---
Thank you for taking the time to read my post. If you'd like to add a comment or thought on this post, please use the section below. I can also be contacted via the online contact form. Please subscribe for the latest reviews, news, and discounts. Please follow My Helpful Hints on Twitter, Instagram & Facebook too!
Butterfly Garden Solar Lights