Today I'll be writing about Natura Emporium. A small business run by Dr Nichola Cosgrove, who set up a natural, vegan and cruelty free business in Northern France. Dr Nichola, a British national moved to France with her partner and has 2 daughters, one of whom became the reason for Natura Emporium to begin trading. Dr Nichola's eldest daughter developed horrific eczema and allergies, which led to a scary anaphylactic episode. It was at this moment that something had to be done, the treatments the doctors were suggesting were the same as Dr Nichola herself had been using 20 years previously. Nothing had changed in the industry over these years.
So, with her chemical and pharmaceutical background (1:1 BSc (Hons) Pharmaceutical Science and PhD Chemist), Dr Nichola had the knowledge and expertise to do something to help her daughter. Although Dr Nichola had expertise in artificial chemicals, she was a huge believer in using nature to heal.
Natura Emporium.
These days Dr Nichola's daughter is doing much better, thanks to her magic blends. Natura Emporium was then set up to provide the same level of natural healing to others in the same position.
Today, Natura Emporium has over 120 products, ranging from lotions, potions, and various skin blends. It's worth pointing out at this point that for today's review, I purchased two products, both have been thoroughly tested over a period of around 6 months.
Why? Well truthfully when I saw posts on social media from Natura Emporium with claims of treating a wide range of conditions, I naturally called bullshit on it. Despite many people telling me to purchase some items, I wasn't convinced. I am a sceptic, and it takes a lot to convince me that my initial response is wrong.
I bought two items, one being headache roll on, the other a decongestant cream. The headache roll on is one of the products I was most intrigued about. I couldn't see how a liquid, non-medicated roll on could do anything.
Ready for the proper review? Let's roll!
Packaging and Contents.
The Natura Emporium come packed in plastic-free packaging. They arrive via international post, the international postage is incredibly affordable, and heavily subsided by Natura Emporium. Within a few days each order arrived, I did order separately over a period of a few weeks, and each time delivery was fast. There's no fancy packaging.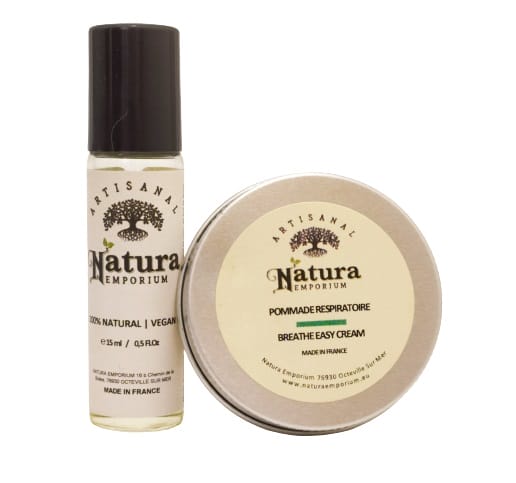 I will write a separate, more in-depth review for each product below. Each product is made recyclable materials, and each features dual English/French literature. You'll also find a nice hand-written note with each order too, it's a lovely personal touch with each order.
Headache Roll On.
I don't suffer from headaches (luckily), but my partner does. These headaches are so bad that usually they lead to dizziness and nausea. She must medicate using paracetamol, and even has prescribed medication too. These medicines are hit and miss, sometimes they work, sometimes they don't.
So, the Natura Emporium headache roll on would be the ultimate test, especially as my partner is a non-believer in natural medicine. The Natura Emporium headache roll on is 100% natural and made from a blend of essential oils. The glass bottle contains 15ml of solution. In over 6 months of use (frequent too) barely 1/3 of the bottle has been used.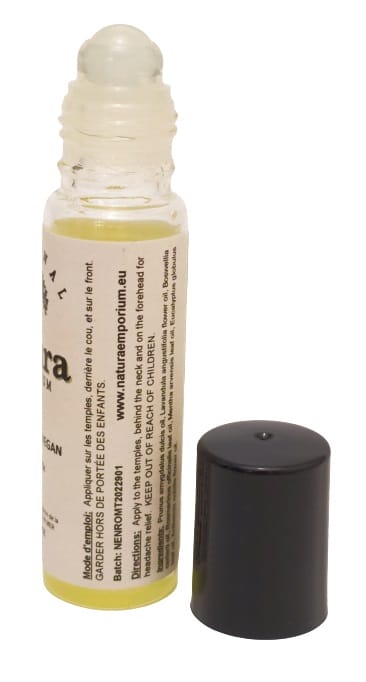 To use you simply roll onto your temple area, forehead and behind the neck.
Once it's on, it can diffuse a building headache, it can't treat on its own a full-blown headache for my partner, but it certainly helps. She loves it as it's an additional tool in her army to beating headaches. With solely medication on its own she still has headache.
When she uses a combination of both the Natura Emporium headache roll on and medication, she beats a headache. If used quick enough, she doesn't require medication. She's glad to of discovered something to assist her. Natura Emporium also has a covert too, my partner will purchase this for life. It's small enough to keep handy with you too, it's about the size of a lipstick, so easy to carry. It also smells pleasant too.
Decongestant Cream.
Now it's my turn. I have Asthma, I've had this condition since birth, hospital trips, medications, injections become my normality. Any cold or illness, and it could get bad for me. Even a common cold is a lottery of a chest infection, so clearing my airways and lungs is a must. I'm not going to go into details as it's fucking gross, but it's a must.
I've used the usual well-known branded decongestant for many years, it's nasty and greasy, it also stings my eyes like a bitch. I hate it, fucking loathe it in fact. But it's all I could use, along with steroids and inhalers. So, when I saw the Natura Emporium being advertised by Dr Nichola, I was like, I'd try that!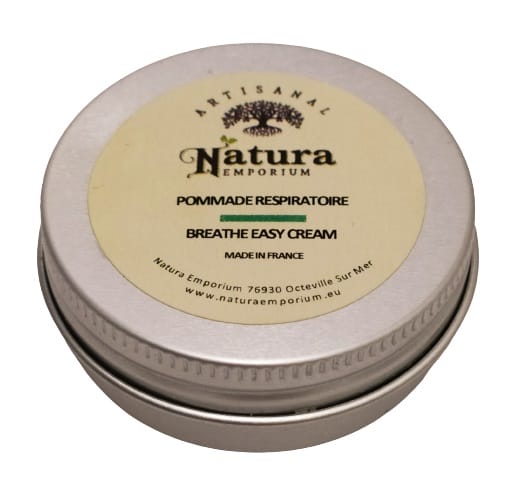 The tin contains 30G of natural ingredients. The tin also features some knurling to the outer rim area, this ideal to grip. I love the texture; it reminds me of butter cream. Dr Nichola has since informed me that she's improved this formula too. It now has less water and will last even longer. I've also been using this product for a few months, and hardly used any to be fair.
Does it work? It most certainly does, it smells wonderful, doesn't sting my eyes, and most importantly, it allows me to breath. During the winter I was using the Natura Emporium decongestant cream whenever I felt ill. I'm extremely impressed, it works!
Technical Specifications.
Brand: Natura Emporium
Model: Headache Roll On & Decongestant Cream
Model Code: N/A
EAN: N/A
ASIN: N/A
Compliance: N/A
Conclusion.
The products from Natura Emporium work. I kinder feel bad for calling bullshit before trying Dr Nichola's products now, I'm so sceptical of too good to be true claims, especially medical based claims. I know for a fact that as a household we'll be purchasing Natura Emporium products to treat a whole host of allergies and treatments.
They're great, affordable, natural, and WORK!
I can't recommend each of these products enough.
To purchase the headache roll on click here. Product Price £13.03
To purchase the decongestant cream click here. Product Price £9.23
If you want to see the whole range of Natura Emporium products for yourself, they're available for purchase only on Etsy.
---
Thank you for taking the time to read my post. If you'd like to add a comment or thought on this post, please use the section below. I can also be contacted via the online contact form. Please subscribe for the latest reviews, news, and discounts. Please follow My Helpful Hints on Twitter, Instagram & Facebook too!