It's a small business review today, and I'll be reviewing for Felixstowe Home & Honey. This business was set up in August 2020 by Janice and Philip Hills.
Both have kept bees for over 25 years, boredom crept in after retirement at the youthful age of 60, and with an accumulation of beeswax, Felixstowe Home & Honey was created.
Since conception, the business has increased its product range to include moisturisers, balms, candles, leather balms, and furniture polish. All products are handmade from their garden in Suffolk.
An additional 8 hives are planned for Spring 2021, this will maintain beeswax stocks, and double honey production. Aside from beekeeping, Phil is a Reiki master and teaches the alternative Japanese energy healing practice. With that in mind, Felixstowe Home & Honey plan to bring out a new range of healing candles very soon.
No product is tested on animals.
Today, I'll be reviewing a face and body moisturiser.
Time to test it out!
Packaging and Contents.
The Felixstowe Home & Honey face and body moisturiser comes packaged in a small cardboard box, with eco-friendly tissue paper and packed with paper.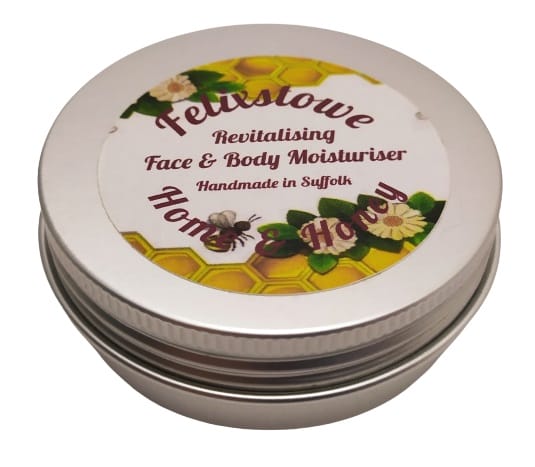 Inside the box I received a metal screw closure tin, the tin measures 6.5cm x 2.3cm and weighs 65G, with 60G of that being product weight.
You get a knurled rim, which helps open and most importantly close the lid upon taking some moisturiser.
When I received the moisturiser, it was a frozen block, due to the cold temperatures during the postage system. It had turned to a solid block resembling shoe polish. So, if you order during the winter months, you'll need to allow some time for the moisturiser to get back to room temperature. Thankfully, there're wasn't any separation and once acclimatised to room temperature the consistency was smooth, and moisturiser like.
Using the Moisturiser.
The Felixstowe Home & Honey face and body moisturiser can be used all over your body, feet, hands, face, lips, everywhere!
The ingredients of the moisturiser are as follows:
Beeswax, Cocoa Butter, Coconut Oil, Jojoba Oil, and Lavender Oil.
I really like Lavender scented products, so I was pleased that Lavender is the more dominant scent of this moisturiser.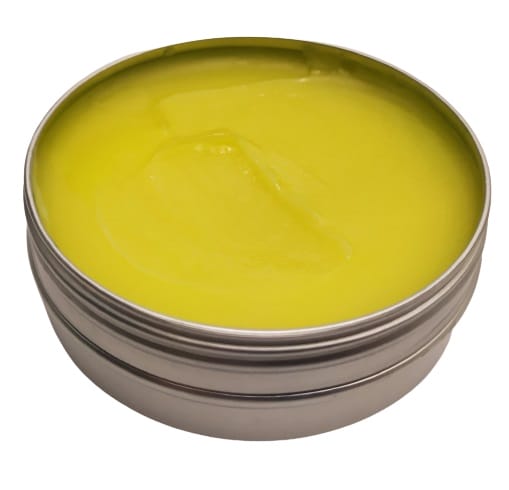 It also has a lovely yellow colour to it, looks very natural, which is reassuring, as the product contains no artificial colours preservatives, or fragrance oils.
You only need a minimal amount on your skin, and I mean a ridiculously small amount. High absorption is advertised on the Felixstowe Home & Honey website, but unfortunately this isn't the case. In fact, after an hour my skin was still wet and had an oily sheen to it, despite only using a tiny amount. I had to mop my skin with a paper towel to remove the excess oil.
Once the excess was mopped up, in fairness my skin did feel soft. In fact, I had some dry skin on my left hand on the knuckle area. I had some steroid cream last year to help, which it didn't!
But the Felixstowe Home & Honey face and body moisturiser did remove this.
I found if I used the moisturiser as a spot area moisturiser it works best.
Technical Specifications.
Brand: Felixstowe Home & Honey
Model: Face and Body Moisturiser
Model Code: N/A
EAN: N/A
ASIN: N/A
Compliance: N/A
Conclusion.
The Felixstowe Home & Honey face and body moisturiser works well. It certainly removed my annoying knuckle dry skin and smells wonderful too.
The downside is the non-absorption. I also tried after a hot bath too, and still it sat there on the skin and wouldn't absorb.
I think personally this stuff is brilliant to be used a spot area moisturiser. Locate some dry skin and dab a little of this stuff on it and it'll clear right up.
As you need only an exceedingly small amount, it'll last a long time too, bargain at £10 a tin too.
If you want Felixstowe Home & Honey face and body moisturiser for yourself, it's available for purchase only on the Felixstowe Home & Honey website. The RRP for this product is £10.00.
Product sample provided by Felixstowe Home & Honey in exchange for a detailed, unbiased review.
---
Thank you for taking the time to read my post. If you'd like to add a comment or thought on this post, please use the section below. I can also be contacted via the online contact form. Please subscribe for the latest reviews, news, and discounts. Please follow My Helpful Hints on Twitter, Instagram & Facebook too!