Today I'll be writing about the CreateEngland Letter Catcher. CreateEngland is owned and ran by sewing supremo Andy from Lincolnshire, UK. This small business first started in 2019 and has since grown to include multiple fabric related products. CreateEngland's current product range includes hair scrunches, shopping bags, door stops and letter catchers, which is what I'm reviewing today.
So, what is a letter catcher? It's a simple, fabric bag that goes over your letterbox and holds your post, bills, junk mail and local pizza delivery leaflets.
CreateEngland have over 30 designs to choose from, so there's a letter catcher for everyone, each is handmade and made to order by Andy. I received Pug designed letter catcher because who doesn't love a Pug?
So, how did I get on? Time to test it out!
Packaging and Contents.
The CreateEngland Letter Catcher comes in a Large Letter sized cardboard box with no plastic in sight. Bonus points straight away. When you first open the box you'll see a neatly folded letter catcher wrapped in recyclable tissue paper.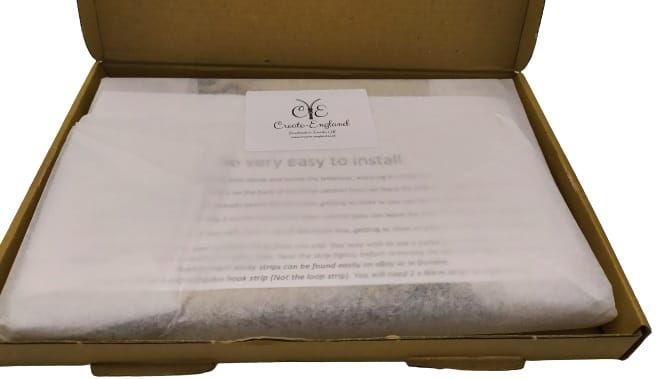 Inside the box you'll find the following: 1x Letter Catcher, and 1x Instruction Sheet. That's not all, Andy also includes a thank you note, but not only for his business, but to support other small businesses too.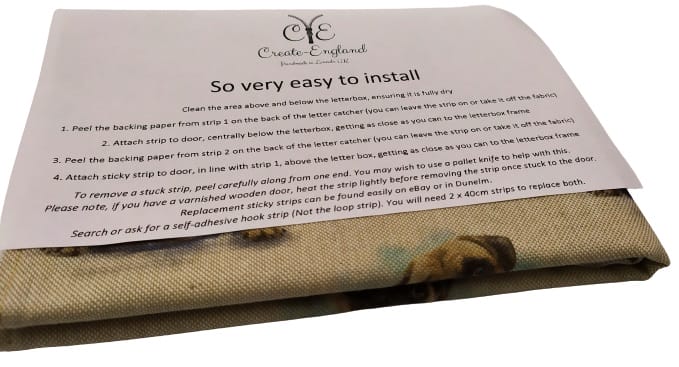 CreateEngland Letter Catcher.
The CreateEngland Letter Catcher is made from cotton polyester and comes with the Velcro strips pre-attached for ease. The external measurements are 41.0cm wide x 41.0cm in height and is beautifully stitched, I couldn't locate one wonky stitch or line.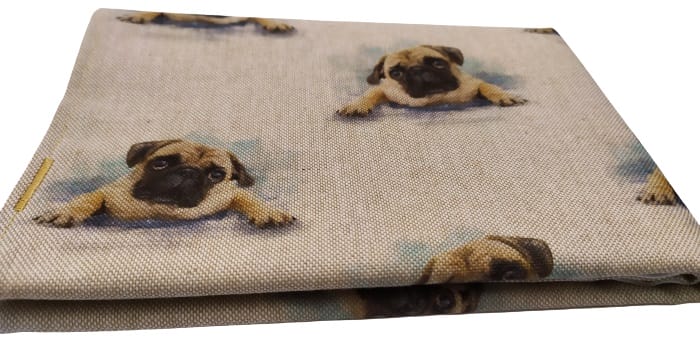 The Pugs also align up all the way down, it's these small attention to detail things that doesn't go unnoticed. I also discovered my door letterbox measures 3 Pugs wide x 4 Pugs down, this is how I'll measure things from now on!
The CreateEngland Letter Catcher can be attached to almost every door type, all without having to drill holes, perfect for renters and is a more dog friendly version than a traditional cage design catcher. Each Velcro strip measures 40.0cm.
Installation.
Andy includes an expert guide on how to fit the letter catcher, which is both useful and informative.
Clean the area below the letterbox (I used a UPVC cleaner clean my UPVC door)
It's easier to leave both pieces of Velcro still attached for perfect alignment.
Peel the backing paper from strip 1 (these are numbered on the back of the letter catcher)
Align this strip up with the underside of the letterbox ensuring the flap can still operate.
Peel strip 2 and place this above the letterbox.
Press hard and the Velcro strips will transfer onto your door and stay attached to the letter catcher.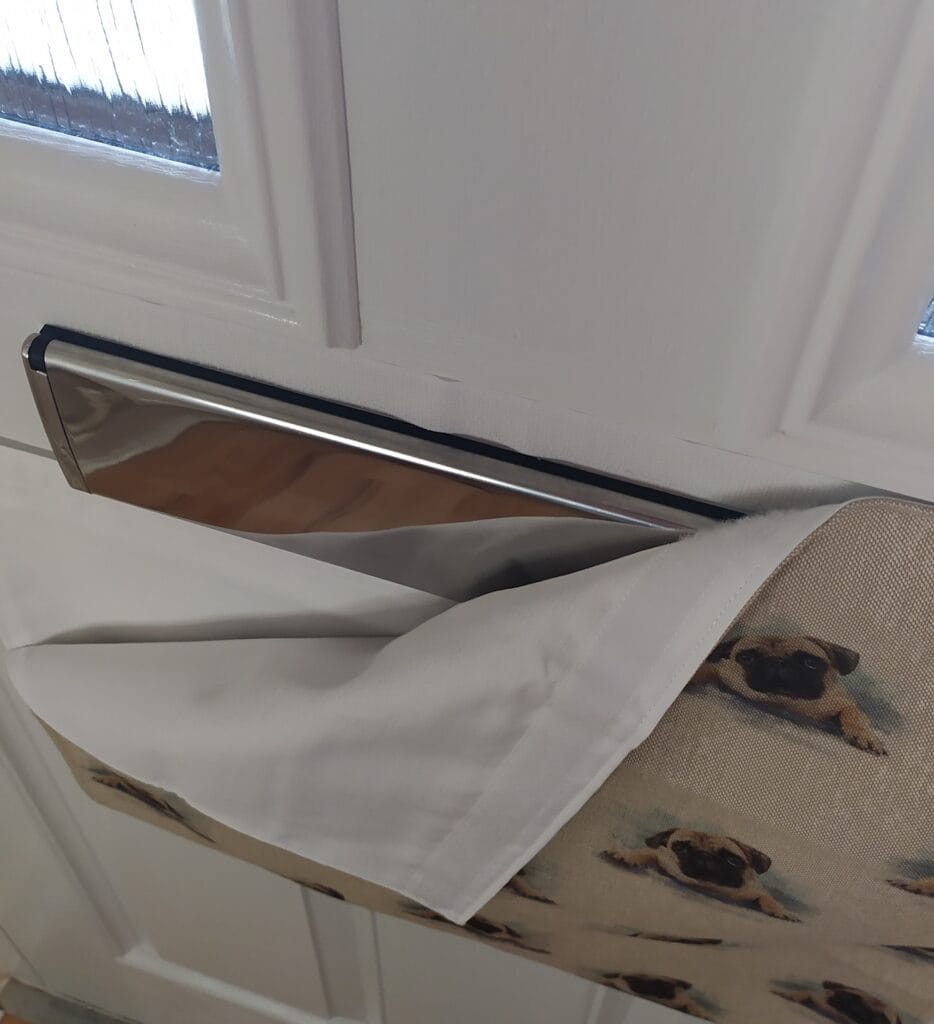 Fitment.
I was impressed with the finished look. I was fortunate that it fit my door too, if the Velcro strips had been more than the 12.0cm spacing then it would've straddled onto the indent design of my door, but it fitted like it was designed for my door!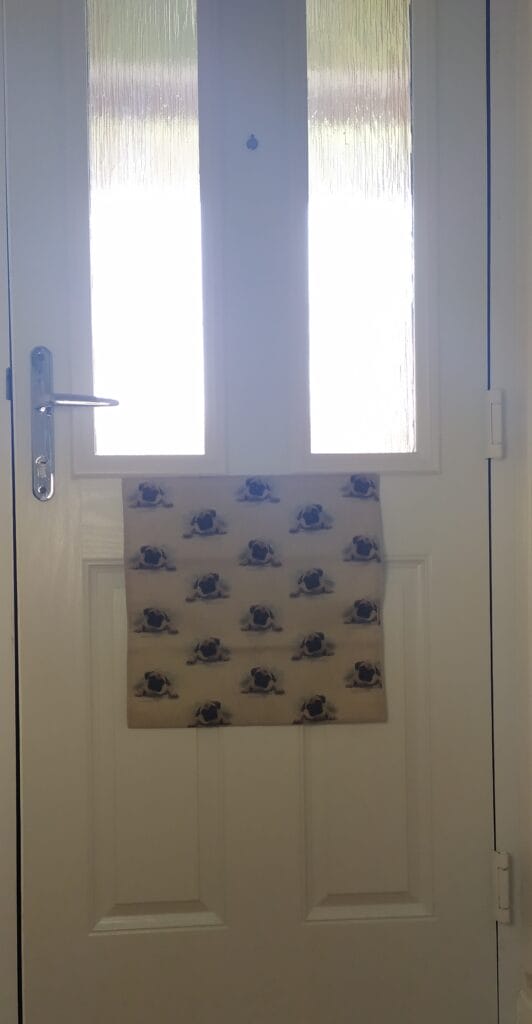 Although I have a modern UPVC door, which is supposed to stop draughts coming through, unfortunately it doesn't, my porch area acts as a twister for the wind. But already I can't feel a draught using this letter catcher from the letter box, so this will certainly be of use in the winter.
As soon as I fitted this, I received no mail, not even a piece of junk mail. I was waiting patiently for the post daily and finally I got a bill (yay and nay) and got to use the letter catcher.
To retrieve your mail, you need to peel back the fabric from one corner and place back afterwards.
This product is an ideal solution for those that struggle to bend downwards.
Another benefit of the letter catcher prevents some unsavoury persons from looking through your letterbox into your home.
Technical Specifications.
Brand: CreateEngland
Model: Letter Catcher
Manufacturer Code: N/A
Manufacturer Reference: N/A
EAN: N/A
ASIN: N/A
Compliance: N/A
Conclusion.
I really like the CreateEngland Letter Catcher. It's beautifully made and is both practical and a decorative piece. I love the Pug design.
I can see so many benefits to this letter catcher, you'll find many more when you purchase one too.
If you'd like to purchase this item, please check out the purchasing options below. The RRP for this product is £16.00.
---
Product sample provided by CreateEngland in exchange for a detailed, unbiased review.
Thank you for taking the time to read my post. If you'd like to add a comment or thought on this post, please use the comments section below. I can also be contacted via the online contact form. Keep up to date with the latest news on social media.
CreateEngland Letter Catcher