Today is a rather special review for the My Helpful Hints website, it's a review for ArgyllSeaGlass. Handmade jewellery from washed up pieces of sea glass from all over Argyll & Bute in Scotland.
These glass pieces have been picked up from the Kintyre Peninsula, Loch Lomond and mostly from Loch Long, where ArgyllSeaGlass is based.
This multi-award-winning company is run by husband and wife team Mike and Marie who've been running ArgyllSeaGlass since 2015. In that time, they've won multiple awards. Including most recently the Theo Paphitis Small Business Sunday (#SBS) award for small businesses.
What started as a therapeutic hobby for both surprisingly blossomed into a unique business venture. They moved to the area of Cove in Argyll & Bute to assist with Maries' mental health who'd been suffering with PTSD, Anxiety, and Depression. The daily walks along the beaches and coastline helped Marie. The glass you see is naturally tumbled using the tides, each piece is unique and is decades or even centuries old.
Marie decided to one day try and make some jewellery out of the many pieces of glass she'd collected. It was then they both realised how talented Marie was as a jewellery maker.
Marie sorts through each piece for colour, size and weight before handcrafting each piece of jewellery.
This husband and wife team live, work and enjoy each other's company every day, all year round.
I'll be writing about a necklace and earring set from ArgyllSeaGlass.
Packaging and Contents.
The ArgyllSeaGlass jewellery set came sent in a bubble mailer bag, this was more than adequate to protect it along its journey through the postal system.  Inside the packaging the jewellery was sent in a soft Velvet gift bag.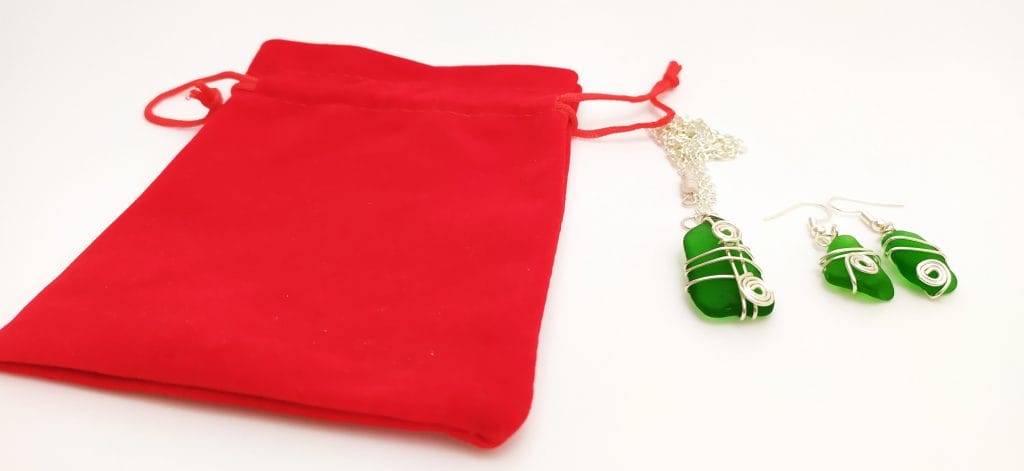 I ordered a Forest Green set which included a necklace and a pair of earrings. As a special bonus ArgyllSeaGlass added a special free gift of a frosted glass keyring too.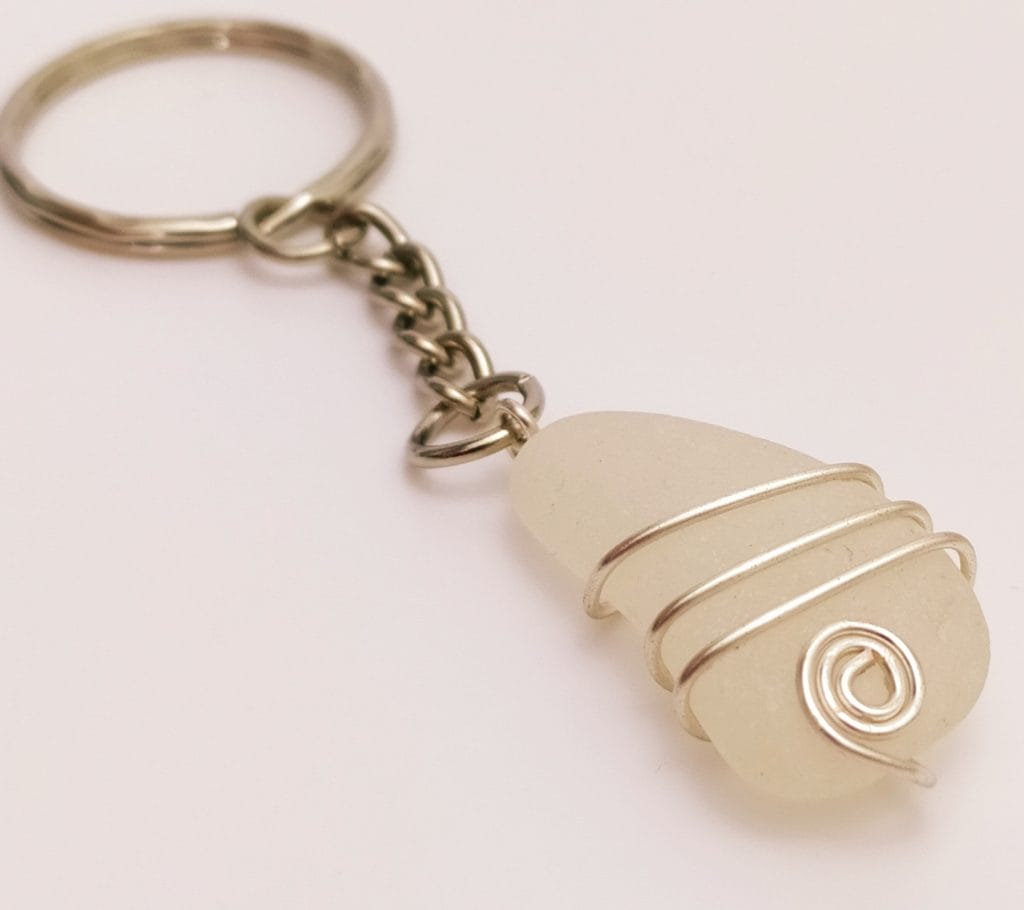 I'll be certain to add that to my car keys.
ArgyllSeaGlass make all their jewellery using Silver-Plated Nickel free wire. There's so much selection too, with different glass shades and different designs, each with free UK delivery.
ArgyllSeaGlass.
The length of the necklace that I have is around 32.0cm (The chain itself is around 29.0cm) and weighs 9G.
I like the fastener too, it's a screw type, so no fiddling around trying to secure the usual type of necklace fastener that we all loathe.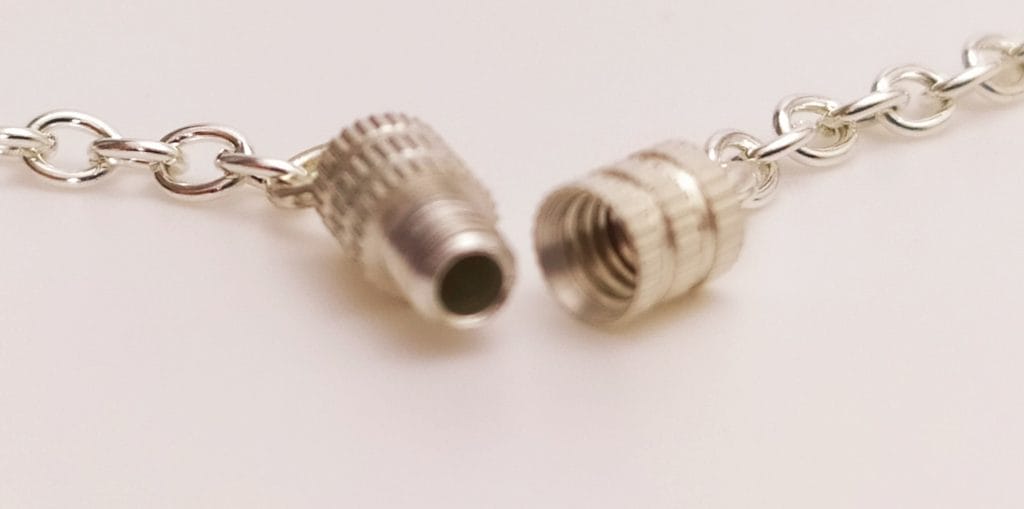 Each earring measures around 4.0cm in length and remarkably both weigh exactly the same of 2.2G. Marie is super-talented to find two pieces of glass and produce a pair of earrings that equally weight the same as each other. This is good as you wouldn't want one heavier than the other one.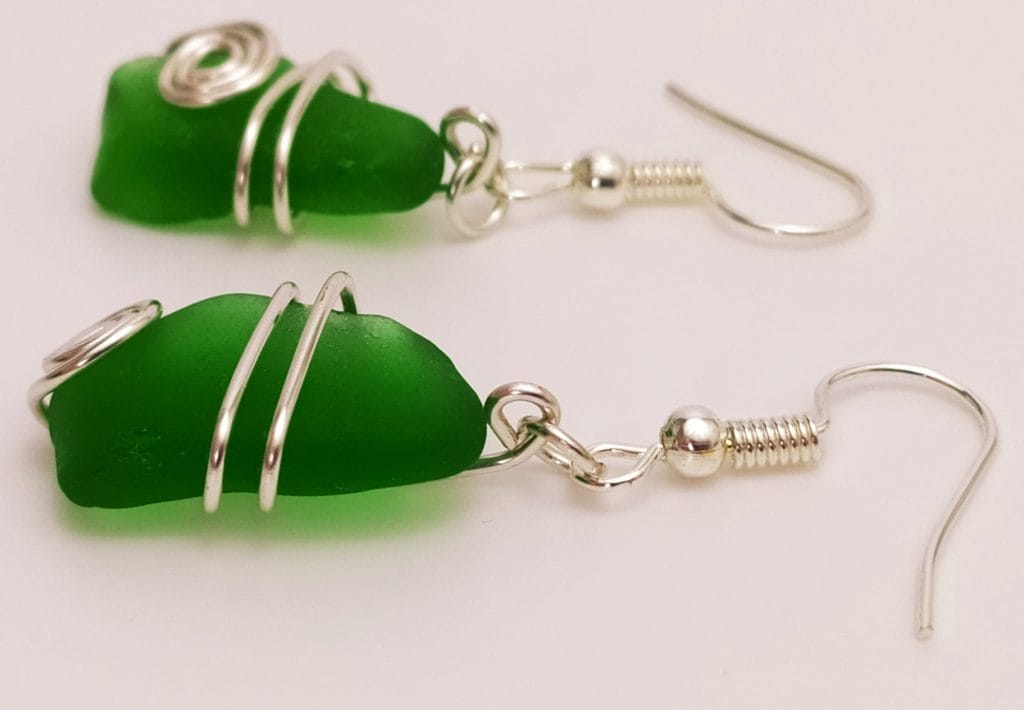 I like the wire design around each piece of glass too, it's just as beautiful as the glass itself. Not only does this wire look good it also stops the glass from falling out.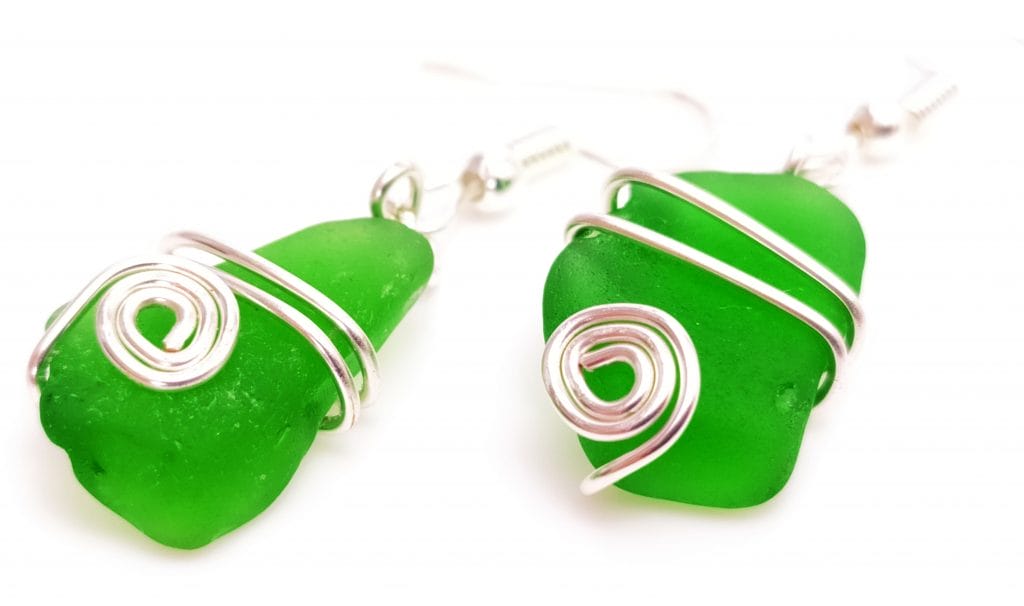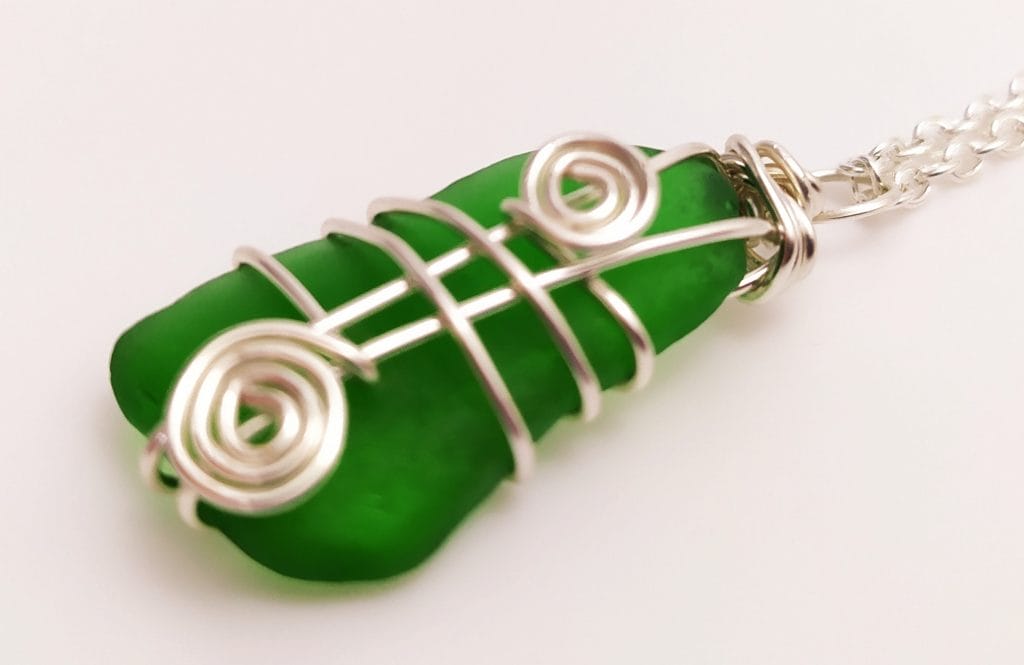 A top tip from ArgyllSeaGlass if the glass returns to its natural frosting, rub a little oil on each piece to achieve a glossy finish.
Technical Specifications.
Brand: ArgyllSeaGlass
Model: Sea Glass Jewellery Set
Manufacturer Code: N/A
Manufacturer Reference: N/A
EAN: N/A
ASIN: N/A
Compliance: N/A
Conclusion.
I love my ArgyllSeaGlass purchase. It's amazing the work that went into producing this set. Nature can do some brilliant things and has produced some wonderful glass for Marie to work with. I'm unable to find fault with this set. It's simply amazing.
I highly recommend you check out their product range, it's constantly changing. ArgyllSeaGlass can even do custom orders to suit your requirements too.
The jewellery set I purchased cost just £10.00 for a necklace, a pair of earrings, a free keyring gift, and a Velvet pouch. Delivery was also free. This is superb value for a handmade jewellery set.
If you want the ArgyllSeaGlass jewellery set for yourself, it's available for purchase only on the ArgyllSeaGlass website.
---
Thank you for taking the time to read my post. If you'd like to add a comment or thought on this post, please use the section below. I can also be contacted via the online contact form. Please subscribe for the latest reviews, news, and discounts. Please follow My Helpful Hints on Twitter, Instagram & Facebook too!