Today I'll be writing about these YINEME True Workout Wireless Earbuds. I've reviewed a few wireless pairs of earphones before, and they've been very hit and miss.
The Bluetooth technology is there these days to make true wireless earphones a viable option. But the audio aspect is usually a let-down. So, whenever I get a new pair of wireless earbuds to review, I'm very hesitant.
The YINEME pair that I have promise easy pairing, 12-hour battery life, and Bluetooth 5.0 technology.
So, are they any good? Sound quality? Time to test them out!
Packaging and Contents.
The YINEME True Workout Wireless Earbuds come in a small black cardboard box. The outer box measures 10.0cm x 10.0cm x 4.0cm and weighs 140G.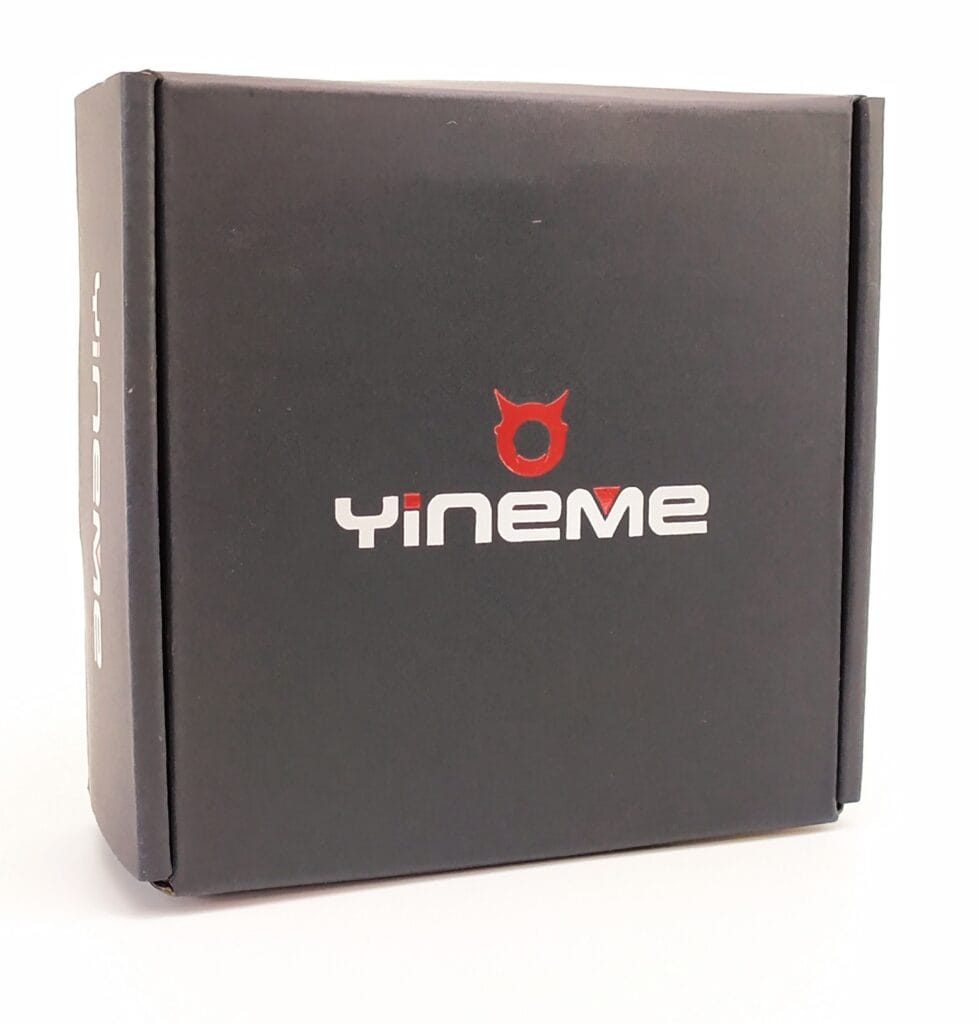 Inside the outer box you'll find the following: 1x Charger Case, 1x Pair of Earbuds, 2x Additional Ear Tips, 1x Micro USB Cable, and 1x Chinese/English User Guide.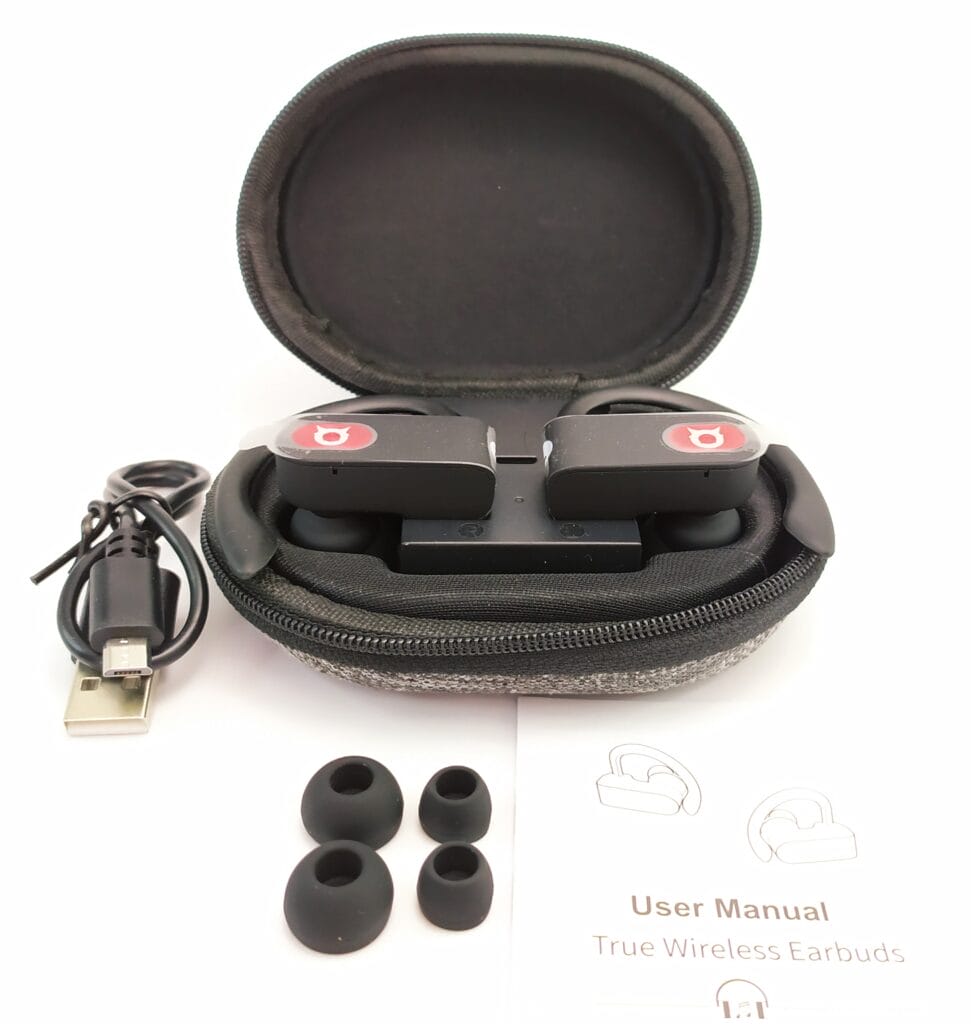 You'll notice from the above image the earbuds have some tape attached. This tape needs to be removed prior to use.
YINEME True Workout Wireless Earbuds.
The YINEME True Workout Wireless Earbuds are black in colour with a red logo detail. Each bud measures approximately 5.0cm x 4.0cm x 2.5cm and weigh 9G each. When you have them inserted into your ear, they protrude about 1.5cm.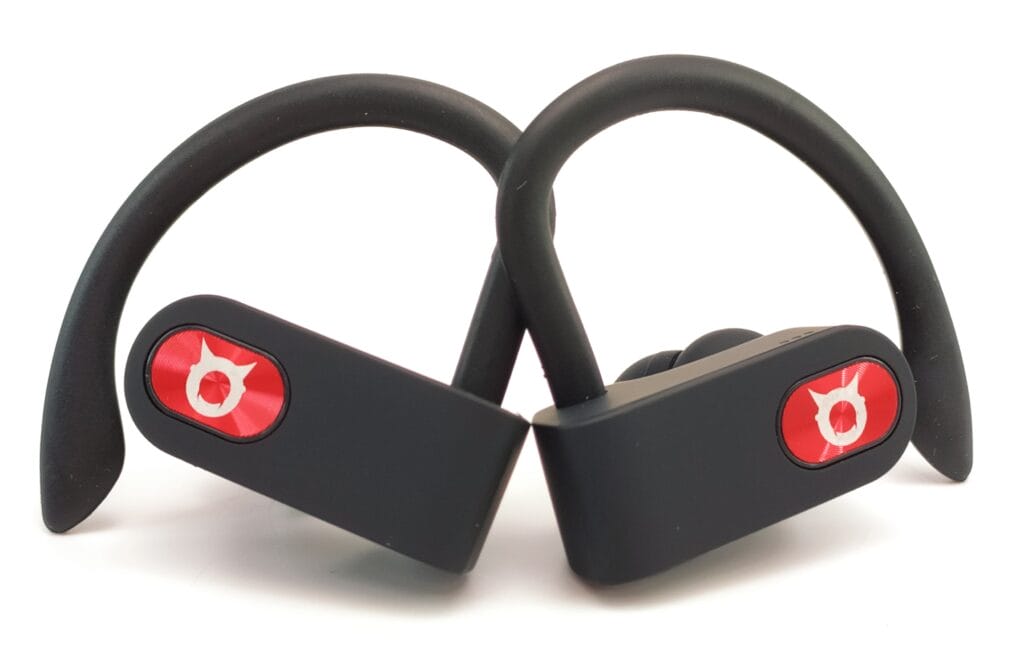 The charger case measures 11.0cm x 8.0cm x 4.0cm and weighs 72G. You'll notice the charger case has a denim grey fabric feel to it. This is very impressive and stylish.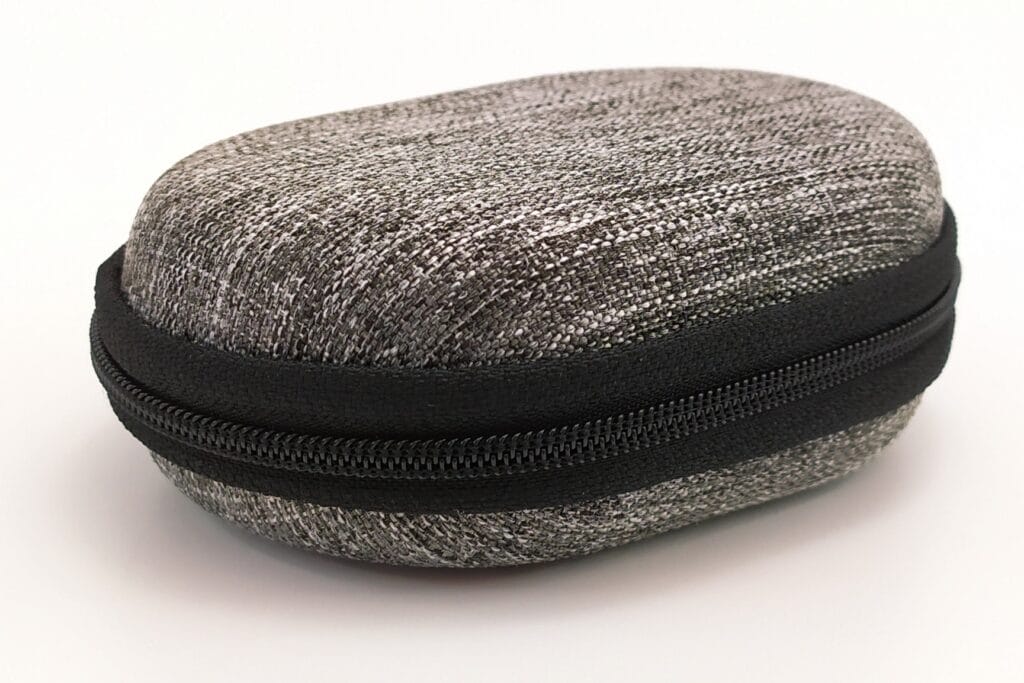 The charger case not only looks pretty, but it also houses the internal 300mAh lithium-ion battery. To charge the charging case you'll need to use the Micro USB Cable (Which measures 30.0cm in length) but, if the cable isn't long enough for you, you're able to use any standard Micro USB cable.
You'll also need to ensure you use a 5V DC power source to charge the case. A green LED will blink intermittently to show the case is charging, upon being charged the green LED will light up constantly. The charger case will provide two full charging cycles for the earbuds.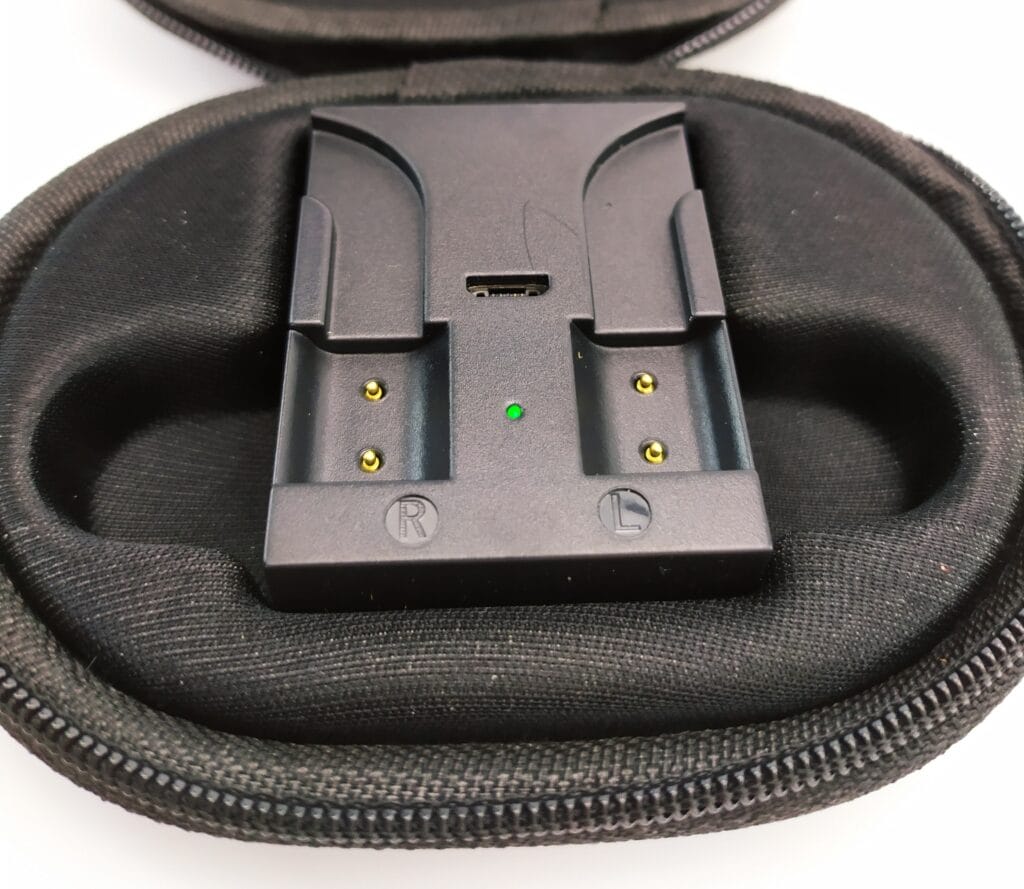 As you can see from the above image the Micro USB charging port is in the middle area. This means to charge the charger case you need to have the case unzipped. I'd prefer to have a charging port located on the outside area as it would've been nice and tidy.
But, YINEME can't do this as the charger case is splash-proof and having an external port would allow water ingress.
Charging the Earbuds.
To charge the earbuds you need to insert them into the charger case. One thing which you'll need to learn is the correct method of charging. Strangely you need to put the right earbud into the left slot of the charger case and the left earbud into the right slot.
A red LED light will be noticeable on the flat side of each earbud to indicate charging. This light will distinguish upon a full charging cycle.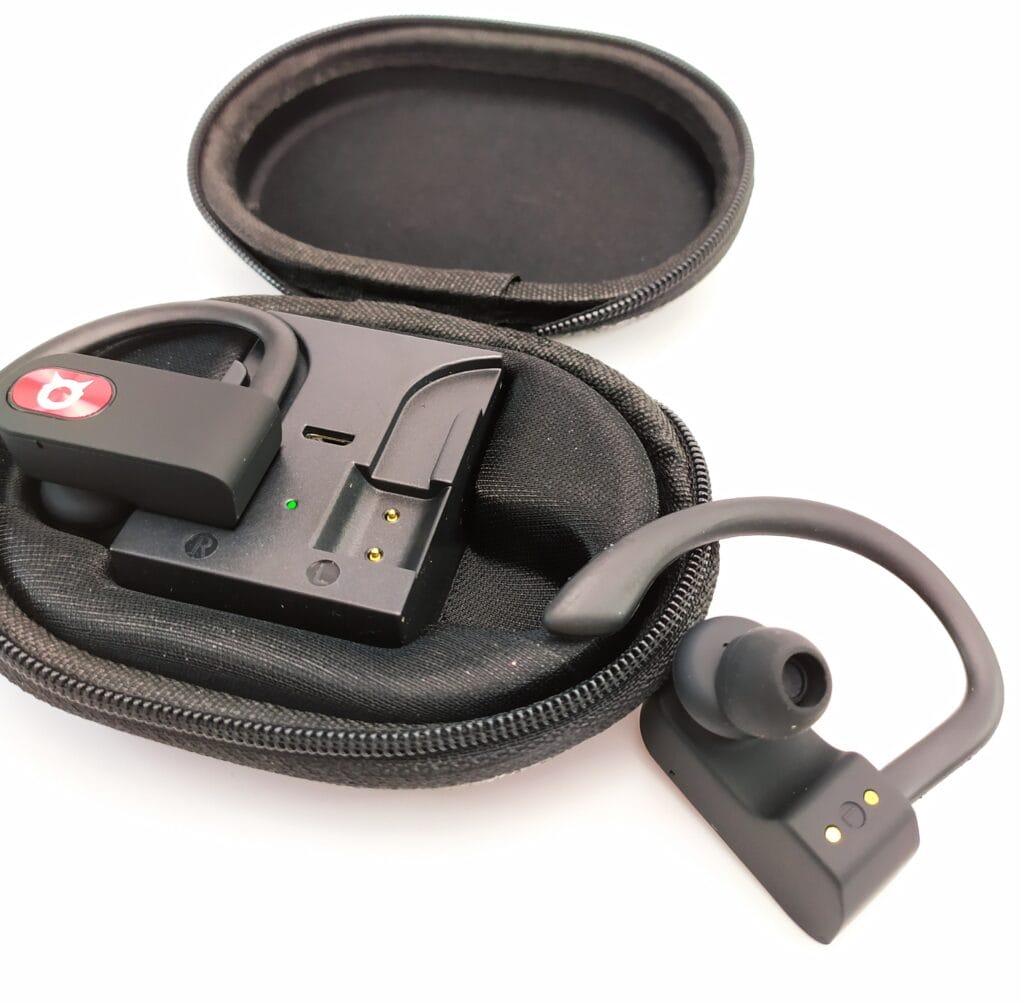 YINEME advertise a battery lifespan of around 12 hours before needing to be recharged. But, this is all dependant on volume and other user actions. I'd say a happy medium number would be around 9 hours.
Pairing.
For first time pairing you remove the earbuds from the charging case they instantly go into pairing mode. The LED light son each earbud will blink red/blue. Next go to your device and perform a Bluetooth search for 'SP8' and connect to this. That's it, you'll hear an audible voice to confirm pairing.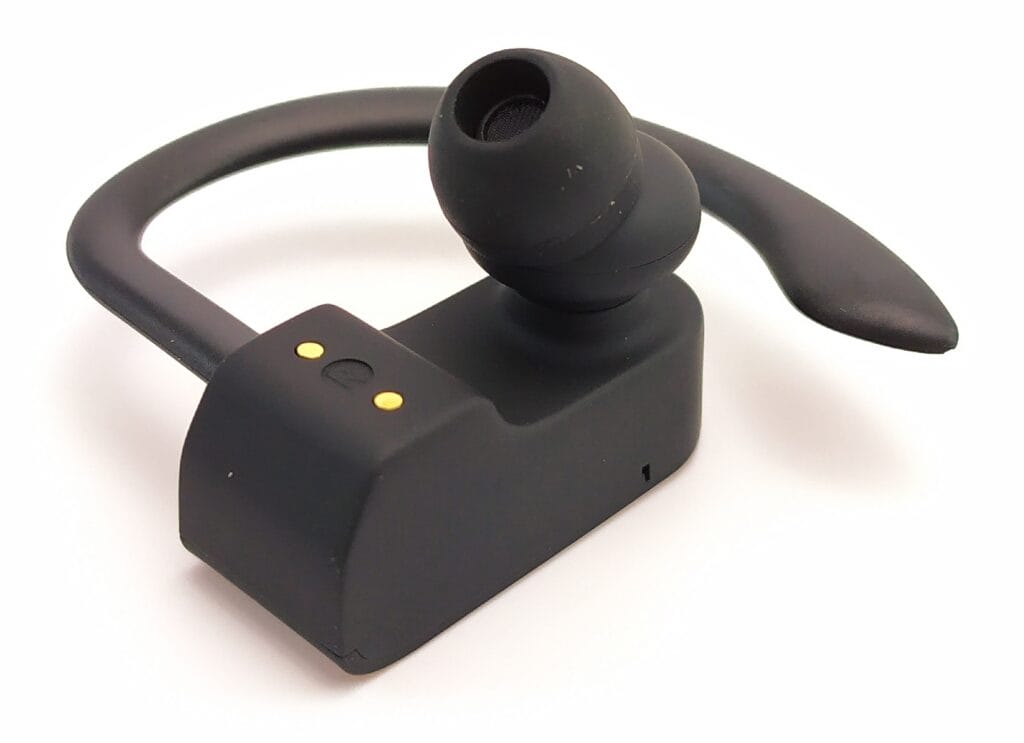 After an initial pairing you'll be pleased to know connection is automatic. Simply remove from the case and they'll instantly pair with your device and be ready for use. YINEME advertise a 10M Bluetooth signal range, I tested this out and discovered you do exactly get a 10M range before they start to crackle.
I also test whether you can block Bluetooth from cheap earbuds, simply clasp your hands around each earbud, And, I did manage to block out this signal from around a 2.5M range. So, overall, not too bad. Also wearing a beanie hat will give you a 2.5M range too.
Comfort.
To ensure you get a comfortable fit you need to insert each earbud into your ear and then swivel them upward to get each hook to go over your ear. If you wear glasses/sunglasses the hooks don't quite fit over the top of your ear. They sort of sit to the side of the temple tips of your eyewear. But, they still nicely in position, which was quite surprising.
Each earbud is angled and has been designed to fit tightly into your inner ear canal, this ensures maximum audio enjoyment, and prevents body movement from making your earbuds fall out.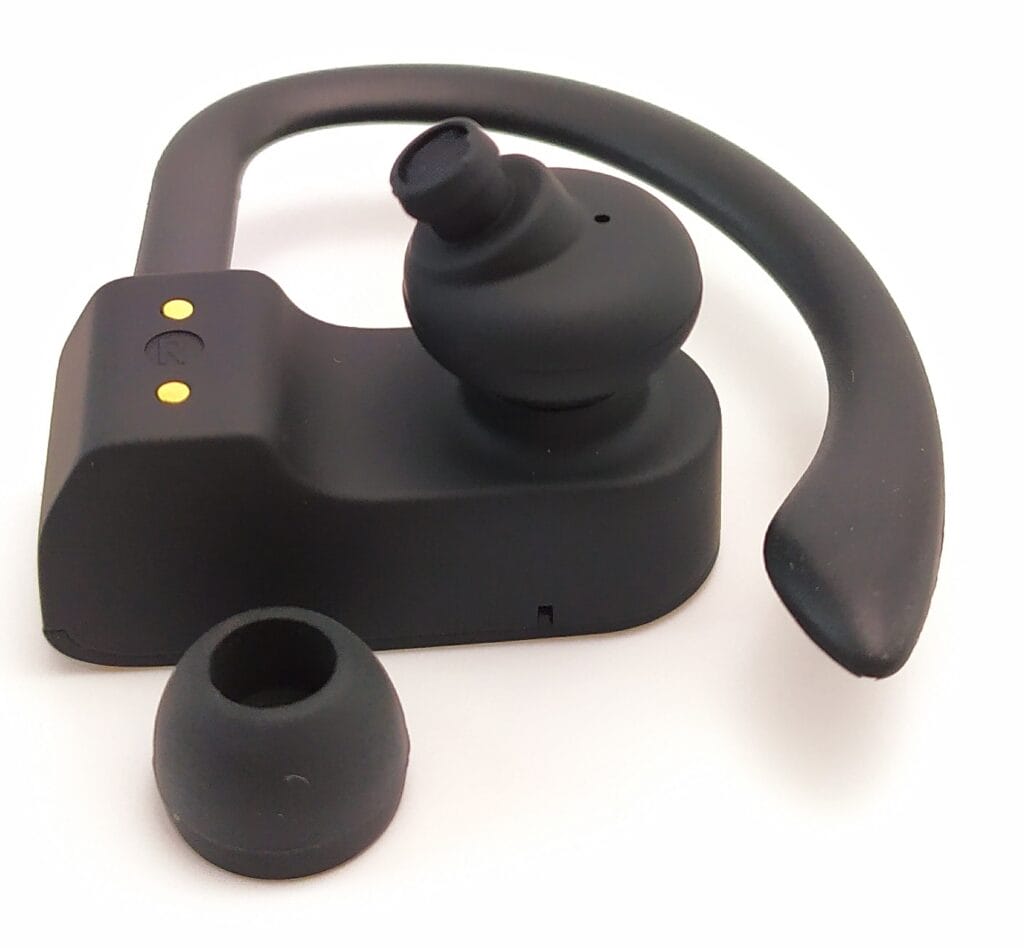 You'll also need to ensure you use the correct sized silicone ear tip too. This is also a dual-purpose reason. Both comfort and audio quality drastically improve with the correct ear tip installed. To remove simply pull off the already fitted medium tip and push on either a small or large supplied ear tip.
Noise Cancellation/Noise Isolation.
I was instantly impressed with the noise cancellation; this is due to the angle in which each earbud fits into your ear. Also, the YINEME feature a twin barrier tip design. See the above image shows the barrier tip which sits on the outer section of your ear canal, so you get twice the cancellation.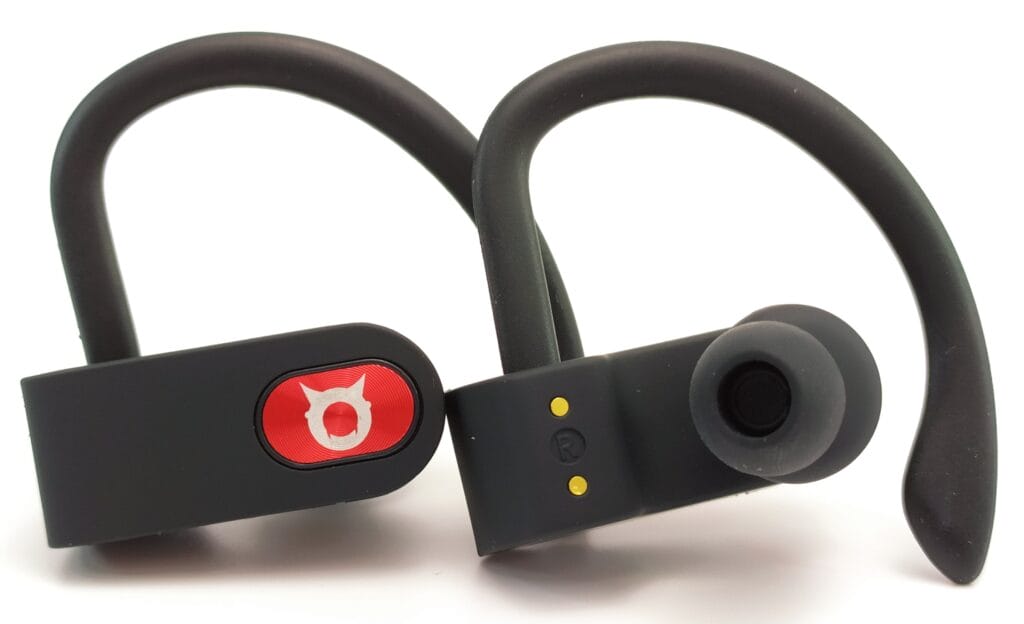 Also, noise isolation is very impressive too, your music is not leaked to any music freeloaders. You get a totally immersive feeling with the YINEME True Workout Wireless Earbuds.
I'm autistic so having a decent pair of noise cancelling headphones/earphones is particularly important to me, as background noise affects my senses. I can confirm these YINEME earbuds are exceptionally good at blocking out almost all background noises. Pure bliss for me!
On-Ear Controls.
The red logo on each earbud for YINEME is not only a thing of beauty. But, it's a special multi-function button (MFB). Both left/right earbuds have different functions, these are as follows:
Pause/Play: Press the MFB button once to pause, and once more to resume audio. You can also answer/end a phonecall using the same method.
Track Selection: Double tap the right earbud to skip a track, double tap the left one to go back to the beginning of a song, double tap again to go back a song.
Voice Assistant: Press and hold for 1 second any earbud to activate Siri or Google Assistant, if that's your thing?
Volume: You're supposed to quickly tap three times on the right earbud to increase volume, and three times on the left earbud to decrease volume. But this function didn't work for me. Despite trying multiple times. This is rather disappointing. This I feel is the most important features a pair of wireless earphones has over a cabled set.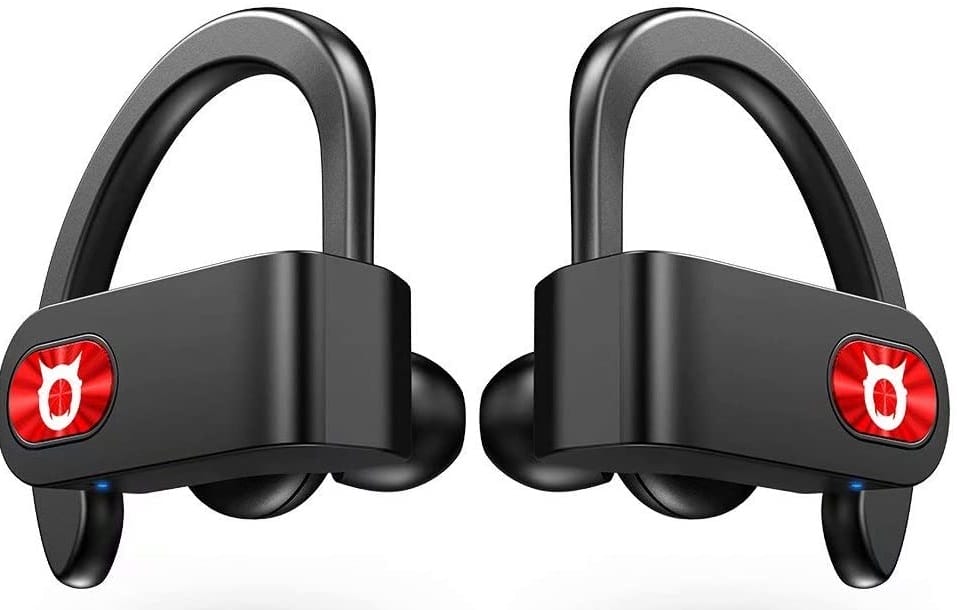 You also manually switch off each earbud by pressing and continuously pressing the MFB button. You'll hear an audible tone to confirm that they're powered off. But you can instantly power them off by simply placing them into the charging case. They'll instantly connect as soon as you remove from the case.
Sound Quality.
I love the sound quality, both bass and vocals tones are nicely balanced. And each earbud is perfectly in tune with each other too. No notable difference in volume between the two.
Sound quality doesn't become affected too when you increase volume from 3/4 to full either. Which was very surprising.
The YINEME True Workout Wireless Earbuds certainly produce a high-quality sound and is certainly up there with some of the best audio devices I've reviewed on this website.
The sound quality is also improved in my opinion due to the unique angle of each earbud. And, the superb noise cancellation/isolation too. Honestly, I cannot fault the sound quality of these earbuds!
The built-in microphone enables you to make and receive phonecalls, this microphone works OK and is comparable with most standard earphone.
Oh, and they're also splash-proof too, so ideal for outdoor use!
Technical Specifications.
Brand: YINEME
Model: True Workout Wireless Earbuds
Manufacturer Code: SP8
Manufacturer Reference: YM-AE04-Black
EAN: N/A
ASIN: B07L9SY21H
Driver Unit: Dynamic 10mm Neodymium
Bluetooth Connection: V5.0
Battery: 300mAh lithium-ion battery
Input: 5V DC
Compliance: CE, FCC, RoHS
Conclusion.
I really like these YINEME True Workout Wireless Earbuds. The sound quality is incredibly good, I was certainly impressed by both the noise cancellation/isolation too. Wearing these earbuds are both comfortable and they don't move out of position either.
But I'd like to be able to control volume wirelessly, so this lets these earbuds down for me. It's a shame as these would've been the perfect pair of true wireless earbuds.
If you want the YINEME True Workout Wireless Earbuds for yourself, they're available for purchase only on Amazon. The RRP for this product is £39.99.
Product sample provided by YINEME in exchange for a detailed, unbiased review.
---
Thank you for taking the time to read my post. If you'd like to add a comment or thought on this post, please use the section below. I can also be contacted via the online contact form. Please subscribe for the latest reviews, news, and discounts. Please follow My Helpful Hints on Twitter, Instagram & Facebook too!
YINEME True Workout Wireless Earbuds