Today's review is for the XTAR BC4 Battery Charger. This battery charger is capable of charging 1.5V Li-ion/IMR/INRICR and 1.2V Ni-MH AA/AAA batteries.
The BC4 charger has been designed to be portable. It's very lightweight and easily fits into the palm of a hand.
Other smart features of BC4 charger include USB-A output (So can be used as a powerbank), a LED light, the usual high standards of safety from XTAR. These safety features include short circuit protection, over-charge protection, and over-current protection.
An intelligent chip automatically recognises which battery type has been inserted. Then the BC4 will automatically charge said battery to the correct specifications.
So, is the BC4 battery charger any good? Time to test it out!
Packaging and Contents.
The XTAR BC4 battery charger comes in plastic sleeved packaging, this packaging features product specifications printed on the reverse. The packaging measures 16.0cm x 9.5cm x 3.0cm and weighs 160G.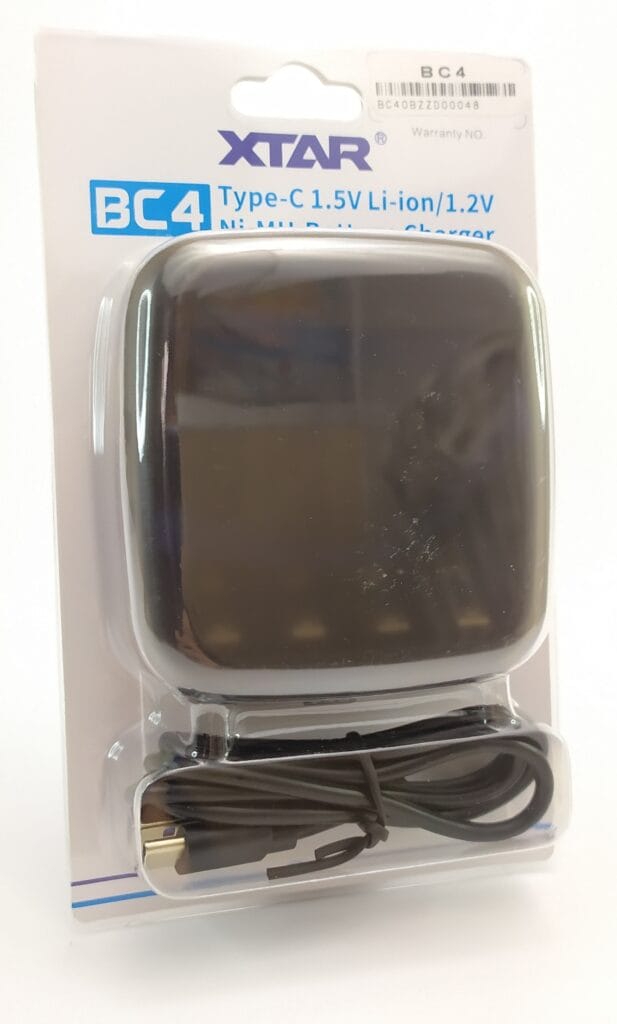 Inside the packaging you'll find the following: 1x Battery Charger, 1x USB-A/USB-C Cable (Which measures 80.0cm in length), 1x Multi-Lingual User Guide. XTAR advertise a lanyard should be included, but my package was missing this item.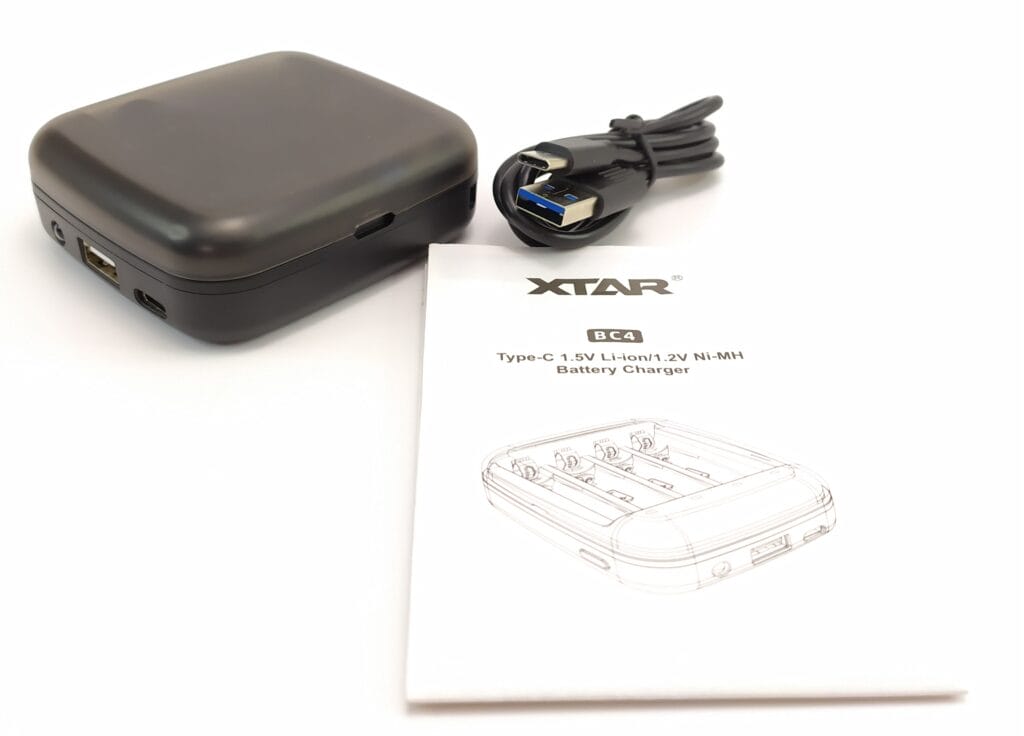 XTAR BC4 Battery Charger.
The XTAR BC4 battery charger is made from plastic and measures 8.0cm x 7.5cm x 2.7cm and weighs 71G. This casing prevents dust ingress into the battery compartment.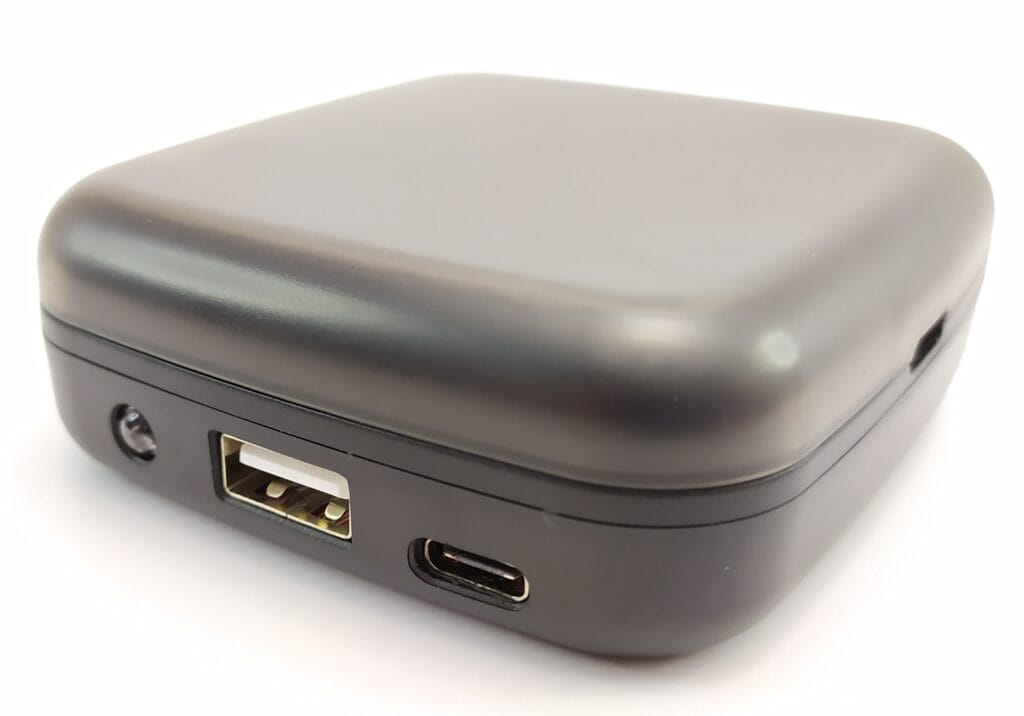 You can see in the above image the LED light, USB-A port, and the USB-C port. This LED light can be used as a convenient torch. You'll need to ensure you have enough batteries installed with sufficient power to us this feature. To use torch function, you need to press and hold for 2 seconds a button located on the side.
The USB-A port can be used as an emergency power bank too. Again, you'll need to ensure you have enough batteries and that they're suitability charged. I recorded an output reading (Using 4x Amazon Basics AA 1.5V Alkaline battery) of 4.8V/1.0A which is remarkably close to the advertised output of 5.0V/1.0A from XTAR. You're able to use any AA/AAA battery type for discharging with a powerbank, but obviously aren't able to charge non-rechargeable batteries.
A series of LED lights above the positive end of the battery display battery level. These indicate the following.
4 Green LED Lights – Power Level 75-100%
3 Green LED Lights – Power Level 50-75%
2 Green LED Lights – Power Level 25-50%
1 Green LED Lights – Power Level 0-25%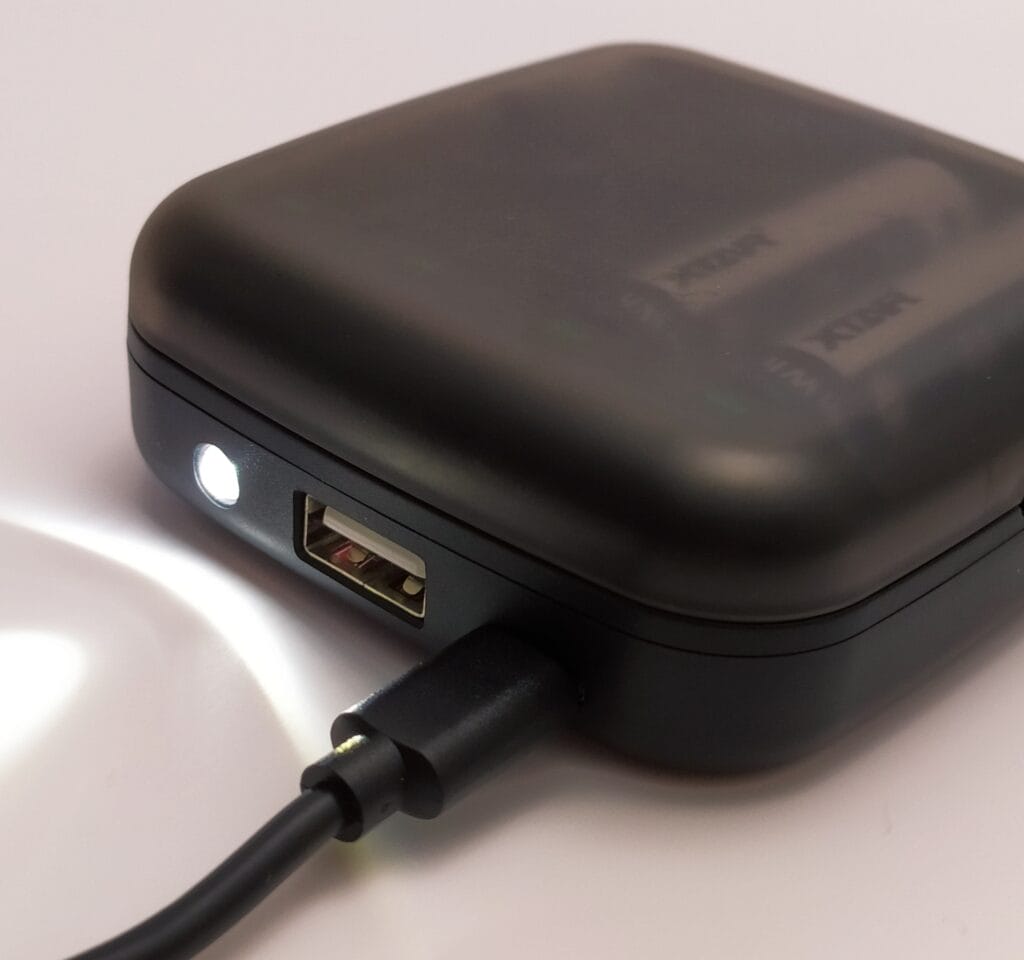 I found this powerbank system very useful. Although probably not the most power powerbank around, it's certainly enough to charge a mobile phone using only AA batteries.
I then used 4x Amazon Basics 1.5V Alkaline AAA batteries and recorded 4.6V/0.7A and surprisingly managed to charge my Xiaomi Redmi Note 7 phone! With just the power of 4x AAA batteries.
Charging Batteries.
The main reason for buying the XTAR BC4 battery charger is to charge batters. The clue is in the product name. And although the above features are useful, they're additional features for the main purpose of the BC4. Which is to charge batteries.
Inside the battery compartment area, you'll see the negative and positive contacts. The positive contact area has been designed to accommodate both AA/AAA batteries. Although it's quite difficult to insert AAA batteries as the battery sits slightly upwards and tries to spring itself outward. It doesn't take much for each AAA battery to come loose when moving the BC4 charger.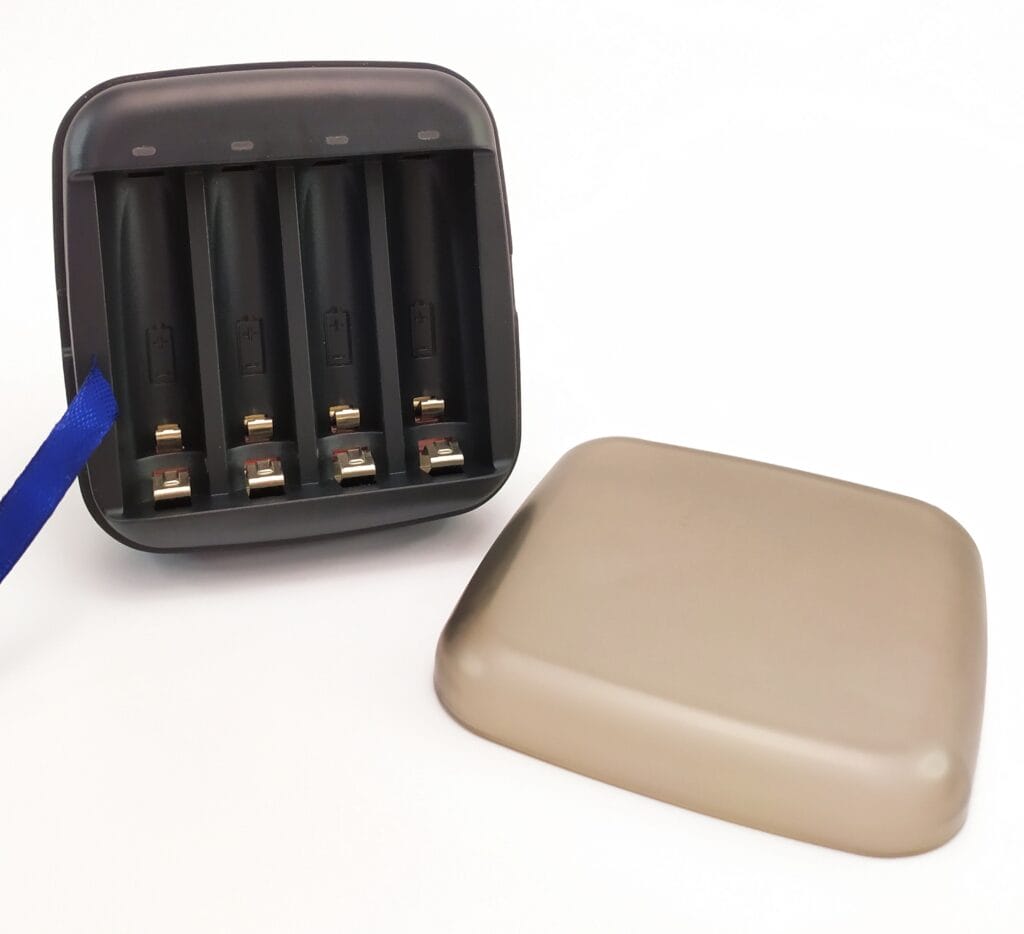 I'm using XTAR 1.5V 3300mWh Rechargeable Li-ion batteries. You're able to use any AA/AAA rechargeable batteries. You can either charge any combination of AA/AAA batteries. For example, 2x AA and 2x AAA batteries, or 1x AA and 3x AAA batteries, and the BC4 will automatically charge each one. This is very impressive.
Another thing I managed to do was charge AA rechargeable batteries using my phone via a USB-C/USB-C cable.
Safety Features.
Mostly importantly for me is the safety aspect of the XTAR BC4 battery charger. XTAR have a history of producing the latest safety measures in all their products. I've mentioned above about short circuit protection, over-charge protection, and over-current protection.
But what about reverse polarity charge? XTAR advertise that the BC4 has polarity protection too. Well I've also tested this out.
The battery terminals automatically reject an incorrectly inserted battery and the BC4 won't try and try and charge a misjudged insertion.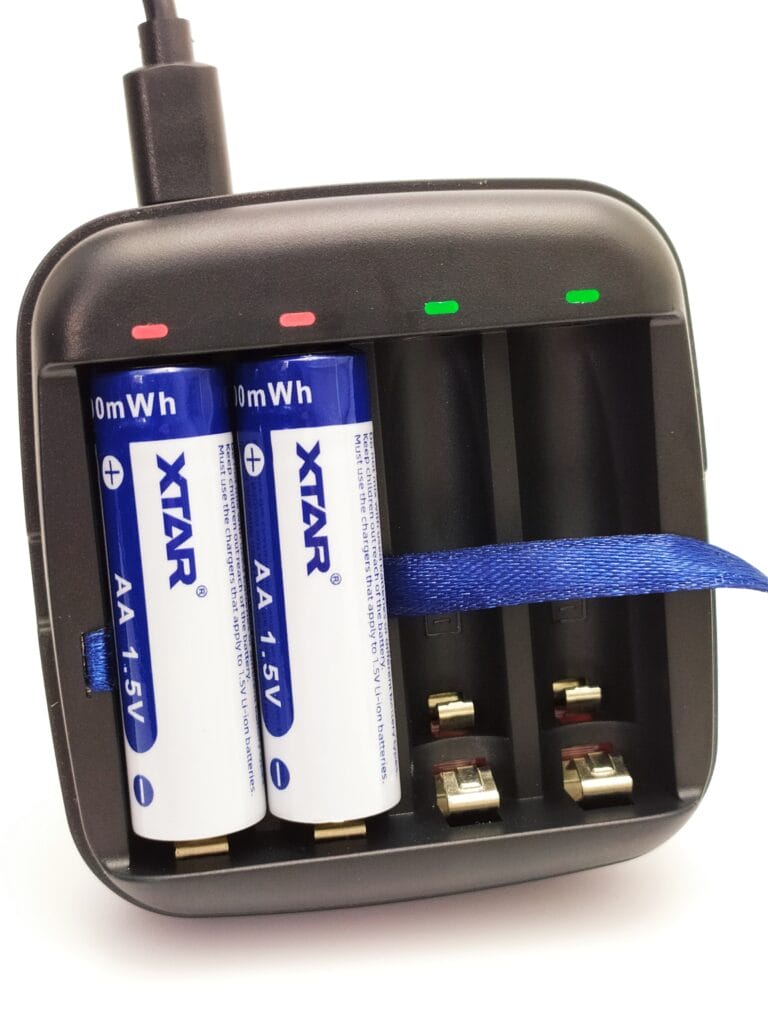 Technical Specifications.
Brand: XTAR
Model: BC4 Battery Charger
Manufacturer Code: BC4 KT
Manufacturer Reference: N/A
EAN: 6952918342977
ASIN: N/A
Input: DC 5V 2A
Constant Current: 0.5A x4
USB Output: 5V 1A
End of Charge Current: ≤100mA
Operating Temperature: 0-40°C
Compliance: CE, FCC, RoHS
Conclusion.
I love this XTAR BC4 Battery Charger. It's very impressive and safely charges batteries without any issues. The huge benefit of using the USB-C cable to charge batteries is that you can use this charger worldwide.
There're a couple of things that I feel need improving, these include the constant rejection of AAA batteries. The angle of where these batteries are located annoyingly spring themselves out of position. The second, where is my lanyard?
Aside from that I cannot fault the battery charger, it charges very well. The LED lighting system makes it easy to see visually when each battery is fully charged.
And I must mention again the impressive safety aspect of not only the BC4 charger, but across the whole XTAR product range.
If you want the XTAR BC4 Battery Charger for yourself, it's available for purchase only on AliExpress. The RRP for this product is £21.41.
Product sample provided by XTAR in exchange for a detailed, unbiased review.
---
Thank you for taking the time to read my post. If you'd like to add a comment or thought on this post, please use the section below. I can also be contacted via the online contact form. Please subscribe for the latest reviews, news, and discounts. Please follow My Helpful Hints on Twitter, Instagram & Facebook too!