Today I'll be writing a review for the Wuben C2 2000 Lumen Power Bank Flashlight. Wuben approached me the other month and asked if I'd be interested in reviewing for them, a quick look at their website and I agreed. I love working for a new brand and the Wuben brand looks great too. Hopefully we'll be working together on more reviews to come.
I even had a choice of products to review and settled on the C2 as it offered lots of specifications for a very reasonable price. The Wuben C2 2000 Lumen Power Bank Flashlight offers 7 different outputs, with a maximum light throw reaching an impressive 358M. You also get a rechargeable protected 21700 lithium-ion battery supplied, you may also use your own 18650 lithium-ion battery too, both are acceptable. The C2 has a IP68 waterproof rating, meaning it can withstand dust, dirt, and sand, and resistant to submersion up to a maximum depth of 1.5m underwater for up to thirty minutes.
Also, as you can guess from the title, the C2 also doubles up as a useful powerbank too. You get a single USB-A port to charge your smartphone, camera, or any other 5V USB device.
Wuben offer a 5-year warranty and are easily contactable too, nice, and polite in their approach.
So, is the C2 any good? Time to test it out!
Packaging and Contents.
The Wuben C2 2000 Lumen Power Bank Flashlight come packaged in a beautifully designed carboard box, which features product images and specifications. The box measures 15.5cm x 6.5cm x 5.7cm and weighs 270G.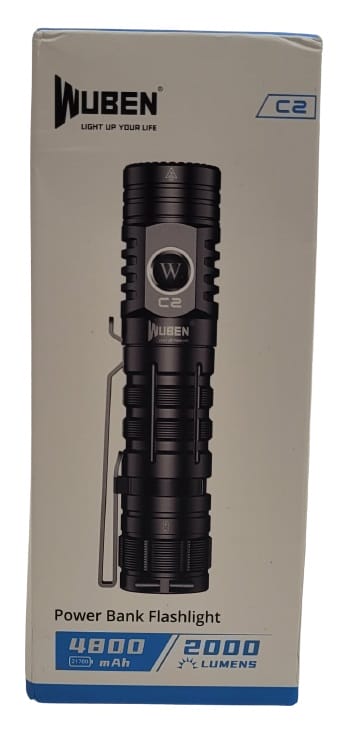 Inside the box you'll find the following: 1x Flashlight (battery housed internally), 1x USB-C Charging Cable, 1x Lanyard, 2x Spare O-Rings, 1x Multi-Lingual User Guide.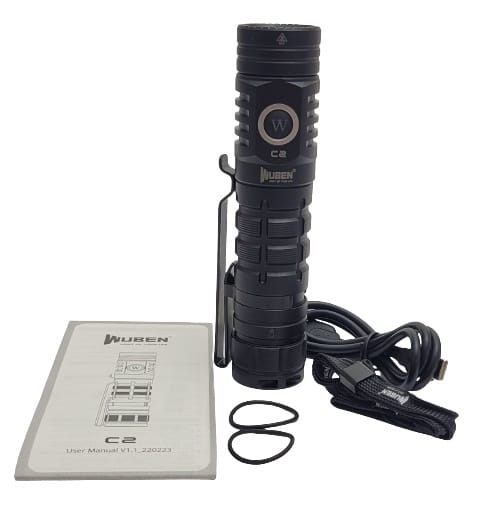 I was very impressed with the spare O-rings too, they do wear, especially when you're removing the tail cap to replace batteries. It's nice Wuben have considered this too and ensure your C2 stays watertight for many years to come.
Wuben C2 2000 Lumen Power Bank Flashlight.
The Wuben C2 2000 Lumen Power Bank Flashlight measures 128.6mm x 29.0mm and weighs (with 21700 battery internally installed) 187.3G. The supplied lanyard measures 22.0cm in length and loops into the tail cap area. A heavy-duty clip is also attached to the main body, this can maneuverer around for your convenience.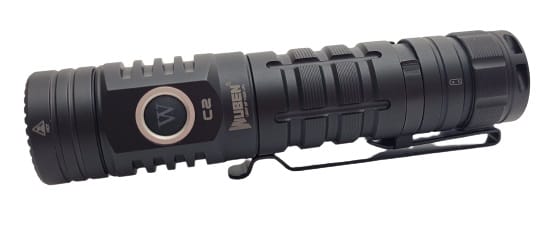 You can see from the above image the 'W' symbol, this is the multi-functional button that controls light choice and more (more on these options later). The main body tactile grooves to aid grip and comfort. Upon handling the torch, it feels balanced and comfortable to both handle and use.

On the opposite side to the button, you'll see the USB rubber bung, this protects the USB-A and USB-C ports from water/dust ingress. It has a firm, tight fit that ensures maximum protection.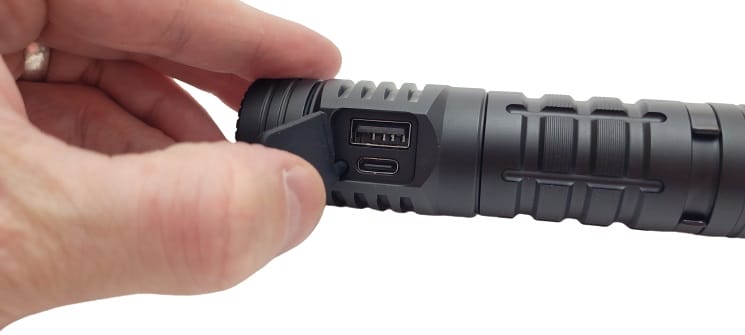 Charging.
Wuben have thought out well the charging process of the C2. You're able to recharge the battery without having to remove it from the main body. Simply use either the supplied USB-A-USB-C power cable (which measures 63.0cm in length) or any other standard USB-C type charging cable. You'll need to supply the torch with a standard 5V DC power source, charging takes around 4 hours to fully complete, this is visually indicated with a red LED light which turns blue upon a full charge.
The supplied 21700 lithium-ion battery has the following specifications 4800mAh, 17.76Wh, 3.7V and comes with a protected circuit board. The battery has a 500-recharge cycle lifespan too.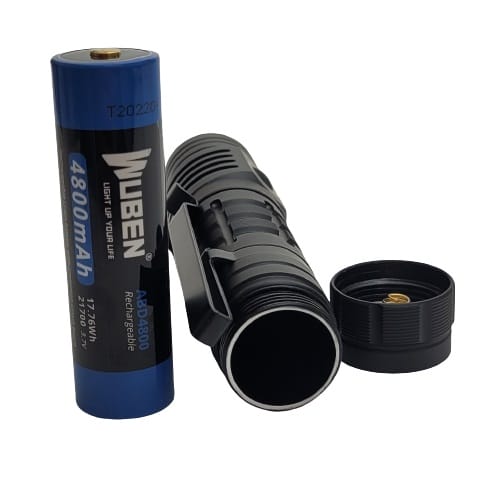 You can also retrieve the battery from the main body by unscrewing the tail cap. You can also recharge the battery via a battery charger, which will greatly decrease the 4 hour wait time for recharging.
Light Modes.
The Wuben C2 2000 Lumen Power Bank Flashlight has 7 different light modes, each affects the battery lifespan, so it's worth considering this, it's advisable to start with the lowest light output and work your way up from there to balance both your required light output and battery life.
I'll copy the light mode graph from Wuben below.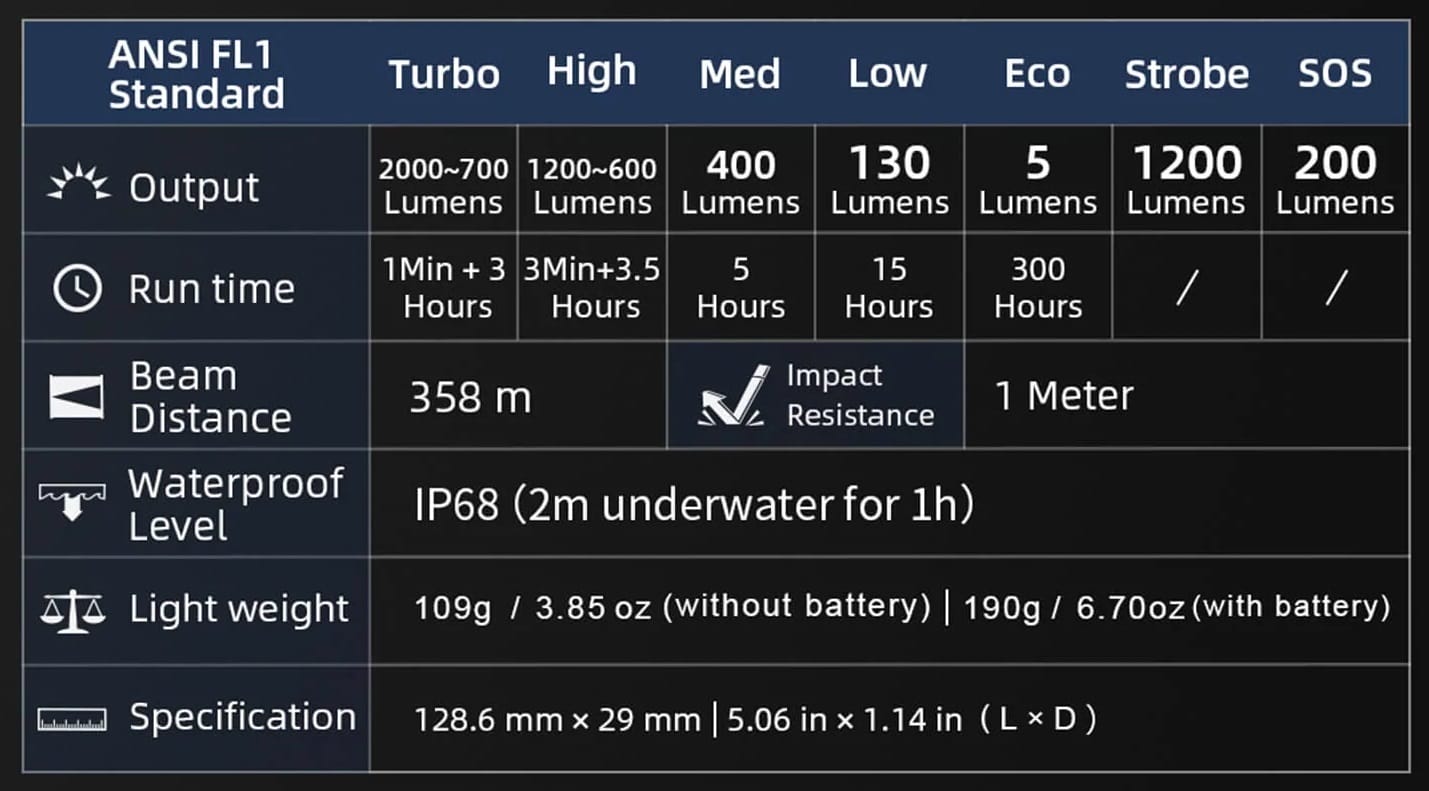 To switch between the light modes, you need to press the multi-function button in the following ways:
On/Off: Single press (the C2 has a memory function and will revert to the last selected option, except turbo and strobe mode).
Default Setting: When the flashlight is on, press and hold the multi-function button to cycle through the light modes.
Quick Turbo: When the flashlight is on, double click the multi-function button, single press to revert again.
Quick Eco: When the flashlight is off, press and hold the multi-function button, if you press and hold for 2 seconds the flashlight will cycle through eco low, medium, and high modes.
Flash Modes: When the flashlight is off (or on turbo mode) quickly double press the multi-function button to activate the strobe setting.
Lock/Unlock: When the flashlight is off, press 4 times the multi-function button, the light will blink 3 times to indicate correct locking, you can unlock the flashlight again by pressing 4 times and the flashlight will revert to eco mode.
Breathing Light: Whilst in any light mode, triple press the multi-function button to activate the breathing light option.
Testing.
I decided to set off at night to test the Wuben C2 2000 Lumen Power Bank Flashlight, now considering its currently July and amidst a heatwave here in the UK, I had to wait to until past 10PM. I'll attach the below image of what the flashlight was capable of, the photo doesn't do the flashlight much justice. It was absolutely pitch black where I chose to test.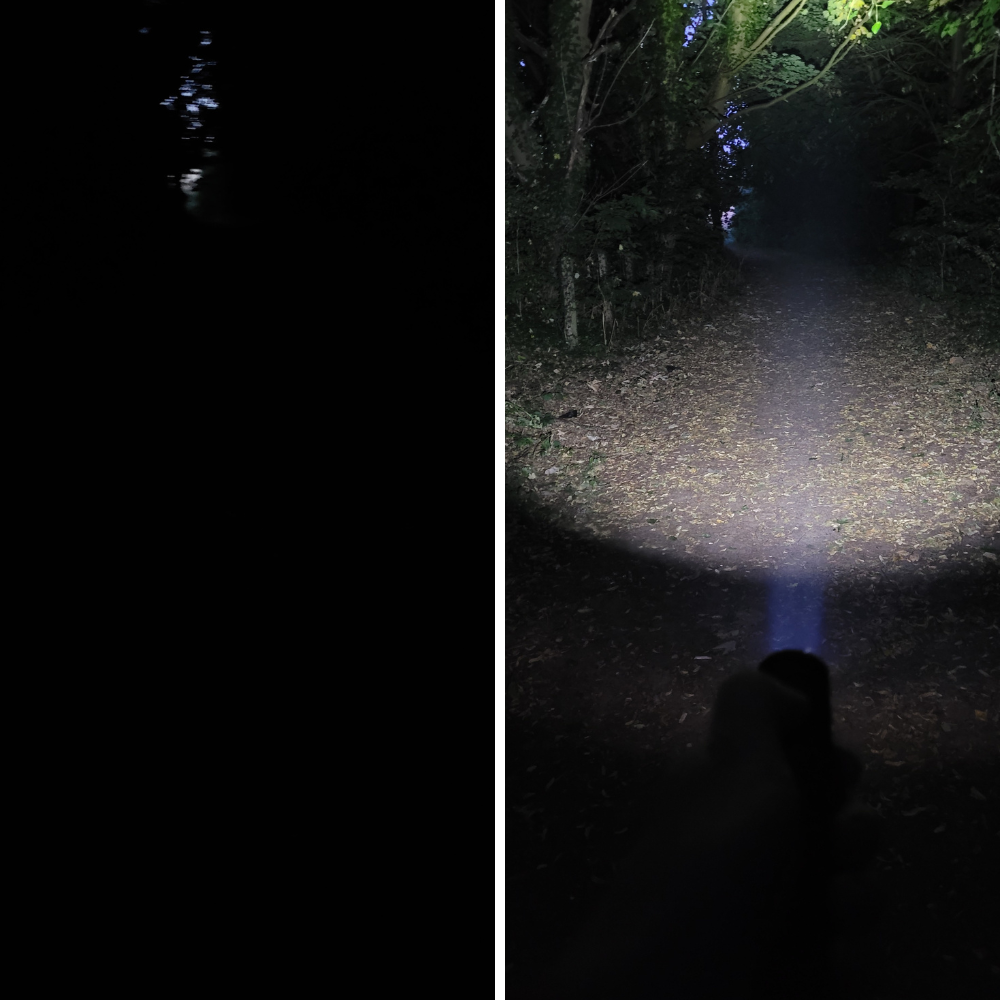 This was on the highest light output setting. As you can see on the high setting the Wuben C2 is mightily powerful. The high setting enjoys a 1200 lumen output, the medium 400 lumens, low 130 lumens, eco 5 lumens and the turbo mode, a staggering 2000 lumens. I videoed my experienced on TikTok, link below.
The powerbank option provides enough power to charge your smartphone, obviously it takes away the battery level of the flashlight, so something to consider if using this feature.
Another handy feature is the battery capacity level indicator, when plugging in the USB-C cable the W multi-function button glows red, then turns to blue when charged. This symbol also lights up when the flashlight is in use too.
Constant Blue: Battery 90% – 100 %
Breathing Blue: Battery 40% – 90%
Constant Red: 15% – 40%
Breathing Red: 15% – 0% (flashlight automatically switches to eco mode at the level)
Technical Specifications.
Brand: Wuben
Model: C2 2000 Lumen Power Bank Flashlight
Manufacturer Code: N/A
Manufacturer Reference: N/A
EAN: N/A
ASIN: B0B3MNW8K7
LED: LUMINUS SST40 6500K
Maximum Lumens: 2000
Battery: 21700 (Supplied) and 18650 Lithium-Ion
Waterproof Rating: IP68
Compliance: CE, FCC, RoHS
Conclusion.
I love the Wuben C2 2000 Lumen Power Bank Flashlight. It's highly impressive and has lots of features including multiple light outputs and modes. The aluminium body helps with heat dissipation and ensures maximum lifespan. Wuben have a 5-year warranty and that's something quite impressive, Wuben obviously have faith that their product is good enough to reach 5 years.
Overall, A very good product, a fully functioning website which always includes lots of additional extras and accessories and a customer service contact available, a great brand with great products.
If you'd like to purchase this item, please check out the purchasing options below. The RRP for this product is £35.99. Wuben have also issued a special 20% discount for you too on their website, add code CPUK
Product sample provided by Wuben in exchange for a detailed, unbiased review.
---
Thank you for taking the time to read my post. If you'd like to add a comment or thought on this post, please use the comments section below. I can also be contacted via the online contact form. Keep up to date with the latest news on social media.
Wuben C2 2000 Lumen Power Bank Flashlight