Today I'll be writing about the Omars SlimPack Power Bank. A 10,000mAh slimline power bank that features 2x USB-A outlet port and 1x USB-C in/out port.
The Omars SlimPack is lightweight, ultra-thin, and features a textured outer surface. Once full charged it'll charge and iPhone 8 over 3.5 times and the iPhone X nearly 2.5 times. This power bank can be used for all USB charging devices including phones, tablets, and other rechargeable devices too.
The Omars SlimPack Power Bank has all the latest safety devices built-in too, these include overcharge protection, undercharge protection, short-circuit protection and over-temperature protection.
So, is it any good? Is it as good as Omars say? Time to test it out!
Packaging and Contents.
The Omars SlimPack Power Bank comes in a cardboard box which features product images and printed specifications. The outer box measures 16.0cm x 9.5cm x 2.5cm and weighs 250G.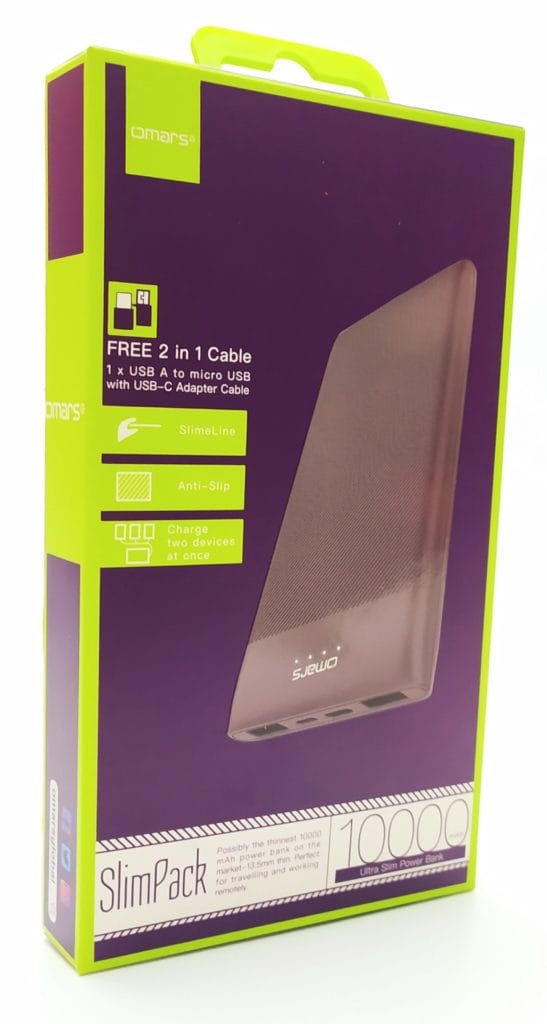 Inside the box you'll find the following: 1x Power Bank, 1x Micro/USB-C Cable, 1x Multilingual User Guide.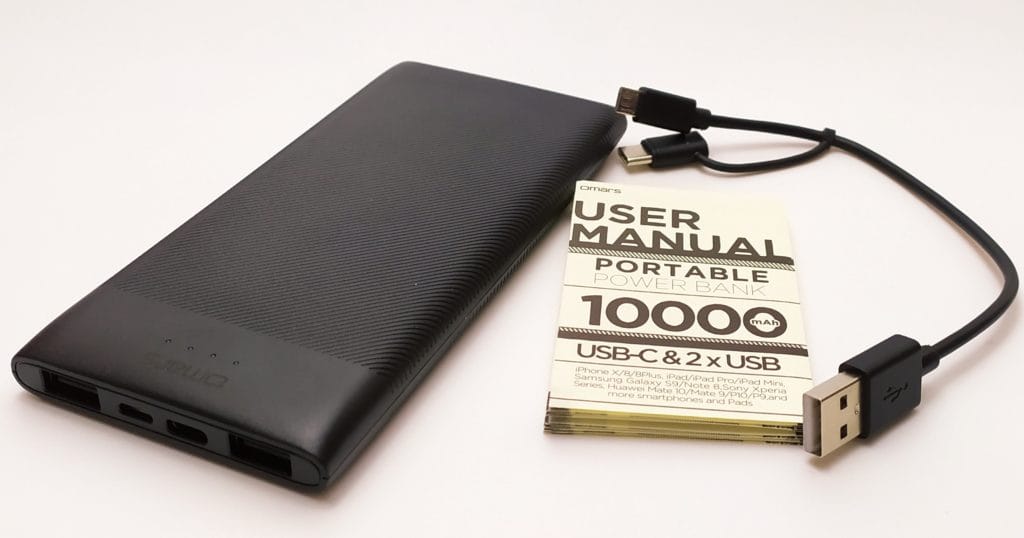 Omars SlimPack Power Bank.
The Omars SlimPack Power Bank is Black in colour and measures 14.5cm x 6.8cm x 1.3cm and weighs 207G. You'll notice the exterior pattern has a textured look to it, this provides some grip whilst handling, and works rather well.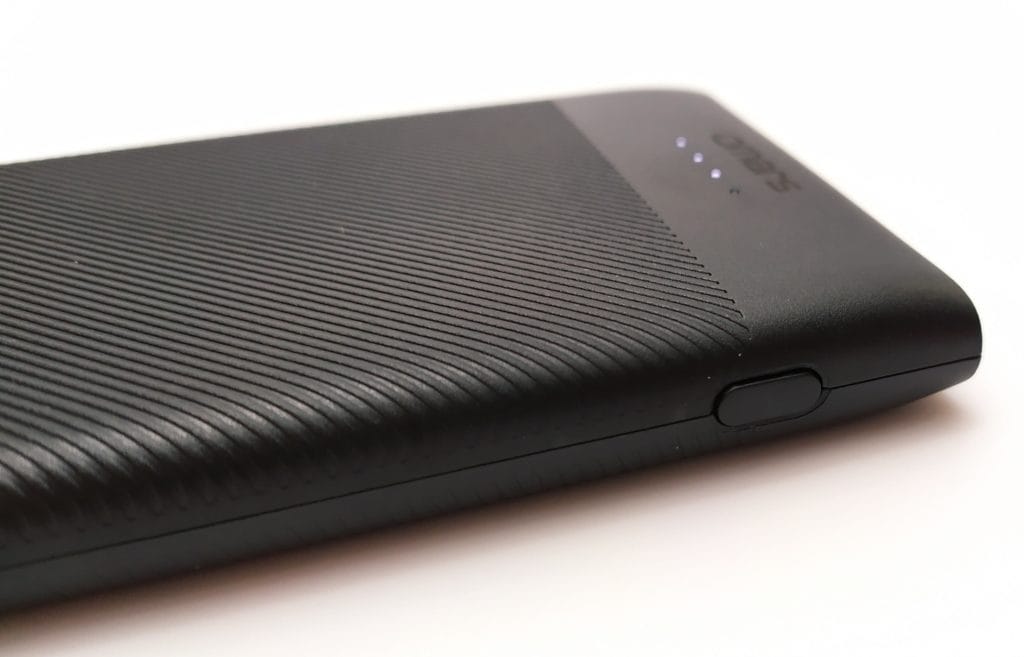 On the side of the power bank you'll see from the image above a side button. This button once pressed shows you the remaining power left on your power bank.
The Ports and Lights.
The Omars SlimPack Power Bank has 4 ports on the top area. These ports are as follows:
2x USB-A outlet ports.
1x USB-C In/Out port.
1x Micro USB charging port.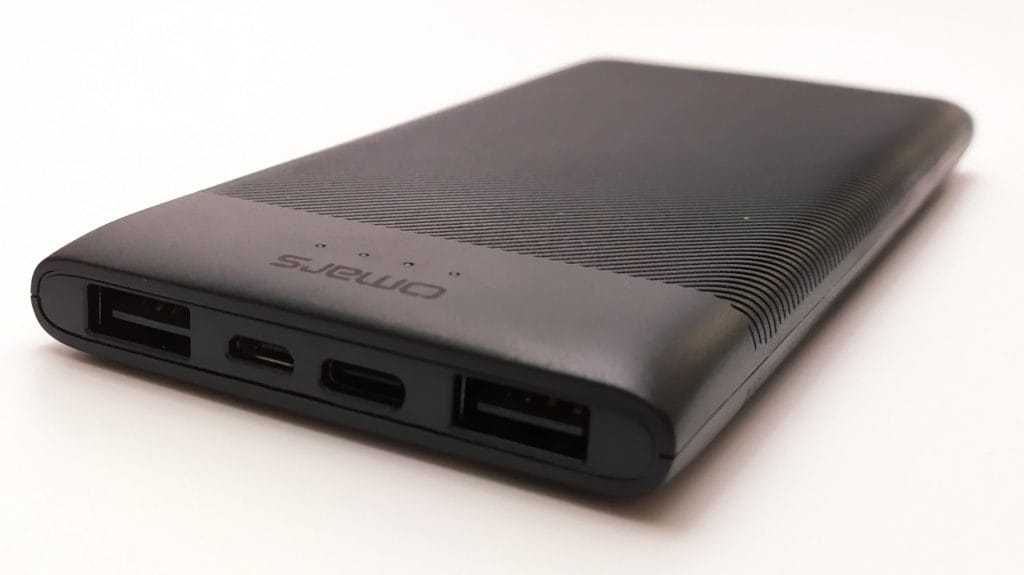 You're able to fully utilise both USB-A ports and the USB-C ports. I tried it out and was able to charge 2x mobile phones (one on the USB-A port and the other on the USB-C port) and a rechargeable cat laser toy using the other USB-A port.
There was no notable heat coming from the power bank too, which is great.
The LED lights on the front indicate how much power is remaining. These lights indicate the following when pressing the side button:
4 Lights – Battery level 75% – 100%
3 Lights – Battery level 50% – 75%
2 Lights – Battery level 25% – 50%
1 Lights – Battery level 1% – 25%
This is a great visual and these lights also constantly display when the power bank is in use. The lights also appear when you're charging the power bank to indicate the current charging level.
Charging and Testing.
To charge the Omars SlimPack Power Bank you need to use the Micro USB port on the top (it has IN written near it) and you need to power it using a standard 5V DC power source. You can use the supplied cable which measures 21.0cm in length or use any Micro USB charging cable. It's the same cable that's used for Android devices. The charging current is advertised as being 5V/2A.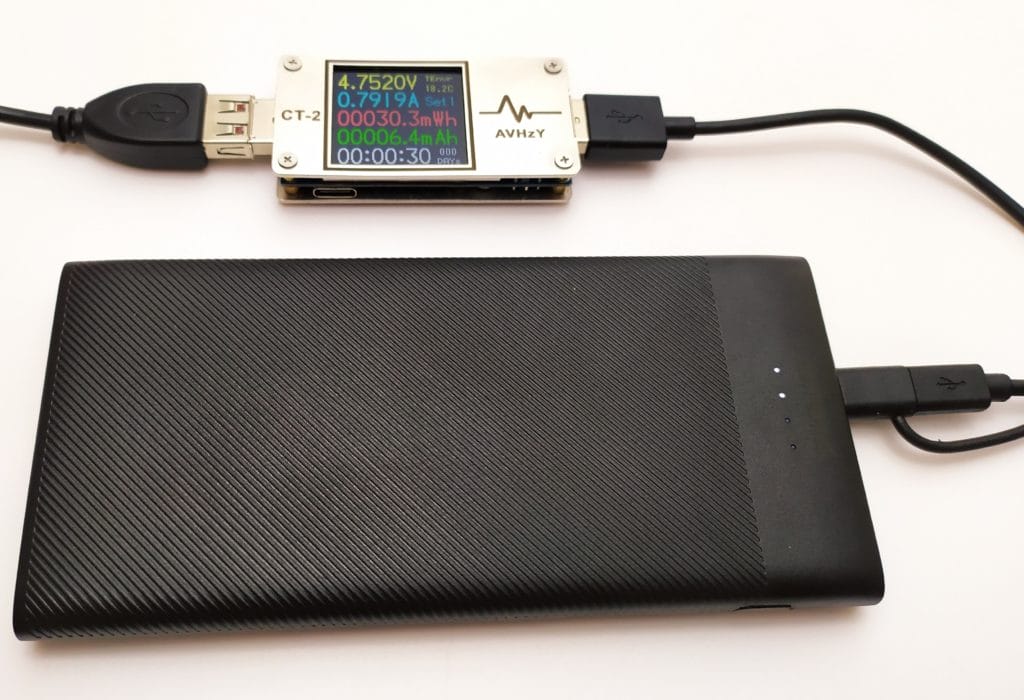 As you can see from the above image the power bank charges at 4.7V /0.7A. A lot lower than the advertised capabilities I was even using the supplied charging cable and a powered wall adapter that I commonly use for all reviews. At that rate, the recharge time is around 6-8 hours. You can use the USB-C port to charge the power bank too, the advertised charging current for this option is 5V/3A. I'm currently unable to test the USB-C input current. But I wouldn't 100% trust these advertised figures if the Micro USB method is anything to go by.
Using the Power Bank.
The plus side to the power bank is the actual usage. It's actually very good. You're able to charge 3x devices at the same time and all devices are equally charged. The ports are advertised as follows:
USB-A Outlet – 5V/2.4A
USB-C Outlet – 5V/3.0A
Total Output – 15W
I recorded for my iPhone 7 an output of 5V/1.0A (Using my Subbytech Disco Cable) which is pretty standard, on my Xiaomi Redmi Note 7 had an output of 5V/1.5A (using the USB-A ports as opposed to the USB-C port as I'm unable to test these ports).
Overall, the output capabilities aren't too bad, It's a shame I wasn't able to test the USB-C port as it did in fact quickly my phone, I just wasn't able to record these figure.

Technical Specifications.
Brand: Omars
Model: SlimPack Power Bank
Manufacturer Code: OMPB3710BKCJNL-U
Manufacturer Reference: N/A
EAN: N/A
ASIN: B07H3G6SWQ
Battery Type: Li-Polymer Battery
Battery Capacity: 10,000mAh @ 3.7V (37Wh)
Micro USB Input: DC 5 V/2A
USB-C Input/Output: DC 5V/3A
USB-A Output: DC 5V/2.4A
Total Output: 15W
Operating Temperature: 10~40°C
Compliance: CE, FCC, RoHS
Conclusion.
I like the Omars SlimPack Power Bank. It's lightweight and works as you'd expect. It feels the same to hold as a larger mobile phone and will easily be carried in a pocket without taking up too much room.
The textured finish also provides much needed grip and helps handle the power bank. I was impressed at how it charged two mobile phones and a cat laser toy whilst still being to charge at the standard charging power as you'd expect.
I certainly recommend this power bank from Omars, it currently has over 1000 Amazon reviews with an average customer rating of 4.6/5.0 stars.
If you want the Omars SlimPack Power Bank for yourself, it's available for purchase only on Amazon. The RRP for this product is £25.99.
Product sample provided by Omars in exchange for a detailed, unbiased review.
---
Thank you for taking the time to read my post. If you'd like to add a comment or thought on this post, please use the section below. I can also be contacted via the online contact form. Please subscribe for the latest reviews, news, and discounts. Please follow My Helpful Hints on Twitter, Instagram & Facebook too!
Omars SlimPack Power Bank