Today I'll be writing a review for the earthbasics Bamboo Toothbrush. This brush is made from 100% biodegradable materials.
I reviewed a bamboo toothbrush the other week that claimed to be 'plastic free' but in fact had Nylon bristles. This brush is plastic free, not only that but it's also Vegan friendly and animal cruelty free. Massive plus points.
I'm trying to shop smaller and decided to carry out some secret shopping. Some companies go all out to impress when their product is being sent to a reviewer. But on this occasion earthbasics had no idea who I was.
Who are earthbasics?
I went onto their website https://earthbasics.co.uk and had a browse about. The website is very responsive to desktop, tablet and mobile viewing, which is very impressive. The next thing to do was to select a product, earthbasics stock all biodegradable, eco-friendly, plastic free, sustainably sourced and fully recyclable. They stock fantastic products such as shampoos and skin care, deodorants, body accessories and other eco-friendly products. I settled on the toothbrush as I'd recently reviewed one and wanted to compare the two.
earthbasics are a new company (Established February 2020). Already I can see them becoming extremely popular. They also provide excellent customer service. I decided to test this out and became a pain in the arse customer, asking a multitude of questions. Each time earthbasics responded politely and assisted me. So big plus points for their customer service skills.

One thing in my opinion that might need addressing is the delivery section of the ordering process. You're not aware of any delivery charges until you commence checkout. Only when you get to this point of ordering do you see any mention of a delivery charge. Personally, I like to see all prices upfront before purchasing. A possible solution could be to add a page on the site regarding delivery information and prices.
Packaging and Contents.
The earthbasics Bamboo Toothbrush comes in a small cardboard box which features product images and printed specifications. The outer box measures 20.0cm x 2.5cm x 1.5cm and weighs 18G. It is also worth noting that the brush was sent to me in eco-friendly packaging too, no plastic whatsoever. Not even a trace of Sellotape.

Inside the box you'll receive 1x Toothbrush.
earthbasics Bamboo Toothbrush.
The earthbasics Bamboo Toothbrush is made from a bamboo handle and features non-plastic bristles. These bristles are made from 100% biodegradable plant-based castor oil.
Castor oil is a multi-purpose vegetable oil that people have used for thousands of years. It's made by extracting oil from the seeds of the Ricinus communis plant. These seeds, which are known as castor beans, contain a toxic enzyme called ricin (Source – https://www.healthline.com/nutrition/castor-oil).
The earthbasics Bamboo Toothbrush measures 19.0cm in length x 1.0cm in diameter, the head area measures 3.0cm in length x 1.0cm in width x 1.0cm in height and weighs 12G. I quite like the handle being a round too, it helps provide better grip.

The bristles are soft/medium and provide a deep clean. It was my first attempt of using a brush made from castor oil.
The brush is comfortable, and the bristles don't lose shape when in use.
Overall, I highly recommend this toothbrush. When it comes to replacing this brush simply put into your compost bin. The whole thing is 100% biodegradable. Which is fantastic. No harming the environment whatsoever!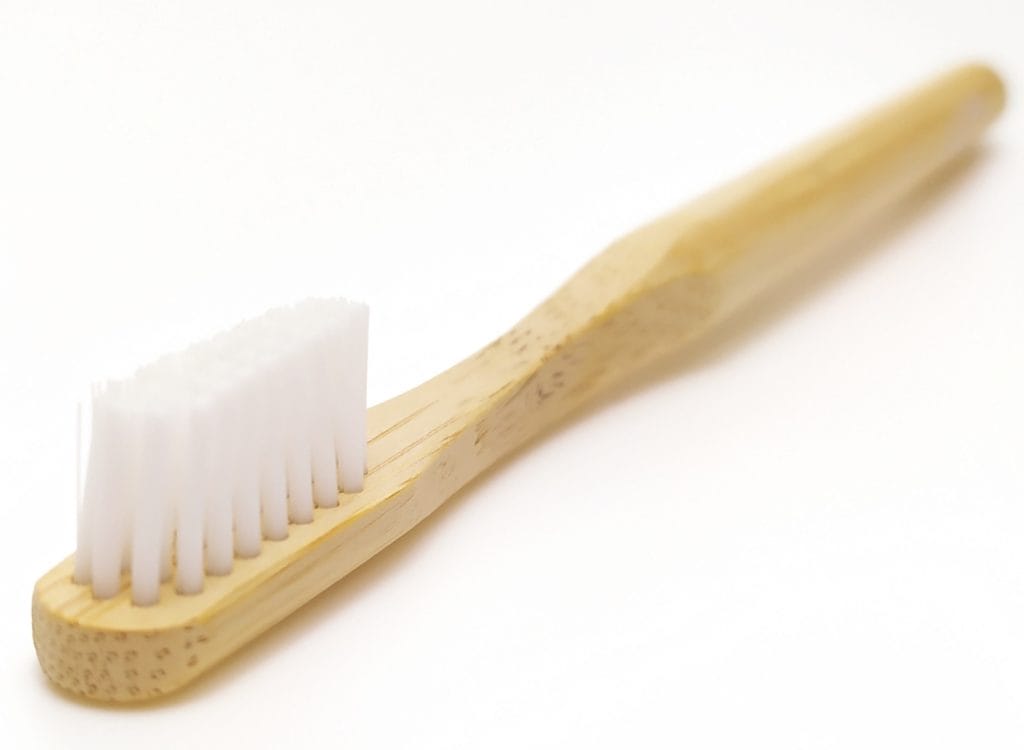 The costs of this brush, an amazing £2.39. What an absolute bargain!
Technical Specifications.
Brand: earthbasics
Model: Bamboo Toothbrush
Manufacturer Code: N/A
Manufacturer Reference: N/A
EAN: 4260397790410
ASIN: N/A
Compliance: Cruelty Free, Vegan Friendly.
Conclusion.
I love my earthbasics Bamboo Toothbrush. It's nice knowing that after I've finished with my brush no traces of it can damage the environment or our wildlife. I found the brush to work incredibly well.
This was my first attempt at secret shopping for a review. I wanted to see how a small business compares to a larger more established business. I'm extremely impressed with earthbasics. Their website is impressive, so is their product range and above all their speedy and informative customer service skills.
The only improvements I can see is to do with the delivery information on the website, once this is address then I'd rate the whole shopping experiences as one of the best.
If you want the earthbasics Bamboo Toothbrush for yourself, it's available for purchase only on their website. The cost of this product is £2.39.
---
Thank you for taking the time to read my post. If you'd like to add a comment or thought on this post, please use the section below. I can also be contacted via the online contact form. Please subscribe for the latest reviews, news, and discounts. Please follow My Helpful Hints on Twitter, Instagram & Facebook too!
earthbasics Bamboo Toothbrush