I'm super-excited to write today's review, it's for the Subbytech Disco Charging Cable. A glow in the dark LED charging cable that can charge almost all your everyday gadgets.
With the cable you get three magnetic end pieces which includes a Lightning, Micro USB, and a USB-C connector. So, one cable really can serve all your charging needs.
But who are Subbytech? Well I can tell you Subbytech have been around since November 2018 and was an accidental creation by Paul McCaw. He unfortunately had an injury to his neck (Burst C5 disc) caused by a gym accident and spent a lot of time lying on his back. Unable to reach successfully for his mobile phone cable he purchased a power bank. The power bank was clunky and not fit for purpose, Paul thought he could create something better. And he did so using a specialised manufacturer, the rest is history and today Subbytech supply power banks and the obvious following on accessory product is a cable.
December 2019 saw Subbytech win a business award run by legendary Dragon's Den investor Theo Paphitis.
Packaging and Contents.
The Subbytech Disco Charging Cable comes packaged in a plain looking bag. But Subbytech do throw in an extra gift of a packet of Haribo, which I think is unique. Also, the outer envelope that gets posted to you features a special image/theme. I'd show you it, but I'd end up publishing my PO Box and personal address over the internet.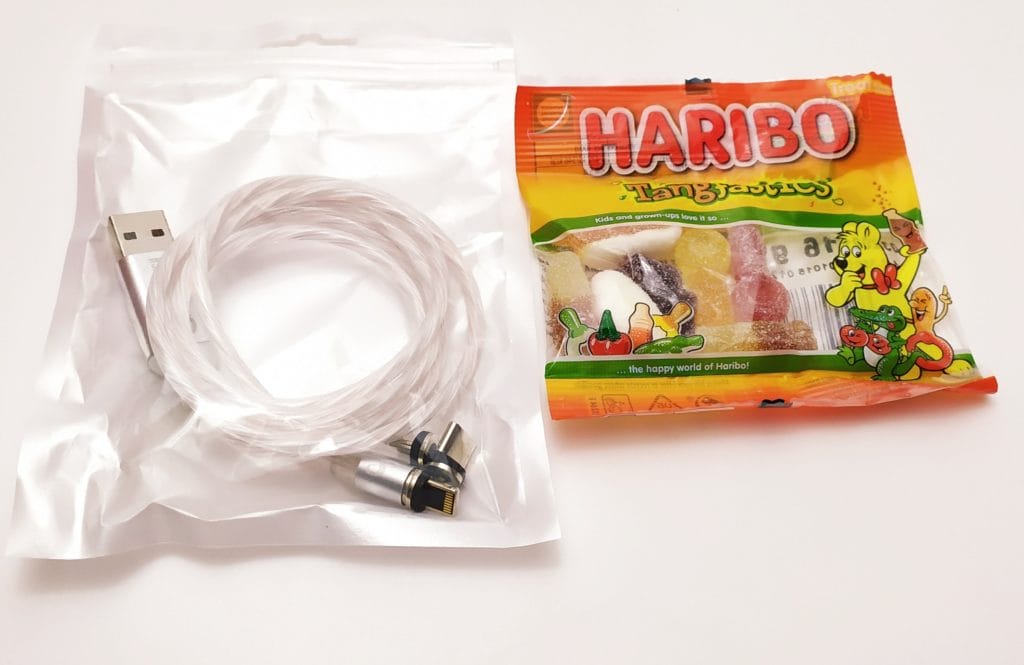 Inside the bag you'll find the following: 1x USB Charging Cable, 1x Lightning Connector, 1x Micro USB Connector, and 1x USB-C Connector.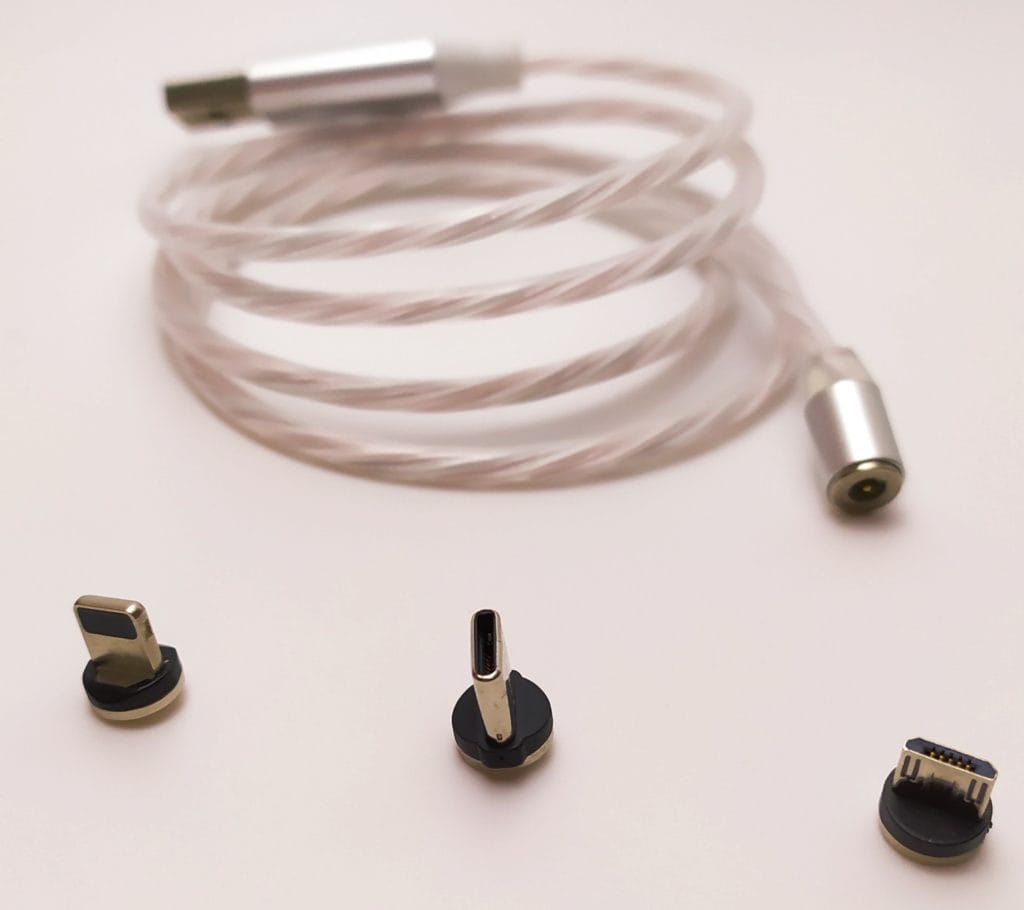 Subbytech Disco Charging Cable.
The Subbytech Disco Charging Cable is made from TPE (Thermoplastic Elastomers) which means it's both flexible but also durable. It's has a white/opaque finish to it and upon looking closely into the cable you'll see multiple LED cables. This is where the magic happens. The cable measures 1M in length and features a standard USB plug on one end and a magnetic receiver on the other.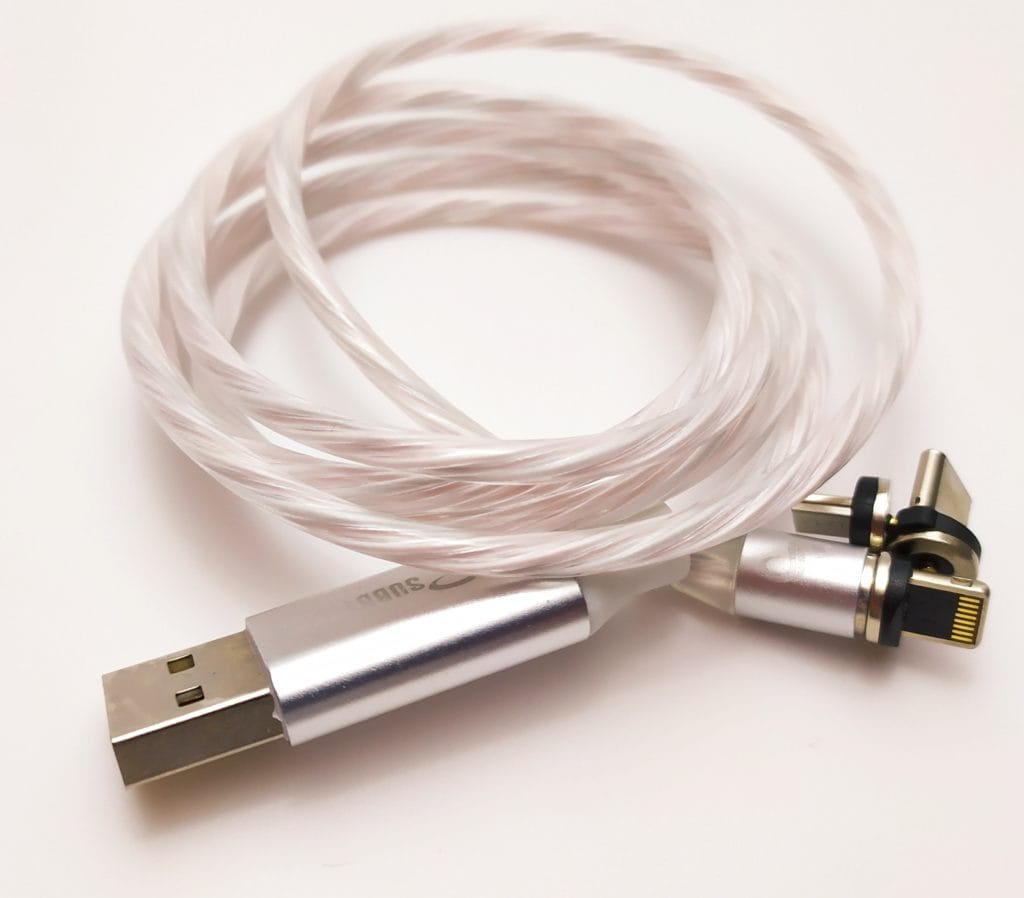 To use you need to simply use a 5V DC power source. You can use this cable with your usual AC wall adapter, use a spare USB port on your laptop, or use any other 5V DC rated USB power source. For the purpose of today's review, I'll be directly comparing this cable to an original Apple 1M lighting cable on my iPhone and using an original Apple branded wall power adapter.
Using the Cable.
Using the Subbytech Disco Charging Cable is simple You need to select the type of connector you require and insert into your device and then the cable will magnetically attract to it. That's it!
But there is an issue when it comes to using the lightning connector on an iPhone. Usually it doesn't matter which way you plug in an lightning cable using a standard iPhone cable, but with the Subbytech version it does. Plug it the wrong way and nothing will happen apart from a lighting show (No battery charging). There's an arrow printed on the lightning connector, this needs to be facing upwards towards the home button side of your iPhone, that way it'll work.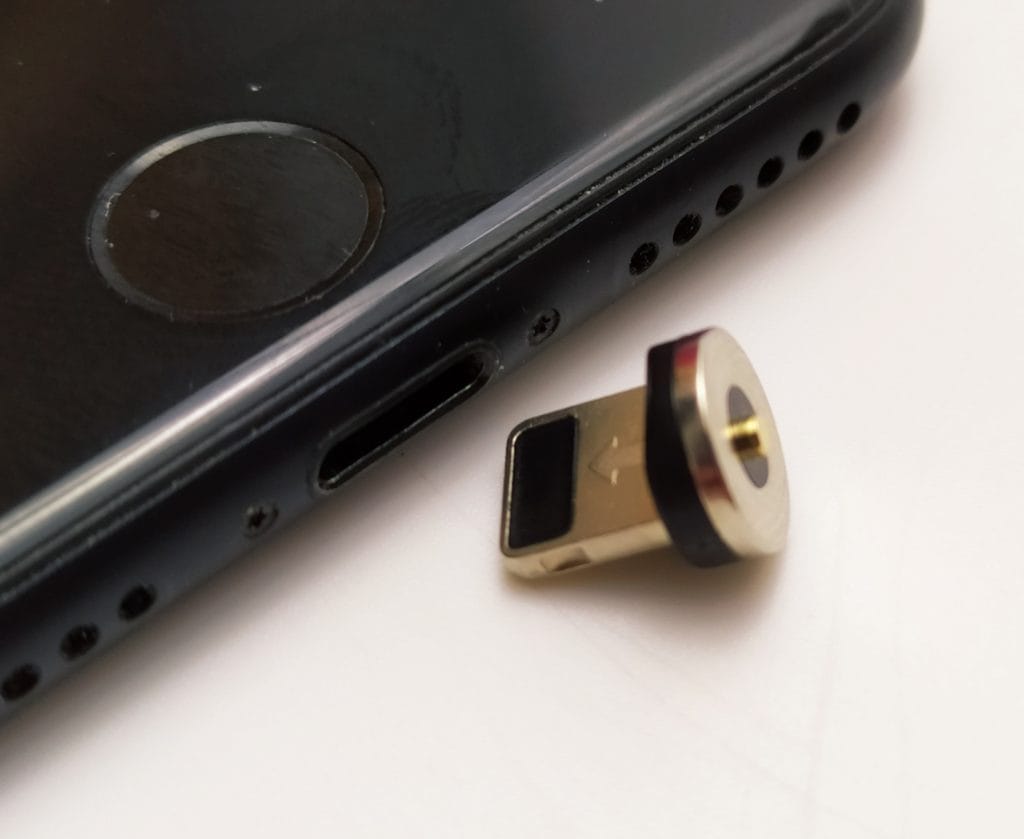 Aside from that, it's straight forward. Although this isn't mentioned on the Subbytech product page and you don't get any written information sent with the product either. An improvement idea for future models would be to have the lightning pins on both sides of the cable to eliminate this initial confusion.
I have devices that use all three connectors, so if like me you're the same you can simply leave the connectors in your device and use one cable to charge each device as and when required.
Time to get Technical.
The original Apple plug and cable is designed to charge your device at around 5V and at 1A and anything that achieves that is safe and will prolong your devices battery. When I tested the original set-up using my AVHzY CT-2 USB Power Meter Load Tester I was recording readings of 4.8V and 0.7A (This could be due to the fact that I was using a USB extension, but the same setup would be used for both cables).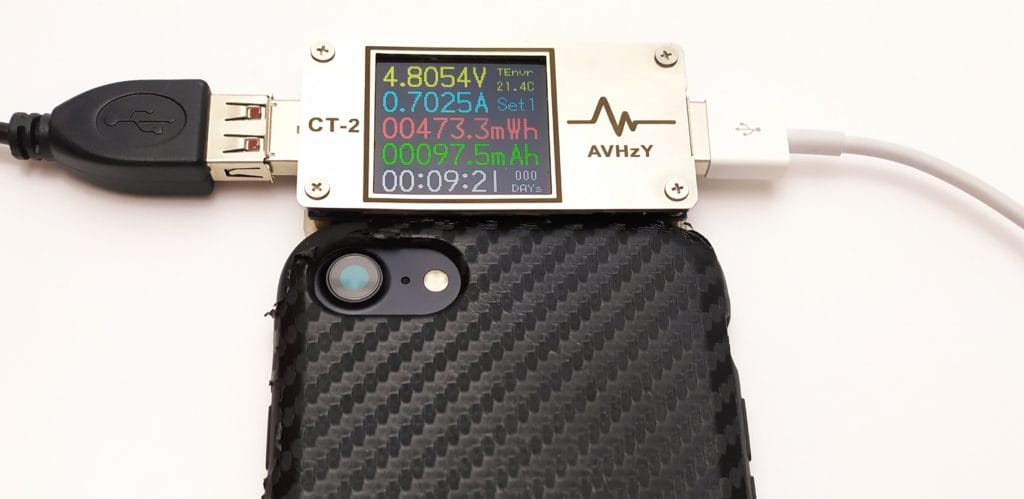 When it came to be using the Subbytech Disco Charging Cable I was recording 4.7V and 0.7A, so they're both almost the same except for a mere 0.1V, which is nothing! So, the Subbytech cable can achieve the same charging output as the original Apple cable.
Cool Design.
For most people the main purpose of purchasing this cable is for the disco lighting effect. And no photo/video can really show off how good this cable is compared to real life experience. It's a great LED light show. The lights flash quite fast and flow in the direction of power from the power adapter to your device. I have attempted to capture some videos below.
The below video features slow motion footage and probably the best way to see every colour in action.
The above videos don't do the cable any real justice. Honestly the best way is by watching it in real life.
Technical Specifications.
Brand: Subbytech
Model: Disco Charging Cable
Manufacturer Code: N/A
Manufacturer Reference: N/A
EAN: N/A
ASIN: N/A
Connector Types: Lightning, Micro USB, USB-C
Cable Length: 1M
Compliance: N/A
Conclusion.
I really like the Subbytech Disco Charging Cable. It's fun but also practical. I like the fact that one cable is all that is needed for a variety of different phones and other rechargeable devices around your home.
The only improvement I can see is the Lightning connector requires pins on both sides of the connector so it can used either way.
Another point to mention is the very quick response times when you contact Subbytech. On the many occasions that I've contacted them, they've been very quick to respond. When I say quick, I mean within 10 minutes, which is very impressive. They're also very quick to respond on social media too and are very active on there too.
Would I recommend the Subbytech Disco Charging Cable? YES!
Do I suggest you buy one immediately? YES!
How much are they? £9.99 and if you add the code 'DISCO' into the checkout page you'll get free UK postage too! EU customers can also buy this cable for only £3.99 postage. But for safety reasons Subbytech can't send EU customers power banks through the postal system.
Where can you purchase one I hear you ask? Directly on the Subbytech website. Click here to see the cable here, and also whilst you're there check out their range of power banks. Maybe in a future review I'll be able to write about one of those too! (Massive hint being dropped ?)
Update 14/04/2020 – Subbytech have kindly supplied me with a special discount to all my website visitors. To get 15% off any cable or power bank enter the code 'hints' on their website. This is a special unique code exclusive to My Helpful Hints.
Product sample provided by Subbytech in exchange for a detailed, unbiased review.
---
Thank you for taking the time to read my post. If you'd like to add a comment or thought on this post, please use the section below. I can also be contacted via the online contact form. Please subscribe for the latest reviews, news, and discounts. Please follow My Helpful Hints on Twitter, Instagram & Facebook too!
Subbytech Disco Charging Cable