Today's review is for the Syncwire Car Phone Holder. It's been quite a while since I last reviewed a Syncwire product, so was excited when they approached me again for a review. I was given free choice to review anything from their website. I couldn't decide, so took to Twitter. The Syncwire Car Phone Holder was chosen at random from a list of chosen products.
There're so many different types of mobile phone holders available for your car. Some attach to the windscreen, some attach into your cars air vent, and some attach directly onto the dashboard itself. The Syncwire Car Phone Holder has a trick up its sleeve, it can supposedly attach to both your windscreen and dashboard.
It has telescopic arm, 360° rotation, and a 210° pivot action, making it both versatile and a universal fit to any vehicle. You can use any device from a 4-inch screen, right upto larger 6.5 inch sized devices, these include the most popular of devices. Suitable for iPhone 11 / 11 Pro / 11 Pro Max / X / XS / XS Max / 8 / 8 Plus / 7 Plus / 6S / 6 Plus, Samsung Galaxy S10 / S10+ / S10e / Note 9 / S9 / S9+ / S8 / S8+ / Note 8 / S7 / S6 / S5 / S4, Huawei P30/P20, Blackview, Xiaomi, LG, Nexus, Pixel, Sony, Nokia, and manty more.
So, is this car phone holder any good? Time to test it out!
Packaging and Contents.
The Syncwire Car Phone Holder come packaged in a white cardboard box which features product images and specifications printed on it. The box measures 16.3cm x 12.5cm x 6.5cm and weighs 220G.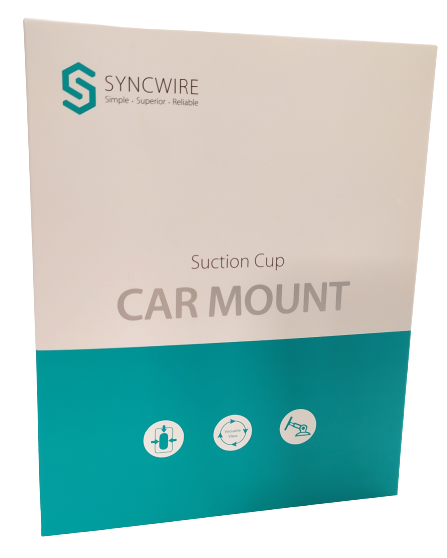 Inside the box you'll find the following: 1x Phone Cradle, 1x Suction Cup Holder, 2x Wet Wipes, 1x Multi-Lingual User Guide.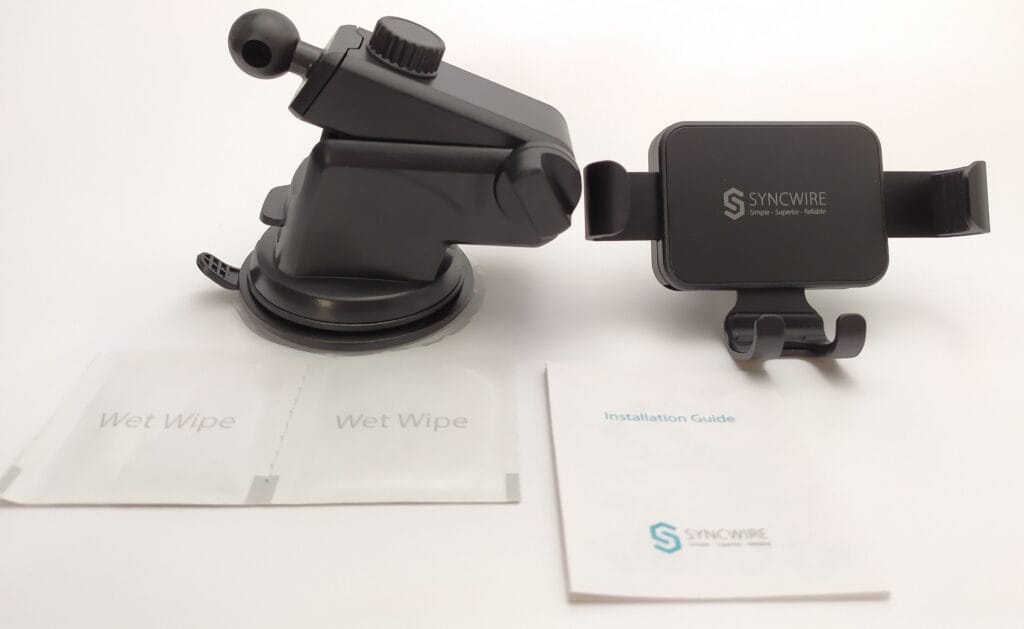 Syncwire Car Phone Holder.
The Syncwire Car Phone Holder is made from mixed materials, these include plastic and metals. The car holder (when assembled and without any device) weighs 145G.
To assembled you need to loosen the clamp near to the rotating ball and assemble the two pieces together. Gently tighten the clamp to secure both sections.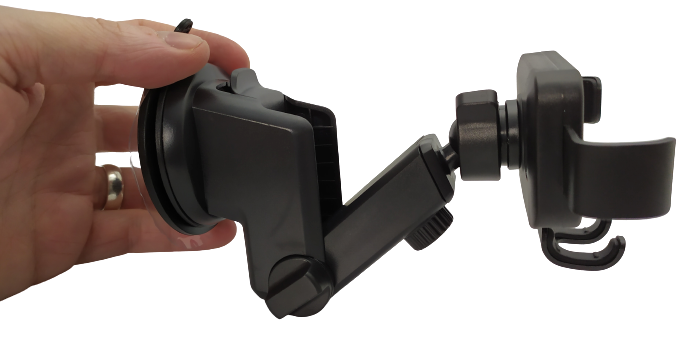 You can adjust the rotation by simply loosening the clamp on the ball and re-clamping when you're stratified. To adjust the upward/downward position you need to adjust by the knob on the side, the clamp on the underside adjusts the telescopic action.
Inside the mount itself there's a rubber section to each of the holding arms, along with the bottom holding section too, this is great for both device protection and stops your phone from slipping out of the holder whilst your vehicle is in motion.
I tested this car phone holder out using my iPhone 7, it held it into position without any movement whatsoever,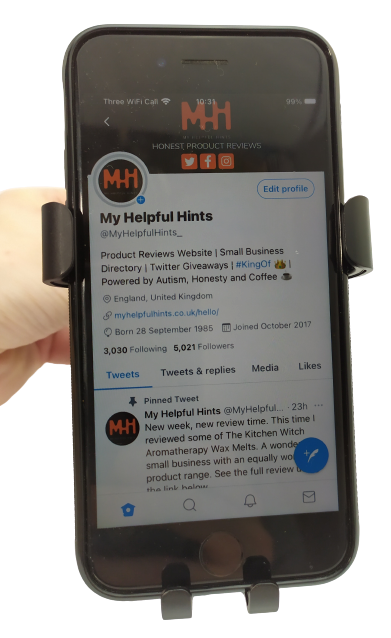 As you can see, I'm using it alongside a protective case, I measured 1.7cm as a maximum thickness that the Syncwire Car Phone Holder can hold. This might be an issue for flip folio type protective cases or battery cases, you'll probably need to remove your phone from these types of cases. If you have a case like mine, you should be OK.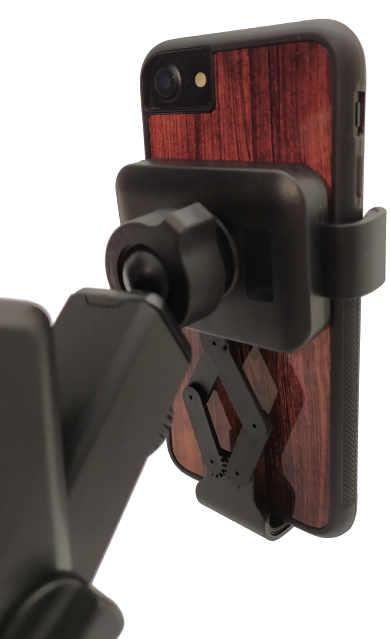 Does it work?
Yes and no! It certainly works well on exceptionally smooth surfaces such as your windscreen, but anything with a textured surface won't work. Most modern cars have a textured dashboard, this prevents the Syncwire Car Phone Holder from adhering to the surface. Syncwire sill advertise that this will work on textured surfaces, this is in fact incorrect, it won't, it'll fall off the moment you turn a corner.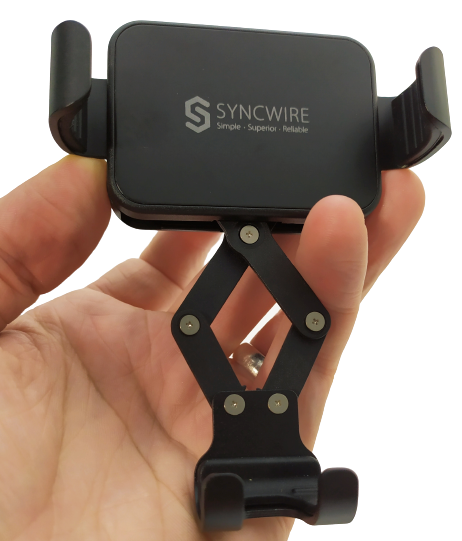 The metal cantilever mechanism works well though, it allows you to use the Syncwire Car Phone Holder with any device and it'll secure your device without any issues. You can't use your device in landscape mode though, it'll most definitely fall out. Syncwire have conveniently designed the holder to allow you to be able charge your device at the same time. This is a nice touch.
You can extend the car phone holder to 11.5cm with a 210° adjustable upward/downward position. This will work with almost every type of vehicle, no matter the vehicle size.
Technical Specifications.
Brand: Syncwire
Model: Car Phone Holder
Model Code: SW-CH418
EAN: 4897099004011
ASIN: N/A
Compliance: CE Marked, RoHS
Conclusion.
I like the Syncwire Car Phone Holder, it works well on a windscreen without falling off. But use on a textured dashboard surface however doesn't work as well. It sort of holds, until you drive, then it will fall off. I think Syncwire need to re-address their claim of secure adhesion to "most dashboards". This implies it's your dashboard that's at fault, like you have some dashboard minority, truth be told, the Syncwire Car Phone Holder won't work on any textured surface, and certainly not using a suction cup as a form of adhesion.
Overall, though if you want a decent quality windscreen mobile phone holder, then this model is perfect for you.
If you want the Syncwire Car Phone Holder for yourself, it's available for purchase only on the Syncwire website. The RRP for this product is £14.98.
Also, get 10% off any product on the Syncwire website, enter the code MYHELPFULHINTS.
Product sample provided by Syncwire in exchange for a detailed, unbiased review.
---
Thank you for taking the time to read my post. If you'd like to add a comment or thought on this post, please use the section below. I can also be contacted via the online contact form. Please subscribe for the latest reviews, news, and discounts. Please follow My Helpful Hints on Twitter, Instagram & Facebook too!
Syncwire Car Phone Holder