The Sumvision Kata Gaming Mouse is a universal USB enabled gaming mouse that can be used for both intensive gaming or as a great everyday computer mouse.
You get a choice of weights that allow you to set the mouse to a weight for which you feel most comfortable with.  You can choose from 6G, 12G, or 18G and switching is easy.
Another cool feature is the LED lighting that surrounds the edge of the mouse and a breathing LED light on the logo area add a special touch.
But is this mouse any good? What does it perform like? Time to test it out!
Packaging.
The Sumvision Kata Gaming Mouse comes packaged very neatly in a Black cardboard box which features product images and specifications printed on it.  One edge features a magnetic closure too!  The box measures 22.5cm x 17.0cm x 5.0cm and weighs 295G.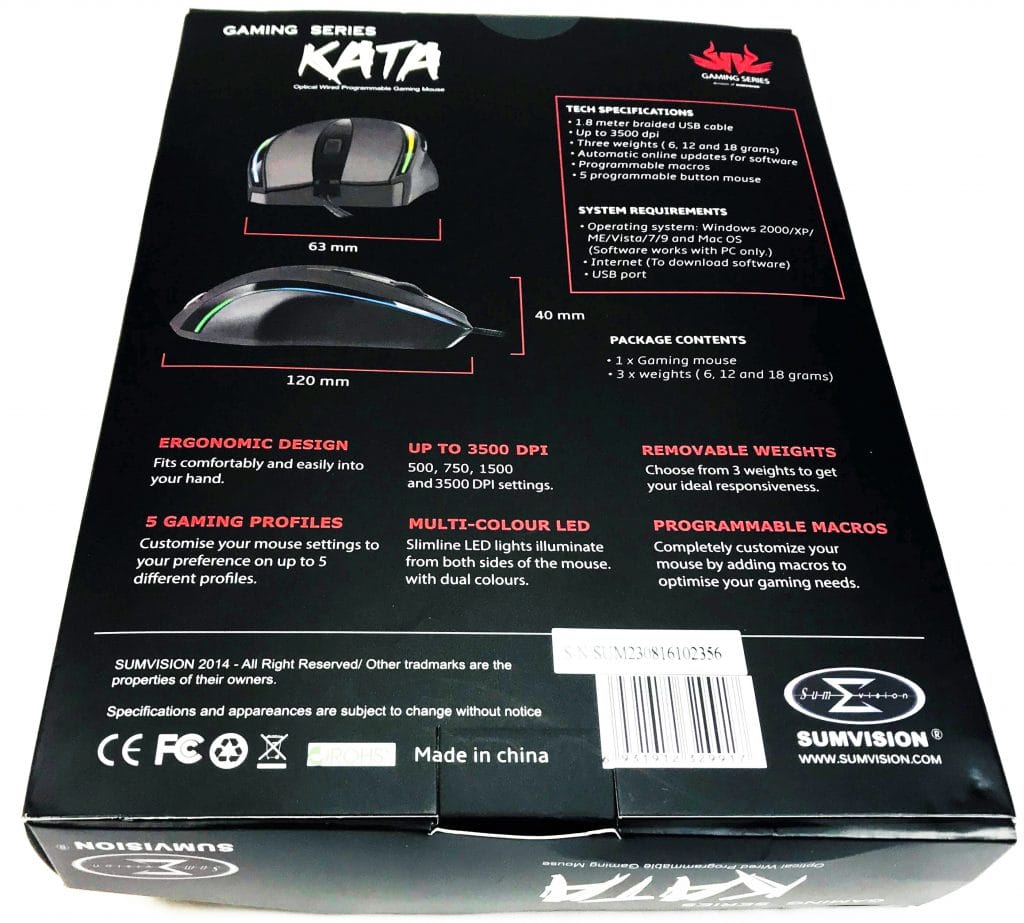 Contents.
Upon opening the Sumvision Kata Gaming Mouse box you'll find the following items. 1x USB Mouse, 3x Mouse Weights, 1x Company Leaflet.
Sumvision Kata Gaming Mouse.
The Sumvision Kata Gaming Mouse is Black in colour and has a nice matte non-slip finish to it.  It's sleek in shape and has been designed to fit comfortably in your hand.  Although, if you're left-handed you'll find this mouse not suitable for you due to the ergonomic shape suiting right-handed people.  The mouse measures 12.0cm x 4.0cm x 6.3cm and weighs 105G (With 12G inserted)
The cable has a durable braided feel to it and features a standard USB adapter, the cable has a length of around 1.8M and will fit into any standard USB port on a laptop, desktop, tablet, or any other USB enabled device.
The mouse features a left and right button, a scroll wheel, DPI selection button, and a back and forward button on the left-hand side.
Features.
OK, the first feature is the removable weights, these are perfect to suit everyone.  Some people prefer a light feeling mouse, whilst other prefer a heavier mouse.  But, with the Sumvision Kata you get a choice, for example I prefer a middle-weighted mouse and have selected to choose the 12G weight.
Changing the weights is a simple process, on the underside of the mouse push in on top of the weight and it will click outward, now click and push down a new weight and that's it!
You can also select different DPI (Dots Per Inch), to select your preferred DPI setting, simply press the DPI button and the Gaming Series Logo will change colour to show you what DPI setting has been selected.  The LED will change to Red for 500DPI, Blue for 750DPI, Green for 1500DPI, and Yellow for 3500DPI.
I prefer the 3500DPI setting, and once your DPI setting has been selected the logo will pulse that colour.
You also get a constant LED lighting effect down both side of the mouse, on the left-hand side you get Green which gradually blends into a Yellow.  On the right-hand side, you get Blue which gradually blends into Green.
Using the Mouse.
Simply plug the USB plug into your device and the mouse should start to work instantly.
You'll be able to use the Sumvision Kata mouse on all Windows 2000/XP/ME/Vista/7/9/10 and MAC Operating Systems.
The buttons feel smooth and the mouse fits very comfortably in your hand.  As previously mentioned this mouse has been designed for the right-handed user and as such has been shaped to accommodate right-handers only!
The buttons don't produce any annoying loud clicking sounds and feel strong and sturdy whilst having some of the sound associated with clicking them softened.
The mouse is very responsive and selects well without any issues.
Sumvision have some software that allow you to programme and store upto 5 different gaming profiles, you're able to customise the functions of your mouse.  The required software is available on the Sumvison website and both this version and the previous model are still catered for.
But, I was more than happy with the standard setup of the Kata mouse.
I also love the LED lighting strips that are present on the mouse.  They add a touch of magic when the ambient light is reduced.
Overall, I can't fault the Sumvision Kata, it's very comfortable, quiet, and easy to use.
Technical Specifications.
Brand: Sumvision
Model: Gaming Mouse
Model Code: Kata
Manufacturer Code: Nem-Kata
EAN: 6931912329917
ASIN: B00SL0QF46
Cable Length: 1.8M
DPI Settings: 500, 750, 1600, 3500
Compliance: CE, FCC, RoHS
Conclusion.
I used to use a wireless mouse before reviewing the Sumvision Kata Gaming Mouse.  Now, I'm only ever using this mouse.  It's perfect and I love how comfortable it is to use.  I was never a big fan of any kind of wired accessories, but I have changed my mind.
I personally love this mouse and highly recommend you purchase one today, honestly, you'll thank you me afterwards.  The Sumvision Kata has won numerous awards and now I can see why.
If you want the Sumvision Kata Gaming Mouse for yourself, it's available for purchase only on Amazon. The RRP for this product is £15.99.
Product sample provided by Sumvision in exchange for a detailed, unbiased review.
---
Thank you for taking the time to read my post. If you'd like to add a comment or thought on this post, please use the section below. I can also be contacted via the online contact form. Please subscribe for the latest reviews, news, and discounts. Please follow My Helpful Hints on Twitter, Instagram & Facebook too!