The Oclean Air Sonic Electric Toothbrush is a new model that features a built-in intelligent and efficient magnetic motor.
You can select from over 100 brushing techniques and plans to ensure your teeth are as healthy as can be.  Also, if you brush too hard this brush automatically adjusts its motor speed to prevent injury to your gums and teeth!
A single charge will last around a month too, so it's very convenient for everyday usage.
But is this toothbrush any good? How will it perform? Time to test it out!
Packaging.
The Oclean Air comes packaged very neatly in a plain looking White cardboard box with only the brand's logo on the front and written product information on the reverse.  The box measures 29.0cm x 7.0cm x 4.5cm and weighs 365G.
Upon opening the box you'll find the Oclean Air neatly sitting inside.


Contents.
Inside your Oclean Air box you'll find the following items. 1x Toothbrush, 1x Toothbrush Head, 1x USB Charger, 1x Quick Start Guide, 1x English/Chinese User Guide.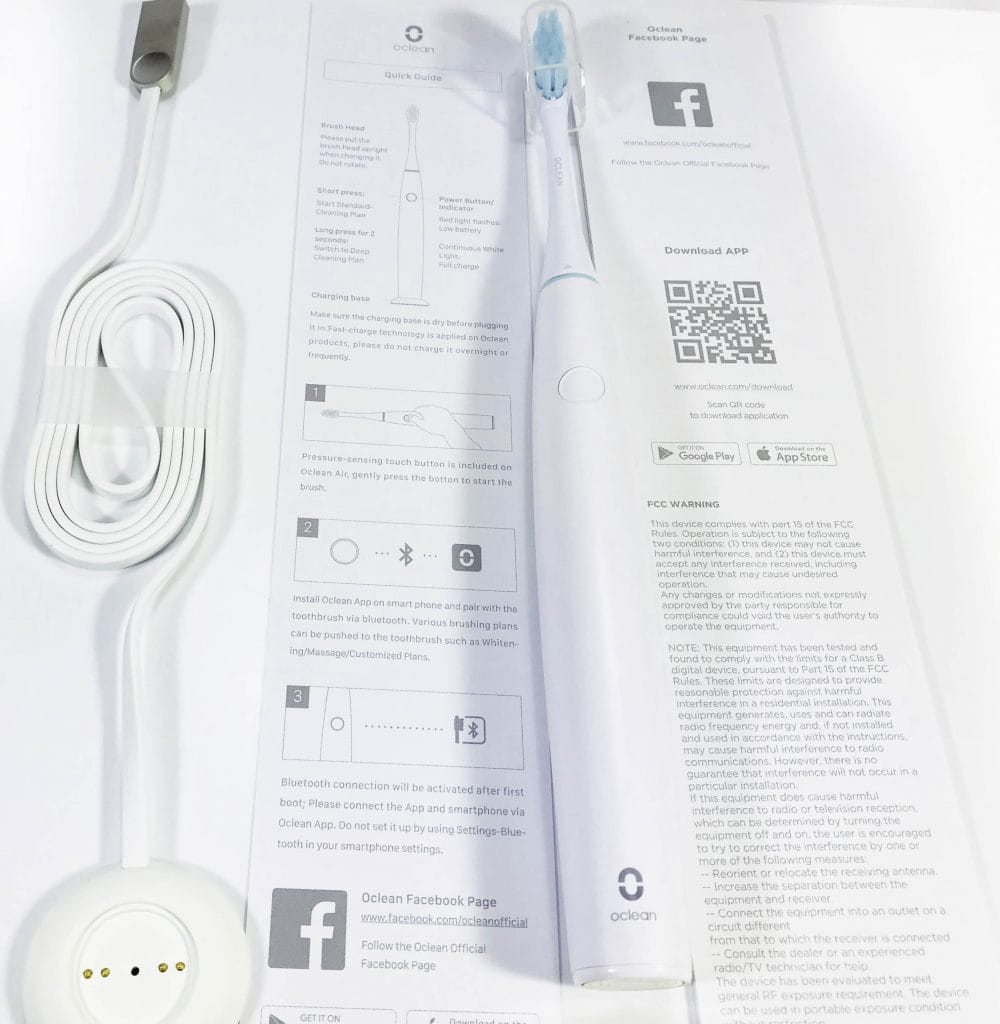 Oclean Air Sonic Electric Toothbrush.
The Oclean Air is White in colour and is made from plastic.  This brush measures (With head attached) 23.5cm in length and the handle has a diameter of 2.0cm, the brush weighs 90G.
The brush head features high-density German Pedex bristles, which are rust-free, environmentally friendly, and hygienic for your mouth.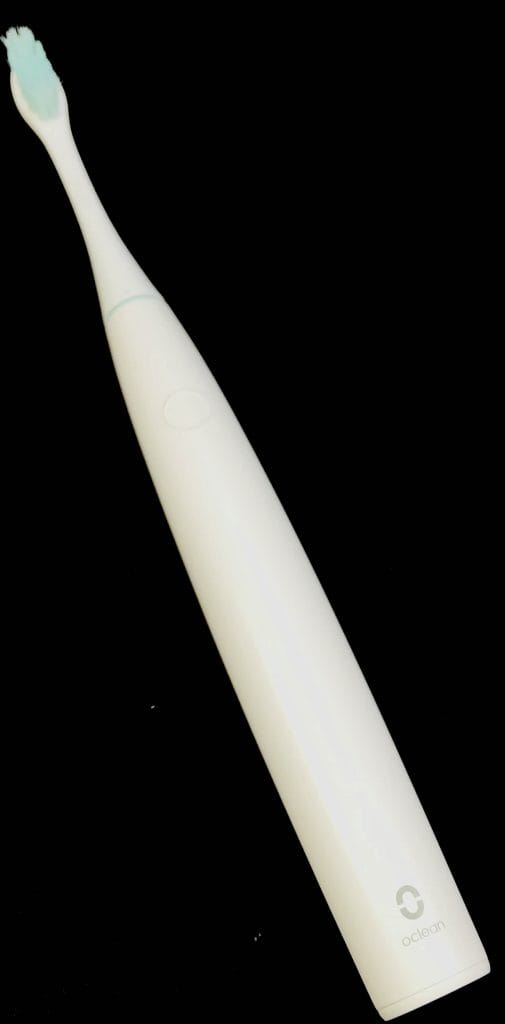 Prior to Brushing.
Before you go and start brushing your teeth you need to give the Oclean Air a charge using the supplied magnetic charging base.  The base features an extra-long cable which measures 105.0cm.  You'll need to plug the USB cable into any 5V DC power outlet and charging will take around 2.5 hours to fully charge.  This single charge will last for upto 30 days (dependant on programme selection and duration)
The Oclean Air will automatically adjust to the pins on the charging base and start to charge when the power button pulses on and off.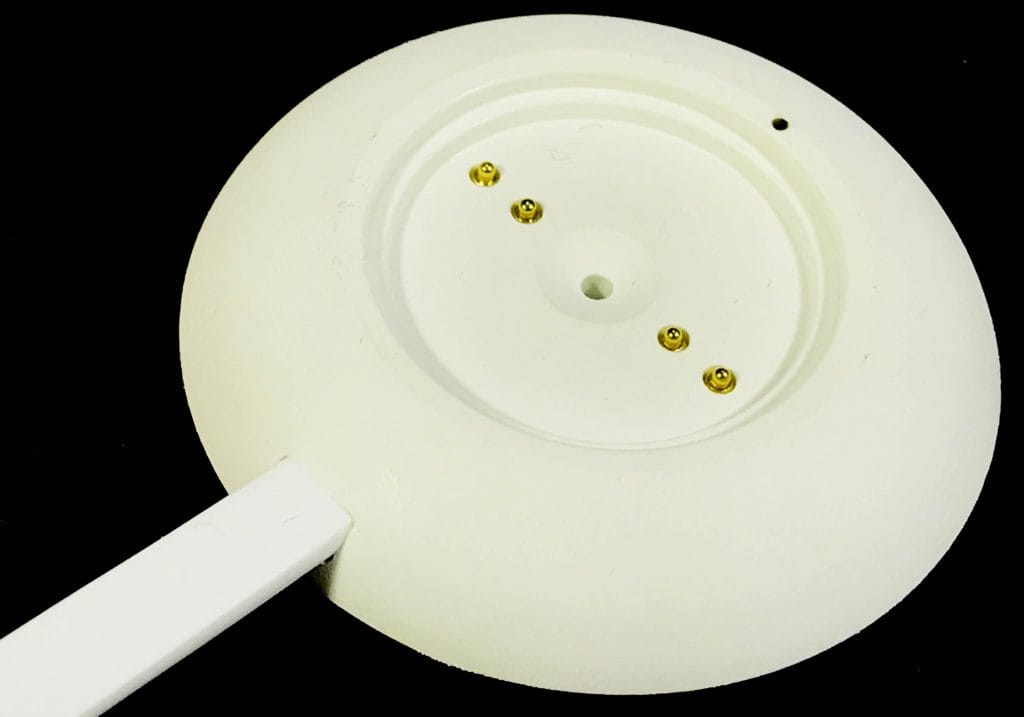 Download the app.
Whilst your brush is charging it's a good time to start to download the app that's required to fully get the best out of the Oclean Air.  The app is called Oclean and it's available to both iOS and Android users.
Please note:  The Oclean Air requires a minimum operating system of iOS 8.0 or above for iPhone users and Android 4.4 for Android smartphone users.  You'll need to ensure that your device supports a Bluetooth connection of 4.2 or above!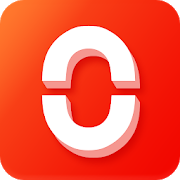 Once downloaded you'll need to connect your Oclean Air brush to the app.  If successful, you'll be able to select what brushing plan you'd like to choose from.  You get 7 from standard to choose from but you're able to upto 20.  Each one has a specific brushing technique and its own automatic duration.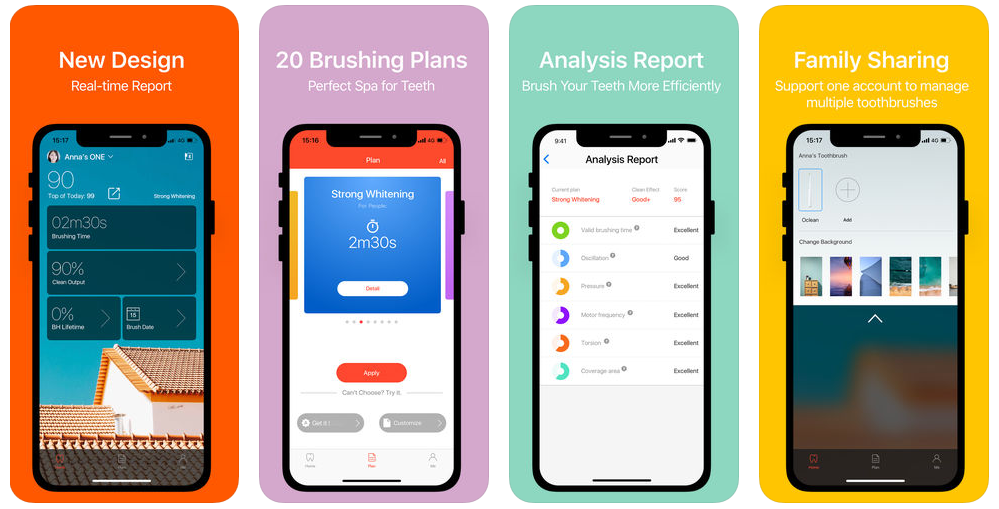 I selected Standard Whitening which is one of the supplied 7 programmes, this one lasts for 2m30s and is designed to not only thoroughly clean your teeth but has the bonus of whitening your teeth.  On the main app page, you'll see an effect score as a percentage, this shows how effective your brushing technique was.  I scored 98% for the first week, which I think is quite good.
Using the Brush.
Once charged you'll be wanting to use this brush almost immediately.  To power on, lightly press the power button and the brush will start to operate on the programme you've previously selected.  The brush will turn off automatically when the time has passed.  Once you've brushed for the first time your brushing technique score will be visible on the app's main page.
Don't worry too much about your first time brushing with Oclean Air.  It's very powerful and takes some time getting used to.  Just be careful when brushing as the top of the brush head can smack your upper teeth, which can hurt.  But, with practice you'll notice this decreasing as you hone your brushing skills.
If you press and hold the power button on the brush, you'll change the brushing technique programme.  But, unless you are using your device you'll not actually know what you've selected.  So, I would suggest only changing the programme on the app itself where you can see your selection.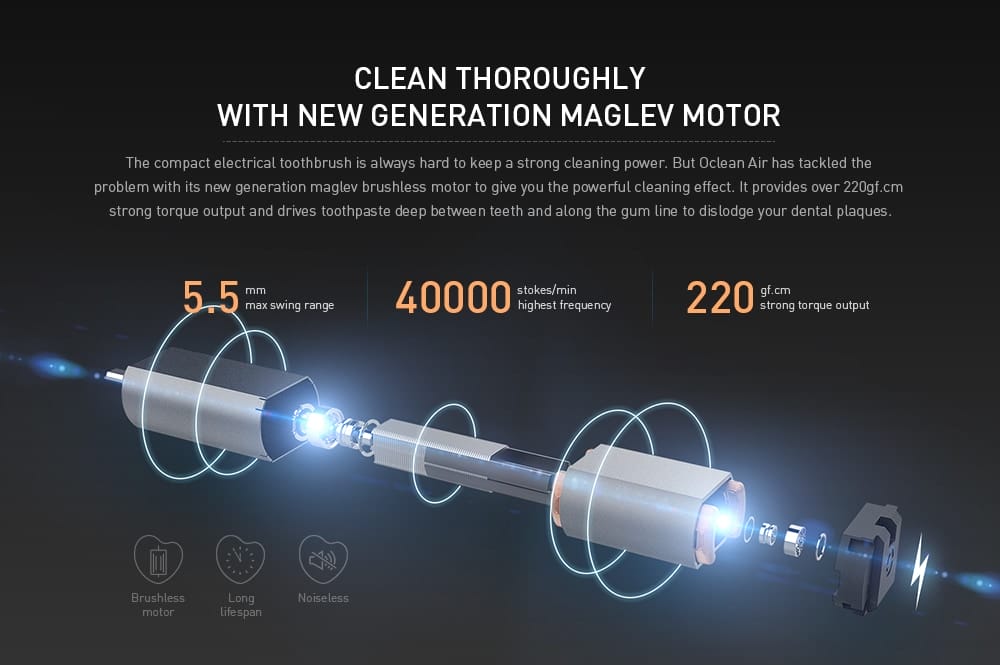 The battery life is excellent, I was using the Oclean Air twice a day for a whole week and still had 20% left after that period.  A quick hourly charge later, and I'm back to 100% again!
One thing that is concerning is the brush lifespan.  After only a week I've now got 77% remaining, so every month you'll need to fork out for more heads.  And, Oclean only supplied you the one head to start off with.  I would've liked to at least be given another head included in the packaging.
Replacement heads can be bought from GearBest.
Technical Specifications.
Brand: Oclean
Model: Air Sonic Electric Toothbrush
Model Code: Oclean Air
EAN: 6970810550597
Charger Input: DC 5V/1A
Frequency: 40,000 RPM/Min
Switch Type: Pressure Sensor
Motor Type: Maglev Sonic Brushless
Twisting Force: 240 gf.cm
Swing Range: 5.5mm
Bristles: German Pedex
Standby Time: 30 days
Bluetooth: Yes
Timer: Yes (Customisable)
Charge Type: Magnetic Fast Charge
Charge Time: 2.5 Hours
Battery Capacity: 800mAh
App Control: Yes (Oclean App)
Smart Gesture Identification: Yes
Cleaning Modes: Gentle/Deep Clean, 100+ Customised Plans
Compliance: CE, FCC, RoHS, FDA, IPX7
Conclusion.
I really like Oclean Air Sonic Electric Toothbrush.  It's very powerful and leaves your teeth feeling cleaned and polished.  I would've liked for an additional brush head to be supplied though.  Overall, the brush is easy to use and works well.
If you want the Oclean Air Sonic Electric Toothbrush for yourself, it's available for purchase only on GearBest and on Amazon. The RRP for this product is £49.99.
Product sample provided by GearBest in exchange for a detailed, unbiased review.
---
Thank you for taking the time to read my post. If you'd like to add a comment or thought on this post, please use the section below. I can also be contacted via the online contact form. Please subscribe for the latest reviews, news, and discounts. Please follow My Helpful Hints on Twitter, Instagram & Facebook too!
Oclean Air Sonic Electric Toothbrush