The SoundPEATS TrueFree Earphones are a wireless and cable-free pair of earphones that will work with just about any Bluetooth device.
The current audio market on Amazon is currently saturated with these types of earphones, and I recently reviewed the BL1 Bluetooth Earphone which has really put me off these types of audio devices.
But SoundPEATS are an upcoming brand that I can't praise enough, I've reviewed a few products for them this year and I'm very impressed by the offerings for anyone on a tight budget.
So, can these TrueFree earphones change my opinion? What will they sound like? Time to test them out!
Packaging.
The SoundPEATS TrueFree Earphones come neatly packaged in a Black outer cardboard box. The outer box measures 10.0cm x 10.0cm x 4.5cm and weighs 156G.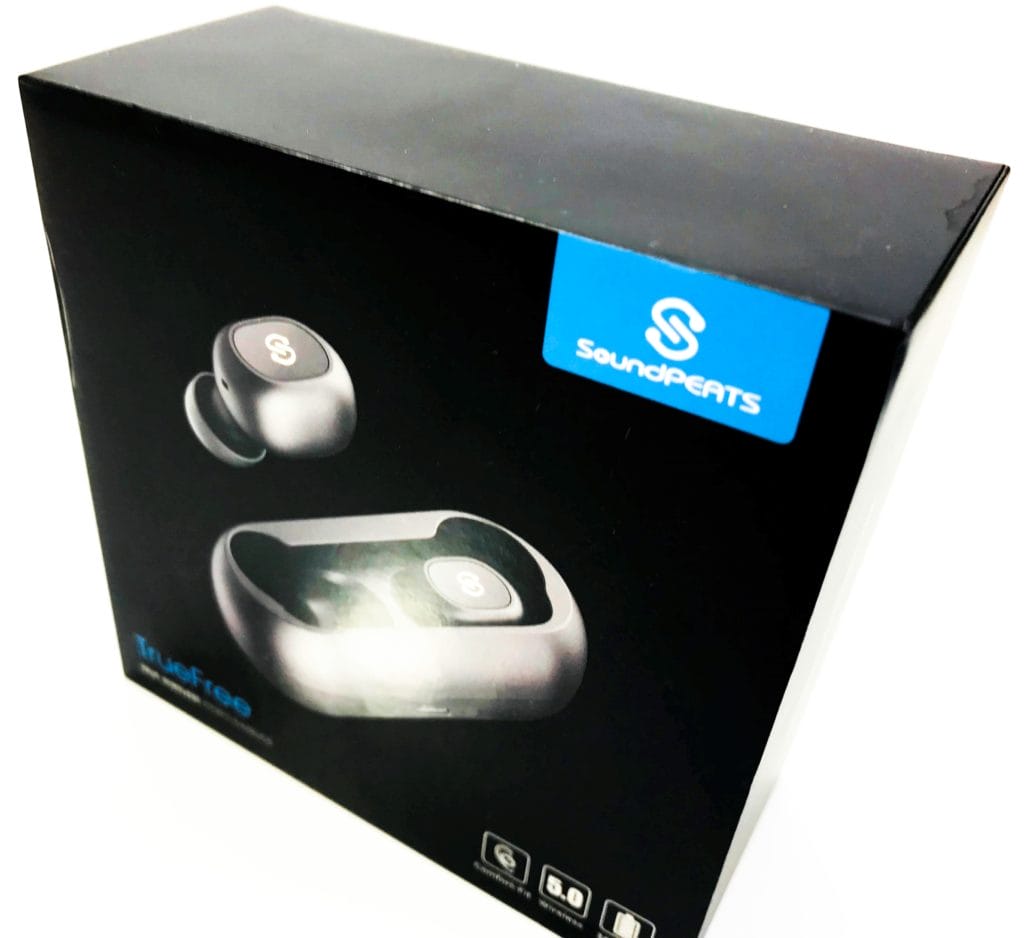 When you open the box, you'll see the earphones neatly packaged in a plastic layer, underneath this layer you'll come across the accessories and manual.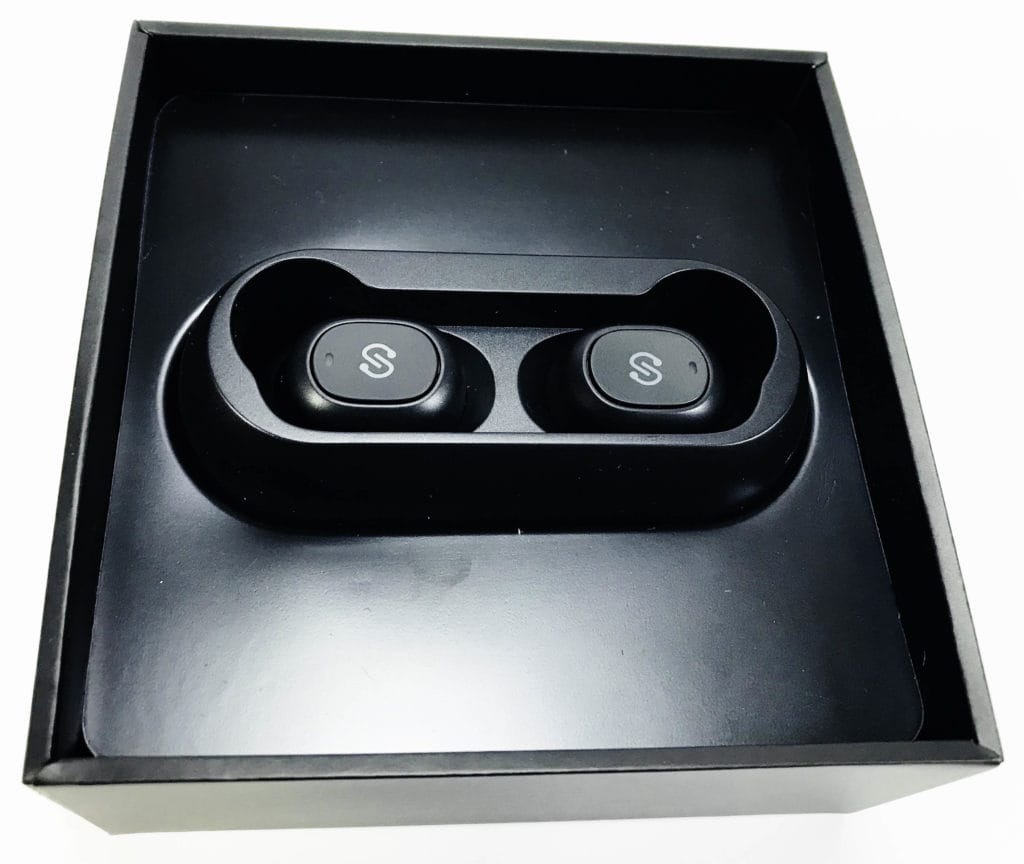 Contents.
Upon opening the box, you will find the following items. 2x Earphones, 1x Charging Case, 1x Micro USB Cable, 8x Interchangeable Ear Tips, 1x Multi-Lingual User Guide.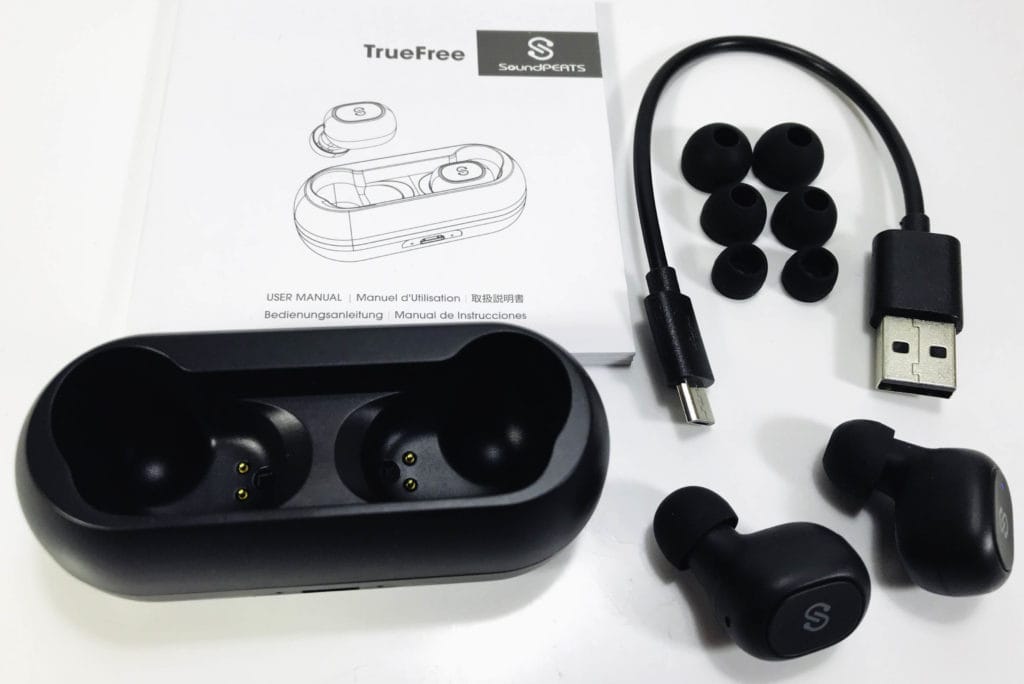 SoundPEATS TrueFree Earphones.
The SoundPEATS TrueFree Earphones are very small in size and measure 2.0cm x 2.0cm and weigh only 4.7G. They come with a middle-range pair of ear tips already installed, these were a perfect fit for me. But if you need to change these they simply pull off and slide back on again.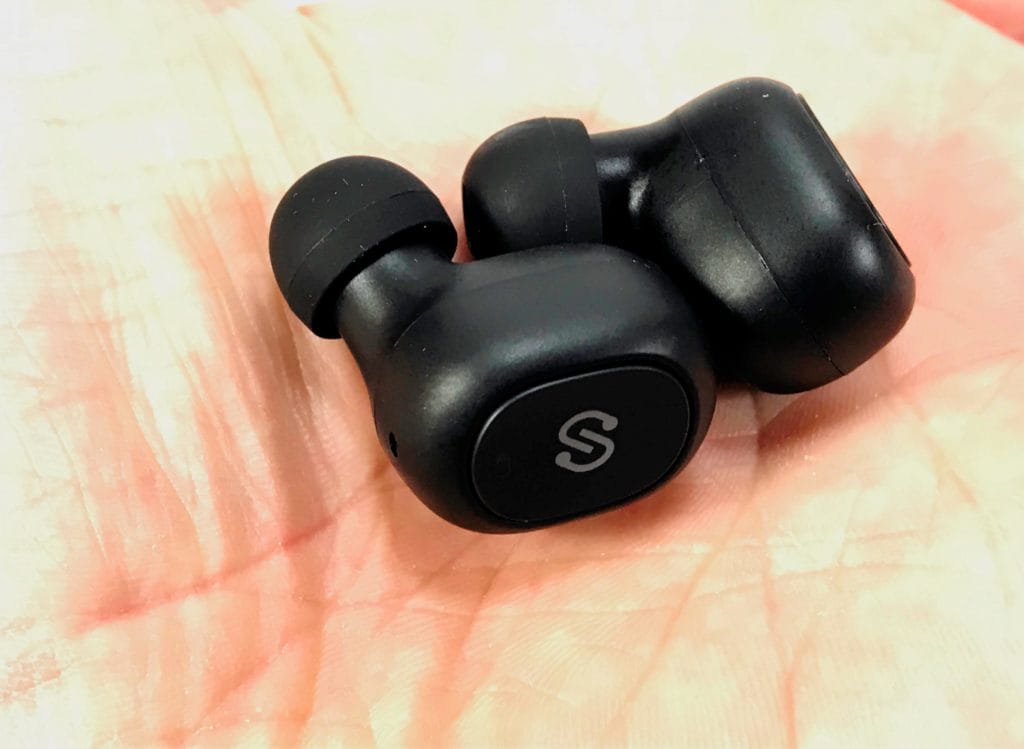 The Charging Case.
This case is not just a great way to protect your SoundPEATS, but it also acts as a powerbank and charges them too. And the case is also rechargeable too! To charge the case you'll need to use the supplied Micro USB Cable (which measures 19.0cm) and insert one end into the Micro USB port on the back of the case and insert the other end into any 5V DC power outlet. You can charge the case with your laptop, TV, mobile phone adapter, your powerbank can also be used, or just about any other 5V power source will do the trick. To fully charge the charging case takes around 2 hours for which will charge your earphones around 5 times!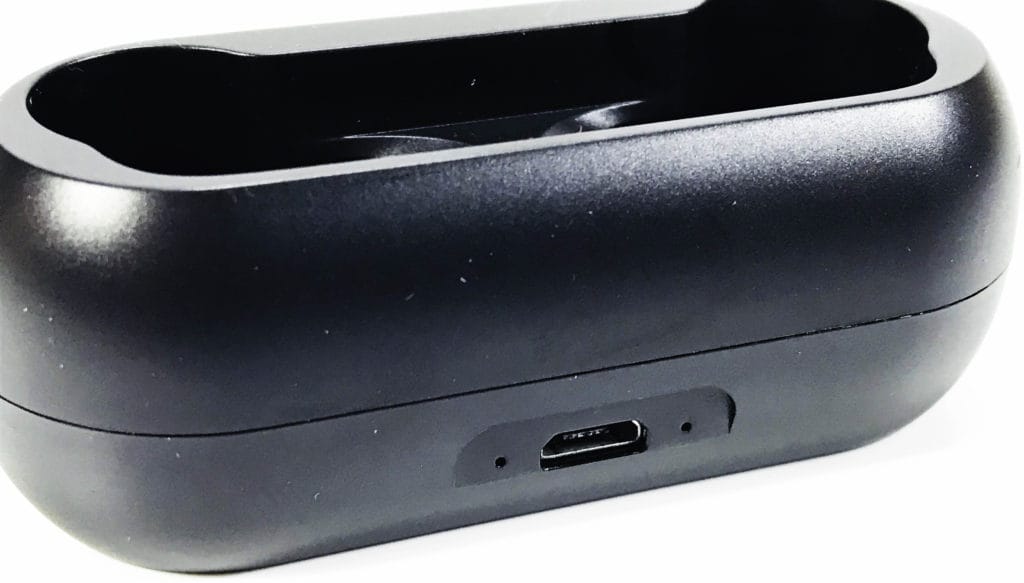 To charge the SoundPEATS TrueFree Earphones you need to simply place the correct earphone into the correct charging slot in the case, if done correctly LED lights will be visible on the earphones themselves. As soon as you remove the earphones from the case, they automatically connect back to your device (via Bluetooth).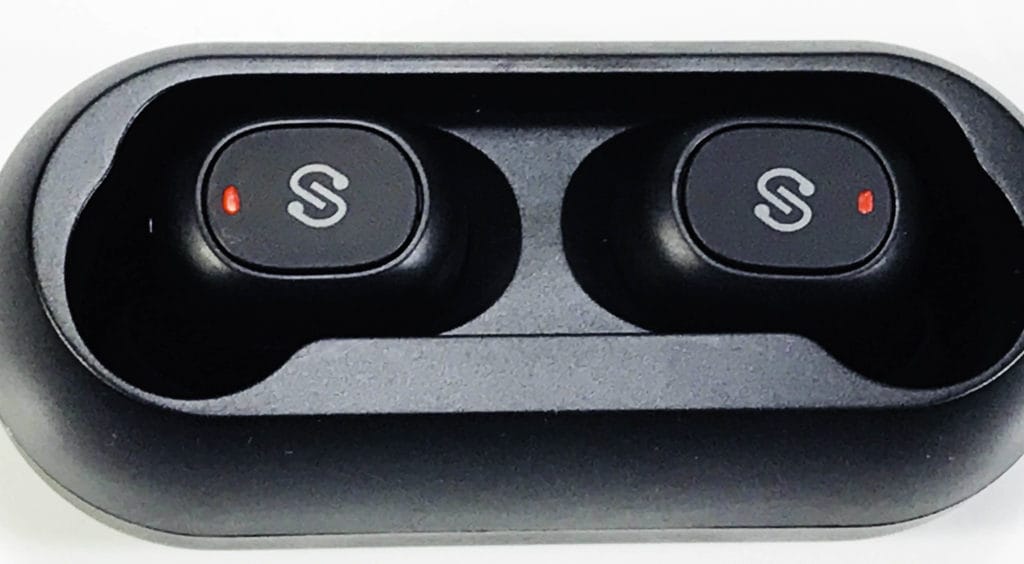 Charging your earphones takes around 1.5 hours and will last you for around 4 hours of continuous use.
Connection.
The SoundPEATS TrueFree Earphones work only using a Bluetooth connection and need to be connected in a certain way. To start the connection process simply power on both earphones by pressing and holding the middle button. Now perform a Bluetooth search on your device, you'll see two options to connect too. To get both earphones working (Stereo Mode) you'll need to firstly connect to the option that says 'SoundPEATS TrueFree L' and then connect the right one 'SoundPEATS TrueFree R'. Both should now be working. You can connect using one (Mono Mode) if you wish, but this would ruin your audio experience.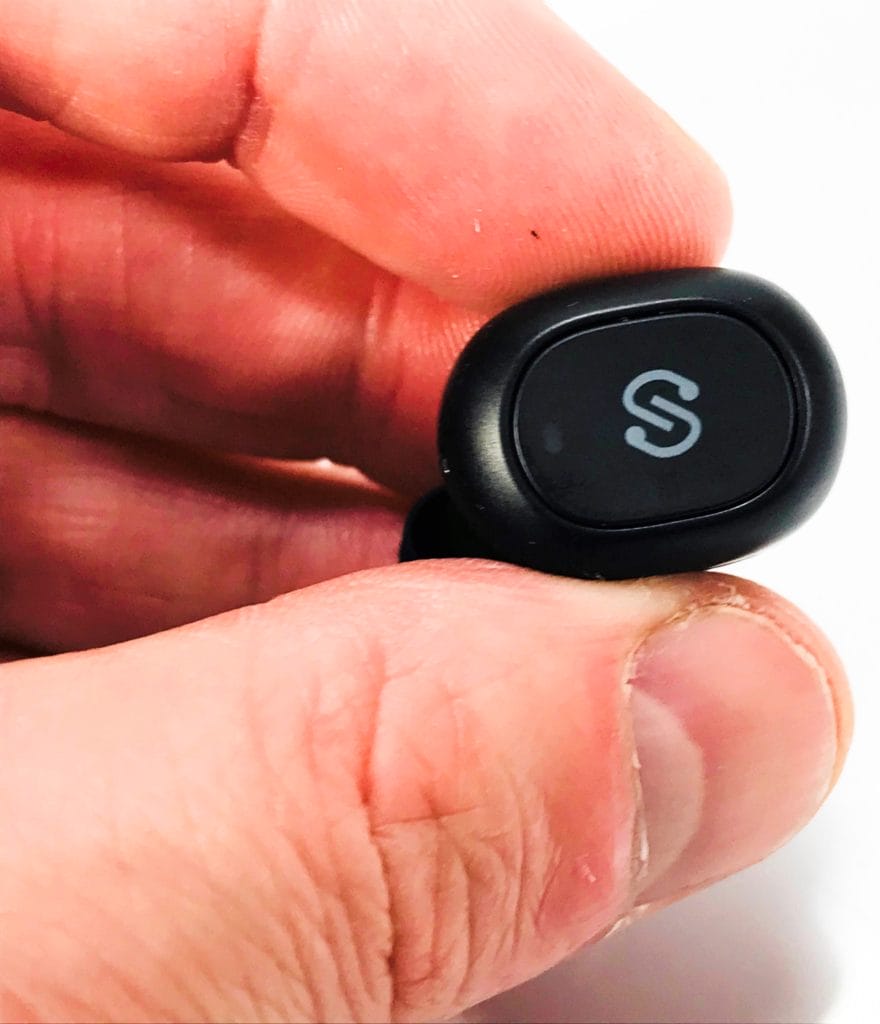 As previously mentioned your earphones will automatically connect every time they're removed from the charging case to the last connected device. So, you only have to follow this connection process once!
Using the SoundPEATS TrueFree Earphones.
Once you've found an ear tip that fits you comfortably you need to insert these earphones so that they fit snuggly into your inner ear canal. If done properly they feel secure but still comfortable. They feel strange to start with if you're used to using a cabled connection, but after a while you start to get used to them. I had an initial fear of these falling out when moving about, but surprisingly they don't even budge!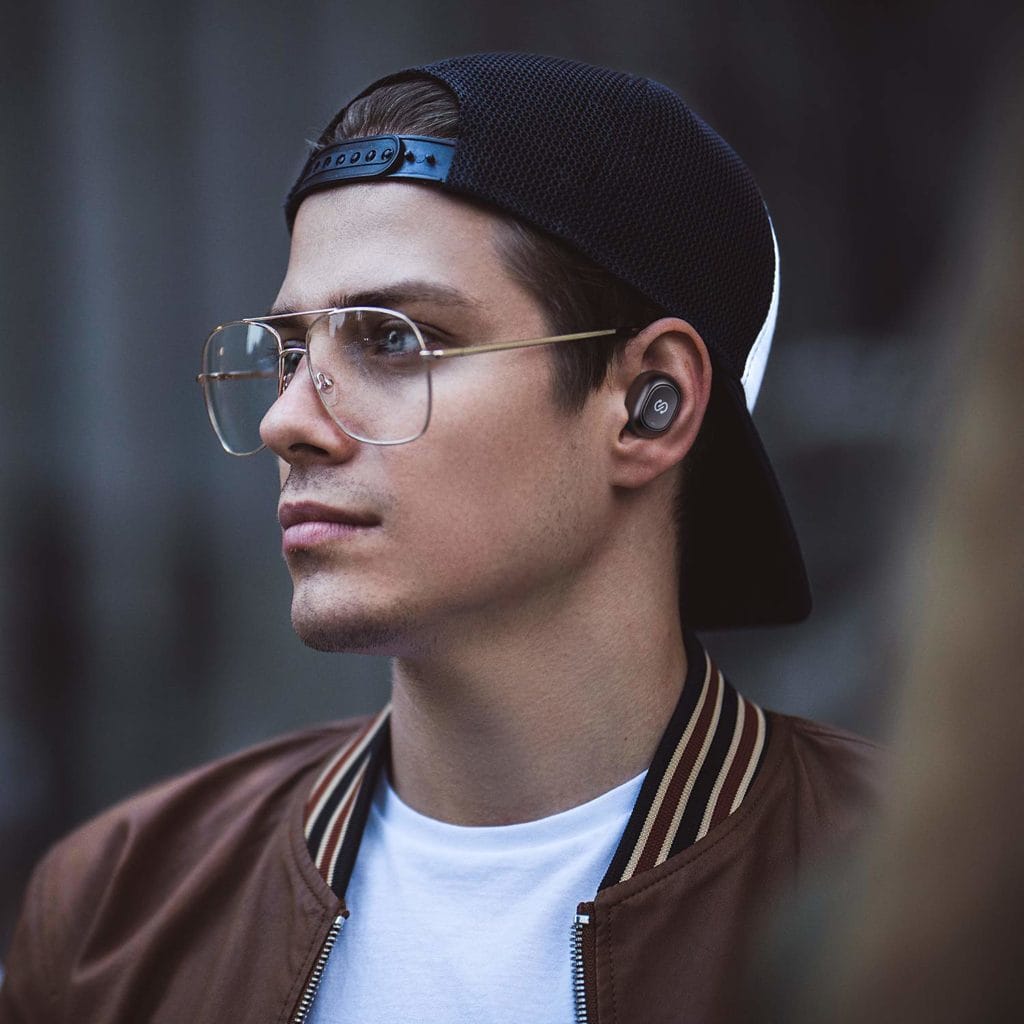 They also have an advertised Bluetooth range of 10M between earphone and device, but I managed to get to 15M distance before the signal broke.
You can also control your music, answer/end phone calls and this is all available on any of the separate earphones.
The middle button on the left earphone will with a single press pause/play your music, and with quickly pressing twice will go back to a previous track. Pressing and holding will power off your earphones.
The middle button on the right earphones does the exact same expect it'll skip a track.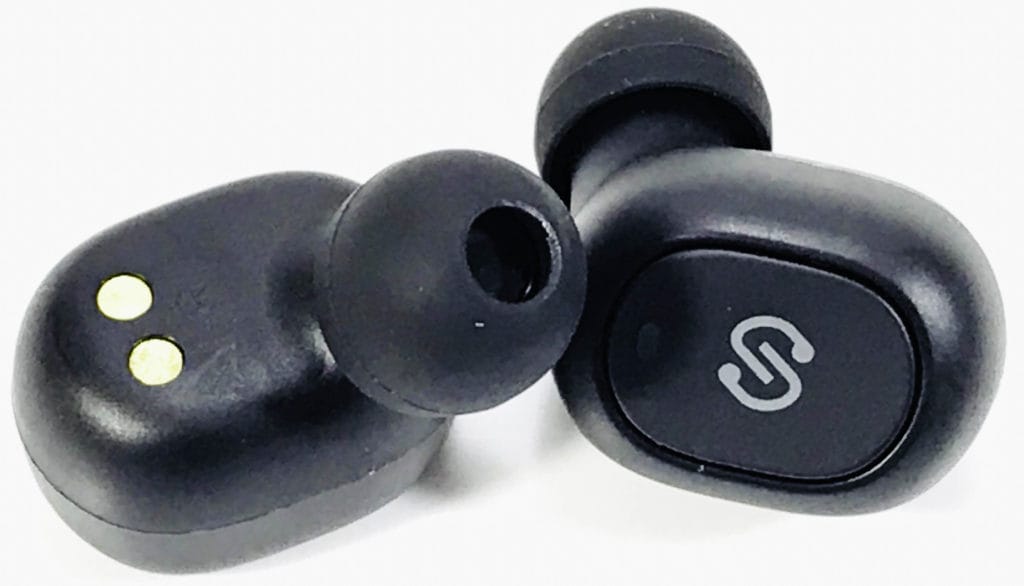 I did loose connection between both the left and right earphone whilst trying out the different options, but the manual came to rescue, and I managed to re-connect them back together. If this happens all you must do is power them off, now press and hold both power buttons for around 10 seconds, the LED lights will flash fast, then power them back on again, you should now have them both connected.
Sound Quality.
Hands up, I didn't have much in expectation for sound quality. But, shockingly the SoundPEATS TrueFree Earphones sound very good. I was genuinely surprised and astounded!
I started off having a pre-conceived view that they were going to be useless, but I can honestly say that view was wrong, and they sound great.
Another surprising point is the bass tones, the SoundPEATS TrueFree have thumping bass but also have a clear audio output too!
I would compare them to other Bluetooth earphones, but ones where there is a cable between the two earbuds.
On maximum sound output not only are they very loud but also don't lose any sound quality or have distortion of any kind. The sound isolation is also very good, you can easily immerse yourself into your music without any distraction from any background noises. Noise isolation is also very good with very little audio leakage.
Overall the sound is excellent and surprisingly very good quality.
The SoundPEATS TrueFree Earphones also feature handsfree calling, I tried this out (iPhone 7) and the microphone was very good and the whole conversation was as good as if you'd not used handsfree. How? I don't know, but again I'm surprised.
Technical Specifications.
Brand: SoundPEATS
Model: TrueFree Earphones
Model Code: TK-TrueFree
EAN: N/A
ASIN: B07JLZX7RS
Bluetooth Version: Bluetooth v5.0
Bluetooth Profile: AVRCP_V1.6/HF-P_V1.7/HSP_V1.2/A2DP_V1.3
Chipset: Realtek 8763BFR
Working Range: 10M
Standby Time: 120 Hours
Talk/Audio Time: 4 Hours
Charging Time: 1.5 Hours
Earbud Power Capacity: 3.7V/43mAh
Charging Case Power Capacity: 3.7V/380mAh
Microphone: Yes
Compliance: CE, RoHS
Conclusion.
I'm genuinely surprised by the sound quality of the SoundPEATS TrueFree Earphones. They sound so good, they're also very comfortable to wear too. Maybe I'm starting to turn my opinion around regarding these non-cabled wireless earphones.
Although I love the sound there's still some room for a little improvement. The first being the 19.0cm Micro USB Cable, a longer cable would certainly be better as it can be tricky charging the case with such a short cable. Secondly and I'm not sure if this is an option on any other models, but volume control would be good, you get to select tracks but can't change your volume on your earphones.
Overall though I still love them, the sound quality and comfort are excellent.
If you want the SoundPEATS TrueFree Earphones for yourself, they're available for purchase only on Amazon. The RRP for this product is £27.99.
Product sample provided by SoundPEATS in exchange for a detailed, unbiased review.
---
Thank you for taking the time to read my post. If you'd like to add a comment or thought on this post, please use the section below. I can also be contacted via the online contact form. Please subscribe for the latest reviews, news, and discounts. Please follow My Helpful Hints on Twitter, Instagram & Facebook too!
SoundPEATS TrueFree Earphones