The FPVRC Flying Ball Toy is a rechargeable toy that stays in the air by itself and uses Infrared technology to sense and control the flight path.
You get four blades for maximum stability and flashing LED lights too!
The FPVRC is a fascinating and enjoyable gift for people aged 14+.
But does it fly well? How does it work? Time to test it out!
Packaging.
The FPVRC Flying Ball Toy comes neatly packaged in a plastic windowed outer cardboard box. The outer box measures 18.0cm x 17.0cm x 5.0cm and weighs 90G.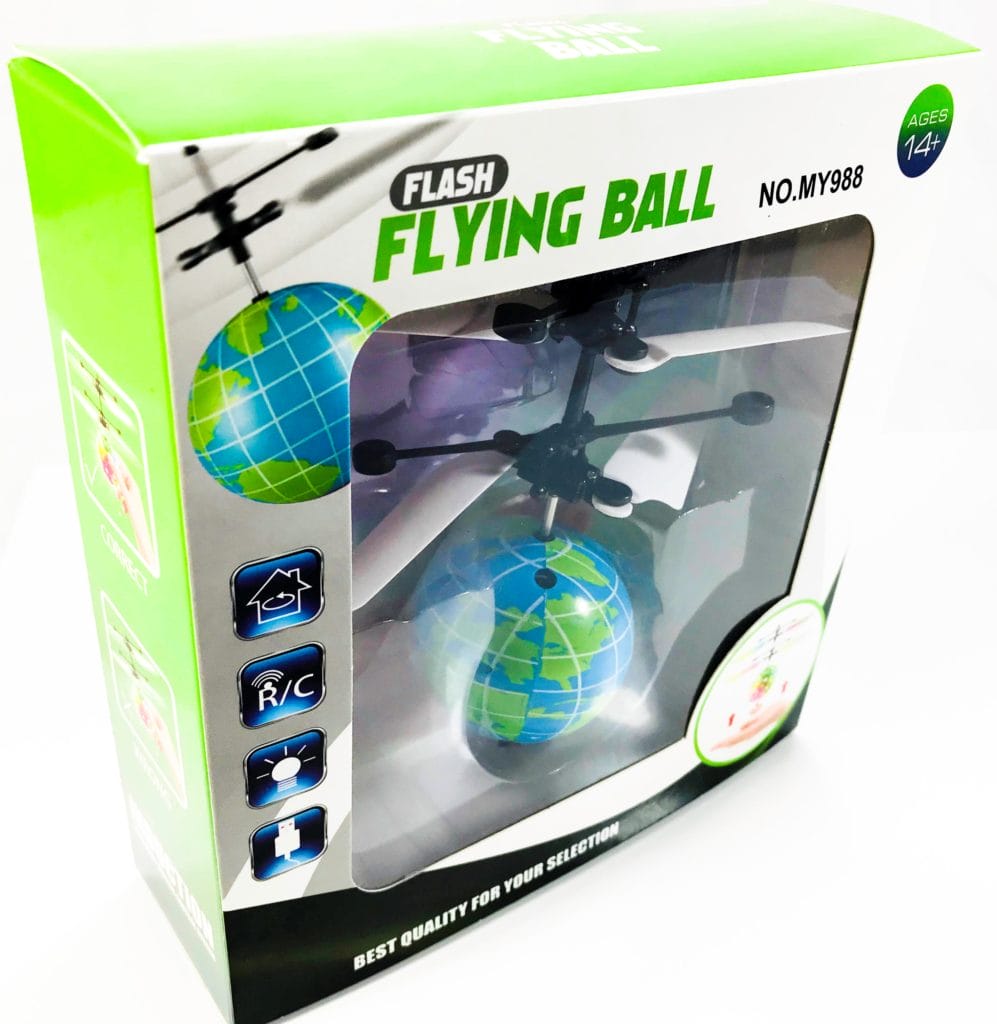 Contents.
Upon opening the box you'll find the following items. 1x Flying Ball, 1x USB Charging Cable.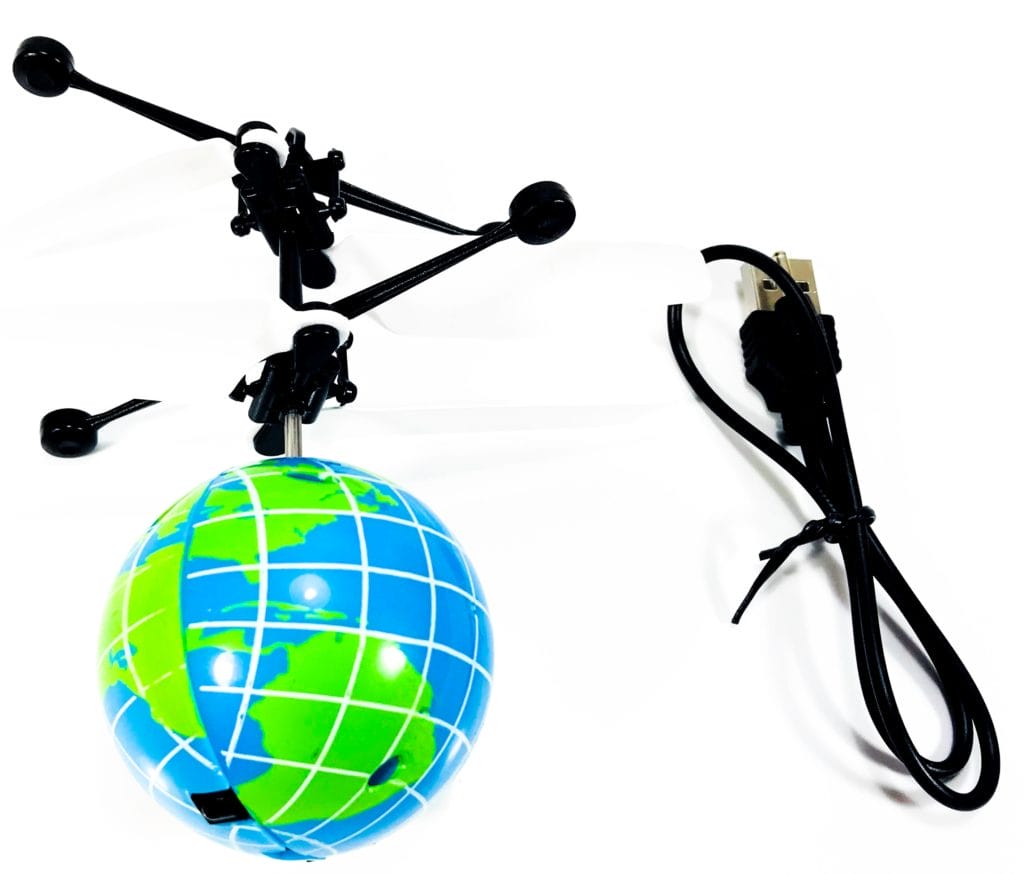 FPVRC Flying Ball Toy.
The FPVRC Flying Ball Toy is made from plastic and measures 11.5cm in height and has a blade span of around 13.0cm and weighs 28G.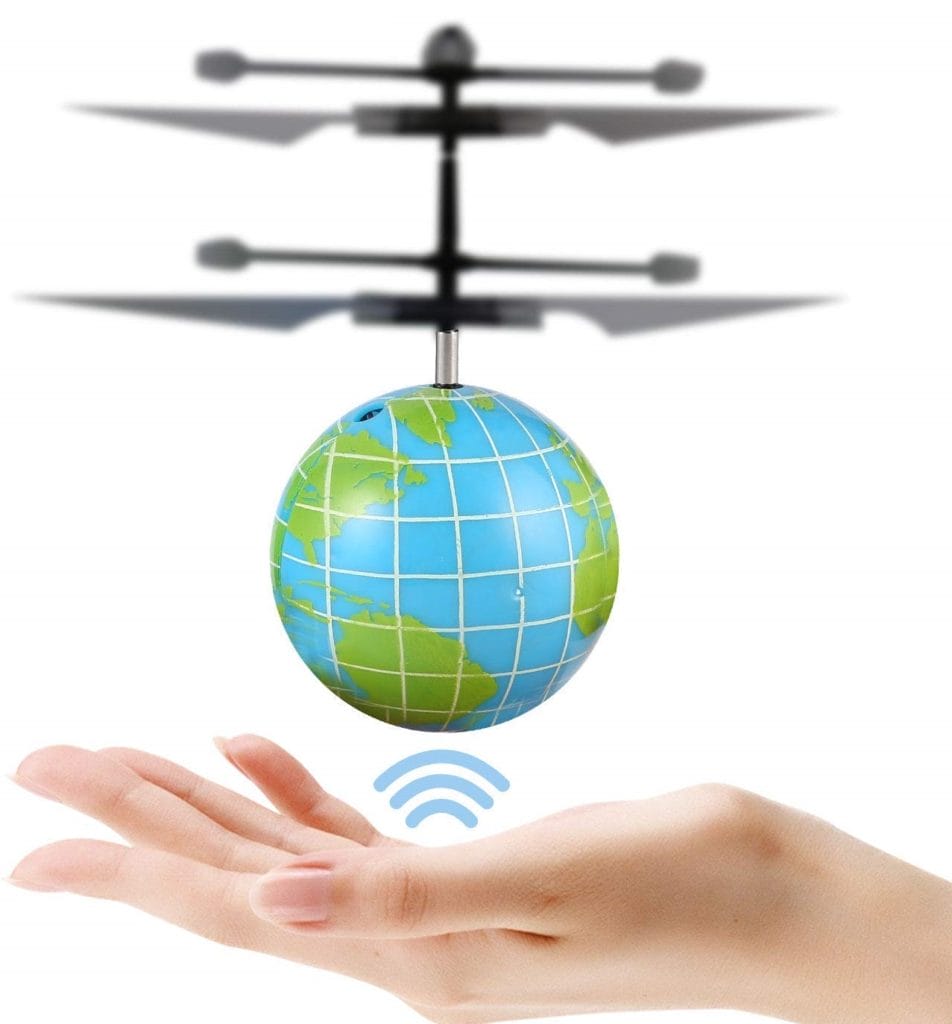 On the underside of the ball you'll see the Infrared sensor, the charging port, power switch, and a remote-control sensor.
This toy features a twin blade system on two balance bars, this system ensures maximum stability whilst in flight.  The blades are made from malleable plastic, and although are flexible can still break if they were to encounter a hard surface. You can change the blade by undoing a small screw, but no spare blades are provided in the package, and after searching on Amazon, eBay, Banggood I was unable to find any suitable matches.
So, look after your blades!
Using the FPVRC Flying Ball Toy.
You need to charge the ball prior to flying, to do this insert the charging cable (which has a length of 40.0cm) into the charging port on the ball. Insert the other USB end into a 5V DC power supply. The ball will have a Red LED light to indicating charging and the total charging time is around 30 minutes, for which will give you about 5 minutes of flying time. The LED light will go out when the internal battery has been charged.
If you want total control of the FPVRC Flying Ball Toy when in flight use any remote control. The ball features an Infrared receiver which will pick up the signal of any remote control and power off the rotor blades.
To start press the power button on the underside, make sure to keep hold of the ball area and after about a 5 second delay both sets of rotors start to rotate very quickly. Keep holding the ball section and release when you have it pointing upward and watch as the toy flies upward into air.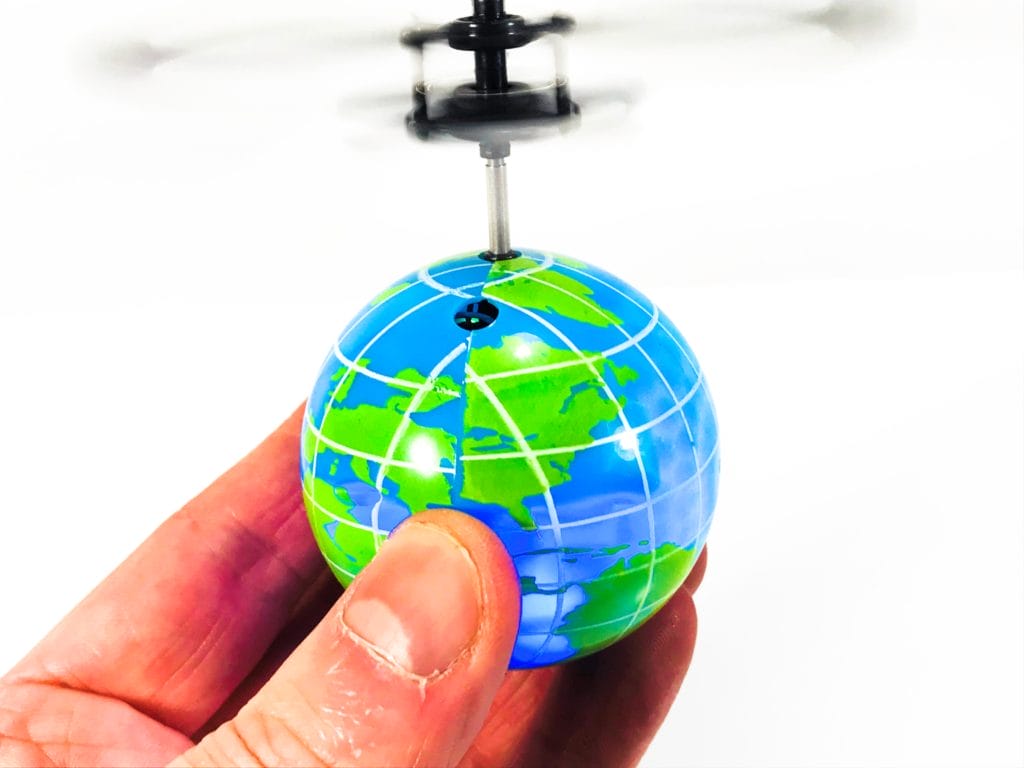 If using indoors the FPVRC Flying Ball Toy will fly upto the ceiling and just kiss the surface before slowly descending downwards, it'll also bounce about in the air and try to avoid obstacles such as walls, objects, and floors too. Like I said above if you use any remote control, you'll also be able to power off the rotor blades if you come into any trouble. It would've been nice if FPVRC has supplied a cheap remote with the toy, other manufacturers do!
How does it work?
The FPVRC Flying Ball Toy is very clever. It works using Infrared technology and will sense any object on the underside of the ball. You can use your hand to control the stability of the toy when in flight. It will also not crash down onto the floor either.
Be warned though, sometimes it does decide to have a mind of its own and come towards your face! That's why using a remote control becomes invaluable, press any button and you can stop it from happening. You also need to ensure that long hair, loose clothing, etc is out of the way of the moving rotor blades.
I think personally this toy is better suited to an indoor environment, FPVRC do say you can use it outdoors, but I'd worry about a gust of wind changing the flight path and your toy flying off out of control.
The design is supposed to replicate the earth, but FPVRC has used two halves of the same side of the globe, which makes the whole concept ridiculous.
Also, a minor point, but still noting, FPVRC advertise a 80mAH battery, but in fact it's only a 75mAH battery.
Technical Specifications.
Brand: FPVRC
Model: Flying Ball Toy
Model Code: MY988
EAN: N/A
ASIN: B07HNJXVWM
Ages: 14+
Battery: 3.7V 75mAH Lithium Polymer Battery
Charge: 5V DC
Compliance: CE
Conclusion.
I quite like the FPVRC Flying Ball Toy. It's very fun to use and works very cleverly too. I would like to see some improvements though. Firstly, spare blades need to be supplied or at best a source as to where to purchase more would be good. Secondly, the earth pattern needs to be done correctly to show both sides of the globe, not two of the same sides. And thirdly, I think FPVRC should supply a remote control with the product, other manufacturers seem to do this and it's an inexpensive way to improve the whole product.
But, aside from a few groans the flying ball toy works well, it's surprising just how well it flies.
If you want the FPVRC Flying Ball Toy for yourself, it's available for purchase only on Amazon. The RRP for this product is £11.99.
Product sample provided by FPVRC in exchange for a detailed, unbiased review.
---
Thank you for taking the time to read my post. If you'd like to add a comment or thought on this post, please use the section below. I can also be contacted via the online contact form. Please subscribe for the latest reviews, news, and discounts. Please follow My Helpful Hints on Twitter, Instagram & Facebook too!