The Sennheiser AMBEO Smart Headset is an iOS cabled set of earphones with two built in Omni-directional microphones which produce immersive, 3D like sound recordings.
You get an Apple MFi certified lightning connector for seamless integration with your iPhone and iPad.
The Sennheiser AMBEO Smart Headset transparent hearing feature with convenient three step rocker control lets you hear what's going on around you via the Omni-directional microphones, active noise cancellation blocks out ambient noise in your surroundings.
But are these earphones any good? Are they worth the money? Time to test them out!
Packaging.
The Sennheiser AMBEO Smart Headset come neatly packaged in a White outer cardboard box with a magnetic flap on the side.  The outer box measures 18.0cm x 13.0cm x 4.5cm and weighs 170G.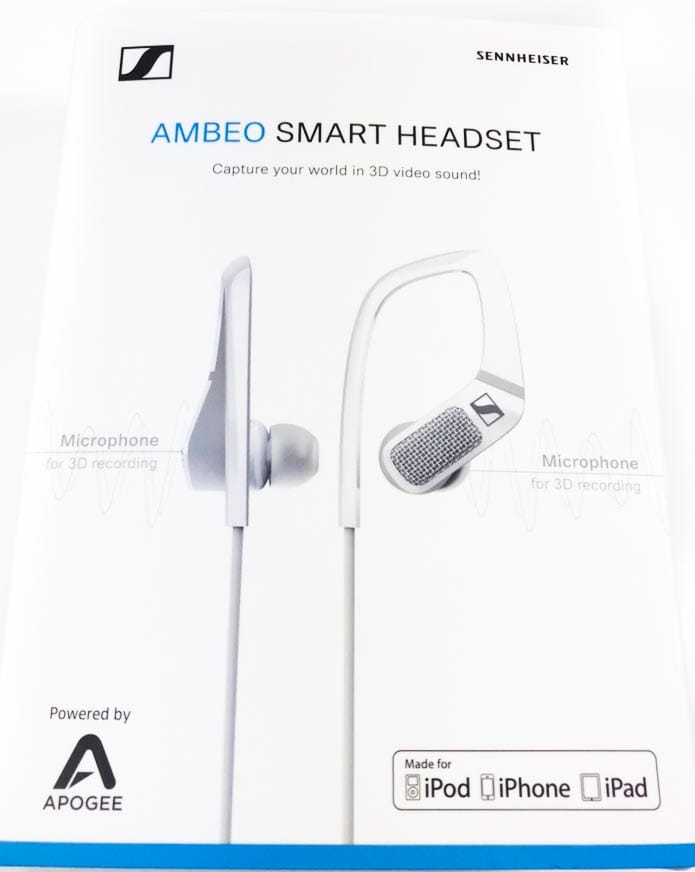 Contents.
Upon opening the Sennheiser AMBEO box you will find the following items. 1x Headset, 3x Different Sized Ear-Tips, 1x Carry Bag, 1x Quick Start Guide, 1x Multi-Lingual Safety Instruction Guide.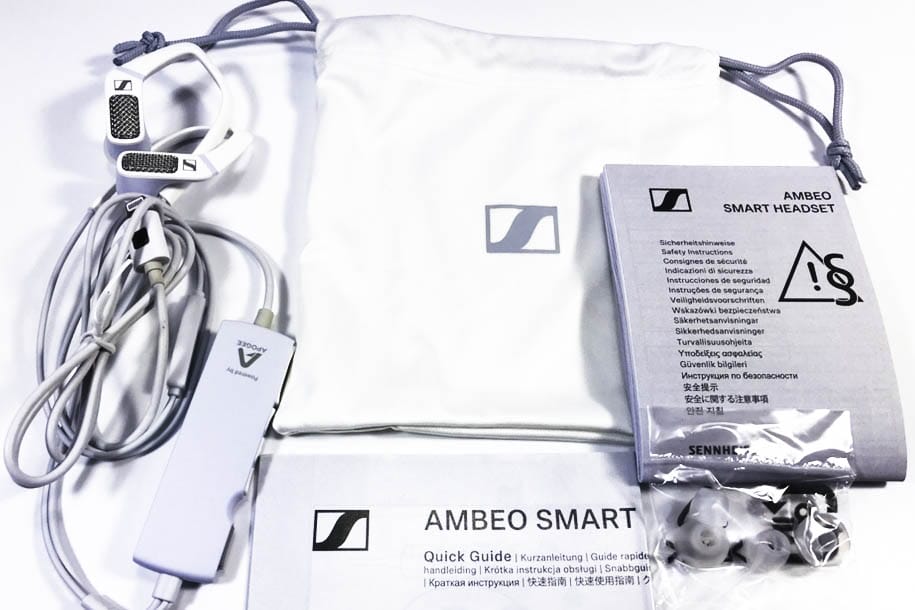 Sennheiser AMBEO Smart Headset.
The Sennheiser AMBEO Smart Headset are White in colour (They're also available in Black) and feature a standard Apple Lightning connector, they measure 116.0cm in length and weigh 35G.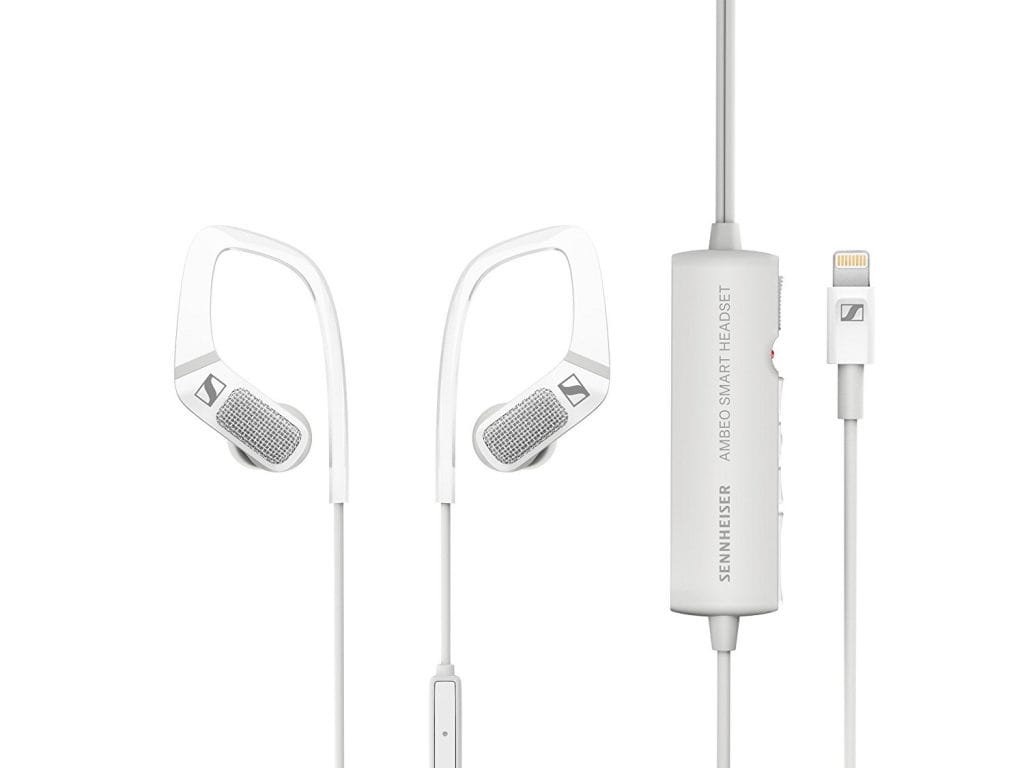 The Sennheiser AMBEO Smart Headset features an ear-hook design that will keep your earbuds in place whilst you move about.  They're soft and comfortable in both your inner ear and on top of your ear too!
You get in-line control with easy tactile buttons, so you're able to operate and control options easily without having to look at the buttons.  You get a smart switch, volume increase button, pause/play button, volume decrease button, and a three-step rocker switch.

You can also control your music track selection directly using the in-line control.  To pause/play press the middle button once.  Press the same button 3 times in quick succession to go back a track and press it twice quickly to skip a track.
Download the App.
Yes, that's right! Download the Sennheiser AMBEO Smart Headset app on the Apple App Store.  It's free and once downloaded you'll be able to customise your earphones with your preferred sound and change some of the shortcuts via the in-line user control.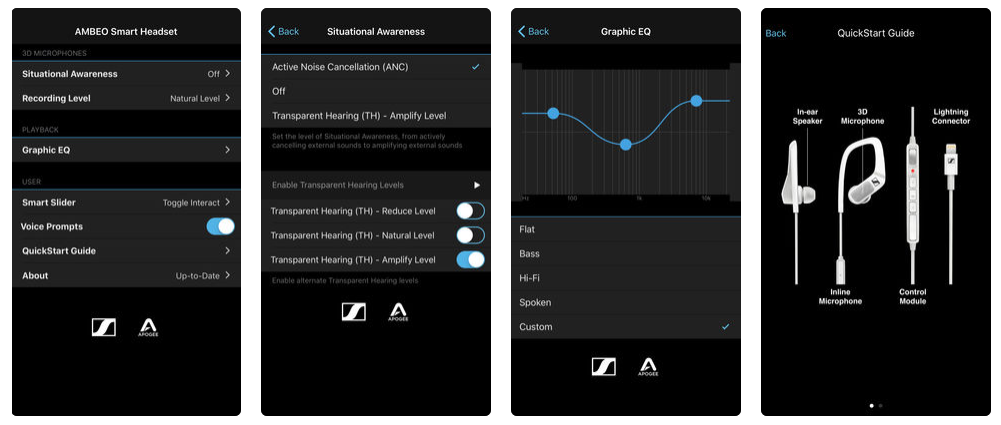 You don't have to download or use the app, you can simply plug the lightning cable into your device and start using your headset straight away.  But, to get the most out of your investment I would certainly suggest you do download the app.  It's very user friendly and you'll be amazed of the controls that you're able to change.
The most notable change you can do is change the sound to your own preference.  I personally love a bassy tone and with a quick selection I was able to change the audio from Flat to Bass.  You can also select Hi-Fi, Spoken, or you can customise your own sound!  It's quite fun to mess around with the Equaliser Bar and create a unique sound.  You can do this whilst listening to your music, so you get live feedback whilst you fiddle about with the settings.
You can also customise the Smart Slider button, you can choose to launch your camera, Apogee MeteRecorder, FilmicPro, Voice Memos, Headset Control, Interact, Mic Recording Level, Mute Telephone Mic.  The choice is yours and is instantly saved.  I choose to launch my camera, and instantly with a quick slide on the button I can launch the camera on my iPhone 7.
Lightning Connector.
The Sennheiser AMBEO Smart Headset features an Apple MFi certified lightning cable connector.  Insert this into your iOS device and that's it, you're all set.  I did however find the connector to be larger than a standard Apple connector and I wasn't able to use the headset with the protective case on my iPhone as the lightning connector couldn't fit through the cut-out.  The connector measures 1.5cm in length (excluding the 8-pin area) and has a width measurement of 1.2cm.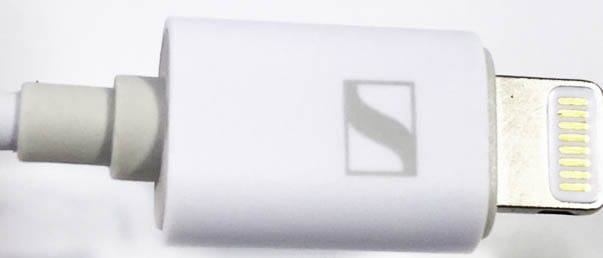 So, you'll have to ensure that your protective case has a big enough opening for the Sennheiser connector, or like me, remove the case to use the AMBEO Smart Headset.
Sound Quality.
The Sennheiser AMBEO Smart Headset sound…
AWESOME!
The sound produced from these earphones was probably the best sound that I've heard reviewing audio products on this website.  Then, I changed the sound (via the app) to produce extra bass tones and the Sennheiser AMBEO went from the best sound to a sound out of this world and completely indescribable.
Every bass tone, every audio tone, everything was available to hear, and you can easily immersive yourself into your music with little disturbance from the outside world.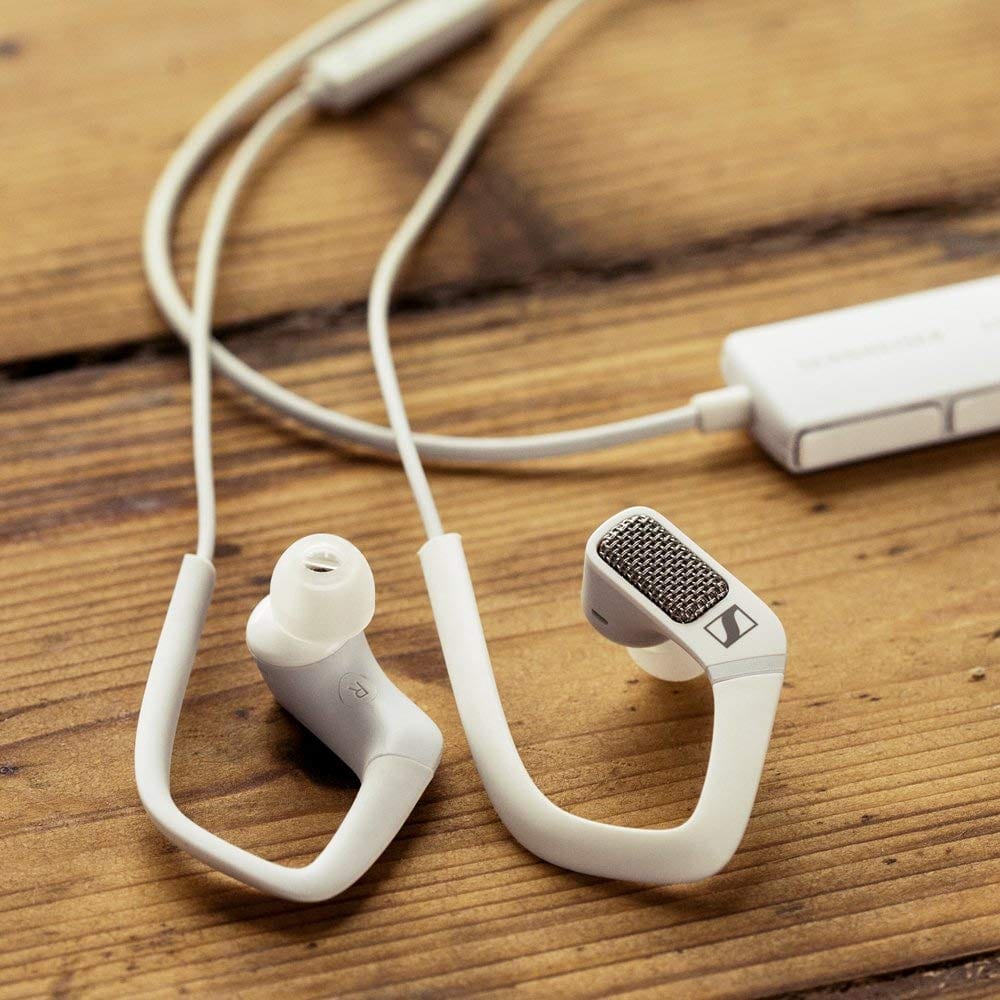 The Sennheiser AMBEO Smart Headset comes with Active Noise Cancellation and Transparent Hearing.  Both of these work great and I especially enjoyed the Active Noise Cancellation which blocked out all background noise.  I tested out the Transparent Hearing function too, this simply has the opposite effect of Active Noise Cancellation and allows to hear background noise.  This option is good if you still want to hear your music but need to be in control of sound in the background, for example road traffic.
To switch between the two simply press the three-step rocker switch.  You can also select to not use either if you wish.
3D Recording Capabilities.
This is another great feature to the Sennheiser AMBEO Smart Headset.  You create videos with a high-quality binaural audio track, just by wearing these earphones.  Binaural means, the two omnidirectional microphones located in the earpieces of the AMBEO Smart Headset pick up the sound just like your ears do. The Smart Slider allows microphone sensitivity adjustment to optimise recording performance in loud environments like concerts.
I tested out the in-built microphone and I can confirm it's very good.  It's also very good on a hands-free telephone call too.  The person on the other end of the call can hear you clearly and without any sound issues.
Technical Specifications.
Brand: Sennheiser
Model: AMBEO Smart Headset
Model Code: N/A
EAN: 615104317505
ASIN: N/A
Connector: Apple Lightning Connector
Frequency Response: 15-22,000 Hz
Max Sound Pressure Level: 112dB
Ear Coupling: In-Ear
Compliance: CE, RoHS, FCC
Conclusion.
I love the sound produced from the Sennheiser AMBEO Smart Headset.  Honesty, it's the best sound that I've heard from doing many different audio product reviews.
But there is still room for some improvements.  Firstly, the connector is too big and chunky and you're not able to use a protective case on your iPhone whilst you're using the earphones.  And, secondly the cable length could do with being around 20cm longer as it's easy to pull your device out of your pocket with your ears, this could damage your device if it were to drop onto a hard surface.
The app is great, I love that I can change/edit settings in an instant.
Overall, I love these, and highly recommend them, the price tag is quite high though, but these are more of an investment and will last many years!
If you want the Sennheiser AMBEO Smart Headset for yourself, it's available for purchase only on Amazon. The RRP for this product is £259.99.
Product sample provided by Sennheiser in exchange for a detailed, unbiased review.
---
Thank you for taking the time to read my post. If you'd like to add a comment or thought on this post, please use the section below. I can also be contacted via the online contact form. Please subscribe for the latest reviews, news, and discounts. Please follow My Helpful Hints on Twitter, Instagram & Facebook too!
Sennheiser AMBEO Smart Headset